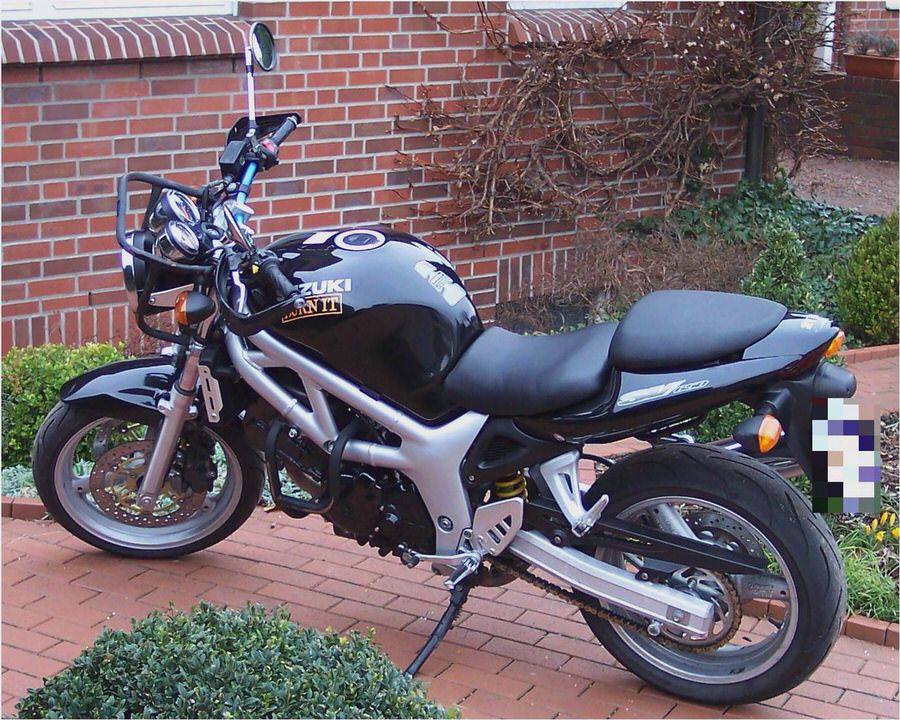 2012 Suzuki V-Strom 650 ABS – First Ride Middleweight Twin-Cylinder Adventure-Tourer Refined.
When Suzuki returned to the U.S. market in 2011 after a one-year hiatus with a small but strong model line, the V-Strom 650 ABS was once again among its best sellers. So, it's no surprise that this asphalt-oriented, middleweight V-Twin adventure-tourer has been updated and improved for 2012.
Suzuki's market research shows that 97 percent of V-Stroms never leave the tarmac. So, engineers focused on making the V-Strom an even better streetbike, thus steering clear of comparisons with the more off-road-capable BMW F800GS and Triumph Tiger 800XC. Changes were made based largely on feedback from European consumers, with the goals being better performance, enhanced comfort, improved versatility and more modern styling.
Split, Croatia, provided the backdrop for the international press launch of the V-Strom 650 ABS. This mountainous area bordering the Adriatic Sea provided a wide variety of interesting roads—from wide-open autostrada to tight alpine-like passes and even a short stretch of dirt—for sampling this new Suzuki.
My first stint was on a bike with the entire V-Strom accessory catalog thrown at it: molded-plastic sidecases and top trunk (aluminum versions are also available), GPS (not available in U.S.), heated handgrips, crash-protection bars, centerstand, lower cowling (not a skidplate), 12-volt accessory socket, handguards and a windshield-mounted air deflector.
As we made our way out of town, I thought about the ergonomic revisions Suzuki has made to the bike. At a claimed 32.9 inches, the thickly padded saddle is more than a half-inch taller than before (Suzuki offers 20mm-lower and -higher accessory seats, as well). But because the front of the seat has been reshaped, even with my 32-inch inseam, I had no trouble getting both boots firmly planted on the ground at stops.
The seating position provides a relaxed bend at the knees, while the interface with the 5.3-gallon fuel tank is much better than on the previous model. I was very comfortable, even after a long day of riding.
Buffeting has been a common complaint among V-Strom owners. The redesigned windscreen has three settings; changing the position of the screen requires removing four Allen-head bolts. I tried the standard middle location and the 24mm-taller and 8mm-more-rearward position. The third setting drops the screen 18mm and pushes it 18mm farther forward.
Both settings that I tested provided good vision and minimal buffeting, even at a sustained 100-plus mph while wearing a Shoei Hornet DS helmet with its large, motocross-style bill. Taller riders will likely prefer the highest setting. They can also purchase optional 30mm-longer mirror stalks.
Another key improvement is the new instrument cluster and dash. An easy-to-read analog tachometer is accompanied by an LCD screen that shows road speed, trip length, overall miles traveled, fuel level, gear position, fuel consumed (along with average fuel economy) and ambient temperature. A "Road Freeze" warning light completes the package.
The updated engine is based on the Gladius, not the SV650. Bore and stroke remain the same (81.0 x 62.6mm) as on the previous bike, but the pistons, rings and intake-cam profiles are new. The cylinder walls benefit from Suzuki Composite Electrochemical Material (SCEM) plating, single (rather than dual) valve springs are used, and each cylinder is fitted with a pair of Iridium sparkplugs. Aided by a new 32-bit ECU, twin Suzuki Dual Throttle Valve (SDTV) 39mm throttle bodies handle fueling.
Suzuki claims 10-percent better fuel economy. A liquid-cooled oil-filter housing helps the engine run cooler.
It's been a while since I last rode a V-Strom 650, so I can't make a direct power comparison with the previous model. I was, however, impressed by the flexibility of the updated engine. Power is decent off the bottom but really peps up in the midrange.
Revving the engine deep into upper digits provides a good drive but isn't always necessary; strong torque through the middle of the power curve pushes the bike along nicely. The six-speed transmission shifts smoothly and gearing is well-chosen.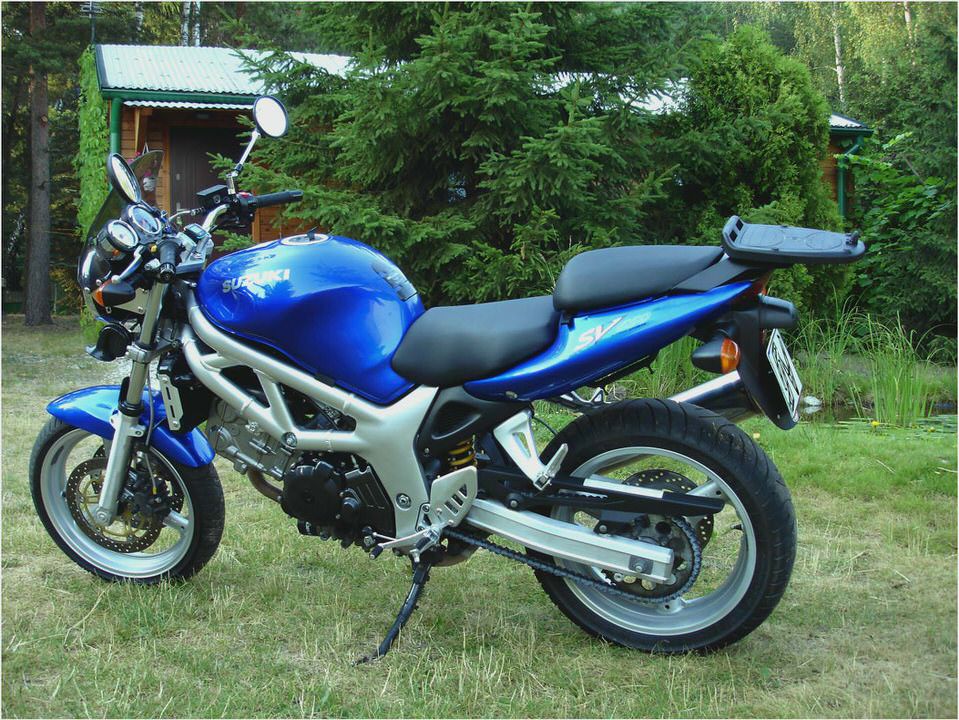 Even when I was winding my way up mountainous roads strewn with tight, hairpin corners, second and sometimes even third gear provided good exit drives without the need to drop down to first. Fueling was quite good in every situation I encountered, even when I had selected a taller ratio and the engine was spinning far down in its rpm range. Overall, this engine suits the V-Strom well, offering good performance and plenty of V-Twin character, too.
Endless twisties seemed like a blessing until I realized that about half of them were either splattered with diesel or the asphalt itself was mixed with limestone. Either way, grip was rarely ideal. But these are exactly the type of conditions in which the V-Strom is at ease. The wide handlebar and upright seating position gave me confidence to pitch the bike into corners knowing that I still had a fighting chance even if the 19-inch front and 17-inch rear Bridgestone Trail Wings lost traction.
Turn-in is low-effort, yet stability is quite good. Suzuki claims the 2012 V-Strom weighs 13 pounds less than the current model, which benefits handling, as well.
Suspension adjustments are limited to spring preload on the conventional fork, and preload and rebound damping on the shock. Shortly after hitting the curves on the fully accessorized V-Strom, I pulled off the road and maxed out the preload on the shock using the big, easy-to-reach knob and was satisfied with the bike's performance. Same goes for the stocker that I rode later in the day.
I also sampled a short dirt section. Frankly, anything more than that would have totally trashed the bike. The header pipe for the front cylinder as well as the oil cooler and filter are completely unprotected from rocks and other obstacles (Suzuki says a real skidplate is in the works).
The cast aluminum wheels are also not suited for off-roading, and the new Bosch ABS system cannot be switched off.
Complaints directed at the accessories include the width of the GIVI-sourced sidecases, which stick out at least 3 inches farther than the ends of the handlebar. Lane-splitting and maneuvering in tight quarters, such as gas stations, require attention and planning.
Bottom line, if you're looking for a street-oriented adventure-tourer, the V-Strom 650 ABS should be on your short list. This middleweight V-Twin comes well-equipped in either Metallic Fox Orange or Glass Sparkle Black (white seen in the accompanying photos is for Europe only), is a solid, all-around performer and, if absolutely necessary, can be pressed into dirt duty. U.S. pricing has not yet been announced.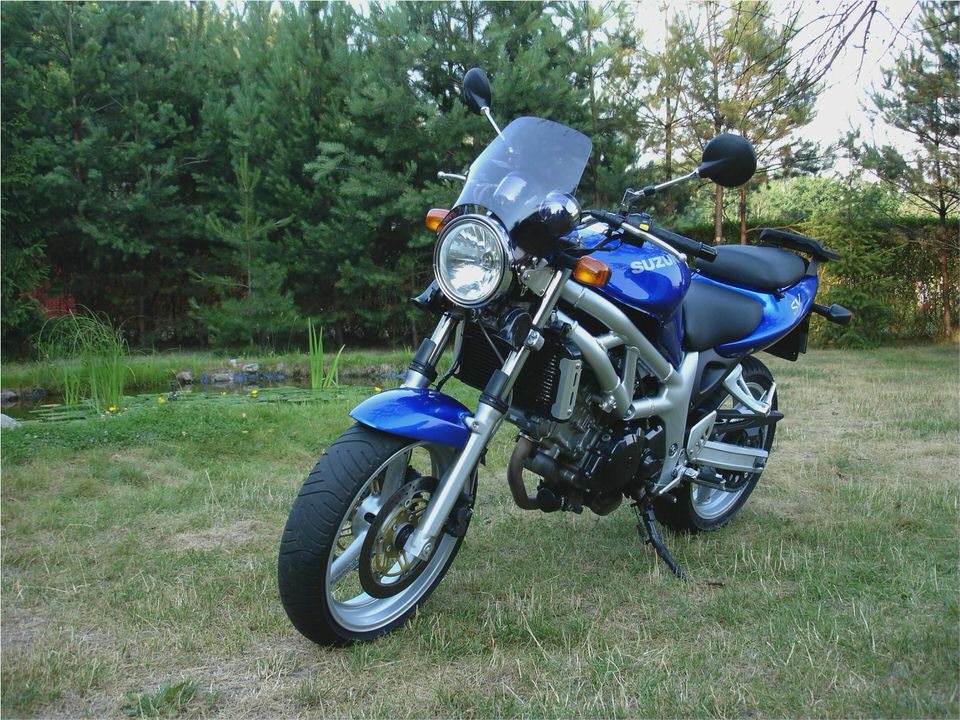 2013 Suzuki Burgman 650 ABS Pictures, Features and Details
Suzuki GSF1200S Bandit Motorbikes
Electric Scooter Concepts at 2011 Tokyo Show – Motorcycle USA
2013 Suzuki DR-Z 400SM – Reviews, Prices and Specs at Motorcyclist Magazine
Suzuki 650 Dr Accessories Owners Guide Books