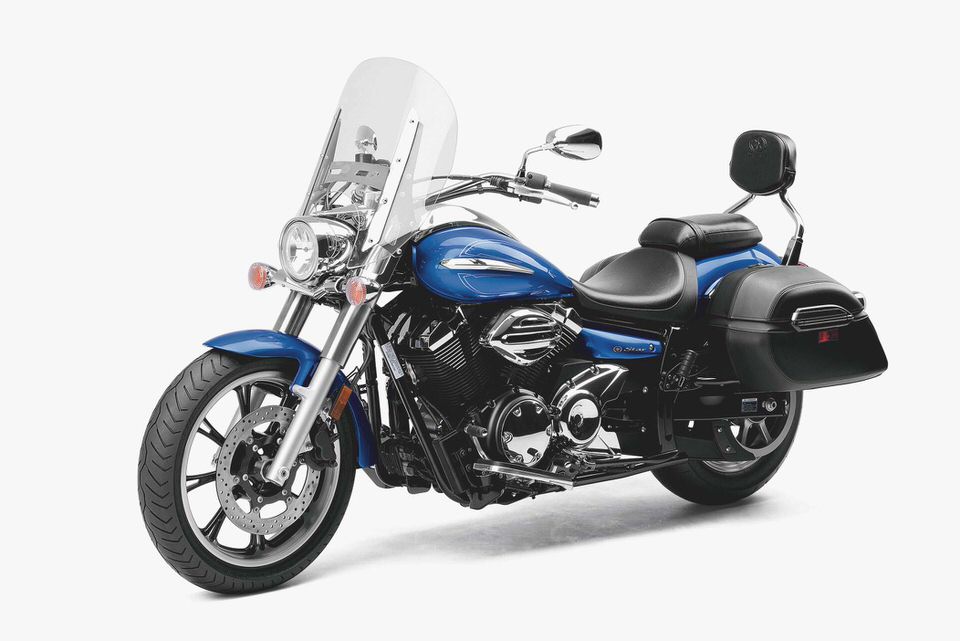 2012 Yamaha V Star 950 Tourer Review
2012 Yamaha V Star 950 Tourer speaks to the capabilities and talent of the company as one of the best bike manufacturing company of the world. It's got the performance, the handling and the looks which only a firm like Yamaha can offer. It comes with a full size chassis, the most sought touring features and high quality finish and fit.
A 942cc V-Twin fuel injected engine takes care of the go, while the light nimble handling, saddlebags; windshield and super low seat height will appeal to newbie and veteran bikers alike. Aesthetically, it is no slouch, rolling out with a passenger backrest, a sturdy windshield and leather wrapped hard saddlebags, all of which are available as standard. Its fenders, rear and front are constructed from real steel, offering easy personalization for the biker and quality look to it.
Handling and power-wise, the 2012 Yamaha V Star 950 Tourer offers abundance of both. Motivation for the 950 Tourer comes from a four-stroke, single overhead camshaft, eight-valve 60-degree air cooled V-twin 942cc engine, which is good for pulsating 57.9 pound feet of torque at 3500 rpm. The engine is mated to a 5-speed transmission and is both sophisticated and simple.
It gains ceramic composite lined cylinders, 4-valve cylinder heads, fuel injection, a scrupulously designed 2 into 1 exhaust system, which has throaty exhaust note, three-way catalyst technology for reducing air pollution and forged aluminum pistons. As much as handling is concerned, it gets tube front 41mm forks, a steel double cradle main frame, big 298mm rear and 320mm front discs that offers excellent braking power to the bike and a bottom link-type monocross shock rear suspension.
Key Features:
It is a benchmark in an entry cruiser touring segment, appealing to seasoned bikers and also to those who are in the market seeking an entry level, friendly cruiser. The V-twin air cooled engine offers abundance of pulsing torque feel and big cruiser, distinctive character. Highlights: extra-low 26.6 inches of seat height; full sized chassis with long, low look, offering roomy comfort; sporty handling and responsive enough for commuting around town, open highway cruising and curvy back roads.
The 2012 Yamaha V Star 950 Tourer gets leather wrapped hard saddlebags, a passenger backrest and a windshield as standard and is ready for the commute to work or school or the open road.
The circumspectly engineered chassis contributes to an outstandingly light feeling bikers have come to appreciate. The steel double cradle main frame provides an ideal rigidity balance in lateral, torsional and longitudinal directions, using the powerplant as stressed member. With its big, 18-inch front wheel and engine mounting position little forward for optimum rear/front weight distribution, the V Star 950 Tourer offers exceptional handling performance.
The 60-degree V-twin 942cc powerplant is both sophisticated and simple. Sure, there is no-fuss air cooling for conventional looks. However inside, you will find the reason for surprisingly spirited performance: ceramic composite lined cylinders, 4-valve cylinder heads, fuel injection and forged aluminum pistons.
The meticulously designed two-into-one exhaust system offers a throaty exhaust note, while the three-way catalyst technology is tuned for reducing air pollution.
Fenders are real steel, rear and front and add to the quality feel and look, making personalization easier.
The 2012 Tourer gains fuel economy up to an estimated 47 miles per gallon with a fuel tank, which holds 4.5 gallons.
The 942cc (57.5 cubic inch) powerplant is single overhead camshaft air cooled V twin 60°. With a pent roof shaped combustion chamber, 9.0:1 compression ratio and four valves per cylinder, the powertrain has been cautiously engineered for delivering class leading acceleration and excellent power attributes.
To help powerplant gain the ideal performance attributes and keep friction loss to minimum, special roller type compact rocker arms with needle bearings are used. These also reduce top end weight for excellent mass centralization.
The combustion chamber shape was specifically designed for directing fuel air charge into center of piston for maximum power and faster combustion.
Ceramic composite lined cylinders offer reduced oil consumption and excellent heat dissipation.
Forged aluminum high quality pistons feature a high strength, lightweight compact design, which contributes for reducing vibration.
The designers of Yamaha understood that engine's V-twin character was so pleasing on its own that a counterbalancer was unnecessary. This also contributes to less operating noise and simplicity.
Advanced fuel injection is used on 2012 Yamaha V Star 950 Tourer. The injectors are 2D types and 4-hole with spray aimed at valve surfaces, which creates good fuel atomization for more complete and faster combustion, contributing to excellent drivability. The fuel injection system also gains an Idling Speed Control (ISC) valve for exceptional idling stability.
The all-new five-speed gearbox with gear ratios spaced allows the rider to enjoy comfortable cruising at highway speeds and take complete benefit of engine's torque characteristics, providing a smooth shifting feeling. Naturally, power is efficiently transferred to rear wheel using quiet, simple belt drive.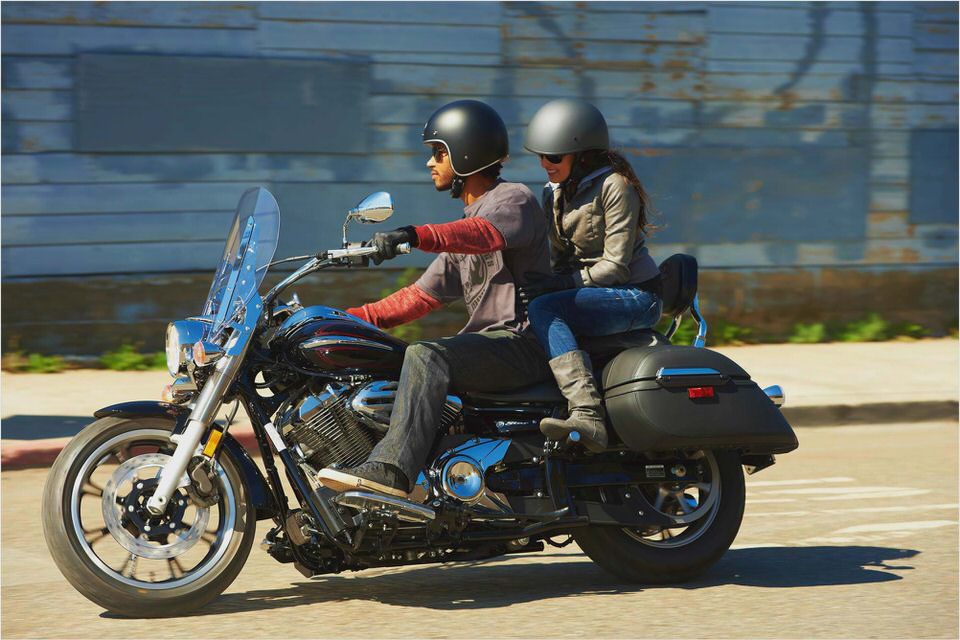 The engine's look is highly detailed, with polished cylinder fins and beautifully chrome-plated cylinder head covers, for an exceptional appearance sure to be noticed.
Suspension and Chassis
The double cradle, steel frame is low and long and contributes to its 66.3-inch wheelbase and roomy 2435mm (95.9-inch) overall length, meaning a great ride to go together with great looks.
The seat height is one of the lowest around and 26.6 inches high, while the fuel tank is made as narrow as possible where it meets the seat.
The large front 18-inch wheel helps offer Sport Classic cruiser looks and the sporty handling attributes of 950 Tourer. The 170/70-16 bias ply rear tire offers a muscular look and the 130/70-18 low profile tire is mounted on lightweight aluminum eight-spoke wheel.
Large 298mm rear and 320mm front discs offer excellent braking performance with exceptional feel.
Rear suspension is bottom link type monocross shock, while front forks get large 41mm tubes. Settings are calibrated for delivering a plush ride, which is increasingly firm as suspension is compressed for good comfort and handling over larger bumps in the road.
The 2012 Yamaha V Star 950 Tourer offers a magnificently light feel. Astonishingly, although it has a large chassis, it weighs only 657 pounds with all fluids and a full tank of gas.
Extra Features
The large diameter meter is situated on fuel tank for a conventional look. Meter functions include fuel level warning light, speedometer, odometer with fuel trip meter, clock display and 2 tripmeter function and oil level warning light. The LCD screen illumination can be adjusted by using the right side handlebar switch.
The 2012 950 Tourer is all set to roll out with leather wrapped hard saddlebags, a passenger backrest and a windshield.
In total, the 2012 Yamaha V Star 950 Tourer provides the best of all worlds as far as performance, handling and looks are concerned. After all, there is a reason why it was recently named one of the best motorcycles in the market.
2003 Yamaha MT01 concept, prototype, spy shots
Yamaha Zuma Maintenance Schedule – Yahoo Voices – voices.yahoo.com
Yamaha 2003 Prototype Street Bikes
2003 Yamaha WR 450 F – Yamaha Dirt Bike – Off Road Magazine
Comparative Yamaha X-Max 400, Piaggio X10 350 and Kymco Xciting 400i …