2013 MV Agusta F3 First Ride
In the face of the global sportbike sales slump, boutique Italian motorcycle brand MV Agusta is aiming to revitalize the stagnant middleweight supersport market with its recently released F3. Powered by an ultra-compact 675cc triple-cylinder engine, the F3 ($13,999) is another European take on the best way to arrive from apex to apex.
VISION BECOMES REALITY
Born four years earlier, the F3 is the dream of MV's late president, Claudio Castiglioni, who commissioned a three-cylinder sportbike before passing away last summer from cancer. Considering its deeply rooted history in road racing, the machine was designed for competition and the demands of World Supersport – a global racing series that MV plans to compete in as early as next season. In excess of 20 million Euros was funneled into the project with the entire design undertaken in house at MV's headquarters in northern Italy.
The core of the F3 is a liquid-cooled, inline three-cylinder engine with a 12-valve head (all valves are fabricated from titanium) spun by twin chain-driven camshafts. Each cylinder uses a relatively over-square bore and stroke dimension of 79.0 x 45.9mm, squeezing fuel charge to a ratio of 13:1. The engine's bottom-end employs a unique design in which the crankshaft spins backwards.
This helps neutralize the forward inertia of the motorcycle in motion making it more maneuverable at high engine speeds, MV says.
Like most things Italian, form follows function and the profile of the motor is one of sleekest and minimalist we've seen on a street bike to date. Both the water and oil pumps are integrated into the engine block, as is the cooling passages, so the only external fittings are for connecting the stacked radiators (one water and one oil).
A cable-actuated wet-style clutch (without mechanical back torque functionality, more on that later…) and a six-speed gearbox (with quickshifter) gets the power to the back wheel. Exhaust gasses are purged via an elegant low-slung exhaust that terminates into three slash-cut pipes behind the rider's right foot.
The engine is controlled by a sophisticated electronic ride-by-wire management system that does away with the physical cable connection between the throttle and intake. The system monitors a number of atmospheric and engine-operating factors that allow for near perfect running conditions. The nearly vertical intake tract uses a pair of fuel injectors and a 50mm throttle body for each cylinder.
There's also a lean-angle sensor and rear-wheel-speed sensor to supplement the traction/wheelie/launch control.
Additional functionality comes in the form of engine/throttle mode adjustment. Four settings are offered: Rain, Normal, Sport and a Custom map that allows the rider to configure Gas Sensitivity (throttle response), Engine Braking (Sport or Normal), Maximum Torque (Sport or Rain), Engine Response (Fast or Slow), and rpm Limiter (Sport or Normal), all independently of one another.
Weight distribution and packaging was a key design concept and engineers were tasked with cramming components within the smallest area possible. The main frame is fabricated from steel tubes that merge to aluminum spars where the swingarm attaches (also fabricated from aluminum and single-sided). Wheelbase measures 54.23 inches, which is right inline with many of the Japanese 600s.
A 43mm Marzocchi inverted fork takes care of front suspension duties while a Sachs gas-charged shock provides rear damping. The 4.22-gallon fuel tank is positioned above the airbox but stretches beneath the rider's seat – further enhancing center of gravity. Braking components consist of Brembo two-piece radial-mount calipers paired to a pair of 320mm discs.
The calipers are powered by a Nissin radial-pump master cylinder. A 220mm disc and twin-piston Brembo caliper control rear wheel speed during deceleration. No ABS option is available.
MV claims that the F3 weighs around 420 pounds ready to ride.
Swing a leg over the F3 and the riding position proves to be relatively forgiving for a bike designed for competition. The bike feels a bit long from front-to-back, but the seating position isn't quite as stretched out as other bikes in its class. With a seat height of just under 32 inches it's also low to the ground.
Indeed it's narrow, but not overly so and the size of the fuel tank is still substantial enough to give the rider area to squeeze and hold on to during braking and cornering maneuvers. The windscreen isn't the tallest but still does an acceptable job of deflecting air around the rider. Riders of above average height will encounter difficulty getting a clean tuck as the seat is so short that you can't scoot far enough back to get completely behind the bubble.
Getting rolling from a stop requires a bit of clutch finesse as first gear is tall but after the quickshifter makes it simple to upshift into the next gear. The clutch lever offers a light pull and also a decent amount of engagement feel.
Right off the bottom the F3 isn't the fastest thing on the road but the engine revs quick and by 10,000 rpm it's producing some serious thrust. With the throttle pinned, power steadily builds all the way to its 15,000-rpm redline, which equates to a relatively wide powerband for a middleweight. There's no surge or heavy hit of top-end power that typically defines the Supersport class, but that's all right by us.
Having not ridden a Supersport in quite some time, probably the biggest testament to the F3's engine performance is that it never felt slow, which is dang impressive. Due to time and machinery limitations we never got to play with the eight-way adjustable traction control, wheelie control or launch control systems.
The character and overall sound of the engine is excellent with it delivering a deeper howl than expected with its engine displacement. The engine also felt balanced with minimal vibration at all rpm. With Sport mode selected the throttle did feel jerky and overly responsive, which will make it more challenging to control.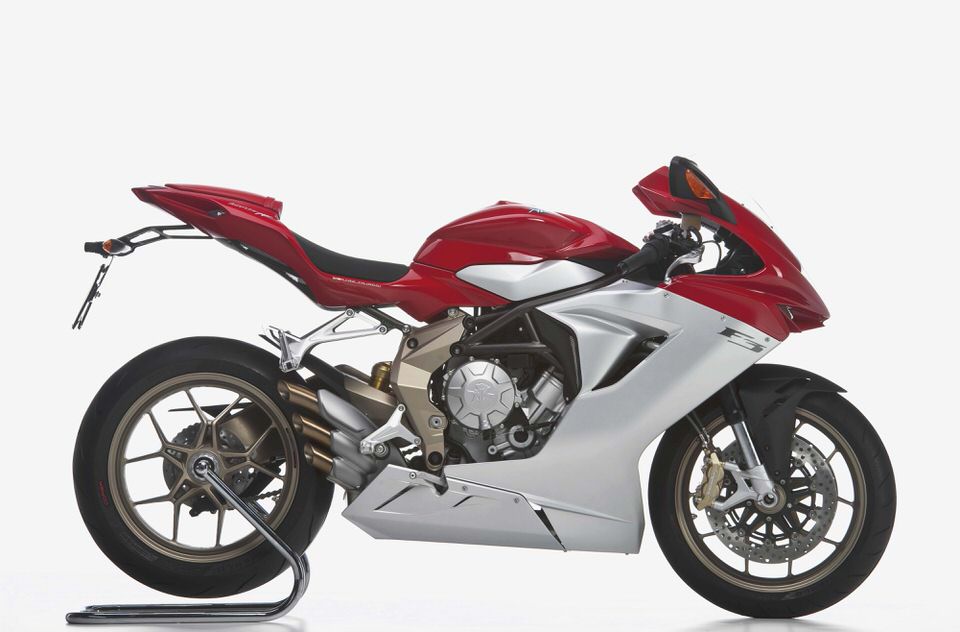 Normal mode offered a more standard-feeling calibration, but with a soft rev-limit interruption near redline.
The transmission gear ratios and final drive gearing felt spot-on and we were surprised by how much attention the gearshift lever needed. Not a bad thing at all and a testament to how well optimized the powertrain is to maximize acceleration force. Even though the F3 doesn't employ a mechanical slipper clutch, its electronic Engine Braking functionality is so well dialed under deceleration that we didn't even know that it was lacking the hard part until they told us after the test.
While we loved the F3's engine and drivetrain performance its handling proved to be more difficult to read. It steers into high- and low-speed corners with minimal effort and it's predictable. The problem for our test was that MV chose to run Dunlop Sportmax Q2 tires instead of the OE-fitted PirelliDiablo Rosso Corsa tire – and the change affected the chassis geometry, which made the bike handle awkwardly mid-corner.
It also had a tendency to headshake at certain points on the track.
In spite of its awkward handling, the F3's suspension surprised us by how well it functions. Under braking the fork is very responsive and offers minimal stiction initially in its stroke. It also has a very progressive feel with no weird spikes or hang-ups as it was loaded with the front brake.
Conversely the rear suspension also performed well and we were taken back by how well the back end of the bike 'hooked up' under heavy throttle loads.
We also had mixed results with the brakes. When the bikes were fresh in the morning the brakes performed without flaw, delivering a high amount of lever feel and stopping power. I was actually surprised by how much more effective its two-piece Brembo calipers were as compared to other bikes with similar set-ups.
But as the day went on the brakes on the red bike I was riding developed a shutter that made it unnerving to operate.
For its first foray into the world of modern middleweight sportbikes, MV has done an admirable job considering its limited resources. For sure it's got a strong, well-sorted powertrain package that can run with the best from Japan and Europe. The ergonomics are functional as well – for all but us taller folks.
But the thing that really holds the MV back at this point is a bit of chassis refinement. Get that dialed-in and there's little doubt that it could be a true contender in the class.
For more information and other Motorcycle USA articles CLICK HERE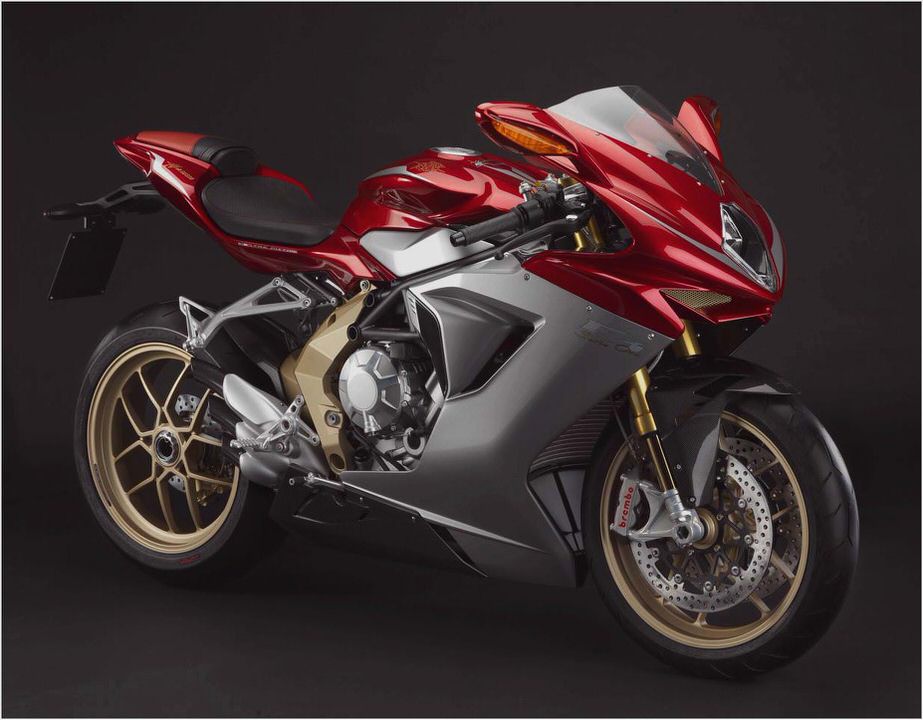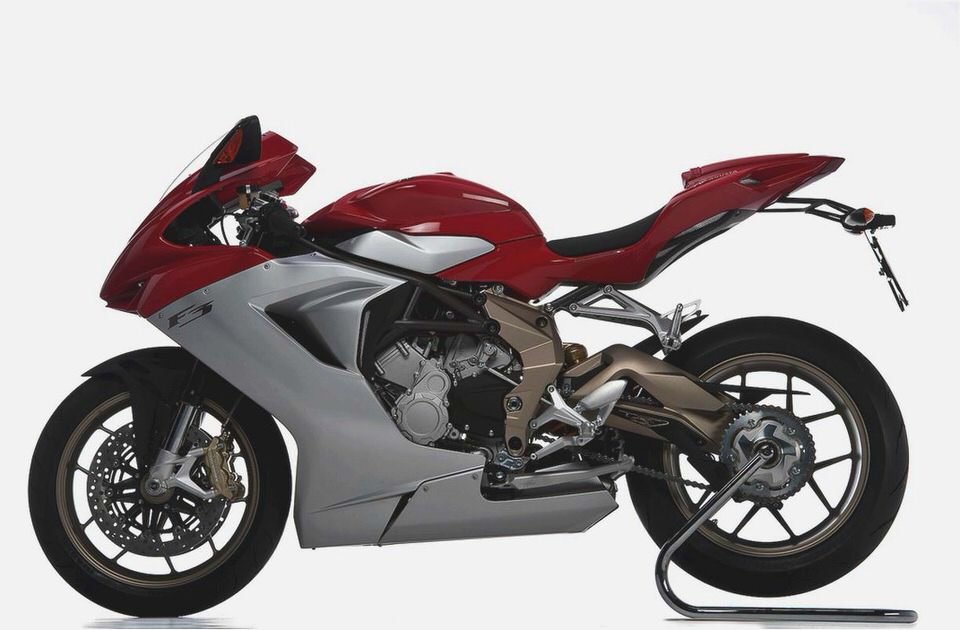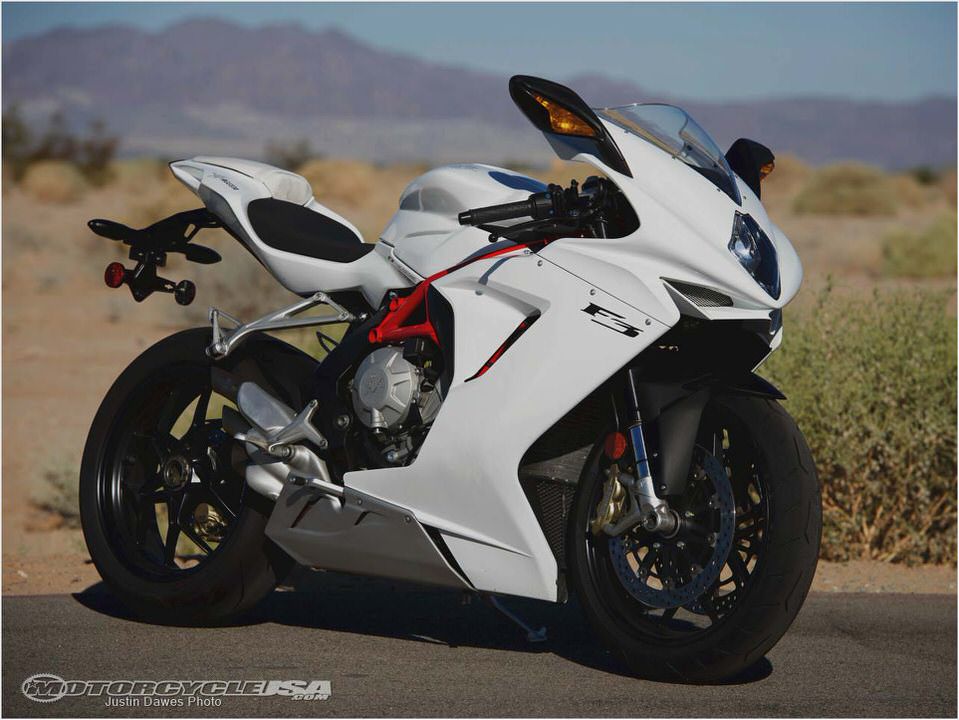 2012 MV Agusta Brutale 1090 R & RR Review – Motorcycle USA
Test MV Agusta Brutale 800 2013: A strong character! Bikes Catalog
2006 Mv-Agusta F4-1000 Senna motorcycle review @ Top Speed
MV Agusta Brutale 920 naked Italian passion Daily Maverick
2010 MV Agusta Brutale 990 R Review – Ultimate MotorCycling