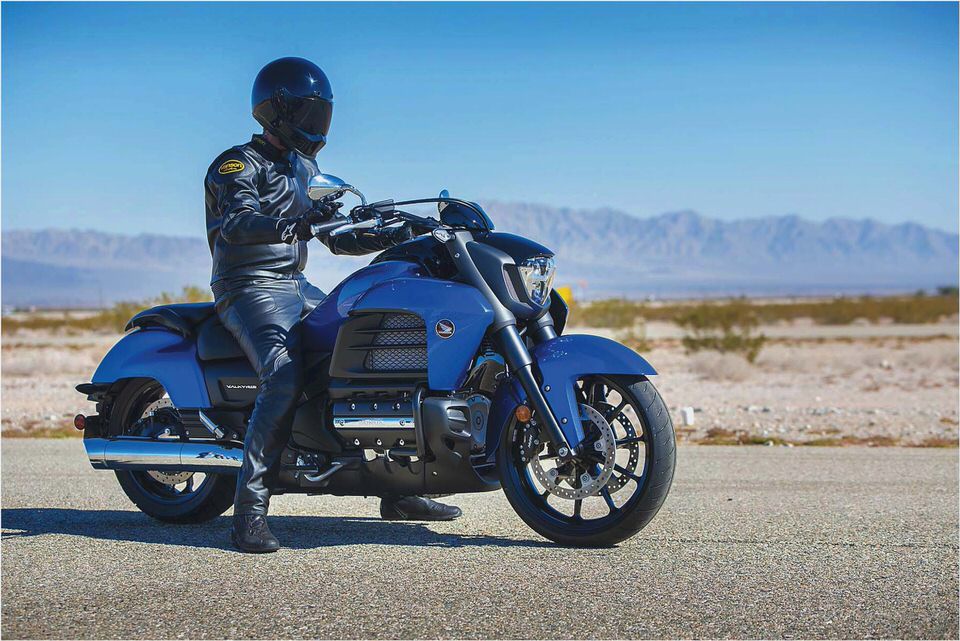 2014 Valkyrie Review of Specs / Release Date / Pictures / Video + More
Introducing the All NEW Power Cruiser from Honda for 2014, the Valkyrie. This is yet another completely New model adding to the 2014 Honda Motorcycle Model Lineup. Honda has really been on the ball lately with releasing new model after new model and then adding even more to the model lineup since we kicked off the 2013 model year and they have kept surprising us even as we roll into the 2014 calendar year.
Scroll all the way down to browse through a review of the 2014 Valkyrie Specs, Price, Release Date, Features Benefits, Pictures (High Res at bottom), Video and More. Leave a comment below, let us know what you think about the All New 2014 Valkyrie. Has Honda got a huge hit on their hands?
For the second time this November, Honda is bringing big news to the Powersports marketplace. And it's really big news, literally.
Today a motorcycling icon returns in all-new form, said Powersports Press Manager Bill Savino. The Valkyrie is back, but this isn't a motorcycle that celebrates the past. This is a cruiser unlike any other for people who want to seize the future, who appreciate distinctive style, who want the kind of performance no cruiser can match. The Valkyrie redefines the term muscle cruiser.'
The Valkyrie is an enthusiast-based motorcycle targeted at serious riders looking for a special ride that sets them apart from the crowd and also delivers performance that's clearly a cut above the rest. True to its iconic name, the Valkyrie targets the hearts and souls of enthusiasts in a way that only Honda can.
– Valkyrie
The Valkyrie name is legendary, and the machine first introduced in 1996 has a hard core following to this day. Now for 2014, the Valkyrie takes that unmistakable swagger to a whole new level.
It's a winning formula: Take a legendary machine, strip it down to the essentials to shed pounds, wrap it in minimalist bodywork and power it with an engine that produces ground-shaking torque and an unmistakable six-cylinder howl out of the Valkyrie exhaust. The core of this remarkable custom is Honda's unique 1832cc liquid-cooled horizontally opposed six-cylinder engine that also powers the Gold Wing and Gold Wing F6B.
With an awe-inspiring power to weight ratio, aluminum twin-spar frame and suspension system tuned for serious riders, the Valkyrie is all about unparalleled performance and style. With a curb weight of 750 pounds, the Valkyrie is a welterweight with a heavyweight punch that also includes modern touches; LED headlight, taillight and turn signals, multi-function digital LCD instrumentation and available Anti-Lock Braking System. The Valkyrie is one totally cool ride that's set so far apart from anything else on the market it has to be experienced to be believed.
Do you remember the Valkyrie Rune that was produced in extremely limited quantities in 2004 / 2005? Well think of think of the 2014 Valkyrie as being a Rune for the masses. The Valkyrie Rune carried a price tag a little bit higher than most people wanted to spend with an MSRP exceeding $25,000.
The 2014 Valkyrie seat height is nice and low at only 28.8 inches. One nice feature too is that the passenger seat is removable on the Valkyrie, that will open up a lot of options on customizing the Valkyrie. Speaking of customizing, the 19 inch front wheel (130/60-19 Tire Size) on the Valkyrie is a nice addition over the standard F6B / Gold Wing which will give you more of that custom look without having to spend big bucks on an aftermarket larger front wheel.
Honda also outfitted the Valkyrie with a nice wide rear tire out back with a 180/55-17. The 2014 Valkyrie is a lot like a sport bike when you start going through some of the detailed specs on the Valkyrie like the inverted 45mm forks, twin spar aluminum frame, radial tires, single sided swing arm with linkage rear suspension.
When going over all of that, you can't forget the most important part that you have to have when you have a big bike with a lot of horsepower like the 2014 Valkyrie, brakes. Honda outfitted the new Valkyrie with 310mm discs up front with four piston Nissin calipers like what Honda has used in the past on their CBR sport bikes.
With all of the development that Honda put into the 2014 Valkyrie, it weighs only 750 pounds and that is 154 pounds less than a Gold Wing. Add in that the Valkyrie makes over 100 lbs of torque, is lighter than the F6B and Gold Wing and you'll see that the Valkyrie is definitely not going to be lacking in the acceleration department.
We still to this day have a lot of people ask about the Honda VTX1800 and if we have any New VTX 1800 models still in stock For Sale. A lot of our customers were sad to see the day when Honda dropped the complete VTX1800 model lineup in 2008. The Big Bore cruiser market is still quite large and now that the economy is bouncing back, hopefully the new Valkyrie will be a hit for those Power Cruiser guys that want a lot of horsepower.
The next Cruiser I would like to see Honda tackle would be cramming an 1800cc V-Twin engine in the Honda Fury frame, now that would be interesting. What do you think?
2014 Valkyrie Features Benefits
– Powerful, fuel-injected 1832cc engine features a parallel two-valve cylinder head with direct shim-under-bucket valve actuation for extraordinary power and performance along with a smooth, sophisticated engine feel plus rugged dependability.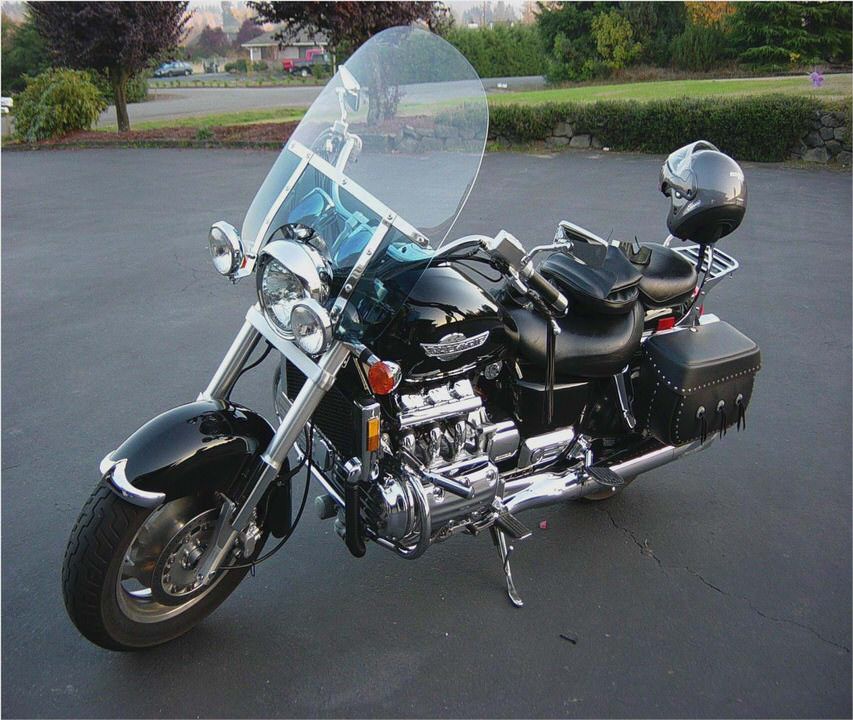 – Programmed Fuel Injection (PGM-FI) incorporates two 40mm throttle bodies and six high-pressure programmed fuel injectors for excellent metering under varying conditions.
– Low seat height of 28.8 inches, curb weight of 750 pounds and low center of gravity all combine to help give the Valkyrie impressive handling and brilliant all-around performance.
– Spacious and accommodating two-piece seat with removable passenger seat.
– Stylish tail section incorporates aluminum passenger grabrails which are removable for a streamlined look.
– LED headlight, taillight and turn signals contribute to a distinctive appearance.
– Fat 1-inch handlebar lends a custom look.
– Multi-function digital LCD instrumentation.
– 15 Honda Genuine Accessories will be available for the Valkyrie.
– Optional ABS model contributes to consistent braking action under a wide variety of road conditions.
– Valkyrie Warranty: Transferable three-year limited warranty; extended coverage available with a Honda Protection Plan.
Backrest, Wind Deflector, Passenger Floorboards, Rear Carrier, Saddlebags, LED Fog Lights, 12-Volt Accessory Socket, Billet Master Cylinder cover, Chrome Side Stand, Chrome Side Covers, Chrome Swingarm Pivot, Custom Grips, Boulevard Screen, Tall Windscreen, Leather Touring Bag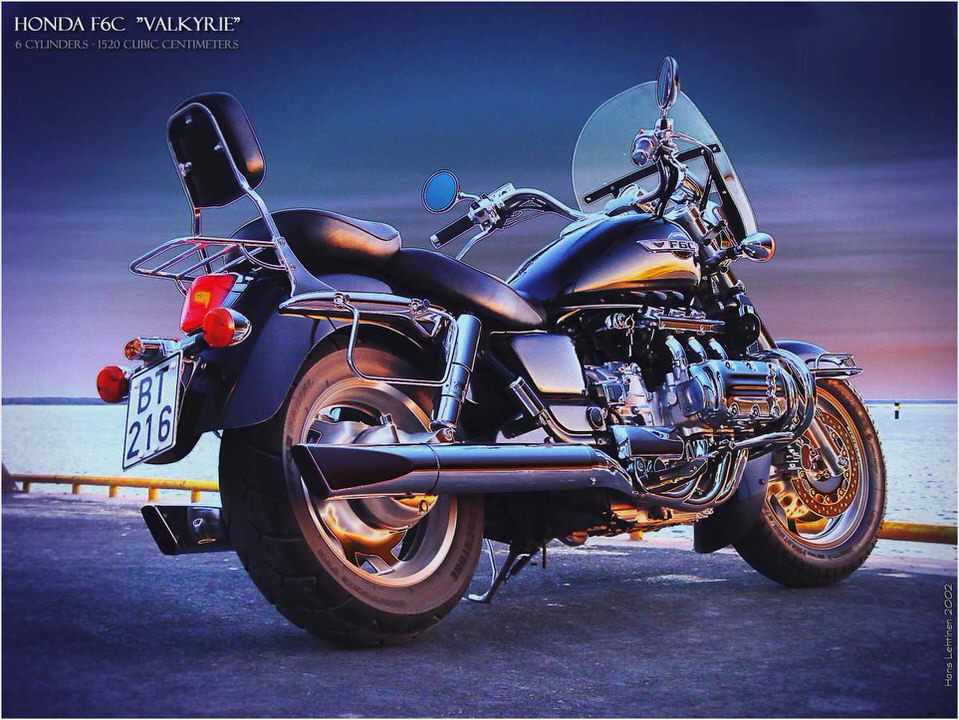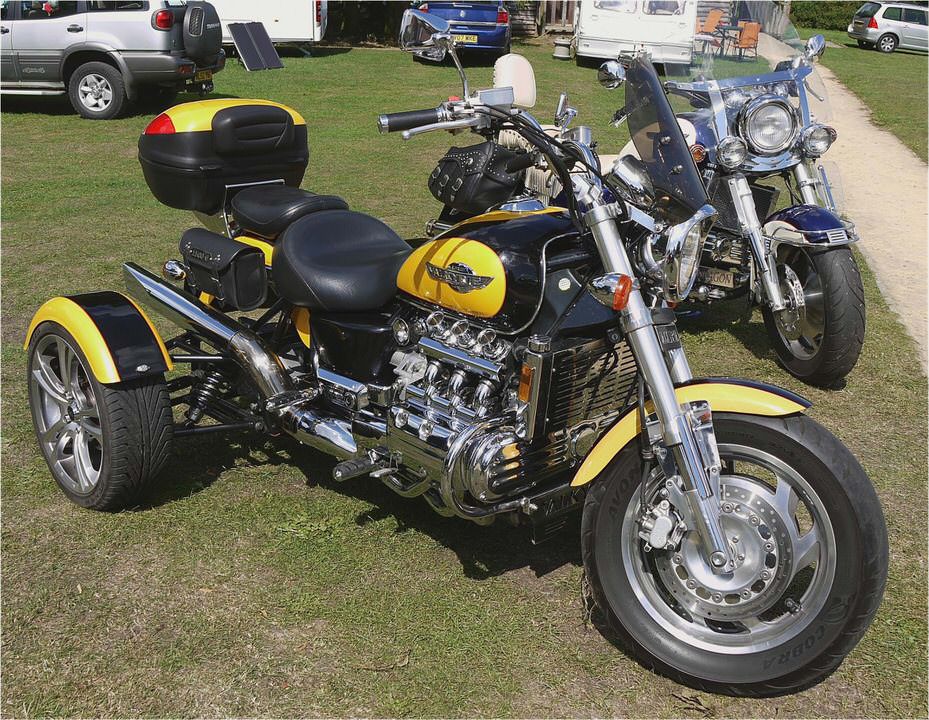 Honda VFR400 (NC24) – review and opinion – VFR 400 NC24 Honest review!
600CC Honda MC Specs eHow
Honda CBR 150R automaniac.in
2014 Honda Grom 125- First Ride Review- Photos- Specs
Honda VFR1200F India Review, Price, Photos…