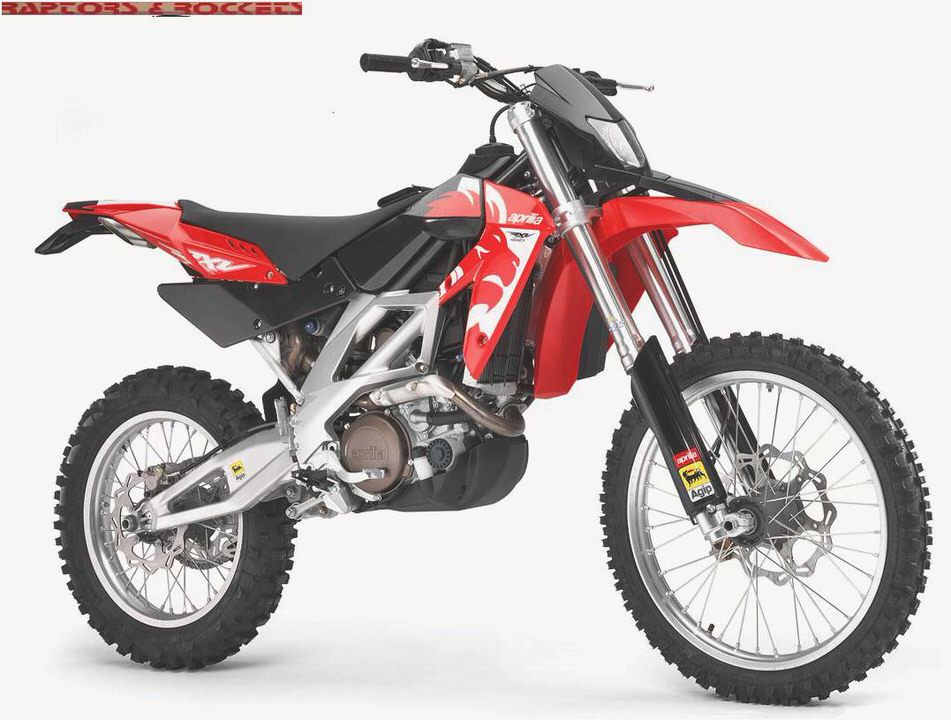 Aprilia RXV450/reviews
Motorcycle.com 2006
You might be uninterested to know about its namesake, War of 1812 Col. Cuddesback, or its quaint architecture and ye olde antique shoppes. However, Aprilia decided to use the nearby Oakland Valley Raceway to introduce their new V-Twin SXV Supermoto and RXV Enduro to the US motorcycle press.
Interested now?
We thought you might be, so Motorcycle.com sent both intrepid dirt-riding, web-mastering, photo-taking Executive Editor Alfonse Fonzie Palaima as well as grizzled Senior Editor Gabe Ets-Hokin to check it out.
The engine is quite a design feat. It uses a 77 degree V-angle to achieve smoothness as well as compact size; no balance shaft is required, according to Aprilia. To aid compact dimensions, cylinders are built into the engine case, with replaceable wet-sleeve liners. The crankshaft is a single piece to be light and small as well. Cylinder heads use just a single overhead cam to further save space, compressing mixture to a 12:1 ratio in the 5.5 engine and 12.5:1 in the 4.5.
There are four titanium valves per head, which sits atop an 80 by 55mm bore in the 5.5 motor, 76 by 49.5mm in the 4.5. I'd call that extremely oversquare; those dimensions allow the SXV 4.5 rev to over 13,000 rpm. Zing!
Engine management is handled by an ECU, controlling 38 mm throttle bodies in the 4.5, 40mm jobbies on the 5.5. The motard version is designed to rev higher, while the RXV enduro makes less power, although it is supposed to be torquier at low to medium rpm. With just a few different parts, Aprilia has developed four distinct motorcycles from the same power unit.
A 450-550cc V-twin designed to be light enough for off-road racing while making unheard-of levels of power is a wet dream for many motorcyclists, street or dirt.
The entire powerplant is designed to get the most rpm and power out of the smallest, lightest package. No expense seems to have been spared to accomplish this; expensive materials like aluminum silicon alloy, magnesium and titanium are used liberally, resulting in a motor that makes a claimed 70 HP with a racing exhaust (on the SXV 5.5; the SXV 4.5 makes 60, while the RXV 5.5 makes 58 and the RXV 4.5 makes 55) while weighing just 71.4 pounds.
At this point in the presentation, we were ready to write checks for just the engines, which would actually be small enough to qualify as carry-on luggage. My Cuisinart weighs more (with the bread-making attachment).
However, there is an entire motorcycle attached to this jewel-like motor, so we pressed on with the technical presentation. The frame is a lovely steel trellis press-fitted into forged aluminum sideplates, stiffened by the use of the non-counterblanaced motor as a stressed member. The aluminum swingarm sets the SXV and RXV apart; the motard's unit is wide enough to allow up to a 6.5 inch rear wheel.
Suspension and brakes seem to have received as much thought. The front forks are jumbo 48mm upside-down units on the SXV, 45mm on the enduro, adjustable for preload as well as rebound and compression damping. The rear shock is a large, expensive-looking item as well, and is also adjustable for preload, compression and rebound, although it adds a separate high-speed damping circuit.
Brakes are a radial-mounted four-piston caliper and single 320mm wave-pattern floating disc in front with a floating single-piston caliper and smaller wave disc in the back.
Stock tires are a little disappointing. Instead of exotic hand-cut rain slicks or the latest Euro-edgy street moto tires, we get garden-variety Dunlop D208s on the SXV, a 120/70-17 in front and a 180/55-17 in the back for the supermoto. The RXV gets standard-sized dirt tires, a 90/90-21 leading the way with a 140/80-18 following.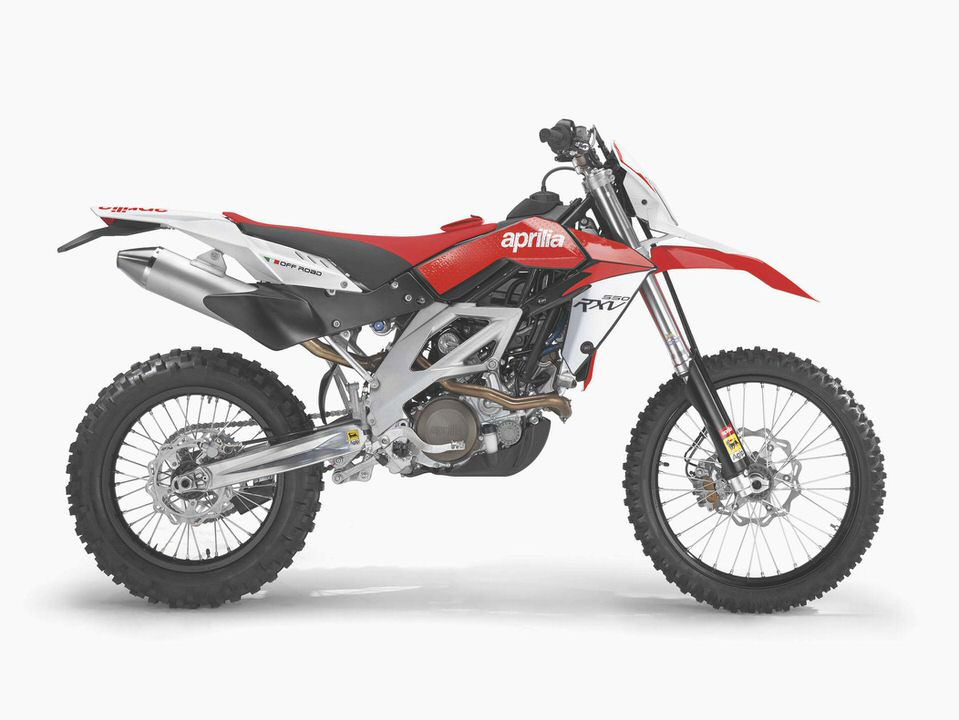 Fonzie Runs Wild; In Which the Capturer of Images Prances In the Woods With the RXV Enduro and Lends a Second Opinion to the SXV Supermoto.
I know nothing about riding in the dirt! whined the Senior Editor over the phone. You've got to come with me to this thing and tell the readers what the Enduro's like to ride!
Twist my arm, why don't you? The next thing I knew, I was transported to Oakland Valley raceway, ready to apply my Fonzie Sense to the slick new dirt bikes the Aprilia people had lined up for us to ride. The track was short but had uphill, downhill, roots, ruts and rocks, all covered in the rich, damp earth that was perfect for getting down n' dirty.
Approaching one of the bikes, the exotic appeal of the Italian brand name slowly fades into memory because it has to; fear of crashing a bike crashes bikes. Even if the name says you can't afford me, you will soon find out that you can and will! Grab hold of the grips and tip the bike upright, while peering down to kick the stand up and the spring-loaded thing is gone.
Sproing! Throughout the day I wondered if this spring-loaded side-stand was more harmful than helpful when each time I tried to steady the bike on uneven hilly dirt hills, it snapped back up–causing me to lower it by hand many times–but I think in the end it would grow to be a good thing.
If the bike doesn't quite fit you perfectly, it's not a problem; the tapered aluminum bars are adjustable forward or back several millimeters. However, the bar height was perfect for me, with no immediate adjustment needed. I would make a note that maybe due to the edgy fairing panels that the tank-to-seat transition was too minimal. Without a noticeable hump or bump or edge, I found myself sliding ever more and more forward, performing my own hernia exams with the gas cap while riding.
Turn your head and cough!
The rear end of the saddle has a little diamond-shaped bump on it and I would add my own seat if I were to own one of these bikes. Overall though, rider geometry is spot on for my size; not once did I feel cramped or stretched too far.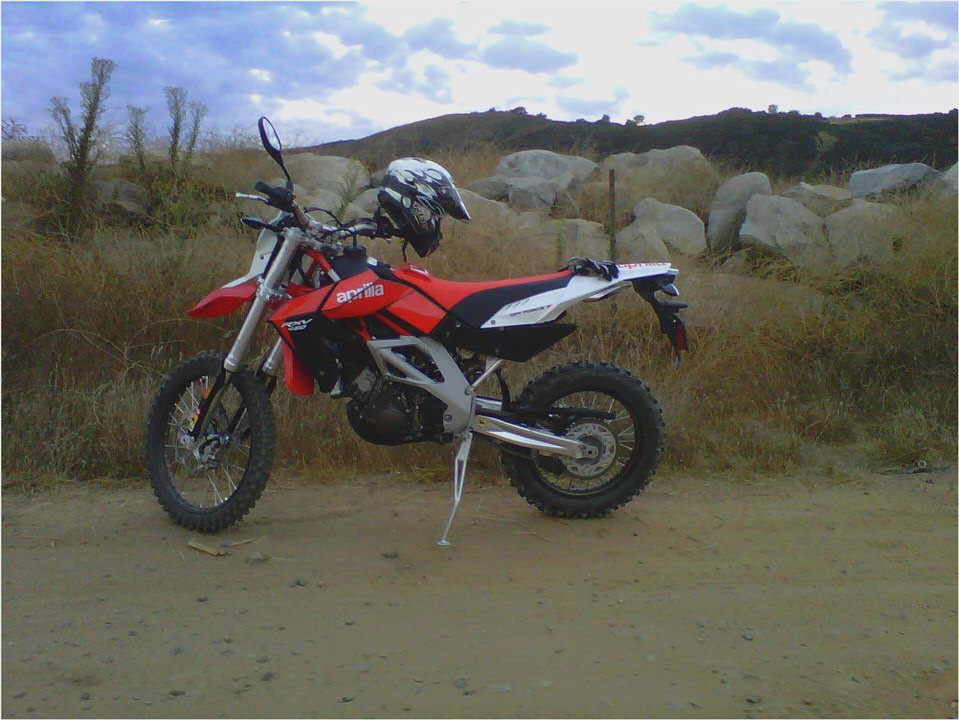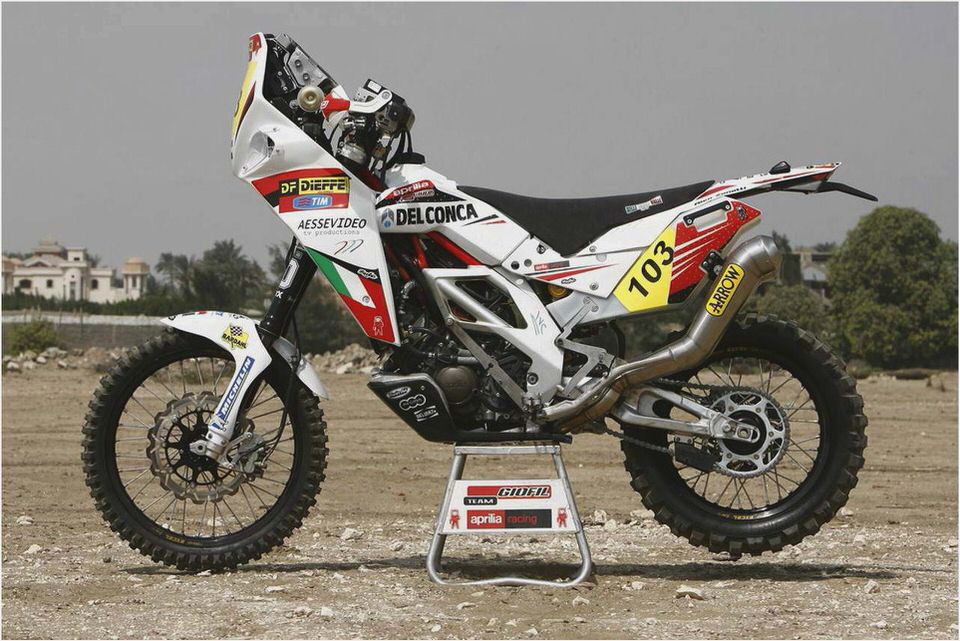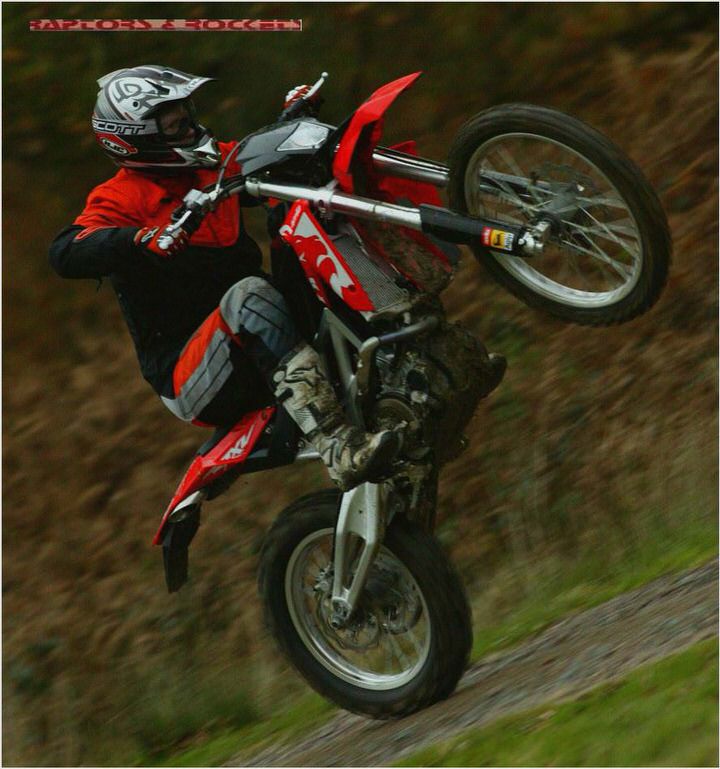 2008 Aprilia SL 750 Shiver: Editors' Notes: Discover what the CW…
Aprilia RSV4 Factory Engine- Narrow-Angle V-Four Technical Analysis
2010 Aprilia Dorsoduro Factory Review – Ultimate MotorCycling
2010 Aprilia Mana 850 GT
Vic wild took long way to gold by unsitesga1989 on P&P