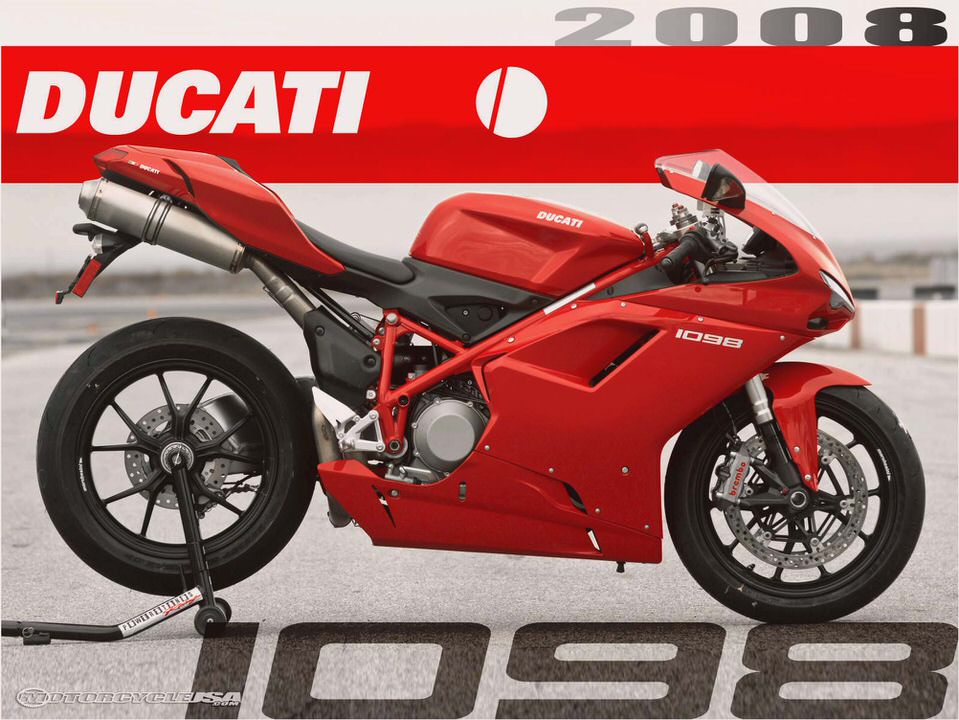 The New Ducati Superbike Ducati spent the past year preparing the 1199 Panigale for its World Superbike debut. Will this new big Twin win?
Ducati's 1199 Panigale . with its radical 112 x 60.8mm bore and stroke and equally radical Vincent-like "frameless" construction, was a new model a year ago. It was raced in Superstock 1000 to prepare for its debut this season in the Superbike World Championship, and rumors are flying. I was given the privilege of three interviews with those who know what there is to know: Ducati General Manager Claudio Domenicali . Superbike Project Director Ernesto Marinelli and test rider Matteo Baiocco.
My interest was sparked by suggestions that the new engine's power has traded away some of the 1198's fabled midrange for more peak, and that handling has changed. There is special interest in the latter point because Ducati has not been able to make a success of similar frameless construction in MotoGP, leaving factory team riders Valentino Rossi and Nicky Hayden winless over the past two years (Rossi has now moved back to Yamaha).
Team SBK Ducati Alstare rider Carlos Checa has said the new bike has a different character. "It is more sensitive," said the Spaniard. "You have to ride differently, less instinctively and with more precision." He added that when behind four-cylinder machines in pre-season testing, he hadn't lost much but couldn't "even think of overtaking them." Another commentator has said, "Bologna has been unable to increase the rpm much beyond stock," and that the engine is "only powerful beyond 8000."
"Stock" for this Panigale is 12,000 rpm, and the 4000-rpm range from 8000 to that point is a 33 percent powerband—quite good for a race engine. But it is also said the new engine lacks the strong midrange of the 1198.
Rider forward! Compare Carlos Checa's seating position on the Ducati 1199 Panigale with that of the much more rearward Mike Hailwood era. Modern bikes are really dragsters with turning ability, so they need every bit of weight toward the front.
Ducati claims a 52 percent front bias for the Panigale.
According to Domenicali, Ducati tried to extract everything from the platform. This is normal for Ducati, whose philosophy has been to mine all the power engineering can find in a new design and then civilize and make that power rideable. Those who remember Carl Fogarty's career on Ducatis know that one minute he was complaining of no midrange (which had previously forced fellow Ducati rider Pier-Francesco Chili to use a corner-speed style), and then, when Ducati gave him more, of too much.
This reveals the "plasticity" of modern powerbands, which can be manipulated both physically and electronically.
Domenicali also pointed out that the competition continues to improve. We saw this so powerfully last season as Tom Sykes' Kawasaki ZX-10R . always very fast, gradually stopped eating its tires and began winning races. Aprilia kept pace, with Max Biaggi taking the title over Sykes by just a half-point.
Partly because of Ducati's long success in the class, and partly because of the Twins' 1200cc limit, the 1199 must breathe through two 50mm restrictors. "It is more complicated with the restrictor," said Domenicali. "We are not yet able to reach our performance goals."
I asked if Ducati had switched to a more physics-based approach to machine setup, as opposed to the company's long, practical tradition of adhoc solutions. In MotoGP, it has often appeared as if the bike's setup is what ought to work, rather than what the riders need.
"Absolutely not!" replied Domenicali. "We have the same people as before. We can make quick fixes, while not forgetting that we are engineers. Everything is about rider confidence. This is very clear to us."
I asked if the new chassis has shown advantages. "It has been a big advantage in Superstock," he said. "It allows later braking and more stable corner entry."
Internal airflow management, anyone? A major task for modern racing machines is to get hot radiator air out of the bike without toasting the rider and use just enough other airflow to keep the tightly packaged exhaust system from roasting nearby components.
When I asked similar questions of Marinelli, he said the riders still have a bit of chatter with the newly mandated 17-inch wheels, which replace the previous 16.5s. "The stiffness of the chassis changes overall behavior," said Marinelli. "The bike is a lot more precise. It reacts more strongly [to control] than the 1198, which had a mushy feeling. There is more stability, especially entering corners, which enables later braking."
The flexibility of the previous multi-tube "trellis" chassis is now legend, as one could see a slow wallowing motion through corners. Asked about this in 2002, Colin Edwards said, "Yeah, they wallow. But they dig in and go around the corner." During Edwards' time as a factory rider—he was SBK champion in 2000 and 2002—Honda bought and measured a Ducati, finding it half as stiff as its own chatter-prone V-Twin, the RC51.
Only as Honda reduced stiffness and raised the chatter threshold could Edwards push Ducati's Troy Bayliss hard enough to take the title from him. But in MotoGP, Casey Stoner said a few years ago that on the trellis chassis, "You can't hit the same point two laps running."
That kind of uncertainty, which Marinelli called "mushiness," finally became so distracting that it had to be addressed. Ducati's solution, in both MotoGP and SBK, has been to eliminate the chassis, connecting engine and steering head via a large and very stiff box structure that doubles as an airbox. On the MotoGP bike from 2009 onward, this was done in carbon fiber, while it is an aluminum casting on the new Panigale.
This is a major element in the Panigale being 22 pounds lighter than the previous 1198.
Official consensus seems to be that this rigidity is troublesome only on MotoGP's extremely stiff Bridgestone tires, while on the much more supple Pirellis of SBK, it is not.
"I don't believe in a magic setup that works for many riders," said Marinelli. "The setup is never the same between two riders. There are three basic kinds of riders: First is the very round rider, taking big lines, doing everything very gently, braking early and not so hard. He likes a stable motorcycle with a lot of trail."
Checa tests the 1199 Panigale in traditional, unpainted pre-season racing bodywork. You can see what the engineers are talking about when they say "mass centralization": no heavy exhaust system under the seat, no grouping of parts behind the rider.
I thought immediately of Eddie Lawson, Jorge Lorenzo and Troy Corser.
"The second is the wild animal, like Troy Bayliss. He brakes late and very hard, tries to get the bike turned very quickly and is early on the gas. He wants less control effort, so stability is almost unimportant."
Now, I thought of Ben Spies ' troubles this past year with overheated brakes and of Yamaha's attempts to make him ride in Lorenzo's corner-speed style.
"The third rider style is some combination of the first two." Clearly, no one "magic setup" could be right for all three!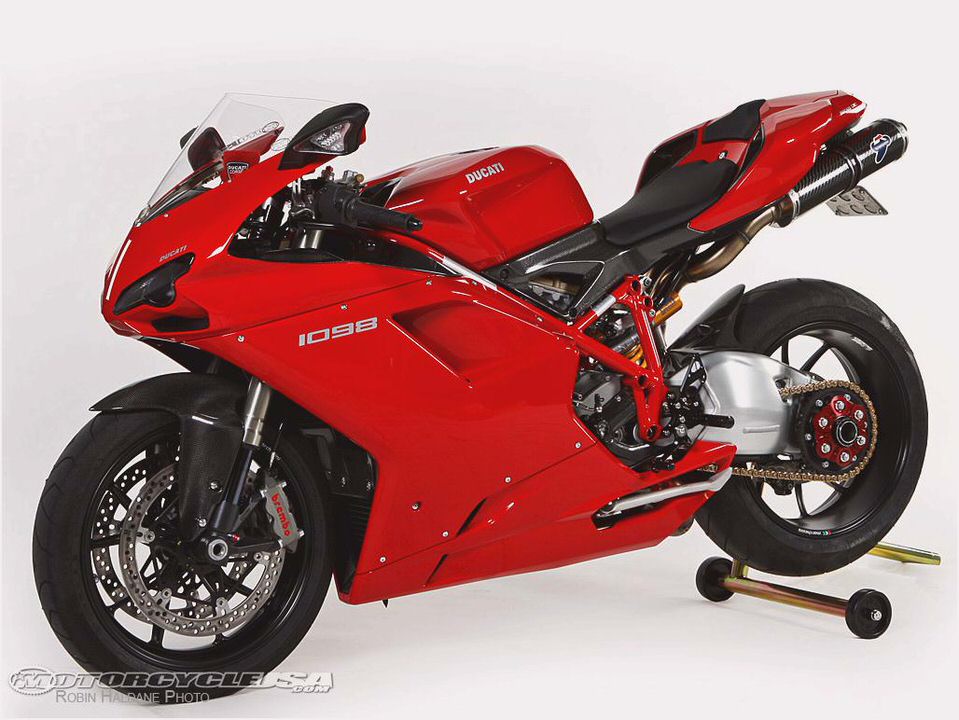 Regarding power, Marinelli said the 1199 "is close to the best four-cylinder at the moment, but the effect of the restrictor is worse than on the 1198 because the engine is revving higher, so friction is greater. It is as if you draw a line at 210 horsepower. And because of current Superbike regulations, you can tune less [i.e. fewer parts can be modified]."
I said to Marinelli that when I looked at the numbers, I thought the top Fours might have a 7-hp advantage. "More," he said.
I also asked if the presence of the restrictor had forced Ducati to lengthen intake-valve timing as a means of allowing more time during which adequate air could pass through the terrible restrictors. (My experience dates from the AMA's 1978 imposition of restrictors on the Yamaha TZ750). I asked this because such extended timing would have the effect of narrowing the engine's power.
Marinelli heartily agreed that the restrictors are terrible—"a political problem"—but denied they had influenced cam timing.
Test rider Baiocco also shared his thoughts. "Luckily for me," he said, "I started riding the new Superbike at its embryonic stage. I tested many, many parts over the past six months, but each time I was getting on a bike whose parts I did not know. Gradually, over time, it became clear which parts were associated with the fastest lap times."
Matteo Baiocco used his Italian Superbike championship-winning experience on the 1198 to aid development of the 1199 Panigale that Checa and his Ducati Alstare teammate, Ayrton Badovini, are campaigning this season in the Superbike World Championship.
Baiocco said that by July, 2012, the new bike had surpassed the old, and at Mugello, he was faster on the new bike than on the 1198 he rode in last year's Italian championship.
"I had to forget what I knew from the 1198 and ride in a new way. The new bike has reached a stiffer, more stable condition."
In the larger picture, I wanted to know what effect the coming of Bernhard Gobmeier to Ducati would have. The German headed BMW's Superbike project in recent years. Marinelli said Gobmeier has good experience in dealing with a variety of problems—a diplomatic reply that could mean anything.
Several of my questions, in particular those dealing with Ducati's recent addition of adjustable swingarm pivot height—a new system of eccentrics allows making the pivot 2mm higher or either 2 or 4mm lower than stock—were answered equivocally. While the grapevine suggests that the stock pivot position was jacking up the back of the bike on corner exit, Domenicali said only that, "It is to fine-tune bike behavior when you put the throttle on." Marinelli dismissed it as "a tool with other tools."
A remark from Checa restores perspective: "The number-one problem is to know the 17-inch Pirellis; tires are 70 percent of a bike's character." About the Panigale, he said, "It behaves a bit like a MotoGP bike."
In the past, Ducati has displayed great ingenuity in dealing with such issues, for its entire history in SBK has been of continuous adaptation to change. This is the very reason why Ducati's persistent problem in MotoGP has been so puzzling. Things like peaky power or the 916's very short swingarm or "trellis wallow" have in the past been taken in stride or even turned into advantages. So, too, it may turn out with the Panigale's chassis stiffness and revvier engine.
As the passage of days brings us into the 2013 SBK season, we have the pleasure of anticipation.
Carlos Checa on the Ducati 1199 Panigale – Rider forward! Compare Carlos Checa's seating position on the Ducati 1199 Panigale with that of th'
Ducati 1199 Panigale stripped view #1 – Internal airflow management, anyone? A major task for modern racing machines is to get hot radiator '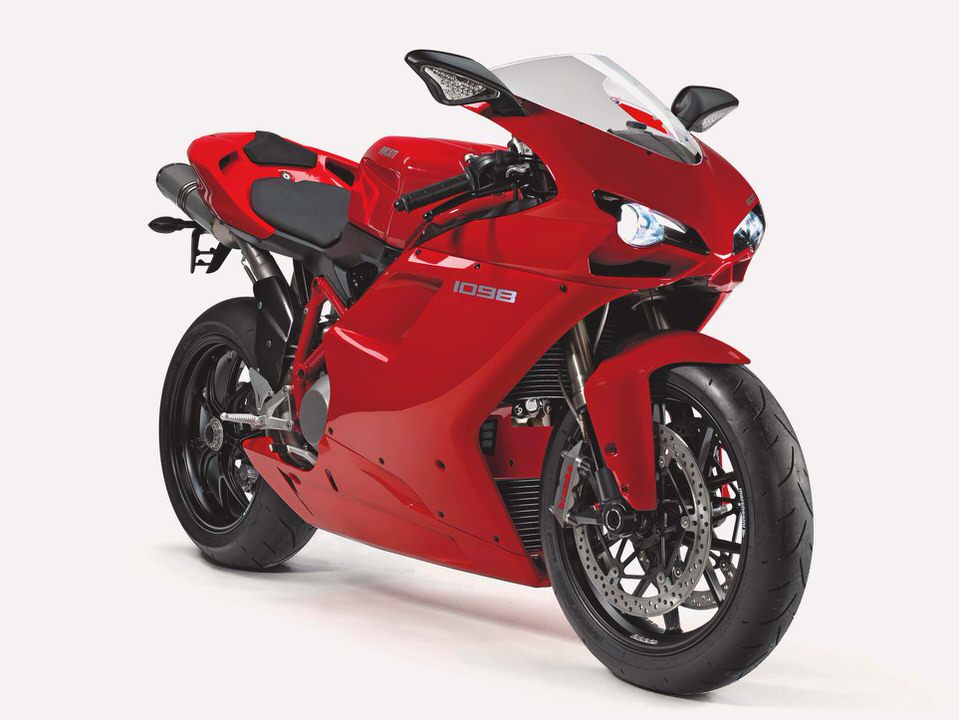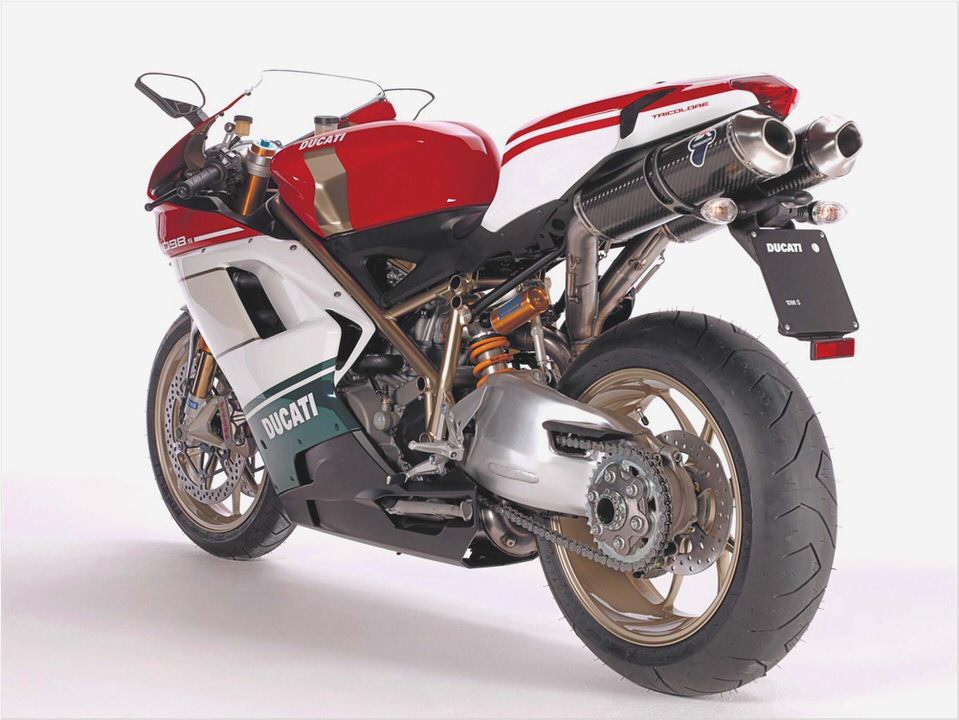 1979 Ducati 900 GTS For Sale Classic Sport Bikes For Sale
2008 Ducati Monster 696 Super Streetbike
Ducati S4RS Monster Testastretta (2006 – 2008) review – Naked – Motorcycles…
Test Ducati Hypermotard SP 2013: Liquid engine, soaked character Bikes Catalog
2005 Ducati Monster S2R Motorcycle Review – Ultimate MotorCycling