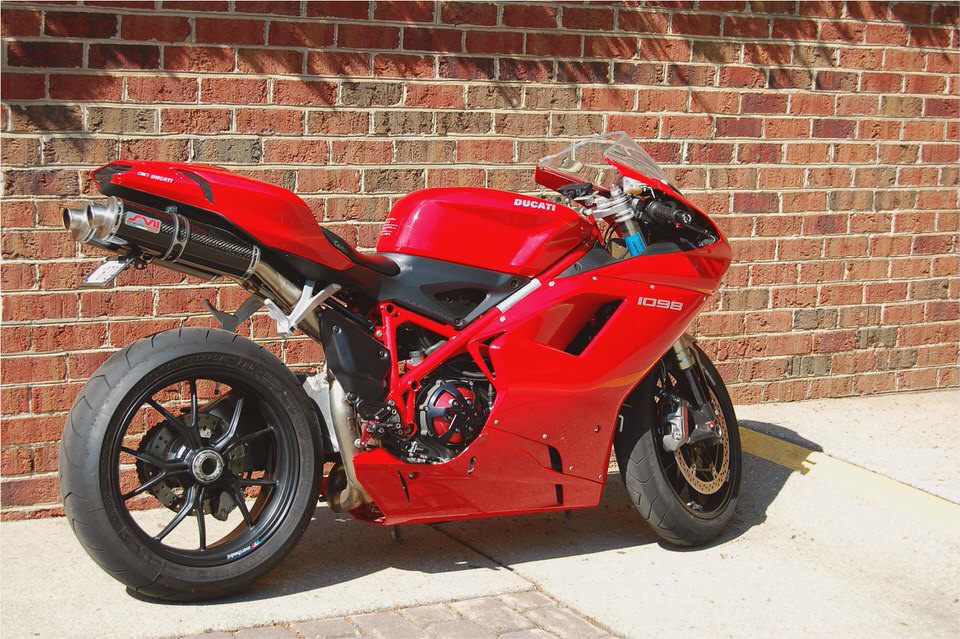 Soup's man in black, Danny Coe, shot the accompanying missive off from the Ducati 1098 press intro in South Africa. He was invited to do a session with world champion Troy Bayliss while there.
image by wolf j tarzan
Hello one and all from sunny South Africa.
Ducati has just concluded their new-model launch -introducing what is undoubtedly the most sophisticated production motorcycle ever to leave the Bologna factory. Literally new from the sidestand up, the impressions our 1098 left us with today were nothing short of outstanding.
For Soup, the Kyalami circuit is no close venue, but there were good reasons Ducati brought journalists such distances for testing. Today, the outside temps were in the eighties-after all, it's summer here. We suspect Ducati's real reason, though, was to showcase performance on a track that is loaded with fast sweeping curves, many of which are connected by chutes and sections with dramatic changes in elevation.
Kyalami proved to be a truly challenging layout and one where the new motorcycle really was able to perform. We ended the day completing a total of five sessions on both the standard and S versions of the machine.
Troy, the current WSB Champion
For an added treat at this press introduction, Ducati enlisted the services of their in-house 2006 World Superbike Champion and final round winner of this year's MotoGP championship, Troy Bayliss. Bayliss was on hand and seemed eager to do some riding thus we asked Troy if, at some point, he would be willing to show us his lines, thus condensing the time we needed to learn the unfamiliar track.
To our humble gratitude, he gladly accepted and ?Soup literally had a one-on-one session with Troy for several laps around this legendary racetrack. Later, Troy would help tow one other tester and, in both cases, we, the beneficiaries made huge improvements in a very short period of time. Later in the day, Troy also gave everyone a riding demonstration doing laps aboard a standard version of the 1098.
The man flies, and we all witnessed the true potential of Ducati's latest production Superbike in fully stock trim. How can I describe what I saw? Let me say this: Wow!
Now more power for less!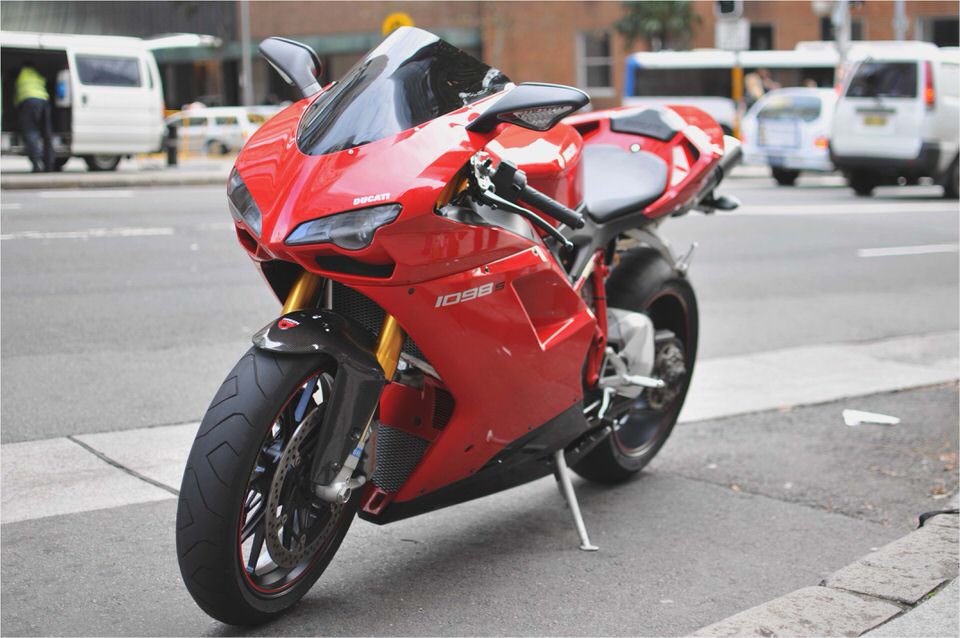 Stop freakin' drooling, already. You're at work for cryin' out loud. Christ! Be professional for once, would ya?.
Improved overall handling is the result of numerous chassis changes, as well. The 1098 reprises the single-sided swingarm and now uses a massive cast-and-stamped rear arm fit to a frame with larger-diameter, but thinner-walled tubing. Engineers claim the new 'arm yields 40% more rigidity, yet weighs less than the 999's dual arm.
With the fitment of the new arm, the overall wheelbase increases 10mm, yet the handling remains very stable.
For tires, the OE-spec rubber that Troy seemed to get along with reasonably well were Pirelli's Dragon Supercorsa Pros. The only significant change here is with the size of the rear, now supplied by Pirelli in a 190/55 exclusively for the 1098. The performance of the tires was very good-in particular the rear stood out as quite forgiving with slides being easily manageable and predictable. Pirelli's engineer at the scene was Mr. Luca Zaccomer.
When asked about tire pressures today, he explained that the optimum pressure for the 1098's rubber was, when hot, at 2.4 BAR, both front and rear.
Assorted press goons were left reeling after Ducati engineer Claudio Domenicali announced for his next trick he intends to fix it so the sun won't burn out in 2 billion years. 'We have a working plan now, and the complete solution will be on-line in two weeks time,' he said.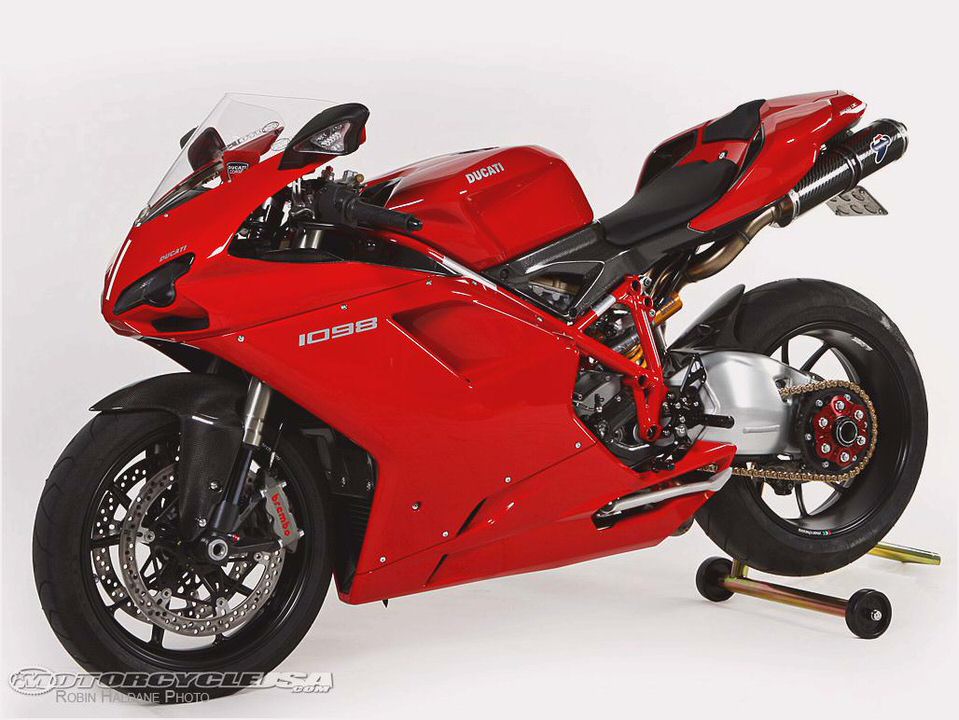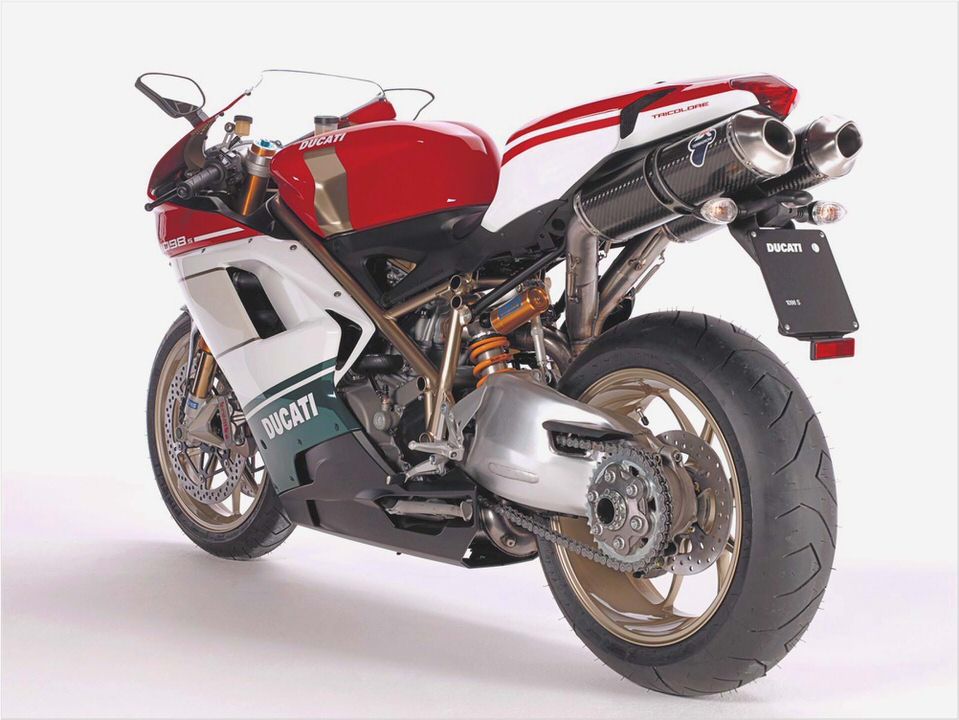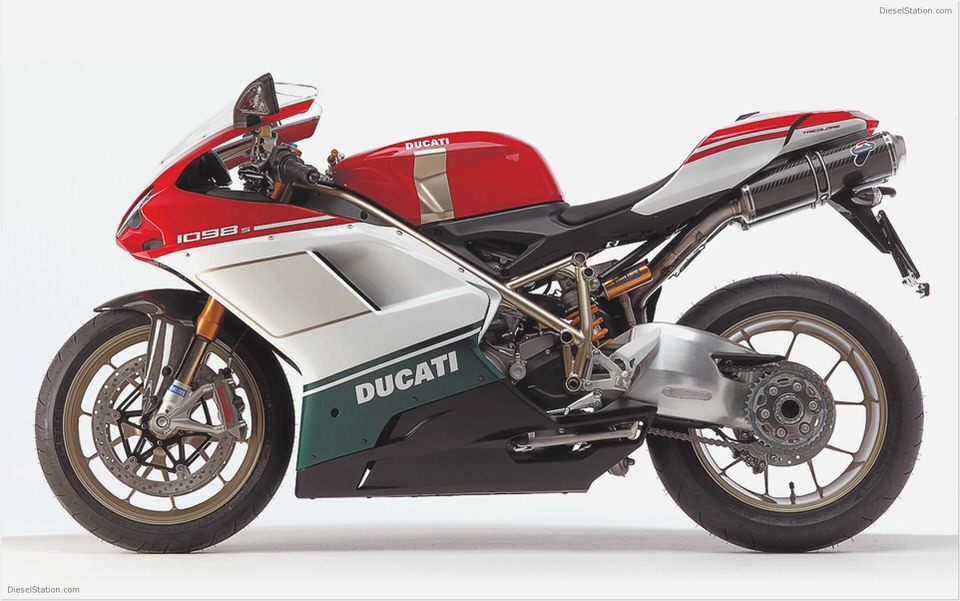 Ducati Official Press release – SPORTCLASSICS
Motor-Forum – Sport – Ducati topic 5
Ducati 350XL Pantah
Ducati S4RS to Lose Crown as Fastest Monster Ever? Ducati News Today
Rarest Paso*: 1988 Ducati Paso Tri Color-Notice The Asterisk? Rare SportBikes…