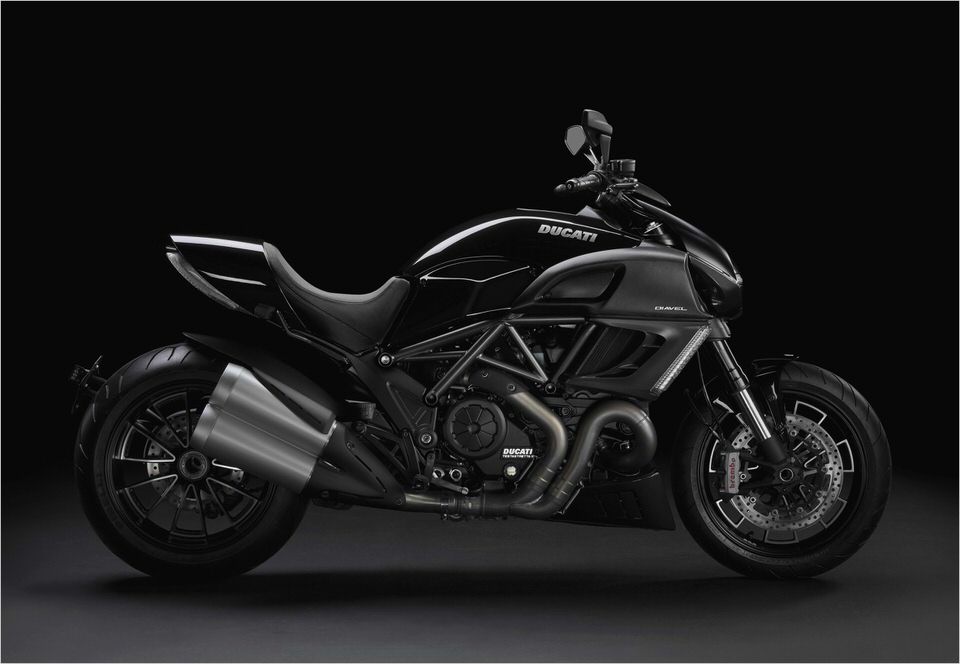 Ducati Diavel: SA launch in CTN
Author: Dave Fall
The Aston Martin showroom on the left, Future Classics' on the right, but in between these two car dealerships on Breakwater Boulevard at Cape Town's Waterfront it was the Ducati motorcycle shop that stole the limelight,
It was showcasing its latest and greatest muscle-bike, the Diavel, just recently launch at the Eicma show in Milan.
Want to know how to pronounce the Diavel's name properly: try "Dee-ah-vel." I can also tell you this unconventional-looking bike has four valves per cylinder, it's desmodromic (valves are opened and closed by cams), while the 1198cc can brag 120kW and 128Nm.
There are three riding modes and the bike comes with advanced Bosch anti-lock brakes. Naturally, it works with Brembo brakes to pull you up safe and sound.
'DEVIL' IN BOLOGNA-SPEAK
Less than a month ago the Ducati Diavel was released on the world stage in Milan and, as you can see from the pictures, what a sensational-looking bike it is. Only the Italians, it seems, can actually put such a concept-looking machine into production.
The name, by the way, means "Devil" in Bologna-speak. And who else could have come up with such wonderfully badged names as Tipo Testastretta when describing their superlative L-twin motors? Or such a good-looker – check the picture gallery !
Pirelli was commissioned to come up with a suitable 240/45 ZR17 rear tyre. If you think this machine has been built only for poseurs in mind, think again! That 1198cc motor can propel you from 0-100 km/h in 2.6 seconds … get the picture?
The upbeat dealer principal at No. 2 Breakwater Boulevard is one Gavin Peterson – a well-known bike enthusiast who carries 20 years of experience in the trade in the Western Cape.
He told me: "Only two motorcycle manufacturers have done well across the globe of late, given recessions and the forced tightening of belts, and that's Ducati and Triumph.
A WORD FROM YOUR SPONSOR: Ducati Cape Town dealer principal Gavin Peterson tells the punters all about the Diavel.
"With a certain Mr Rossi all set to ride our machinery in 2011 in MotoGP, the sky's the limit!"
Ducati's marketing manager Dominique Panoritti was in town for the grand launch of the Diavel and told me: "With the international photo shoot for the bike just competed right here in Cape Town it made sense to wrestle the two Diavel bikes from the powers that be (there are only two models available: Diavel and Diavel Carbon) and reveal them to the South African public first … we'll just have to send them back a little later than expected, I guess.
"With the illustrious riders who have brought the Ducati name to the fore over recent years – Troy Bayliss, Casey Stoner, Nicky Hayden, Carlos Checa, among others – the brand is really doing well here.
"The packed-to-capacity shop with people here to get a glimpse of the Diavel 'in the metal' proves the point."
Paul Phume, Ducati SA's MD for the past three years, looked particularly proud of his new 'baby.' "There's a new line-up of around 14 models in the 2011 catalogue, excluding the exciting Diavel, from the Hyperstrade, Monster, Multistrada, Superbike and Streetfighter ranges – and more to come."
THE BEAST IN THE METAL: Dozens of bike fans turned out at Cape Town's Waterfront to get a first-hand look at Ducati's new star.
Phume is a former Mr South Africa but he can add another string to his bow in my estimation … this particular boss didn't just fly down to Cape Town business class from Johannesburg as most would surely do, he rode his very own Ducati Multistrada all the way here — by himself!
"It was a wonderful trip – I'd happily do it again," he told me.
I managed to wheedle out of Gavin ball-park prices for the two Diavel models: "R195 000 for the 'standard' model and R230 000 for the Carbon version," he told me. "The bike will here on display for a few days before it has to be returned to Europe … pictures don't do it justice, you've got to see it for yourself."
So, be sure to check out the Diavel before it disappears.
Ducati Desmosedici RR Ash On Bikes
First Ride: Ducati Diavel Carbon review – Road Tests: First Rides – Visordown
OneWheelDrive.Net 2007 Ducati Sport 1000 S – The Paradox Machine
OGIO Mach 5 review b3lieve.tv
TT Classic Section – Under the Chequered Flag – Ducati Desmodromic Engine…