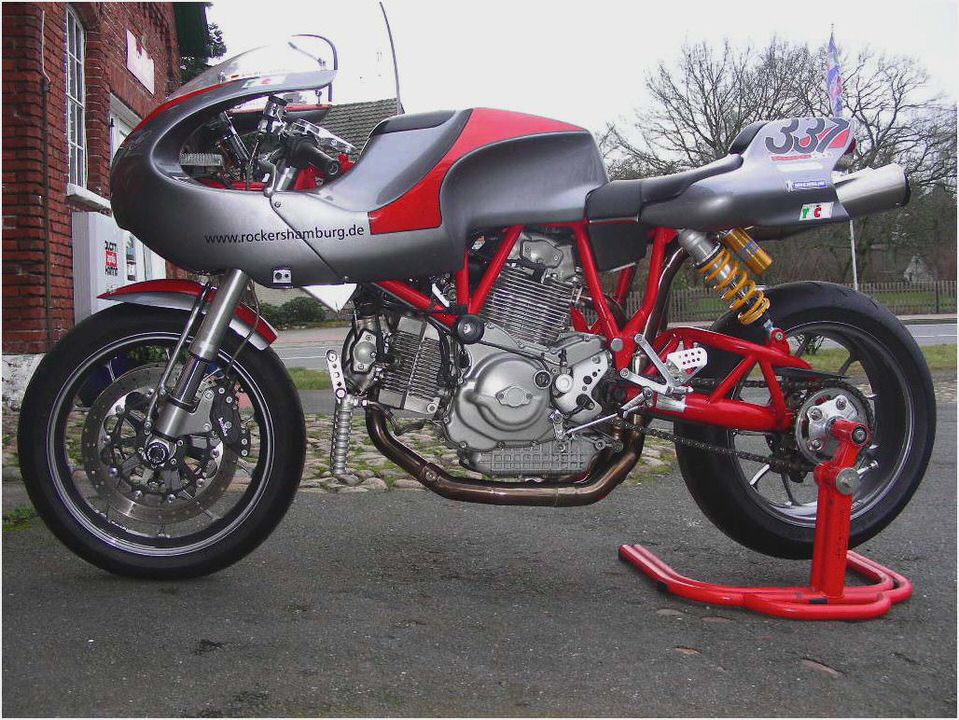 Ducati MH900e NZ (March 2001)
Form Meets Function
Gorgeous or ghastly? Great-looking or godawful? Alan Cathcart finds you can't remain indifferent to Pierre Terblanche's showbike
You either loved or loathed Ducati design chief Pierre Terblanche's MH900e showbike the first time you clapped eyes on it. It polarised two-wheeled opinion to an extent few motorcycles have ever done before on its public debut at Intermot 1998 in Munich.
Terblanche's creation thus amply fulfiled its presumed purpose – it got people talking about it, blazing a successful promotional path to enhance prestige for the Ducati marque as a whole. By showbike standards, this was mission accomplished.
Yes, but this is just showbiz, thought admirers around the world, surely we won't be able to buy one? Well, perhaps not in the form it was first displayed but, by the time of the Bologna Show in December 1999, Ducati had been so overwhelmed by the response to the MH900e that what had been intended as one-off, what-if show-stopping special had progressed to limited-edition, individually-numbered, handbuilt production status as the first motorcycle to be sold exclusively over the internet.
Each of the 2000 bikes which will represent the sum total of the model's production run were sold at the same Euro 15,000 price irrespective of the country it ended up in. All were accounted for by buyers around the world within hours of the dedicated MH900e website opening for business at 00.01 hours on New Years Day 2000.
Thirty eight percent of sales came from Japan, about 30 percent each from Europe and North America and the balance from Australasia. Sold out in nano-seconds (well, twelve hours, actually), the MH900e has achieved unobtainium status, leaving a horde of unsatisfied wannabe buyers in its wake.
Ducati has even published a book called Aooh! Ch'e ësto net? Manname ëna moto! (roughly translated as Hey! What's all this net stuff?
Just gimme a bike!), a collection of cyber messages ranging from those fast enough to attach their name to a bike to others who weren't so fortunate, as well as those who just chose to admire – or disdain – from afar. Like the bike, the book is naturally only available via the Ducati website, www.ducati.com.
Production of the MH900e was originally scheduled to be subcontracted to Bimota and to begin last summer, but the well-publicised collapse of the small Rimini company meant that Ducati had to find space in-house at its Bologna factory for the handbuilt manufacture of a bike. It could not be assembled on its regular production lines, by definition, but his meant construction could not be started until December, a year after its launch.
Production is now in full flow, with a team of workers assembling the bikes in batches of 50 for delivery to customers in Japan, the US and Europe in rotation. Five bikes are being built each day, a figure which it's hoped will be stepped up to 10 shortly to complete all 2000 bikes by mid-summer. So, if you spent New Years Day 2000 logging on to place your MH900e order, expect to be blasting down memory lane sometime in the next six months.
Or will you? Is this yesterday once more, or a modern bike in fancy dress, pretending to be something it ain't? Well, the 'evoluzione' MH900e, manufactured using today's engineering technology and sold with tomorrow's marketing techniques, encompasses the styling of the future replete with design references to the past.
That's because MH stands for Mike Hailwood, arguably the most legendary hero of the first 100 years of motorcycling and the man responsible for scoring one of Ducati's two most famous race victories in its half-century in the 1978 Isle of Man Formula One TT. And, in producing the MH900e, the Italian company owes a debt of gratitude to Pierre Terblanche. The MH900e is very much his signature product (see associated story) and a generally faithful replica of his Intermot bike.
In what seemed a curious move at the time, Ducati put his one-off prototype up for auction at Sotheby's Chicago sale in September 1999, where it failed to reach its $US1 million reserve but was still bid up to a startling $US750,000. Still it's all good publicity for the one you could shortly buy for a fraction of that amount.
The production version retains the prototype's metal cladding around the engine to convey the impression that it was powered by a period 70s-style bevel-drive desmo V- twin motor similar to the one which took Mike the Bike to his TT victory. In fact the desmodue engine at the heart of the bike is the same fuel-injected, air/oil-cooled, belt- driven sohc six-speed design that's fitted to the Ducati 900SS today It produces 75bhp at 8000rpm in MH900e guise – 4bhp less than the 900SS, thanks to the more restrictive exhaust system, with 76Nm of torque at 6250rpm.
In most respects Terblanche's original dreambike design – which managed the difficult feat of being both futuristic and retro at the same time – has been preserved. He says its chrome-moly tubular steel spaceframe chassis has been purposely designed, to show as much as the engine as possible from the side – even if the result is a very tall bike. Its claimed 825mm seat height seems higher – at 1.8m I can only tiptoe at traffic lights, though the 2m tall designer has no such problem.
Well, he did say it was the bike he'd dreamed of building for himself for the past 15 years.
The chance to ride the prototype MH900e on a freezing cold January day, with the mercury barely registering above zero, did however provide me with some surprises. (Stamped with 0000/2000 on the silver plaque atop the fuel tank shroud which covers a small 8.5-litre plastic tank: this is not a bike for long journeys.)
But, bottom line first: this is a far more capable road bike than I and probably most other people ever dreamed it would be. Sorry, Pierre, but you've got to admit it does look like only a showbike, even if we should have guessed that a designer who actually rides the bikes he designs would make it dynamically rewarding too. It's just a shame you're so tall, because the height of the bike is its only major drawback, even for someone not particularly vertically challenged like myself.
How are some of those 38 percent of MH customers resident in Japan going to cope with such a bike that tall, one they could never have sat on before they ordered, let alone ridden?
Certainly, the build of the MH900e is quite unlike the mid-70s 750SS I bought new in 1974 to further a career in road racing. Even its long rear shocks to speed up the steering and stop scraping the exhausts in turns weren't nearly as jacked-up at the rear as the MH900e, conversely its quite a bit rangier in terms of the riding position and the wheelbase. At 1415mm on the MH, this is a far cry from the original Hailwood/NCR bike's 1500mm build and it's more close-coupled than the older bikes' stretched-out stance, though the jacked-up rear puts a fair bit more weight on your wrists than on the older V-twin.
Yet Terblanche's variation on the 70s theme delivers a lean, rangy look to the bike when seated in the cockpit or viewed from the front, much more than with the current 900SS. Most individual is the abbreviated seat with the twin exhausts protruding rearwards from it, the only really designer-esque part that escaped Terblanche's self-appointed censorship, and the pointy-nosed half-fairing blending with the fuel tank. The tank is shaped to resemble the one-piece seat/tank unit of Hailwood's TT-winner, surmounted by a 70s-style Ducati logo as designed by noted car stylist Giugiaro.
A true work of art is the intricately shaped, single-sided tubular steel swingarm, which for many represents the bike's single most admirable component – a masterpiece of tube- bending and metalwork, incorporating the direct-action Paioli monoshock. The MH900e's Marchesini wheels are unique and the same as fitted to the Intermot show model, albeit with twin 320mm Brembo front discs now fitted to the 42.5cm (17in) wheels instead of the avantgarde single disc of the prototype (whose silesium construction can't yet be homologated for the street).
Other differences with the prototype are relatively minor. The rear trafficators have been moved from within the rear exhaust silencer exits to a separate position below them. There's a larger single headlamp, again for homologation reasons, a conventional ignition key instead of the prototype's swipe card and no special half-cover exposing the dry clutch, again to meet European road traffic restrictions.
The rear light has been moved to the tail of the seat, replacing the television camera which monitored the area behind the rider. This, in turn, has been replaced by a conventional pair of mirrors sourced from the 996 parts bin and equally useless – you can't see anything except your arms. After one of the mirrors fell off the test bike and I inadvertently removed the other and the bike ended up looking far sleeker and more eager-looking.
Since they're so completely pointless, I'll bet a lot of the 2000 customers will end up removing them, same as they'll surely fit an aftermarket exhaust to deliver a more traditional sound than the flat noise from the production MH900e's exhaust collector under the seat.
The exhaust looks a lot better than it sounds, it's more blat than boom at any speed. But the single white-faced Veglia-style tacho of the show bike – which incorporates a digital speedo beneath it (reading mph or kph at the punch of a button and also incorporating a clock) – has been retained. As has the single tucked-away suicistand which you can only operate safely once dismounted from the bike (which you'll also always want to leave in gear when parked up).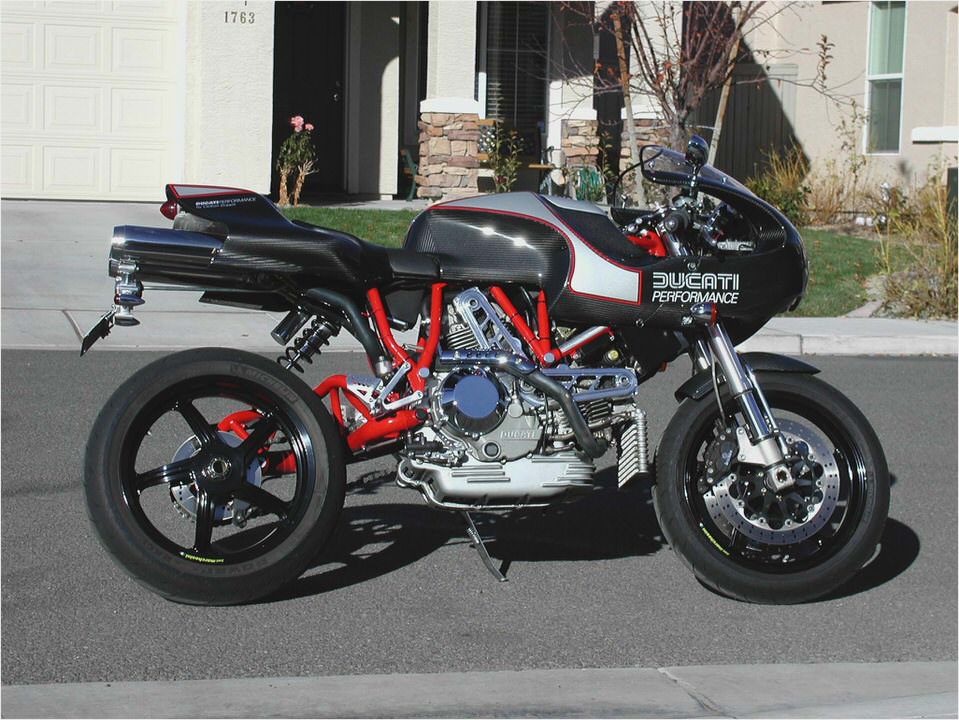 Ducati has at last jettisoned this from all its volume production models but kept it on the MH900e, following its theme of the past catching up with the future.
But, once you've clambered aboard la Hailwood, it just feels right. Your knees snuggle into the cutouts on the fuel tank just as they do on the real Mike Hailwood NCR-derived TT-winner. At first acquaintance, while riding slowly to get some heat into the Michelin Pilots, the MH seems ungainly and awkward, with a propensity for the front wheel to try to tuck in as it rounds a slower turn.
But it all starts to come together and you realise this is a well-developed piece of hardware, with unexpectedly good suspension compliance and ride quality from the non- adjustable 43mm upside-down Marzocchi forks, and especially from the offset Paioli cantilever rear shock. In spite of having no linkage, this gives excellent grip and is surprisingly supple.
In fact, on first meeting, I rate the MH handling superior to Ducati's own 900SS in terms of chassis geometry and suspension response. It turns quicker and steers very well at higher speeds. The 24.5 degree head angle and 98.5mm of trail delivers good stability round fast turns, even those with a bump in the middle – which the relatively heavy bike by air-cooled V-twin standards (186kg dry) just shrugs off.
It's just a pity the bike's so tall, because this makes it appear quite unwieldy at low speeds, especially in town, though ground clearance appears to be limitless thanks also to the bike's narrow build. On such a cold day, however, I can't say I explored the outer envelope of potential turn speeds.
There's good bite from the Brembo brake package, in spite of what appears to be a relatively humble design of four-pot calliper. Even a panic stop doesn't produce excessive front end dive from the Marzocchi forks. It's just nice to ride.
A key ingredient in this is the box-stock desmodue motor, which it seems Ducati has worked hard on refining since I last rode a 900SS 18 months ago. Biggest improvement is in the gearbox, which is now more precise in selection and especially has a lighter clutch action than any desmodue ever built – even neutral is easy to find, at last.
There's good response low down from the fuel-injected engine, with the Marelli EFI's mapping more refined low down, compared with other systems. It doesn't jerk off the bottom like others do. This makes riding the MH on a twisty mountain road pretty rewarding, even in potentially slippery conditions, as you brake deep into the apex of a bend while waiting for any messages about road conditions from the front tyre, which the low-tech but effective Marzocchis are well capable of passing on.
The smooth but responsive pickup when you get back on the throttle to drive out of the turn allows you to ride the torque curve of the V-twin desmodue engine even more easily than 20 years ago on a Hailwood Replica first time around, making at least one ratio of the six-speed gearbox all but redundant.
Okay, I'll put my hand up. I had no idea until I actually rode it that the MH900e would prove to be as satisfying to ride as it is attention-grabbing to look at. Apart from the high stance and the unexciting exhaust note, it's a more refreshing and arguably a better bike than the 900SS mechanical package it derived from.
In which case, this is a concept too good to be left as a limited edition lustbike, to be jettisoned after the 2000 promised examples are built and delivered.
What Ducati has here, almost unintentionally, is the ideal basis for the next-generation 900SS and its junior brethren. While an enhanced mechanical package, it remains more faithful than the current model to the traditions of what the firm's now-departed Dr Desmo, Massimo Bordi, correctly termed the 'classic sports desmodue concept. As such, the MH's various period design references would find their just place in a volume production bike, alongside a later Ducati trademark like the monobraccia rear end, here created in more traditional materials.
Go for it, Ducati – this is a showbike that deserves a wider audience that the 2000 lucky people who hit buy on the internet while the rest of us were partying on New Years Day 2000.
Photo credit: Paul Barshon
Published. Friday, 23 March 2001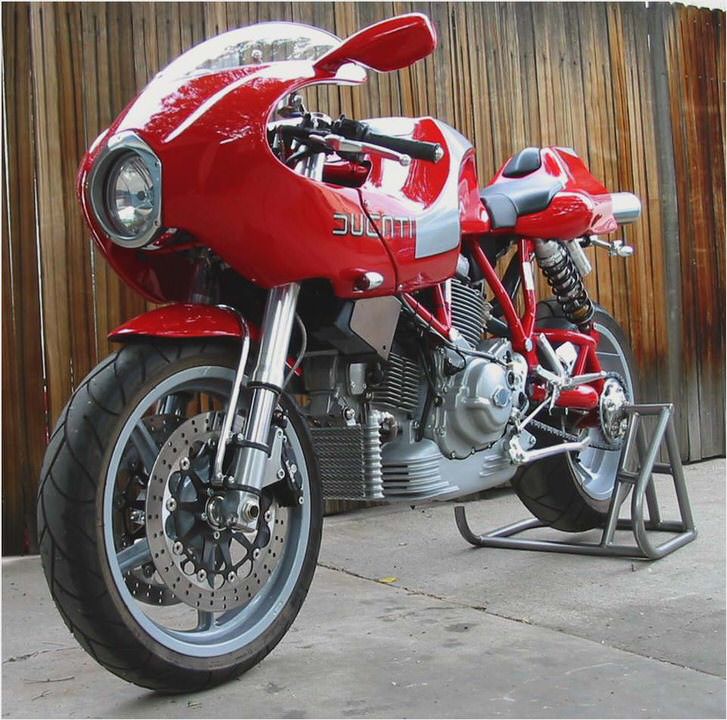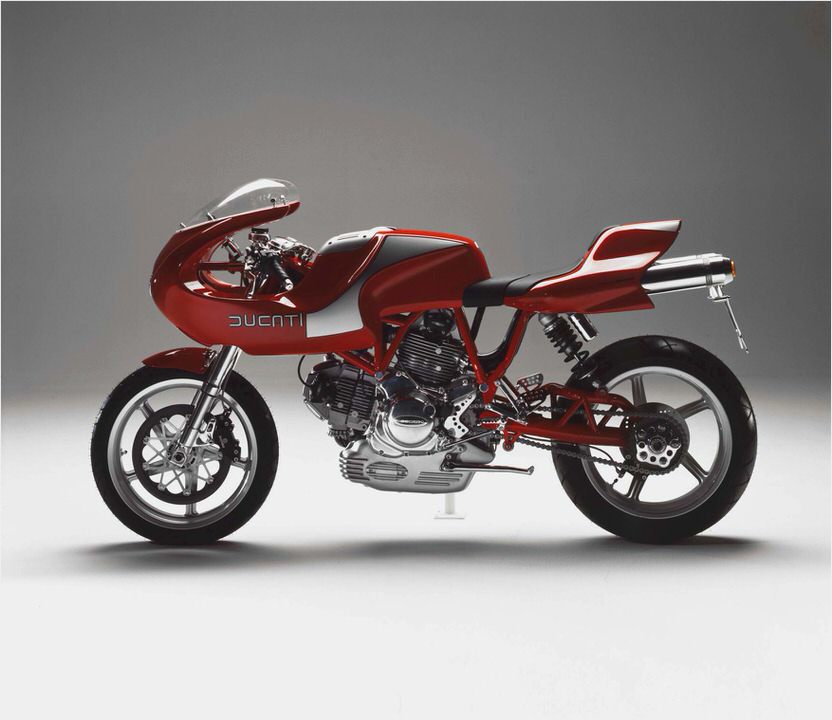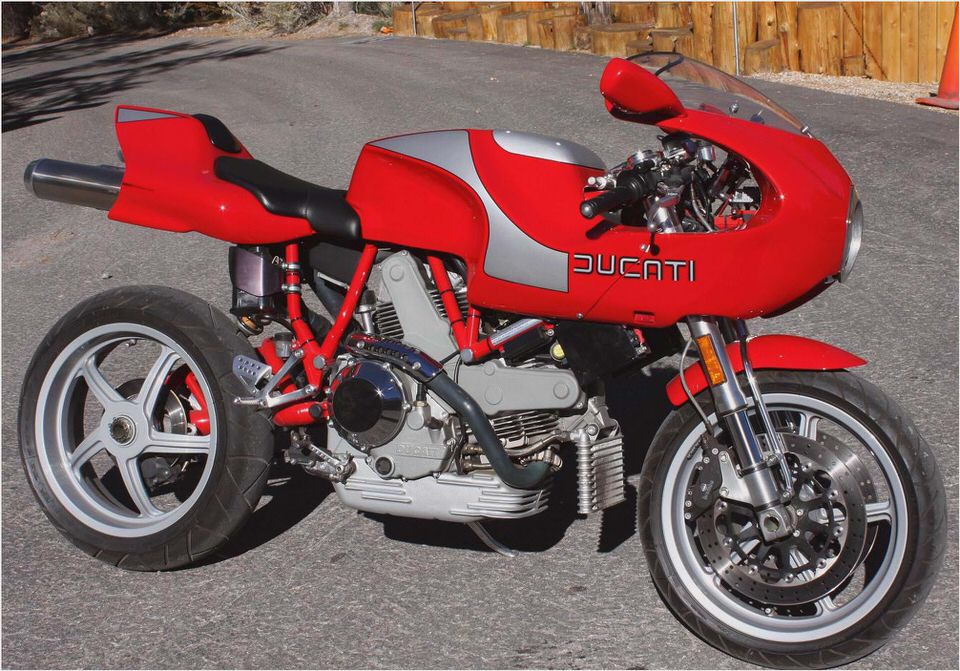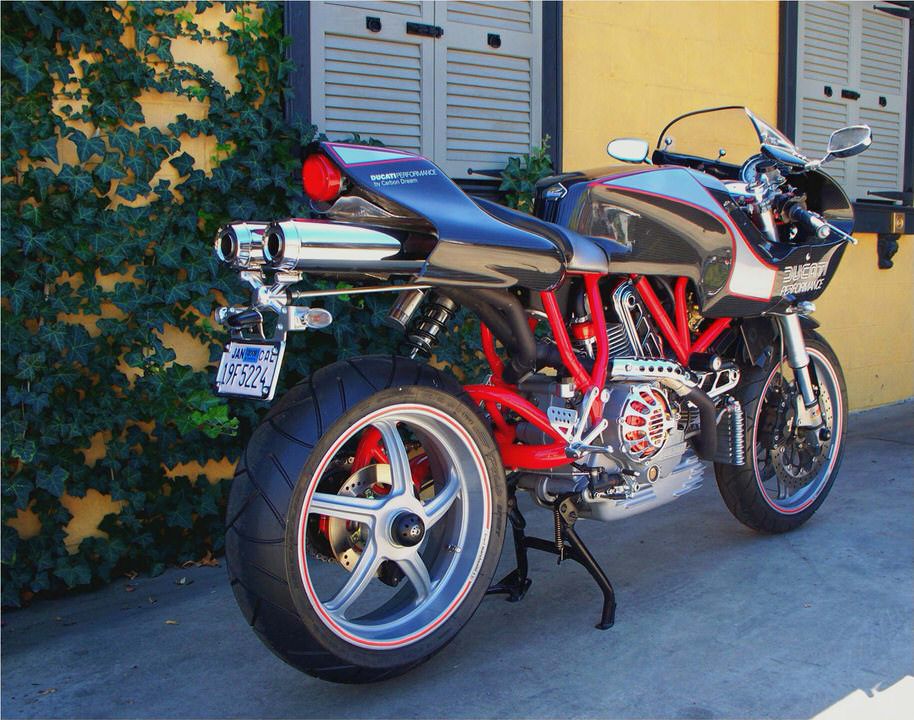 Coming Soon: Ducati 1199 Panigale R Superleggera
1972 Ducati 250 for Sale Classic Sport Bikes For Sale
Motorcycle Daily News 2013 Ducati Mutlistrada S Touring
EICMA 2012: 2013 Ducati Hypermotard Gets New 821cc Liquid-Cooled Engine…
Back To Classics Ducati 860 GT – GTE – GTS