28th March 2009, 05:05 PM
This started as a short reply, but I ended up going through the whole Japanese Motorcycle Industry which is quite interesting but a little time consuming, Since I already have a huge amount of material I publish this first post, while finishing the next three posts. And David the Rickman, Seley, Dunstall,Dresda etc story is also coming.
Yes your comments are actually quite interesting. Why did the English Motorcycle Industry die so quickly. And your comments about the Formel 1 competence are quite true. Especially after Ross Brawn sweeping performance in the last training session today.
At the moment the F1 situation is as follows but it is still England dominated.
BMW Sauber German Hinwil, Switzerland
Brawn GP British Northamptonshire, United Kingdom
Ferrari Italian Maranello, Italy
Force India Indian Northamptonshire, United Kingdom
McLaren British Surrey, United Kingdom
Red Bull Austrian Buckinghamshire, United Kingdom
Renault French Oxfordshire, United Kingdom
Toro Rosso Italian Faenza, Italy
Toyota Japanese Cologne, North Rhine-Westphalia, Germany
Williams British Oxfordshire, United Kingdom
In one of my former lives I worked almost 10 years as a Top Management consultant for plenty of big companies, all over the world ( You know those guys, who arrive in an expensive suit, to tell the Top Management about 100 different ways of making love with a Lady but they, them selves, have never yet met a Lady…)
We used sometimes a McKinsey Consultant Group or Stanford University Corporate Case about the English motorcycle industries very quick decline, to teach top management about the importance to monitor your competitive environment in time. Unfortunally I don't have that case story here in Thailand neither can I find that corporate case here in Thailand. Therefore I am not sure about how much of my thoughts are copied from that that corporate case and how much information is just from Internet and books like A Century by Japanese Bikes, Japanese Racingbikes a Century, Japanese Pictorial History, Standard Catalogue of Japanese Motorcycles, The History of Japanese Motorcycles, Japan's Motorcycle Wars An Industry History etc.
I still think that in the late 60's England still had a slight competitive advantage in product development. I visited the Triumph factory both in 1970 and 1971 and I saw the new prototypes 350 Twins with OHC engines and the Trident and BSA Triple were good bikes as well as the Bonneville. BSA also had a diamond in the 440 one cylinder that after the bankruptcy was further developed by CCM. The Norton Commando was not either a bad bike.
What was bad was that many of the engineers were quite old and also the workers. For ex the DOHC project which was vital for the BSA-Triumph-Norton group to survive was given in the late 60's to Edward Turner. He was already retired but had worked as General Manager of both Triumph and BSA when they were separate companies and later he was General Manager for the combined group.
He was born 1901 so when he got this last assignment he must have been close to 70….But he had a good background as motorcycle designer already from his years with Ariel, Ariel Square Four was his design as well as many other Ariel models. At BSA he developed several side valve models and at Triumph he became a legend by creating all Triumph's twin models. But common for all his creations were that they were not very reliable.
He also visited the Honda, Suzuki and Yamaha factories already 1960 and he came back home shocked .He couldn't believe the efficiency at the production lines and the output figures. He probably didn't learn his lesson…. He also hated motorcycle racing so he was totally different in his thinking than his Japanese competitors; maybe he was the wrong man at that age to be responsible for saving the ailing English Motorcycle Industry….
http://i164.photobucket.com/albums/u8/hikobengt/TRIUMPH350BANDIT.jpg
THE TRIUMPH 350 BANDIT. that was advertised but never went into production, Developed by old Edward Turner, technical specs ok but the bike was rubbish.
The militant labor unions were also to blame; they didn't want to accept the changing environment and new competition. Since I had the possibility to visit both the Triumph factories in early 70th and the Honda Factory in 1974 you didn't have to be very smart to realize and feel the difference in efficiency and quality thinking between these two factories. When the Honda workers hardly reacted on us watching them, the Triumph workers took the opportunity to have a chat with us and smoke a cigarette…The English Car Industry went down for the same reason.
And then we have to remember that England and Europe had plenty of old patents and motorbike constructions that were more than up to date. The know-how was there but the Japanese stole everything and re-invented it but also improved them. But we talk about that more later.
Maybe it was anyhow not the English Motorcycle Companies that were the main victims. Probably the German manufacturers like IFA/DKW/MZ, HOREX, ADLER,BMW and NSU were more copied as well as a little later GILERA, BENELLI, MOTO GUZZI, DUCATI AND MV-AGUSTA where SOHC, DOHC, and 4-cylinder engines where developed and worked already in the early 30:s.
We also have to understand that the Japanese didn't start from scratch. They have a long history of making motorcycles, and the former scale of Japan's motorcycle industry is as large as any English, German or American equivalent. It was not only a Hamamatsu (where all the big four have factories) phenomena all over the country motorcycling small scale motorcycle "factories" started to pop up already in the early 19th century.
Yes it started in the early 1900's, very modestly with a few foreign motorcycles imported. The first motorcycle ever sold in Japan was Mitchell in 1903. These had to be serviced and that was done at these small workshops. These garages were the birth place of the Japanese motorcycle industry. The first known manufacturer is a Torao Yamaba, He saw an American guy driving a motorbike and wanted to buy one himself in 1908.
Being a poor garage owner he couldn't afford to buy one so he decided to build one, He read everything he could find about motorcycles and started to build one almost with out tools but he made it. Sadly no pictures are available and no information if it was just one bike made or more. This Torao Yamaba must be the same man who made Japan's first car a steam engine 10 seated buss. Here is how that looked:
http://i164.photobucket.com/albums/u8/hikobengt/YAMABASTEAMBUS.jpg
YAMABA STEAM BUS 1904
The trend continued. In garages all over the country people started to construct motorcycles. This was part of a trend….
In Yokohama the Tagagikyo Siekan Company put together a motorcycle using an imported Precision motor. I haven't found any pictures of the bike but I have found the engine. The engine manufacturer was by that time a solely engine provider as their brochure stated as follows:
"The Precision Engine has been adopted as the standard equipment by many of the largest and best reputed manufacturers of motor cycles both in England and the Colonies. The Manufacturers of the engines do not themselves manufacture or in any way deal with complete bicycles, nor do they sell Precision Engines to members of the public, their products being supplied to manufacturers of the finished article only, and to dealers in cycles and motorcycles."
http://i164.photobucket.com/albums/u8/hikobengt/Precision.jpg
THE PRECISION ENGINE
In Kansai a mr. N Shimazu built his own experimental gasoline engine. The next year 1909 he constructed, what is generally considered to be the first commercially built motorcycle in Japan. He also established the Shimazu Motor Research Institute which for along time developed, both 4-stroke engines, as well as 2 strokes and he even developed a V8 engine.
He also established Nihon Motorcycle Company, making motorcycles on the NM brand and later Japan Motors Manufacturing where his 630cc Arrow Fast became in 1925 the first mass produced Japanese motorcycle.
Later he also worked for Kawanishi Aircraft Company, later called Meiwa, the biggest Japanese motorcycle company in early 1950. He later recalled that he had manufactured 600 bikes but too early, the market was not there yet, so I didn't make any money.
http://i164.photobucket.com/albums/u8/hikobengt/NSJAPSIEKA.jpg
NS MOTORBIKE JAPAN'S FIRST PRODUCTION BIKE
The next year the Tokyo Police asked the bicycle company Miyata Small Arms to manufacture a motorbike They first tried with a in house developed, but probably a copied horizontally opposed twin, but it failed and they developed a Triumph based 4-stroke single copy. Miyata was a bicycle manufacturer founded in Japan by Eisuke Miyata.
Mr Miyata, a gunsmith employed by the Hitachi Kuni Kasama Clan, built Japan's first modern, bicycle at the Miyata Gun Factory in 1892 later he founded Miyata Small Arms. As far as know they are still making bicycles.
The bike was named ASAHI but it was not sold to the public, only to the police, the bike being to expensive for the public.
http://i164.photobucket.com/albums/u8/hikobengt/ASAHI.jpg
ASAHI
When I looked for pictures of ASAHI I found one of the first modern bicycle to be made in Japan by the same company Miyata.
http://i164.photobucket.com/albums/u8/hikobengt/MiyataBicycle.gif
THE FIRST MODERN BICYCLE MADE IN JAPAN 1892
At the same time the Nihon Motorcycle Company developed and manufactured a 250 two- stroke, I don't know from where it was copied. The total output is told to be below 100 pcs.
According to other sources a company called Nihon Jidosha based in Hiroshima got the outsourcing manufacturing contract for Rikuo just before the war, but I'm not sure if it is the same company.
Nihon Keijidousha Kougyo, a small company based in Hiroshima, Japan, produced this NKB motorcycle. It is a pre-war machine. Still I am not sure if it is the same company as above.
We do know that the same company produced a similar 90 cc motorcycle, The NKB Junior, as late as 1945.
http://i164.photobucket.com/albums/u8/hikobengt/nkbcastle1.jpg
1937 NKB Castle
http://i164.photobucket.com/albums/u8/hikobengt/nkbcastle2.jpg
NKB CASTLE 2
http://i164.photobucket.com/albums/u8/hikobengt/nkbcastle3.jpg
NKB CASTLE 3
http://i164.photobucket.com/albums/u8/hikobengt/nkbcastle4.jpg
NKB CASTLE 4
The company was not well known and apparently didn't produce motorcycles in large numbers. It is possible that components on these machines were not made by NKB.
Many of the small Japanese manufacturers at that time, and along time after, did not fabricate complete motorcycles but made frames and other parts and purchased engines from among others Meguro.
Probably Meguro was the first manufacturer to make a complete, top-to-bottom, motorcycle in 1937. The smaller companies most likely purchased components from someone else if it was made before 1937.
The quality of these more or less garage made bikes in the early 1920's was very poor, and since the road infrastructure in Japan at this time was non-existing the motorcycles were an unreliable and also an expensive mean of transport. The more reliable foreign bikes were on the other hand too far too expensive. The motorcycle industry didn't take off.
But after WW1 the situation changed. Japanese, mainly textile export took off and there was a middle class created which had money to use and they used them on motorbikes. One reason for this was that bikes were cheaper than cars but also that in Japan was a 39 inch maximum width restriction on cars in Japan.
But Japanese brands weren't popular, foreign bikes were. Bikes like English Scott and Cleveland, English-German ABC, Belgian FN and Sarolea and of course HD and Indian dominated the market and also almost killed the whole Japanese motorcycle industry. Very few Japanese companies could compete with the European and American quality at this time.
But some tried.
In 1921 Mr. Watanabe of Osaka designed and built the first OHV engine made in Japan. A 150cc with very poor power, He increased it to 300cc together with a two speed transmission and chain drive and called his machine the Thunder.
I cannot find any picture.
In 1923 Musashino Kogyo manufactured a single cylinder two stroke powered machine which was supposed to be the first motorcycle that was 100% Japanese made a claim, which is false. All electrical appliances, carburetors and some times transmissions were still made in Europe. Sorry no pictures available.
None of the Japanese made motorcycles did very well. They were made in shady garages by dedicated amateurs lacking the skill and know how. They had a long way to go before they can compete with European and American manufacturers.
Just such a simple thing like making a spare part when the bike broke down was impossible. When the piston rings wore out the bike came to the end of its short life.
Then came the Military Vehicle Subsidy Law of 1924 which allowed the government to give subsidies to makers or owners of motor vehicles suitable for military use, provided it was made in Japan.
The immediate result was that the industry moved from the garages to the major industrial factories which started to manufacture of motorcycles. The first was the Murata Iron Works a company today owned by Kawasaki.
The imperial Japanese army already used Harleys and Murata tried to copy it without success. Also Toyo Kogyo, nowadays called MAZDA tried but failed.
In 1925, while Toyo Kogya started their motorcycle product development. Mr. Shimazu, the guy who probably built the first Japanese motorcycle back in 1909, unleashes Arrowfast, a 633cc side valve single cylinder motor with a 3-gear transmission. Even a reverse gear was fitted for side car work.
The bike was quite modern, with the fuel tank covering the frame, electric lights and girder front suspension.
In 1926 they made a 250cc model of it and it was sold in the hundreds and was Japan's first mass produced motorbike.
Sorry still no pictures available
The 3-gearbox was made by a subsidiary of Murata Iron Works, Mugaro, who after the fiasco in making motorcycles concentrated themselves on making transmissions and when they get that know how they start to make whole bikes again.
Japan still had one problem, nobody not even Mr. Shimazu could make an engine with western quality. Therefore up 80% of all bikes sold in Japan were imported and most of them Harleys.
But all these and other imports caused a balance-of-payments deficit that threatened to bankrupt the country, not only the emerging motorcycle industry, but Japan's entire industrialization program was on the brink of collapse and bankruptcy.
The Japanese government decided to tackle the problem exactly the same way England did in 1921 when they turned into protectionism by introducing the McKenna tariffs.
From now on all companies in the motor vehicle trade must have a license. Domestic manufacturers would get tax rebates. Importers would face high tariffs, and in l936 the tariff on engines and parts was increased.
In l937 the import duty on motorcycles could be over 700 percent.
But did these measures help the Japanese motorcycle industry to survive. Probably not but it had one consequence that helped the whole Japanese industrial society Harley licensed RIKUO to make Harleys.
THE HARLEY CASE.
Harley-Davidsons were still very popular in Japan. Harleys were rugged and powerful, and spare parts fitted a problem the Japanese manufacturers still had. Japan was the 2rd biggest export market after Australia and when the English government gave a helping hand to the Japanese by almost banning HD from Australia HD was even more dependent on the Japanese market.
The English part of this saga is quite interesting especially as it is a partly one reason why Japan could kill the English motorcycle industry in the 1970's.
In the 1920s, American motorcycles were the finest in the world, and with the up to date factories they were made in they could have conquered the world and the Great English Empire with mass produced machines quickly and thus killing the English motorcycle industry. The English manufacturers were far behind HD in mass production technology.
England wanted their motorcycle industry to survive, and to protect it in England they established in 1921 the McKenna tariffs, which were so high that they effectively eliminated American competition not only from England, but from the entire British Sun Never Sets Empire.
In fact, it was the loss of its important market in Australia and South Africa as a result of these tariffs that forced Harley Davidson to concentrate on the Japanese market in the years before and during the great depression.
Sales to Japan were so significant, that when the Great Depression of 1929 hit Harley and brought them to the brink of bankruptcy, a suggestion from their Japan sales rep A. R. Child that they sell rights to manufacture an obsolete model to a Japanese company was approved.
The other outcome would have been that they were out of the Japanese market. Harley needed cash but probably they never understood that they were creating a monster that brought HD to the brink of collapse in the 1980:s and forcing them to ask the Reagan government to introduce very high tariffs on over 700cc imported motorcycles in order to have HD survive. In some way it sounds familiar….
If you want to read A.R.Child's "testimony" before he died about the HD adventure in Japan you can log in to http://www.rikumotor.fi/veteraanit.php where there is a authentic copy of his experience, given to my friend Riku Routu from Finland by his daughter.
The Rikuo was at least in the beginning a legal copy of the Harley side valve engine but all parts were before long manufactured in Japan. In1937 the name was changed from HD to Rikuo when the Government nationalized all-American assets. So now the Rikuo company had all the HD know how, also from the newer models which HD tried to convince Rikuo to manufacture.
HD was not so happy anymore.
According to some people it was the licensing of HD to Rikuo in 1929 that gave the Japanese their first knowledge into modern mass-production technology. Harley didn't only give them all their tooling and drawings; they also gave them the metallurgical know how, including metal hardening technologies. The Japanese also for the first time understood the importance of keeping the factories clean etc.
Harley sent some supervisors over to Japan teaching the Japanese what Harley knew. They taught them about, quality control spare part management, dealer management after sale service all topics where Harley at that time was very good at, but the Japanese refined that quite a lot during the years to come.
But thanks to Harley the Japanese Manufacturing Industry made a 20 year jump in manufacturing know how. Without that there maybe hasn't been any Japanese motorcycle industry today.
The HD/Rikuo factory also became a laboratory for the whole Japanese manufacturing society with others factories coming to learn at the HD/Rikuo factory. The Japanese had of course learned Also from the American car factories in Japan. Anyhow these factories (Ford and GM) started much earlier and were just assembly factories. The factories didn't give so much real know how.
Some people say that it was this "poor" decision made by Harley during the recession after1929, when the HD factory needed some money, that is the cause of the English Motorcycle Industrie's fall down, as well as the near fall down of Harley during the 1980:s. And of course the English can be blamed for forcing HD to this by closing the Australian and South African market, by protectionism, for HD during the early 1920's. Who knows…
CABTON.
A company called Mizuho Motor visited the Rikuo factory and started then in 1934/1935 to manufacture a motorcycle called Cabton. The first bike was a 500cc single, probably copied from Ariel. Later they made a 600 Twin also copied from England. They continued to manufacture bikes until 1960 and they were very active in the Japanese field track racing which was based on betting.
More about that later. What is strange is that it is almost impossible to find any information or pictures about Cabton and Mizuho Motor. I have googled both all the English sites as Japanese sites and there is actually nothing about Cabton or its factory Mizuho Motor, I wonder if not a single bike is left after 15 years of production?
OLYMPUS.
Another company called Katayama Industries produced the Olympus motorcycle. But it is the same thing with this bike and factory. Impossible to find any info, I don't even know how long when they were manufactured or the size of the engine.
Next we handle the MEGURO/KAWASAKI history.
29th March 2009, 04:40 PM
MEGURO/KAWASAKI.
But Rikuo was not alone as a "copier'. Another important "copier' was Meguro but they copied probably without any agreements and licenses.
Meguro may well be the first real manufacturer of motorcycles in Japan, tracing its roots back as far as 1909, to a small ironworks in Shibuya-cho, Tokyo prefecture. As said before, in the early 1900s, there was a burgeoning cottage-industry of small-scale garage builders within Japan, making motorcycles from whatever material they can find.
I will tell the whole Meguro story here, together with some smaller brands, despite that it destroys the chronically order, because it is the Story of Kawasaki, one of the Big Four.
By 1922, the early models known the Meguro brand were now produced by a man named Osamu Murata, who founded the Murata Iron Works of Tokyo Prefecture, Japan. Murata's first motorcycles were either single-cylinder models based, on the British singles of that era, or copies of the Harley-Davidson Model J.
At some point around 1928, Murata Works adopted the name Meguro Works, which was possibly chosen in honor of the Meguro racetrack located in the Tokyo ward of Meguro from 1907 to 1933. The race track later had to move further away from Tokyo because of Tokyo's expansion.
During the late 1920s and early 1930s, Meguro was facing competition from Europe and America, and by the mid 1930s HD was gaining in popularity throughout Japan.
As earlier told, Murata concentrated their effort, after failing to make complete bikes, on making transmissions, for ex. for the Arrowfast.
In 1937 they started copying the Swiss Motosacoche Jubilee' Sports 498 which they called Meguro Z97. The Meguro Z97 was probably the first Japanese motorcycle that was built entirely in-house, from the ground-up.
http://i164.photobucket.com/albums/u8/hikobengt/meguro_vs_motosacoche.jpg
HERE YOU CAN COMPARE THE ENGINES, MOTOSACOCHE LEFT AND MEGURO RIGHT.
http://i164.photobucket.com/albums/u8/hikobengt/meguro_s3_junior_1958.jpg
MEGURO S3 JUNIOR
During its best years it is said that Meguro also had produced a 60cc 2-stroke; the 4-stroke, single cylinder, rocker-valve 125cc E3, the 250cc F, the 350cc YA with BMW technology. should be pronounced BMW copy. The 60 cc devoted to Meguro I am not so sure about. It seems more comfortable in the early Kawasaki Meihatsu model range as a two stroker.
It's first twin was a 650cc of 1955 which was a copy from different English bikes, maybe mainly BSA. The engine was anyhow less long stroked than British bikes. 72×80 mm, with a power of 23,5 hp at 5.200 rpm.
This bike was a long time the biggest Japanese bike together with Rikuo 750 and the 600 Cabton twin.
In 1960, Meguro presented the 500T1 which used the Norton Dominators engine dimensions 66×72 mm but still was mainly BSA based. It had much more power with 33 hp at 6000 rpm and the top speed was close to 150 km/h.
In 1956 Meguro copied the BSA A7 and launched a new 650 which they sold for more than 10 years improving the quality considerable from the original BSA A10. It is unknown if Meguro had any kind of agreement or silent approval from BSA but no official document is to be found. Still it is strange that such an obvious copy will not end up in the court.
In 1963 Meguro Works merged with Kawasaki Aircraft Co.,Ltd. forming Kawasaki Motor Sales Co. which was the forerunner to Kawasaki Motorcycle Co.,Ltd.
But Kawasaki didn't come empty handed to the merger.
The Kawasaki History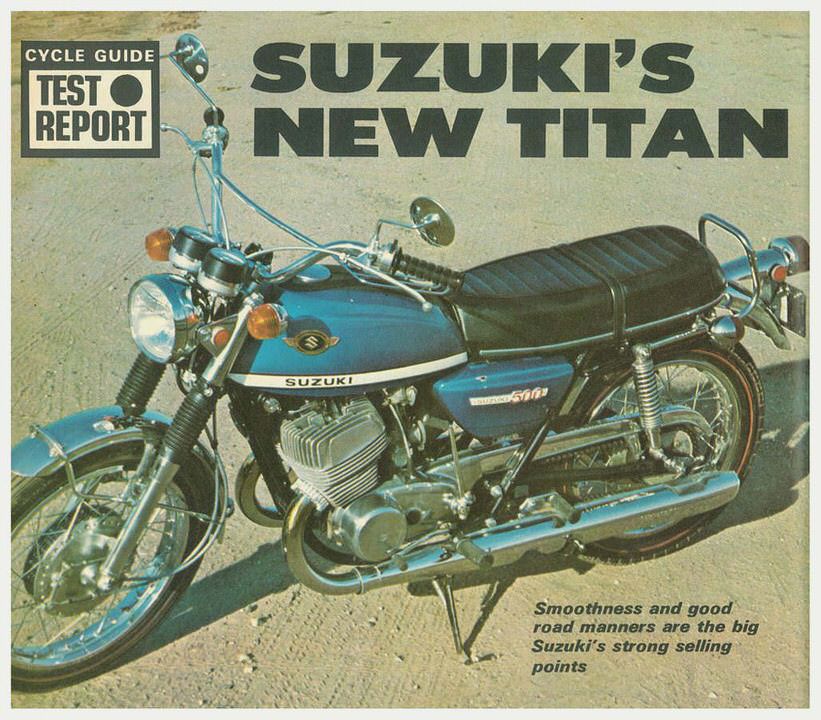 Kawasaki, originally started operations in 1924 as a metallurgy and aircraft company. After WW2 Kawasaki couldn't manufacture air crafts anymore so they started to look for new possibilities like all the other air planes manufacturers did.
In 1949 Kawasaki started to manufacture small engines for use in motorcycles and motorized bicycles. Probably they manufactured a 60cc, two stroke, 2 gear engine which was used by other manufacturers as well as in their own Meihatsu.
Officially Kawasaki started their involvement in motorcycle manufacturing by producing a 148 CC, 4 hp, air cooled, OVH engine KE-1, probably meaning Kawasaki Engine nr 1. The development of the engine started in 1949 but the engine was ready first in 1952, The engine was sold to other manufacturers and probably also used by Kawasakis own brand Meihatsu. Below you can see the engine.
http://i164.photobucket.com/albums/u8/hikobengt/KAWASAKIKE-1ENGINE1952.jpg
THE KAWASAKI EN-1
In 1955 they then introduced what is called to be their first two-stroke
engine. I am not sure from where it is copied but it looks very much like Zundapp, JLO, Sachs, DKW or some other traditional two-stroker at that time.
http://i164.photobucket.com/albums/u8/hikobengt/KAWASAKI1955.jpg
THE KB-5 ENGINE
The same year the Meihatsu 125 was released with the KB-5 engine. The next year the Meihatsu 12 Deluxe was introduced and it was the first time the name KAWASAKI was shown on the engine's side covers. The bike was further developed and when the new Kawasaki factory, only dedicated to motorcycles opened in 1960 the bike was called Kawasaki 125 New Ace and looked like this:
http://i164.photobucket.com/albums/u8/hikobengt/KAWASAKI125NewAce.jpg
KAWASAKI 125 NEW ACE, looked very much the same as Honda Benly but was a 2-stroker.
In the same year, 1960, they stopped tu use the Meihatsu Brand
Due to the new factory Kawasaki had the possibility to use new modern production methods and using new modern materials. In 1962 the 125 model was called 125B8 and it looks very much as the Kawasaki GTO, still in production and still for sale here in Thailand just a few years ago. Here you have the picture:
http://i164.photobucket.com/albums/u8/hikobengt/KAWASAKI125B8GTO.jpg
KAWASAKI 125 B8
But it seems as if Kawasaki also brought something else into the merger.
The RSY manufactured by Amano Kogyo Ltd has an engine 200cc which was manufactured by Kawasaki Aircraft. The engine was possibly manufactured as 200cc and 250 cc, maybe it is an bored KE-1, and sold to many other factories also for ex. IMC and Shokai Rocket.
I haven't been able to find any info about these two companies and there is not so much about Amano Kogyo either. Pls note on the picture below the visual similarities with modern Kawasaki Estrella and Kawasaki 650 W.
http://i164.photobucket.com/albums/u8/hikobengt/KAWASAKIAMANO200.jpg
THE RSY MANUFACTURED BY AMANO KOGYO LTD. IN 1954 WITH A KAWASAKI ENGINE.
Probably the Amano Kogyo intended to export the bike because it was a very solid construction and expensive to make. Maybe the copied Mercedes Benz logo was chosen to give the export market an image of quality….
http://i164.photobucket.com/albums/u8/hikobengt/KAWASAKIAMANOKOGYOLTDRSYLOGO.jpg
RSY LOGO
Kawasaki Meihatu Kogo, Ltd.
This company appears under different names. Sometimes it is called Kawasaki Meihatsu Kogo, sometimes it is just Meihatu Kogo or Meihatsu Kogo, sometimes just Meihatsu and sometimes it is referred to as Meihatsu Age. Probably it is the same company.
Maybe it was an independent company to which Kawasaki delivered engines and later the company was taken over by Kawasaki and was included in the merger.
The first model I am aware about is a KB-2 from 1955. What happened to the KB-1 I don't know…
The KB-2 was powered by a (Kawasaki made. ) 2-stroke 60cc and hade a 2-gear transmission
http://i164.photobucket.com/albums/u8/hikobengt/Meihatu1955KB-260cc2-stroke2-gear.jpg
KB-2.
http://i164.photobucket.com/albums/u8/hikobengt/Meihatuengine.jpg
KB-2 COMPACT ENGINE
It seems like the product range at a later stage was quite broad with several different models probably 2-strokes models but the 250 may have had the Kawasaki 4-stroker. Below you can find a Meihatsu Age brochure.
http://i164.photobucket.com/albums/u8/hikobengt/KawasakiMeihatsuAGERSY.jpg
MEIHATSU AGE BROCHURE.
The first all Kawasaki motorcycles were the Kawasaki SG which had a 250cc single-cylinder OHV motor, and the 496cc OHV twin Kawasaki K1 which was based on the Meguro K1.
The 650 W:s bikes appeared as Kawasakis in 1964 and they were sold in three different versions up to 1975 and from 1973 it had a disc brake front and the gear pedal was moved to the left. The bike was sold in the US, but it never really took off.
http://i164.photobucket.com/albums/u8/hikobengt/KAWASAKI250.jpg
KAWASAKI 250
http://i164.photobucket.com/albums/u8/hikobengt/KAWASAKIK2.gif
KAWASAKI K2 500, I couldn't find any picture of the first K1 model
http://i164.photobucket.com/albums/u8/hikobengt/1965_Kawasaki_W1.jpg
THE FIRST KAWASAKI 650W TWIN
http://i164.photobucket.com/albums/u8/hikobengt/KAWASAKILATTER2650.gif
KAWASAKI 650W TWIN LAST MODEL. LOOKS QUITE EASY TO SELL STILL TODAY
http://i164.photobucket.com/albums/u8/hikobengt/KAWASAKILATTER650.gif
KAWASAKI 650W TWIN THE COLOUR SCHEME REMEMBERS ME ABOUT THE FIRST Z1:s
Anyhow, Kawasaki who actually didn't have very much four stroke experience, used the Meguro engineers to create the Z1 903. Okay Kawasaki had developed 4 cylinder car engines before but, the 4-stroke motorcycle experience came mainly from Meguro. In 1967 Kawasaki made a decision to develop a high-performance motorcycle which would overtake the 650W1as the largest motorcycles in Japan.
As the United States was targeted as the main market for these high performance motorcycles, the development team was sent to the U.S. where they secretly worked out a plan for the new model.
Finally, the displacement of the new model was set at 750cc and a mock-up was completed in October 1968.
However, Honda announced a new 750cc single-over-head-cam (SOHC) motorcycle at the
Tokyo Motor Show held the same year. The Kawasaki management staff realized it was meaningless to come out with a similar model after Honda had already introduced theirs, so all development efforts on Kawasaki's 750cc models, were stopped. At least a picture is left from that project.
http://i164.photobucket.com/albums/u8/hikobengt/KAWASAKI750mockup.jpg
KAWASAKI MOCK UP MODEL FOR THE TOKYO SHOW 1968. Honda stole the show and it is easy to understand that Kawasaki withdrew from the scene at that stage…
Anyhow Kawasaki continued the development of a new super bike that could compete with the CB750 SOHC. And after many years of development they finally presented the Z1 903 cc in 1971 and the first production model left the assembly line in may 1972. The Z1 was a success. It is interesting that Kawasaki used by far much more time to develop the Z1 than Honda did with the Z1.
Here you can see the engine and the first models.
http://i164.photobucket.com/albums/u8/hikobengt/KAWASAKIZ11972.jpg
THE FIRST KAWASAKI Z1 1972
http://i164.photobucket.com/albums/u8/hikobengt/kawasaki_903_z1engine_view.jpg
THE INCREDIBLE KAWASAKI Z1 903cc DOHC ENGINE
http://i164.photobucket.com/albums/u8/hikobengt/KAWASAKIZ11972-1974.gif
AND A LITTLE MORE MODERN Z1
And just to make you happy some other more modern Kawasaki Classics
http://i164.photobucket.com/albums/u8/hikobengt/KAWASAKI900R.gif
http://i164.photobucket.com/albums/u8/hikobengt/KAWASAKIHR1.gif


Underbone : Wikis (The Full Wiki)
First Impression: 1997 Suzuki XF650 Freewind –
Review of Suzuki GS 150R – Team-BHP
Suzuki GSX-R Recall Affects 210,228 Motorcycles in US …
Suzuki V-strom 650 ABS for sale, review