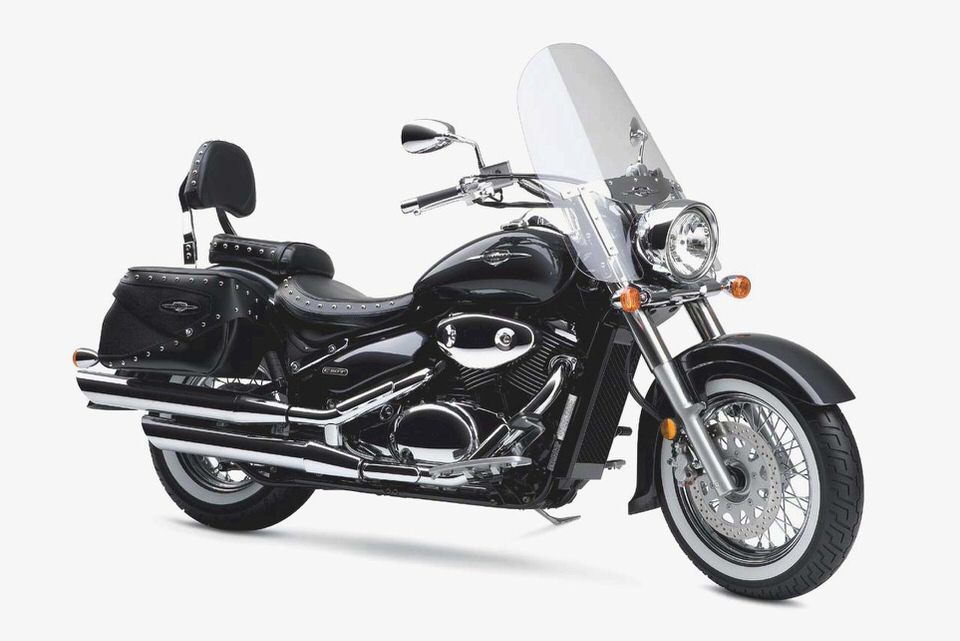 xl+2005_suzuki_boulevard_c50t+side_view.jpg
The 800 cruisers are America's best-selling streetbikes, and Suzuki makes four 800cc (50 cubic-inch) V-twins, all using the same basic 805cc 45-degree, overhead-cam, eight-valve, shaft-drive V-twin. The engine was developed for the 750 Intruder in the 1980s. That bike carries on today as the chopper-style Boulevard S50 (formerly Intruder 800).
Suzuki also has a musclebike-style machine, the Marauder, which is replaced in 2005 by the Boulevard M50.
Suzuki's third 800, the bestselling Volusia, becomes the classically styled Boulevard C50. Suzuki also created a touring variation of the C, this C50T, which adds windshield, studded saddlebags, studded passenger backrest and wide whitewall tires. That equipment adds 25 pounds and raises MSRP by $1000 to $7799.
No surprise that the Volusia was Suzuki's best-seller. Like it, the C50 is longer and roomier than other 800s with enough power to play with bigger cruisers. It accommodates passengers better than any other 800 twin and includes shaft drive, uncommon in this price-sensitive category.
The attractions of the Volusia remain in the new C50T with notable improvements. The Boulevard gets the same EFI technology found on Suzuki's sportbikes with a 32-bit engine-control module. New full-size floorboards bring heel-toe shifting, another 800cc rarity.
Our concerns that the addition of touring necessities would overtax the C50 evaporated when we hit wide-open pavement. Like other 800s, the Boulevard works best if you row the shift lever when you're in a hurry. If you do, it has enough power to move windshield, bags and passenger.
Downshift once or twice when climbing long hills and you'll have no trouble passing traffic. Few other 800 cruiser twins can perform as well under that load, and none that can are as comfortable.
EFI has eliminated any leanness and offers instant starting and idle. Throttle response is crisp most but slightly abrupt. By 800cc standards, it's a real torquer. The smooth, light clutch makes it easy to leave gently or launch hard.
The gearbox shifts well, and the shaft drive introduces little jacking.
The windshield blocks wind from the rider's torso and head, though passengers get some wind past their helmets. Buffeting over the top was not an issue. With no lower extensions, there is little leg protection. There is also the typical air upflow behind the windshield.
Our five-foot-eight rider appreciated the fact that he could comfortably see over the top of the windshield. Overall, the windshield makes the motorcycle quieter and reduces the effort needed just to hold on at traveling speeds.
The riding position recreates that of the very comfortable Volusia with the floorboards creating extra wiggle room for your feet. The handlebar's bend is natural and comfortable. Our only complaint is that the saddle's foam is a bit soft and bottoms out after a couple of hours.
Passengers didn't register this complaint they did like the broad backrest and seating space.
Suzuki's offset crankshaft arrangement cancels vibration effectively. The handlebar vibrated just enough to notice, not annoy, and we wondered if some of that might be the result of a slight aerodynamic buffet of the windshield. The suspension does a good job solo, with better spring rates than most 800 cruisers, though just average damping.
Adding an adult passenger taxes the link-type single-damper rear suspension, making it bottom occasionally.
The C50T's cornering clearance is more than acceptable by cruiser standards. The motorcycle demanded just a bit more attention and steering effort at crawling speeds than the Volusia/C50, presumably because of the weight of the windshield on the fork assembly. Overall, handling remains light, manageable and confidence-inspiring, with a hint of wallow in fast bumpy turns.
A passenger and luggage overtaxed the single front disc and drum rear brakes slightly in high-speed stops, especially downhill. Front-brake control is good, and the lever adjuster adapts the lever tor hands of all sizes.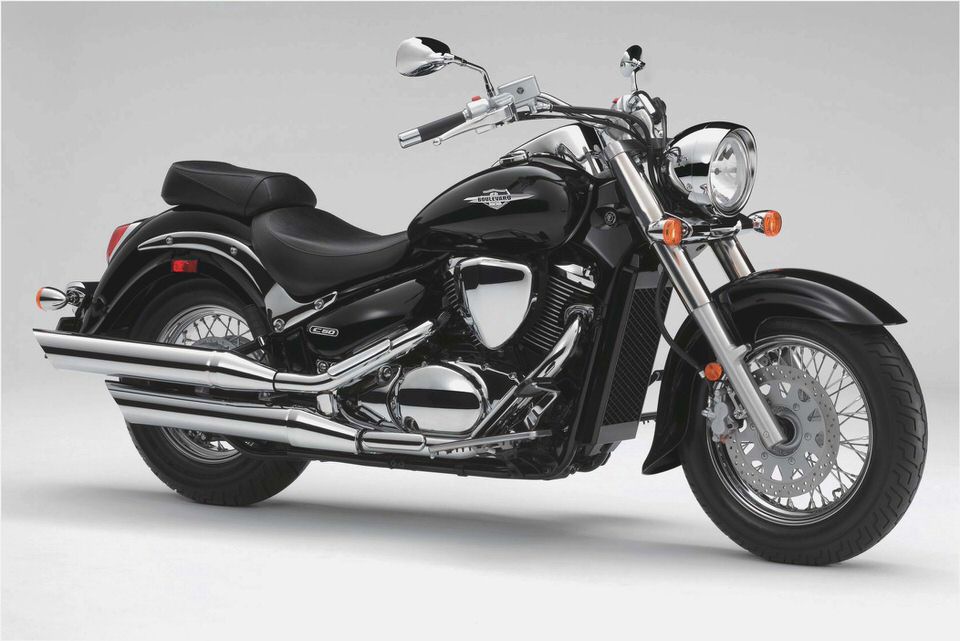 The saddlebags strike a good balance between appearance and capacity. They have rigid sides and box-type lids that close with three snaps. Their straight sides and large top openings make loading easy, though they don't seal out the elements.
Details features include a clock function in the tripmeter LCD and a passing switch. We wish it had blow-out-resistant tubeless tires.
The C50T makes a rational cruiser, big and strong enough to deliver what it advertises without excess. It's a motorcycle you can ride long and hard and still explain to your spouse.
SPECIFICATIONS
2005 Suzuki Boulevard C50T
Suggested price: $7799
Standard color: Black
Warranty: 12 months, unlimited miles
ENGINE DRIVE TRAIN
Type: Liquid-cooled, 45-degree tandem V-twin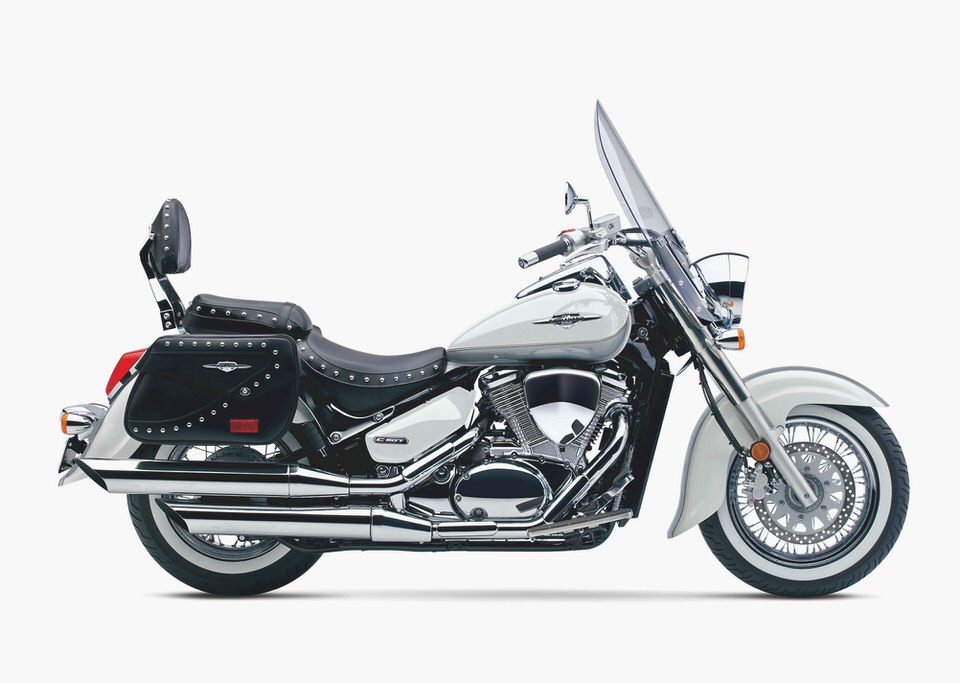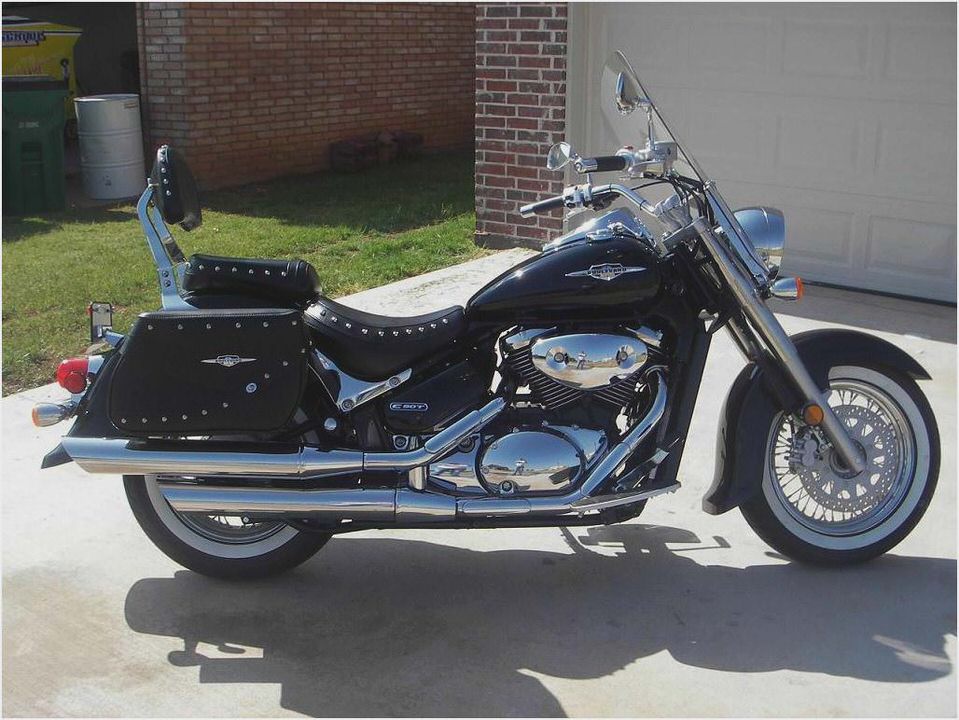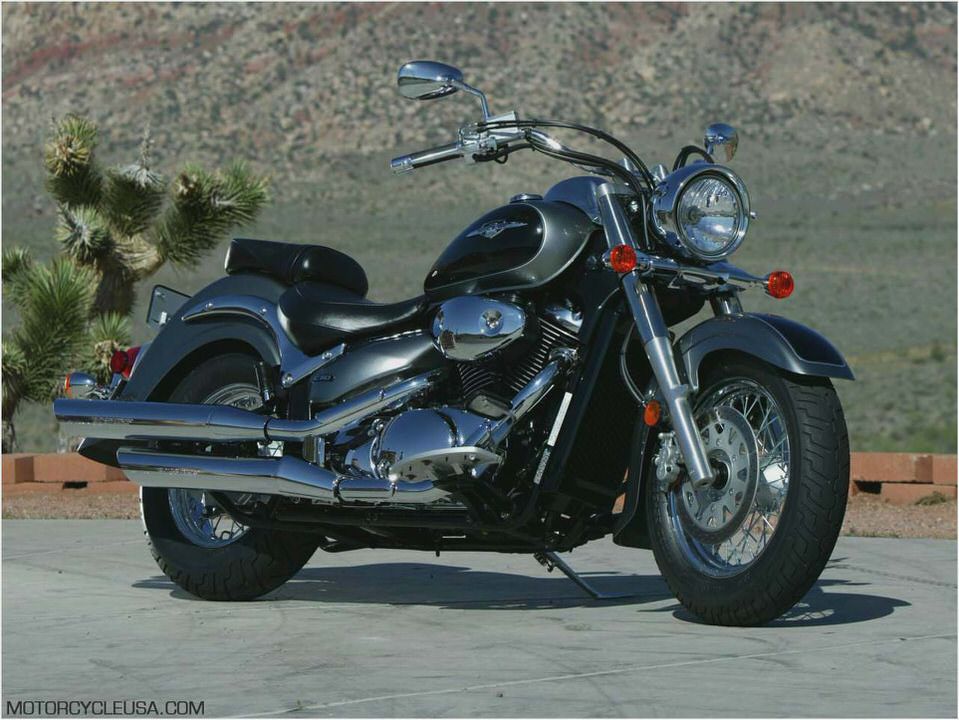 Motor Trike Conversion for Suzuki Burgman 650 Scooter
2011 Suzuki GSX-R600- 2011 Suzuki GSX-R750- 2011 Suzuki Models
Suzuki Bandit 600 Sportbike Review Sport Rider
Honda Nc700x Test Docisto Info
Suzuki DR-Z400S – review and opinion – Suzuki DRZ 400 An honest review!