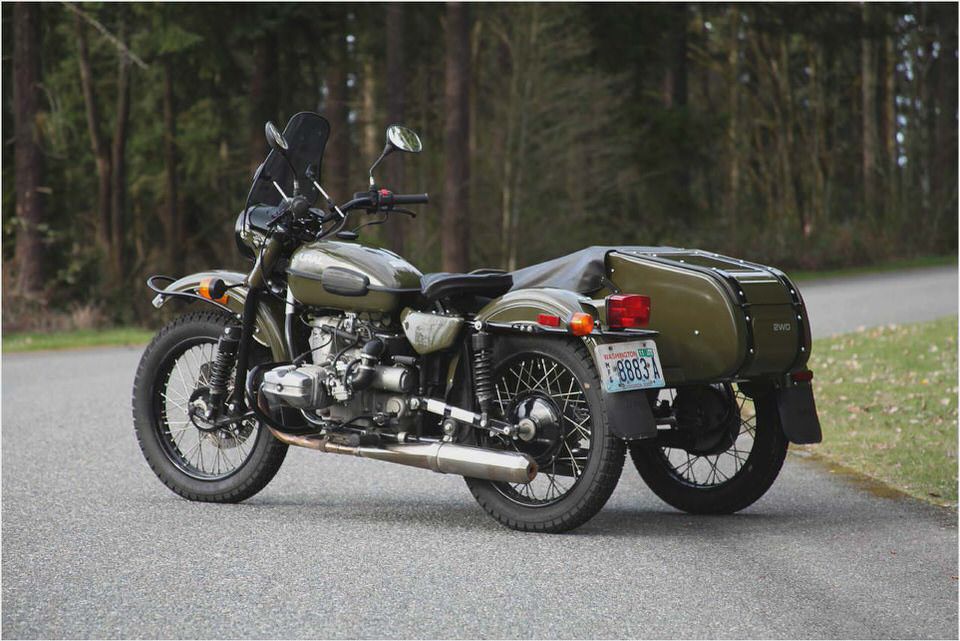 Review: My 2009 Ural Patrol
I love getting emails from readers. One that I get often is along the following lines:
"how's your ural been, do you have breakdowns? I have been thinking about buying a new one but worried about dropping 14K on a bike that has a dodgy reputation and I don't personally have anybody around here to ask."
Now that I've owned my 2009 Ural Patrol for 24 months and put on 14,000km, here are my thoughts.
Every vehicle has breakdowns. I think Ural's bad rap started with the low quality machines in the 90s and early 2000s. Every year they improve. The new ones are an amazing improvement over pre-2007. Here is a summary of Ural changes 2003 to 2011 .
My Patrol needs more TLC than my other bikes due to the shorter maintenance intervals, but the maintenance has been generally easier than my other bikes. What would I improve? Add fuel injection and tubeless car tires. 10mph more top speed wouldn't hurt either; it isn't an interstate cruiser. It is more of a street-legal ATV.
I like to call it my Russian lawn tractor.
Be prepared to be social when on/near the Ural ; it attracts attention which is commonly referred to as UDF (Ural Delay Factor). Buying a gallon of gas or a loaf of bread can easily take an extra five to ten minutes as you answer questions like "what is it", "a Ural, who makes that", "how old is it", "where did you get it", etc.
Ural is a small company that sells about 650 motorcycles in the USA a year. They built 1,100 in 2011 for the whole world. Urals are made in Russia which means when parts are out of stock they have to come on a boat which takes about a month.
I have owned my Ural since purchased new two years ago. I bought it as seen in the crate above. The dealer assembled it. I have had some problems with my Ural.
It has never left me on the side of the road, and it has always gotten me home. Many of the issues I experienced were can be traced back to the dealer I bought it from.
I mistook them for knowledgeable people, but I was very wrong and paid for it. They started importing Urals in the late 90s, but before I bought mine they lost their good Ural mechanic. Their normal mechanics caused many problems (see list below) due to their inexperience with Urals and sidecars.
The original dealer generally made my first year of ownership very incredibly painful.
I have since found a competent sidecar/old bike mechanic to augment my abilities and provide warranty support and parts. My Ural experience during my second year of ownership has improved. I've also purchased the extended warranty to bring the regular two years out to three years.
Original Purchase Dealer caused problems (covered under warranty):
exhaust leak at header due to their mis-assembly
they installed old battery rather than new: http://www.everydayriding.org/2010/02/dead-battery-on-ural.html and http://www.everydayriding.org/2010/02/ural-battery-removal.html
flat tire – improperly installed rim-strip: http://www.everydayriding.org/2009/12/my-first-flat-tire-of-2009.html and http://www.everydayriding.org/2010/01/ural-tube-replacement.html
many issues with spark plugs and fouling which resulted in running on one cylinder by following their advice http://www.everydayriding.org/2010/01/ural-returned-good-as-new.html
numerous wheel/spoke issues – replaced three wheels under warranty because they had the alignment very wrong causing undo stress and wear on the wheels: http://www.everydayriding.org/2010/09/ural-has-returned.html
cracked the windshield due to their over tightening of the mounting nuts
pinched the front brake line wire when mounting windshield which eventually grounded on handlebars causing electrical shorts.
Manufacturer failures (covered under warranty):
final drive defect in '07-'09 models: http://www.everydayriding.org/2011/05/ameliorated-ural.html
left mirror replaced twice
right mirror replaced once
rear brake switch replaced twice
Failures I did not explore warranty replacement since not worth riding 50 miles one way:
Ideas of regular Ural maintenance:
Answers to common questions:
32mpg avg (50km/31miles per gallon – 5 gallon tank)
Theoretical top speed is about 78-80mph with engine at 5600rpm redline in 4th gear
Actual top speed depends on fairings, wind, and hills. I've had it up to 75mph, but the manual warns about going over 65mph for extended periods
Comfortable cruising speed is about 60mph with the engine between 4,000-4,500rpm
55amp, 770 watt alternator above 2,000rpm.
750cc air-cooled opposed twin engine rated at 40hp@5600rpm, 38ft-lbs@4600rpm
It weighs about 770lbs wet.
Uralshina rear tire lasts about 5,000km (3100miles), front more, and sidecar even more. regular rotation helps. other brands vary. I expect the Duros to last longer. k335s last less.
2,500km oil changes (1553miles)
5,000km valve checks (3105miles)
Maintenance is easy. Mine came with nearly all the tools needed to perform all regular maintenance (missing carb balancer and gap gauge) including a DVD with video demonstrations
2011 Ural Patrol-T 750 – Used 2011 Patrol-T 750 at Motorcyclist Magazine
The History of the URAL Motorcycle URAL California
URal My Ural and Me
Ural Retro Solo – Classic Bike Guide – RealClassic.co.uk
Sidecars & Snow: A Mountain Ride with Ural Motorcycles Gear Patrol