Home / Articles / Interviews / Future Scooter Design: An interview with Olivier Murro
Future Scooter Design: An interview with Olivier Murro
May 6th, 2011
Many moons ago, back in 2002, I came across a radical concept bike called 'NAJA'. It looked like something out of TRON years before Legacy and light years ahead of the current wave of scooters. NAJA is the work of Wipe2 a design studio in France that specialises in cutting edge two-wheel design – motorcycles, scooters and bicycles as well as ATVs and accessories.
The brains behind Wipe2 is visionary designer Olivier Murro and since his NAJA concept he's gone on to create numerous aftermarket products for the likes of BCD and other well known brands like ACSUD, TNT and MBK. Olivier can also put his name to a number of fresh and innovative scooter, moped and ATV designs for Chinese manufacturers some of which will be available in stores soon.
At 30 years of age he's come a long way since graduating from the Creapole-ESDI design school in Paris back in 2002. From Wipe2's offices near Paris their expertise enables them to handle everything from concept creation – drawing, modeling and prototyping through to fabrication. "We can manage a project from A to Z" says Olivier, "and being surrounded by professionals and reliable partners we can bring technical solutions and a different point-of-view to the table.
As a result, our products are innovative and have mass appeal". Olivier's recent claim to fame is a concept scooter for Stage6 to add to an already impressive portfolio.
Wipe2 Stage6 prototype (2011): Apart from being fitted with a Piaggio engine, everything in the Stage6 prototype is new – the frame, the bodywork, the headlight and a long list of parts from the Stage6 catalogue – forks, handlebar and numerous other goodies… Don't build your hopes up too much though, by all accounts there are no plans to put it into production, not at the moment anyway.
I discussed the design of modern scooters with Olivier and he seemed to be in agreement that, apart from technological advances, the current wave of machines appear somewhat bland visually and lacking in inspiration – "Scooter design is really crap these days" he says putting it bluntly, "when I look at the Typhoon 2 or the Speedfight 3, I just think they're ugly. Looking back, the Aprilia Area 51 is a legend, but it was too expensive and too heavy.
The Italjet Dragster is crazy, but that was also too heavy and expensive. I'd love to re-design the Dragster but it would have to be simple, light and cheap". There lies the design challenge and if anyone can come up with a solution I'm sure Olivier can who is already suggesting design ideas like stamped aluminium frames.
Blue Energy went for a similar reductionist approach of ditching body panels with their Naked Dragster concept back in 2004. Alas, nothing ever came of it.
Scooters seem to be in Olivier's heart and that's where it all began. For Olivier it started with a Piaggio Typhoon – "it had a full Malossi MHR engine, I saturated the engine with parts. But I got kinda bored then I started working on the body, like doing some fiberglass work to remove the turn lights, change the headlight, some little stuff".
The first scooter that Olivier designed from scratch he describes as "a weird one" – the M-ZEO (ZEO for Zero One), the first of a long series… "It was a Minarelli engine set on a frame, I designed something like a drag scoot but with a body on it, the frame was a trellis one, with ugly welding that I did myself. That was really weird but, I was 17 years old (1997) and that was my first one".
Wipe2 Gilera Runner R3 body kit (2005): This amazing body kit was originally designed for ACSUD back in 2005 and it still looks stunning now. The otherwise smooth front end of the old style Runner is radically transformed into something much more stylish and modern. Sadly the panels were never produced.
Olivier agrees that this is a pity too, they'd sell like hot cakes in the UK.
If you've bought aftermarket styling parts for your scooter, depending on the machine there's a possibility they might have been designed by Olivier. Previously he worked at BCD for two years – "my colleague worked there for five years and between us we designed almost 70% of their catalogue. I designed many many products for BCD – stuff for Typhoon, Stunt, Stalker, Nitro etc".
After working freelance for ACSUD, TNT and MBK Olivier has worked in China designing scooters. At the time of writing he's still busy completing projects over there. A selection of the products Wipe2 have designed or are still working on include:
Trixx (2006)
(FeiYing / FYM) (China)
Olivier: "The idea was to design a tough scooter similar to a dirt bike aimed at teenagers who like stunts and tricks. Although motocross in its style – footrest on the side, low handlebar, this scooter is designed for the city – small, compact and tight and can easily get through traffic jams."
XTC 125 (2006)
(SACHS / FeiYing / FYM) (China)
Olivier: "The styling of the SACHS XTC 125 is aimed at men and women who desire a sophisticated racing bike. It was designed in collaboration with their own modeler and a German engineer for the headlight."
Kimera (2006)
(FeiYing / FYM) (China)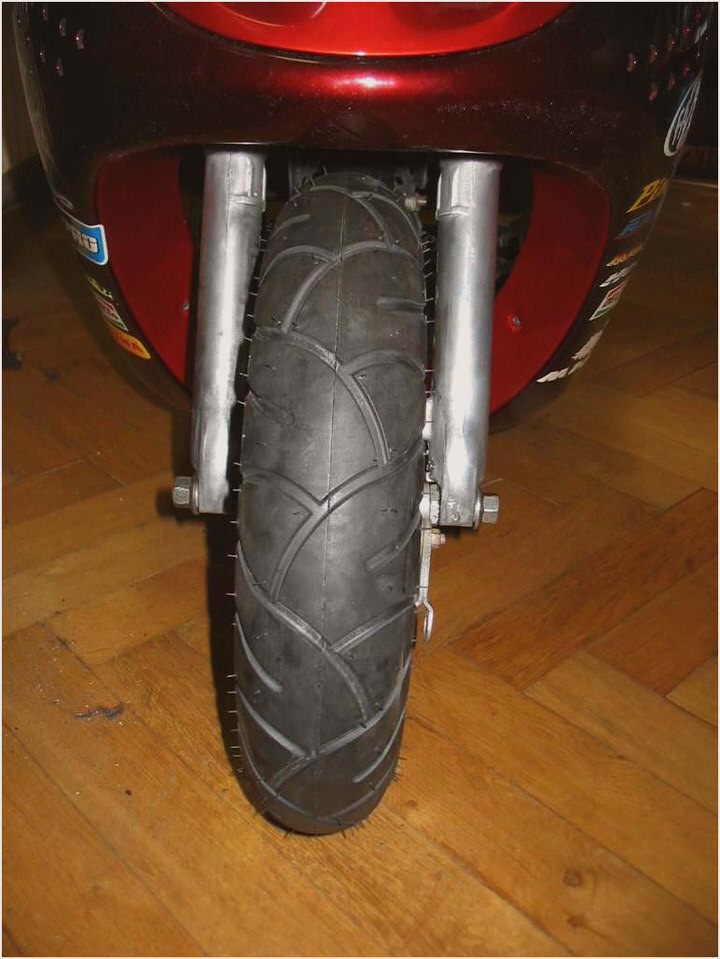 Olivier: "The Kimera is a 125cc moped aimed at the African market mainly designed to carry heavy loads that's why it has high fenders and a loading platform. The Kimera hasn't been produced yet and probably never will be."
Vespuccino (2007)
(Aleutian Mobility / Kacpo / Mattracks) (China / USA)
Olivier: "An electric toy scooter for kids under 10 years old designed to get them used to scooters from an early age. This product is as well equipped as a full size scooter – large storage under the seat, some protection on the side and a real headlight."
Moda (2008)
(Aleutian Mobility / Kacpo) (China)
Olivier: "Designed as a fashion accessory for men and women above twenty years old. Moda is intended for city use with 16″ wheels for more stability, large under-seat storage and removable and customisable panels on the side."
Wipe2 I CUBE ATV concept (2008)
Olivier: "This 125cc ATV is designed for kids around 10 years old. The frame was designed to reduce welding, then with this main section we can attach different bodies (Instinct design or Rumble) and therefore have different styles."
Wipe2 e bike ELEMENT prototype (2010)
Olivier: "The e bike is an electric bike designed in the same way as the I CUBE ATV with stamped parts welded in the middle. It features a high-tech design with an ipod link, weighs less than 28 kilos and has a range of up to 90km depending on the type of battery used."
Given that Olivier admires the work of people like British designer Adrian Morton, the designer of the Benelli Tornado, the apparent similarities with motorcycle design in some of Olivier's designs seems logical. Once could argue that scooter owners are aspiring bikers or it could just be that modern motorcycle design looks cool. But the bottom line is Olivier seems to have a unique and distinctive style in his work which sets it apart making it possible to spot a Wipe2 designed product.
The future surely looks bright but Olivier seems a bit pessimistic – "To be honest I don't have any objective, I'm just following my present path!" The truth of the matter is that with talented designers out there like Olivier and his colleagues at Wipe2 who have the ability to think outside the box, scooters need never be boring. Let's hope the manufacturers take note.
Words: Paul Robinson
Piaggio MP3 LT Sport: License Not Needed Scooters Mopeds
300 Touring features
Piaggio MP3 Scooter- part 2
PiaggioMP3
2007 Piaggio Fly 50 – Used 2007 Fly 50 at Motorcyclist Magazine