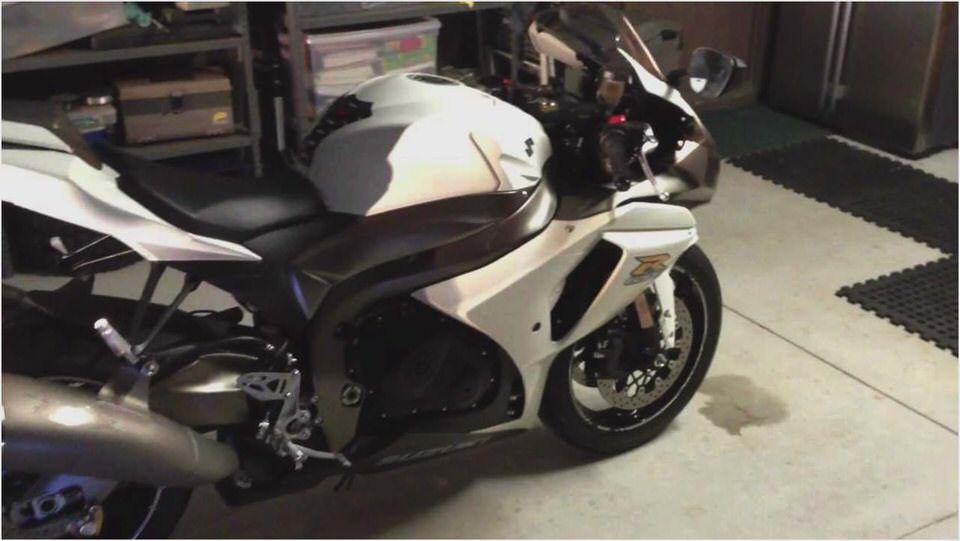 GSXR750 25th Anniversary 1985 – 2010 thankyou
Love Em !
The original GSX-R750 was the bike with which modern Japanese super-sports motorcycles were invented. True, there had been plenty of last and fiery superbikes before the oil-cooled four was unleashed in 1985. But the GSX-R750 was the first modern race replica: a uniquely single-minded machine built for performance above all else.
Its layout matched that of Suzuki's endurance racers of the previous year, from the shape of the twin-headlamp fairing to the use of 18-inch wheels (favoured by endurance race teams because the larger diameter facilitated brake pad changes) instead of the then fashionable 16-inchers. Its frame was made from aluminium, instead of the steel used by rival superbikes. And its 749cc.
DOHC 16-valve engine was powerful, with a peak output of 100bhp @ 10.50()rpm.
Oil cooling system
That output came from a motor that used the novel (for bikes) system of oil-cooling to reduce cylinder temperatures without the added bulk and weight of a water jacket. The Suzuki Advanced Cooling System. SACS for short, allowed the engineers to redesign the previous air-cooled GSX750 unit on a smaller, higher-revving scale.
Almost every component lost weight by being smaller or. in the case of the cam cover, made from exotic magnesium instead of aluminium.
The GSX-R motor's output and lightness were impressive, but it was the chassis that did most to give this bike its unmatched power-to-weight ratio. At 3881b (176kg) the GSX-R was far lighter than any rival 750. According to Suzuki, the new aluminium frame, constructed from a combination of cast sections and extruded tubes, weighed just I8lb (8kg). half as much as the GSX750s less rigid steel item.
Front forks were stout 41 mm units, their rigidity boosted by an aluminium brace.
A racy instrument console, with dials mounted in foam, hinted at the motor's liking for revs. Despite its row of Mikuni flat-slide carburettors the Suzuki was quite rideable even at low engine speed, feeling slightly buzzy without ever producing serious vibration. But its delivery was flat until 7000rpm. when the bike suddenly came alive, howling forward as the revs headed towards the 11000rpm limit.
High-revving performance
That high-revving performance, allied to a slick six-speed gearbox and a top speed of 145mph (233km/h), made the GSX-R a straight-line match for all its 750cc rivals. And in the bends the Suzuki pressed home its advantage. Despite its 18-inch front wheel the bike could be flicked into a turn with little effort, and was stable once leant over.
The GSX-R's lack of weight was a benefit in corners and under braking, where it allowed the front brake – a combination of 300mm discs and four-piston calipers – to deliver unprecedented stopping power and feel.
But the GSX-R was one of the first road bikes to require careful setting-up. and preferably a steering damper, to handle well. The original model's occasional high-speed wobble prompted Suzuki to introduce a slightly longer swingarm in 1986. Practicality had barely been a consideration for the Suzuki's designers, but the GSX-R750 did have a protective fairing and a strong pillion grab-rail, to offset against its aggressive riding position, poor fuel range and narrow mirrors.
2013 Suzuki Boulevard C90T B.O.S.S. Preview – Ultimate MotorCycling
Suzuki Intruder M1800R Suzuki Intruder M1800R Price India Suzuki Intruder…
2008 Suzuki SV650 motorcycle review @ Top Speed
Paris Motor Show 2012: as it happened – Telegraph
Suzuki GSX-R 600 K4