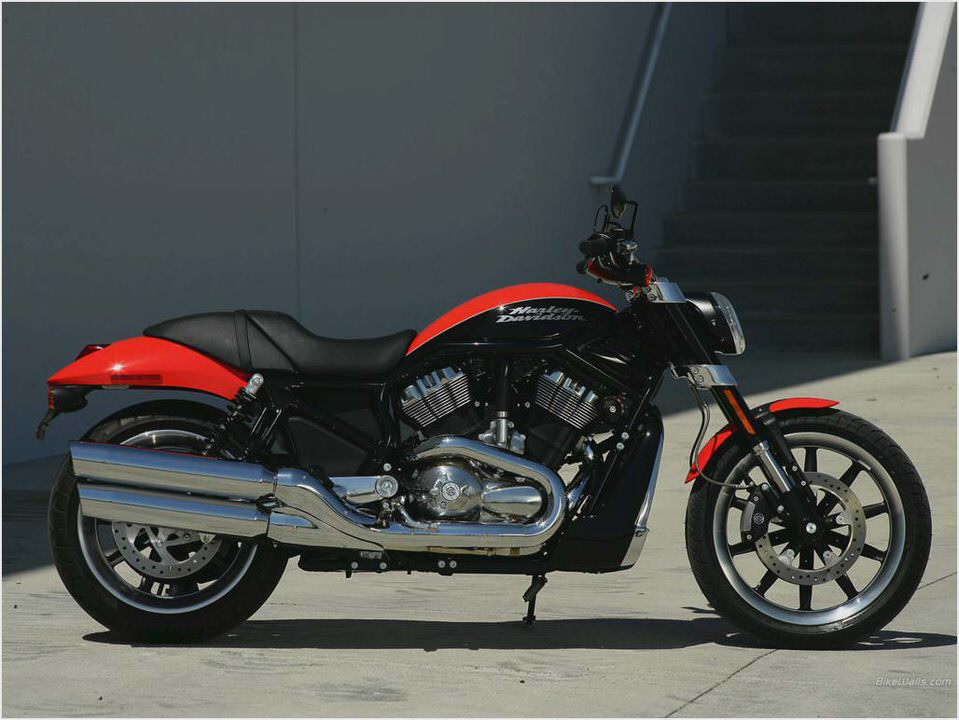 Milwaukee goes after new blood with a V-Rod that lives life beyond Main Street
This is our kind of Harley.
In fact, this motorcycle is the gleam we saw in the eyes of our testers back in 2000, right after they climbed off Harley-Davidson's then-all-new V-Rod. The first thing out of their mouths was what a huge leap forward this bike represented for Harley–followed closely by oohs and aahs about how freakin' fast it was.
But it wasn't long before we were yakking about what we'd do differently. If you pulled in the front end, we enthused at the V-Rod's world launch, and gave it more conventional ergos, this thing would rock! When Harley's engineers and product planners heard us commenting thusly, their demeanor morphed from thoughtful absorption to actual listening and nodding.
It was hard to tell if they were nodding in agreement (and thinking about this exact machine, then in development) or just politely dismissing us.
Now, with the release of the '06 VRSCR Street Rod, we know the truth.
If you consider the Motor Company's history with departures from mainstream cruiser chic, you can see why Milwaukee might have minimal interest in a more sporty V-Rod. Such bikes–the XLCR Cafe Racer of the '70s, the XR1000 of the '80s and the Sportster Sport of the '90s–haven't resonated particularly well with buyers, and generally became collector's items years after the fact. So when the '04 and '05 new-model intros came and went with no hint of a more functional 'Rod, we began to lose hope.
But we weren't looking at the bike through Harley's eyes. The V-Rod, which hasn't broken any sales records in the States, has quietly become one of the company's top sellers in other countries. More importantly, it attracts riders who aren't traditional H-D customers. Roughly half of V-Rod buyers come from competing brands, almost twice the average for other Motor Company models.
This is key because the V-Rod was bred and built to help bridge the gap between traditional H-D customers and those of Japanese and Euro brands. Milwaukee thinking goes like this: If U.S. riders weaned on high-tech marques aren't willing to forgo technology and function for the traditional charms of Harley ownership, maybe a pumped-up version of H-D's most tech-heavy bike will sway them. Harley is betting such a move will convince even more riders to make the jump.
The VRSCR Street Rod is the marker for that bet. It's a heavily revised version of the V-Rod cruiser series, though visually and technically it's obviously a family member. The 1130cc engine is status quo, but a host of chassis changes gives the Street Rod greater handling performance and more comfort via less-radical ergonomics, which move the bike from the cruiser category into what Harley calls the roadster genre.
It's not the only Harley living at that address; the Sportster 1200R also bears the Roadster name.
Leading the variations is the front end, which features a 43mm inverted fork set much more vertically than the raked-out conventional fork of the A- and B-model V-Rods. Those bikes have a 34-degree steering head that combines with the triple-clamp to kick the fork out 38 degrees from vertical. The Street Rod's 30-degree steering-head angle and more massive (and pretty) triple clamps hold the angle to 32 degrees.
Reducing the fork angle has taken almost an inch from the bike's wheelbase–66.6 inches compared with the V-Rod's 67.5-inch span. New fenders hug staggered 10-spoke wheels, which have been V-Rod options since last fall. These wheels look lighter than the V-Rod's solid disc hoops yet wear the same Dunlop D207 radials.
Up top is a flatter handlebar and a restyled–and more readable–instrument cluster. Complementing the handlebar are footpegs mounted significantly more rearward, which alter the riding position from straight-legged and stretched out to bent-knee and comfortably aggressive. Harley also reconfigured the frame to make room for a larger underseat fuel tank, which holds a full 5.0 gallons in place of the V-Rod's 3.7-gallon tank.
Longer shocks with more travel raise the bike to provide additional cornering clearance, though they also jack up seat height by 2.9 inches versus the low-cut V-Rod's. The seat has been recontoured to suit and is followed by a restyled tailsection.
The Street Rod's liquid-cooled 1130cc 60-degree eight-valve engine, designed in conjunction with Porsche, is exactly what you'll find in the current V-Rod. It uses the same electronic fuel induction with its downdraft intake inhaling through an airbox beneath the dummy tank. But thanks to a less-restrictive exhaust, the Street Rod's powerplant makes about 3 more horsepower than the V-Rod's, bringing the likely rear-wheel bhp number to 115–serious steam.
The exhaust is also more upswept at the rear, giving the bike added cornering clearance. It even sounds throatier than before.
The bike feels faster than the 3 added ponies might suggest, though a lean spot right off idle on the preproduction machine we rode might explain why. There is more of a power spike between idle and, say, 5000 rpm than on the standard V-Rod. From there to the engine's 8500-rpm redline, power is smooth, plentiful and satisfying.
Clutch pull remains heavy compared with non-Harleys, though engagement is progressive and controllable. This bike shifts better than any other V-Rod we've ridden, and nicely by any standard, so we were surprised when Harley reps asked us to ignore its shifting because it hadn't gotten the improvements production-spec bikes will get.
The chassis upgrades add up quickly on the road. H-D's Street Rod offers more responsive steering and much more feedback up front. The V-Rod's tendency to fall into corners abruptly, which you can counter by maintaining power all the way through the bend, is virtually gone.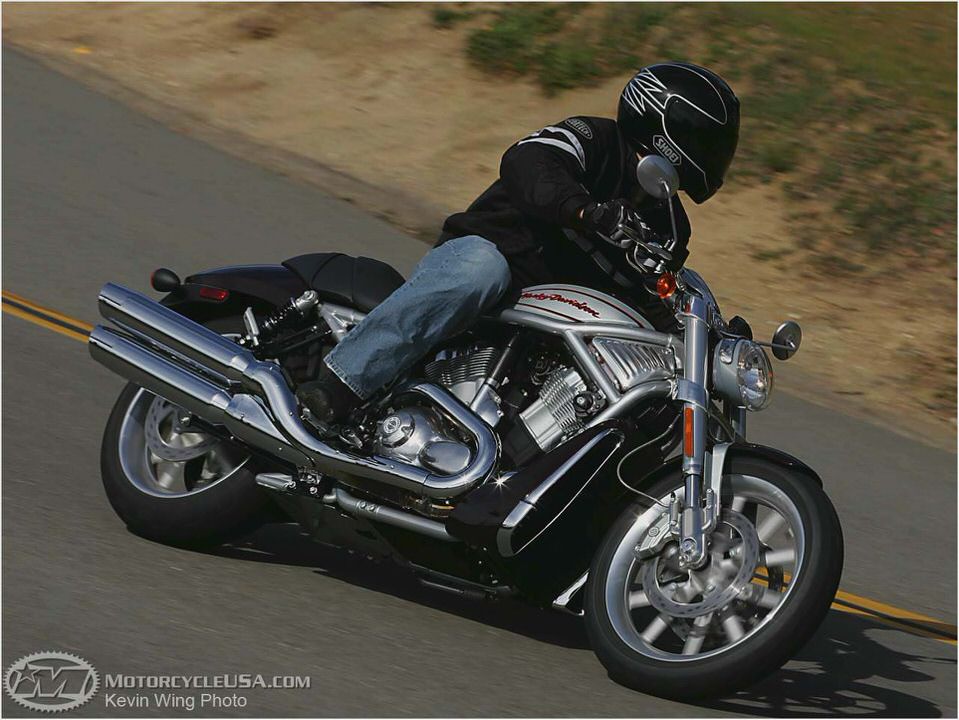 Added travel allows the suspension to more fully absorb bumps, which enabled engineers to employ spring and damping rates that offer increased compliance and wheel control. V-Rods work better on bumpy roads than many cruisers, but the Street Rod makes them seem almost like hardtails in comparison. By cruiser standards, V-Rods have above-average cornering clearance, but the Street Rod gives you an additional 8 degrees before hard parts begin dragging.
That's a big difference, and the Street Rod employs it with grace, arcing accurately through corners and buttressing your confidence even as you lean to metal-scuffing angles. It's no Duck-hunter, but the Street Rod is plenty sporting for a roomy–yet heavy at 645 pounds–standard-style roadster.
It's more comfortable than the V-Rod, too, even though many cruiser riders believe that bike's stretched-out seating position–with most of a rider's weight on his butt–offers optimum comfort. The Street Rod's more conventional ergos rotate you forward some 30 degrees compared with the V-Rod's, so your legs can absorb more of your weight.
The seat-to-peg span doesn't bend your legs as tightly as a sportbike's, though those sparse of inseam might feel a bit unsteady with the additional 2.9 inches of (unladen) seat height compared with the V-Rod. Leaning forward toward the handlebar reduces the need to counter wind pressure with your arms, and the pedestal-style instruments provide a slight break from windblast. Overall, the Street Rod's standard-style posture lets you relax much more than a V-Rod cruiser's.
The Street Rod's flatter seat provides more flexibility and room to squirm than the V-Rod's scooped saddle, too. Ours had prototype padding, and though we weren't inclined to complain, Harley says the production seat will be even more plush. Passengers don't get much of a break, however; the pillion is petite and slopes slightly rearward.
Not to worry; if a passenger figures prominently in your plans, Harley's accessory division is sure to take care of you. It offers six different saddles and two pillion pads for V-Rods, and the aftermarket makes even more. We're betting this motorcycle will enjoy the same treatment as well.
When it's time to slow down the Street Rod is ready and willing, with powerful, easy-to-modulate Brembo brakes, four-piston calipers up front and 300mm discs all around. This is the first time Milwaukee has embraced the Italian maker's product, and they work wonderfully. And because of the 'Rod's thinner grips, you'll get a firmer grip on the bar when you squeeze that lever.
Riders with small or arthritic hands will wish for an adjustable lever, and they're sure to find the two-button turn-signal system cumbersome when braking and downshifting approaching a turn. Yet overall it's a functional, extraordinarily competent machine to ride day in and day out, and an exciting one to boot.
Target buyers for this machine–a rider coming from another brand–are surely going to have to adjust to the many facets of the Harley Way. There are bazillions of Harley and aftermarket-sourced options to choose from to make the bike look and fit just right, and there's also the higher price Harleys command. Harley had no MSRP at press time, but it's likely to be in the $16,000 range of the other V-Rods, and there's always the additional profit some dealers tack on, at least initially.
Based on the week of back-road and inner-city romping we did on the preproduction Street Rod, we're convinced buyers who do cough up the asking price will get much more than a unique, aesthetically pleasing machine. They'll also get a powerful and highly functional Harley-Davidson.
And that's a combination that will definitely turn a gleam in your eye into a smile on your face.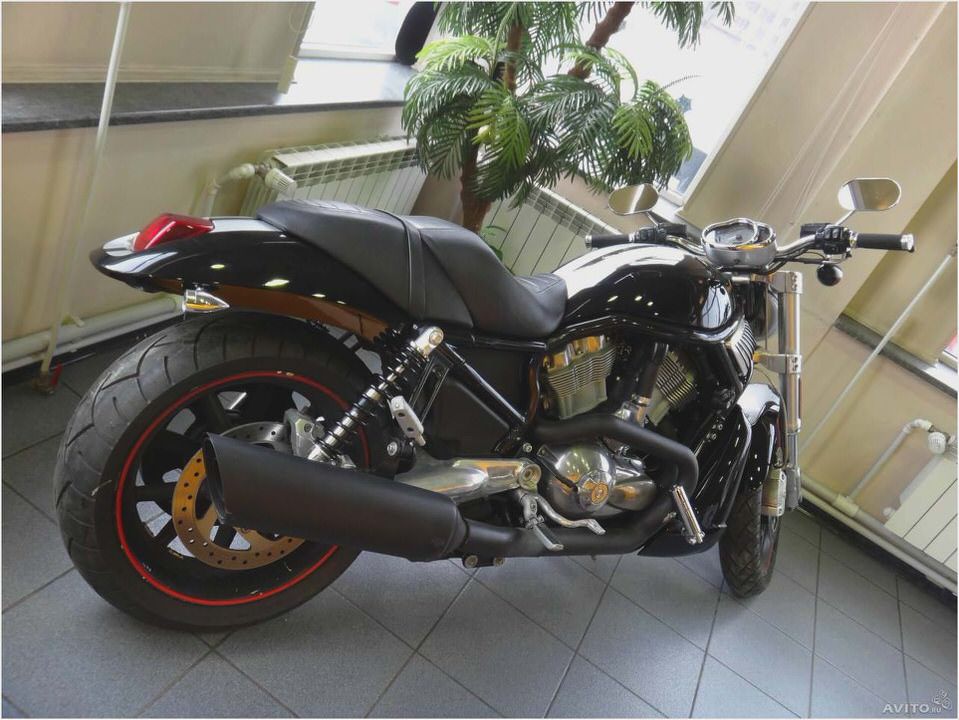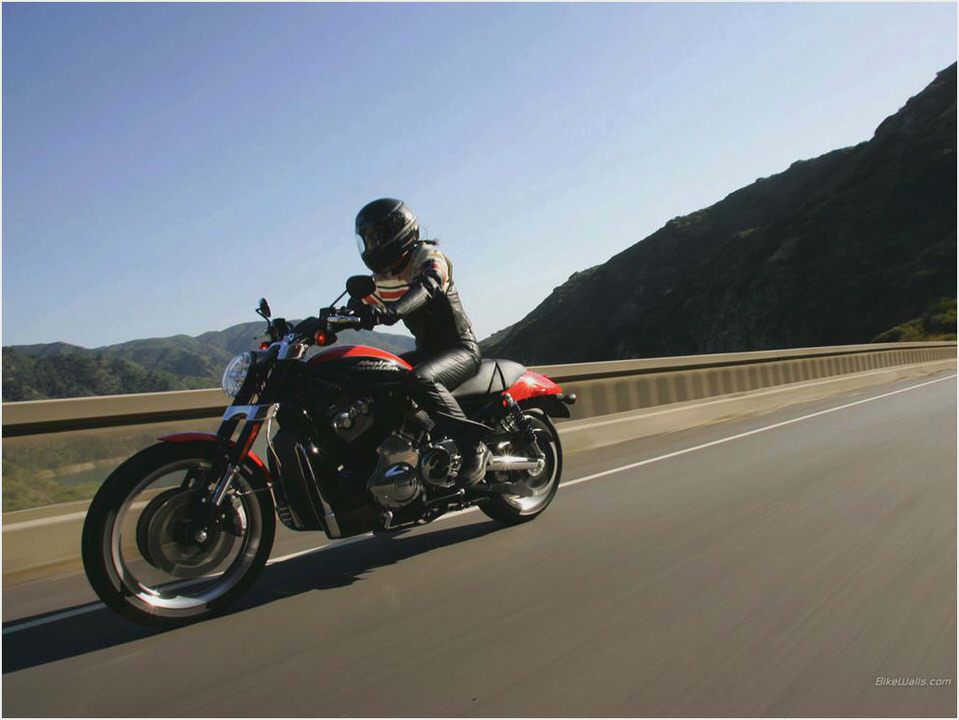 2010 Harley Davidson XR1200
2011 Harley-Davidson CVO Ultra Classic Electra Glide – Motorcycle USA
Harley Davidson FXDSE Dyna Super Glide Screamin Eagle
2012 Harley-Davidson Switchback- H-D Lightweight Touring Bike
2011 Harley-Davidson XR1200X Review- New Harley-Davidson Motorcycles