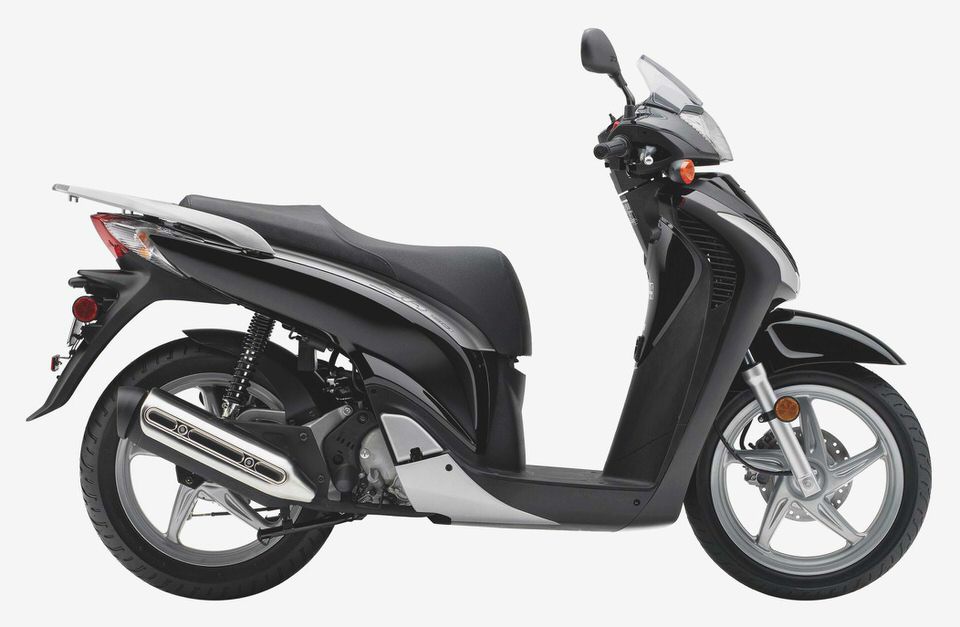 HONDA SH150i – OWNER REVIEWS
2010 HONDA SH150i
Milage: 0 – 1000 Miles
Likes: Amazing suspension, Great fit/finish, Good acceleration for 150cc, Awesome for the exurbs
Dislikes: $300 trunk required for any carrying capacity
Review: " I recently traded up from a Scarabeo 100 to a Honda SH150i. The Scarabeo was a good little scoot, but I am surrounded by highways and I hated being the slowpoke on them. The Scarabeo was also tough to cold start in inclement weather — it was a nice ride and looked good, but it had a little more personality than I liked.
The SH150i retails for $2000 more, and while I'm not sure there's $2000 more in the package, overall I am definitely pleased with the great ride it provides, especially the MUCH better suspension brakes. The steering / cornering feels about the same, to me. I really love the extra speed / acceleration I get from the 153cc engine, and a lot of the little details delight: the headlamp is brighter, the gauges are easier to read, and the overall assembly seems sturdier than the Scarabeo 100.
On the other hand: $4500 and NO TRUNK? I had to fork over an extra $300 to get the carrying space I was accustomed to with the Scarabeo 100.
Overall, my sense is this: if you want a marquee scooter ride and the ability to range on highways or for longer trips, get the SH150i. If you're sticking to the streets, save $2000+ and get the Scarabeo 100."
2010 HONDA SH150i
Milage: 1000 – 5000 Miles
Likes: Power Handling
Dislikes: Long distance seat comfort, Lack of accessories
Review: "This is my first bike and I bought it last June. It is great for local commuting and errands. I have loaded it down with a case of water, large package of TP and other assorted items and still got around. My gas milage has ranged from 69mpg to 90+ mpg with the usual being in the 70+.
The suspension is a little rough on the roads here as the city does not fix roads they just sorta patch them.
I did have a problem with the back tire cracking within about 6 mo. but got a really good replacement from Dunlop, free. Have not had any other problems and just had it first real checkup and oil change. If you have any handling problems check your tire pressure first as low pressure really affects the handling.
Have yet to venture further than about 15 miles out of town but been on 60+ mile rides in the county. Usually comfortable but much longer trips would not be. I keep having to move back up on the seat as I seem to slide down a bit. I wish there was a cup holder for the SH150, as I would like to be able to get good coffee on the way to work.
Everything I have tried left me with hot coffee / cold soda on my leg and floorboard.
This is a great commuter bike with great gas milage. It's my first bike so nothing to really compare it to. I have recommended it to several people but this is big boy bike territory so not many scooters here. Hope this helps."
2010 HONDA SH150i
Milage: 0 – 1000 Miles
Likes: Handling, Power Looks
Dislikes: Seat slant
Review: "This is the BEST city scooter. This is my second scooter and I love it. Terrific styling. Great Honda brakes. Everything is where it should be.
I lowered the seat for a better ride angle. This bike performs like a motorcycle in handling and power. Buy it. you won't be disappointed."
2010 HONDA SH150i
Milage: 500 – 10,000 Miles
Likes: Fuel economy, handling, comfort
Dislikes: Storage, ease of owner maintenance, fuel tank size
Review: "I've ridden 6000+ miles in a year or so, on highways, city streets, and dirt and gravel back roads all mostly to serve as an exploration vehicle for landscape photography. Overall, it's a great bike.
Typically I get about 90mpg, which is more than I'd hoped for. It's nimble and easy to steer and handles bad roads and uncertain surfaces as well as good ones. I have never dumped over despite riding for at least a 1000mi+ on gravel and dirt roads. The tall wheels are very helpful for this. The only time it feels squirrely is with grooved pavement, which almost all bikes hate.
I'm quite tall at 6'4 and there is enough room for me to sit on the seat with a passenger and not have the handlebars hit my knees if I keep my feet and knees tucked in. I don't get a sore butt, which is really nice, even after 4-5 hour rides.
Storage is pretty bad; the underseat box will barely hold a half helmet and gloves. A top box or some other sort of luggage is a requirement if you hope to transport anything without a backpack. The Canadian model came with the Honda box, which is pretty good and large enough for groceries or a full helmet.
The bike is a pain to owner-maintain: many body panels must be removed to tend to even basic tasks like changing an air filter. At least you can change the oil easily enough, although some will inevitably spill on the centre stand mechanism. Finally the fuel tank is just too small, sharing space as it does under the seat.
I know I can get 250km in a tank if I'm willing to run in town and go down to fumes, but for touring you'll find yourself filling up every 2-3 hours just to be sure you don't run out between stations which is pretty annoying.
I did a lot of research to pick this bike and I would absolutely buy it again, though if the PCX-150 had been available at the time I might have considered the trade-off of that bike (smaller wheels, slightly smaller fuel tank) for saving $1000."
2010 HONDA SH150i
Milage: 1000 – 5000 Miles
Likes: Power, Fuel economy, Comfort, Quality
Dislikes: Price
Review: "I have 3,500 miles on this scooter and have owned it for two+ years. It has displaced my BMW G650 as my standard ride, used for commuting, errands and as a second car. Always get a true 85 – 91 mpg in general riding, including short interstate run on daily commute.
Great little bike, much prefer to Vespa 150 and 200 that I owned in the past due to 16 wheels, performance and economy of operation."
2010 HONDA SH150i
Milage: 1000 – 5000 Miles
Likes: Reliable and convenient, Top box included
Dislikes: Gets no respect
Review: "This was my first scooter, bought in Canada for general transportation including commuting. The SH150i proved itself ultra-reliable and quite effective in all kinds of weather including, occasionally, snow. Gas mileage around town was excellent, but on the highway at speeds of 100+ km/h it required frequent stops for gas.
Braking and handling were great. Not once did I regret the money I paid for this scooter."
2010 HONDA SH150i
Milage: 1000 – 5000 Miles
Likes: Handling, Price, Comfort, Economy
Dislikes: Not a motorcycle, Parts availability
Review: "This is my first scooter, purchased because I needed wheels in a hurry, fuel economy seemed great, mileage was low, and the price was right.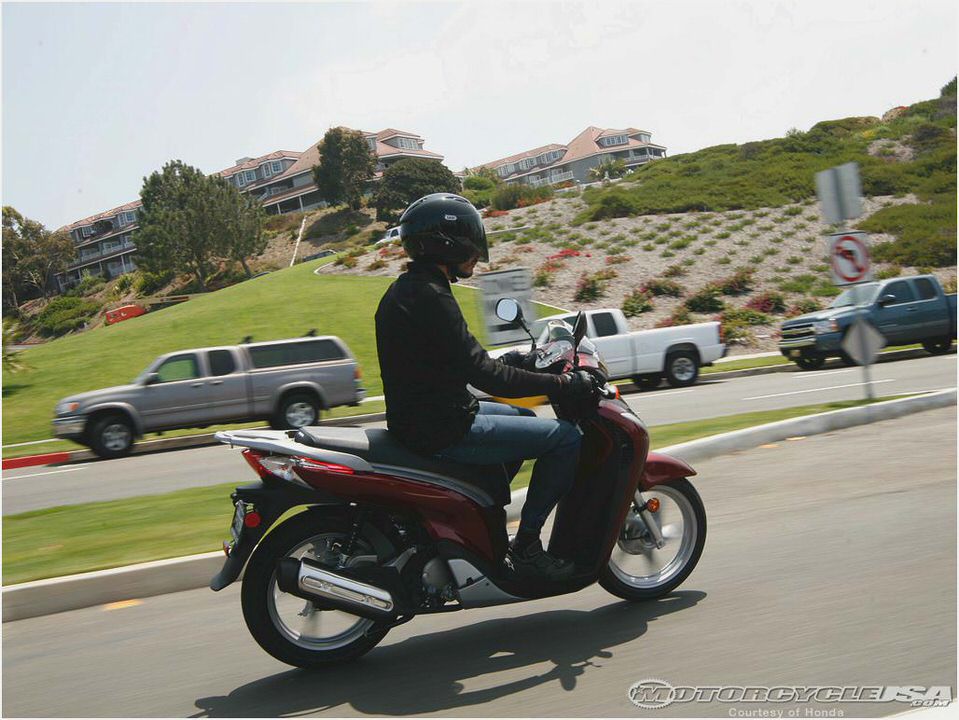 I'm not used to a scooter, getting used to no clutch and both breaks on the handles was weird, but was easy to ride quickly. Pretty comfortable, handles well, underseat compartment enough for a helmet. Suspension's a little hard, but I'm used to motorcycles and cars.
But, man, it's fun! It's nice having something small and squirrely that can still get on the highway if needed. It suits my current need for something small, cheap, and easy, while still feeling stable and confident in traffic.
I still wonder if I should have held out for a deal on a standard, but I've been wondering that less and less."
2010 HONDA SH150i
Milage: 0 – 1000 Miles
Likes: Step through design
Dislikes: Jump starting a nightmare
Review: "I am 55 now and am feeling my age, but I still love riding. The step through design is the lowest of the modern 150cc class Japanese brand models to date and is great for my arthritis. Yes, the PCX and others that are styled like it are step through, but they are more step over than step through.
I own older model Honda scooters like the CH 80, 125, and 150, but this newer model made in Italy definitely is the best by far. Smooth acceleration, stable ride, and a headlight that does not vary in brightness makes this bike better than both it's competition and it's predecessors.
Gone is the long front nose thanks to the Italian design similar to Vespa. The only problem I have had is jumping the battery. If the battery does not have enough power to start the engine, it may also not have enough power to let you open the seat and get to the battery. This is a good time to have a towing rider on your insurance policy. Lastly, the price is well worth it.
Knowing you can get OEM parts from your local Honda shop is priceless. The off brands price initial price savings evaporates once you need replacement parts."
2010 HONDA SH150i
Milage: 1000 – 5000 Miles
Likes: Fit and finish, power, ride
Dislikes: Lack of storage, seat comfort
Review: "Bought my SH150i in 2013 as a factory leftover that was still in the crate. I drove 400 miles to pick it up at a dealership who offered an Internet price of 2900.00. From the first moment I rode it, I have never regretted that long trip to pick it up. I run it back and forth from work, a 30 mile commute, all back roads 45 m.p.h. and this scooter is fantastic.
Great power to get away from traffic and I consistently get 80 plus every tank. Did I mention I am 6'7 and 240 lbs? The large motorcycle sized rubber eat up potholes and help corner easily. I love the look on peoples face when they realize they just got passed by a scooter
My only complaints would be the lack of storage that was fixed by shelling out 260 bucks for the factory top box. It fits on the factory rack and goes on and off in less than five seconds. My other complaint is the hump in the seat.
As I am as tall as a giraffe, the hump makes longer trips uncomfortable. There aren't hardly any aftermarket parts for this rare scoot so I will be taking it to an upholstery shop to remedy. PCX parts are everywhere.
Until I upgrade to a silverwing, the SH150i is all I could ever need to have fun and save gas. I would recommend highly if you can find one at the right price"
2010 HONDA SH150i
Milage: 0 – 1000 Miles
Likes: 90mpg, Motorcycle likeness, Great power, Handles beautifully, Very fun, No tiny scooter feeling, Keeps up with traffic.
Dislikes: Uncomfortable seat (raise in seat needs to be 3" further back).
Review: "6/27/13: Just bought a new leftover 2010. I positively love this bike not scooter. Great power, handles perfectly, very stable due to size and 16 tires. Motorcycle feeling with convenience of scooter.
90 MPG first tank, as well as second, very sexy looking for scooter, great lines. and finish, quiet but can also hear/feel power.
The only negative is the rise in the seat needs to be 3 further backwards to allow for more leg room and seating comfort. Also needs more comfortable grips. Honda needs to reintroduce this bike to USA with better advertising, and price under $4000 now that we have much improved economy."
Return to the Honda SH150i main page.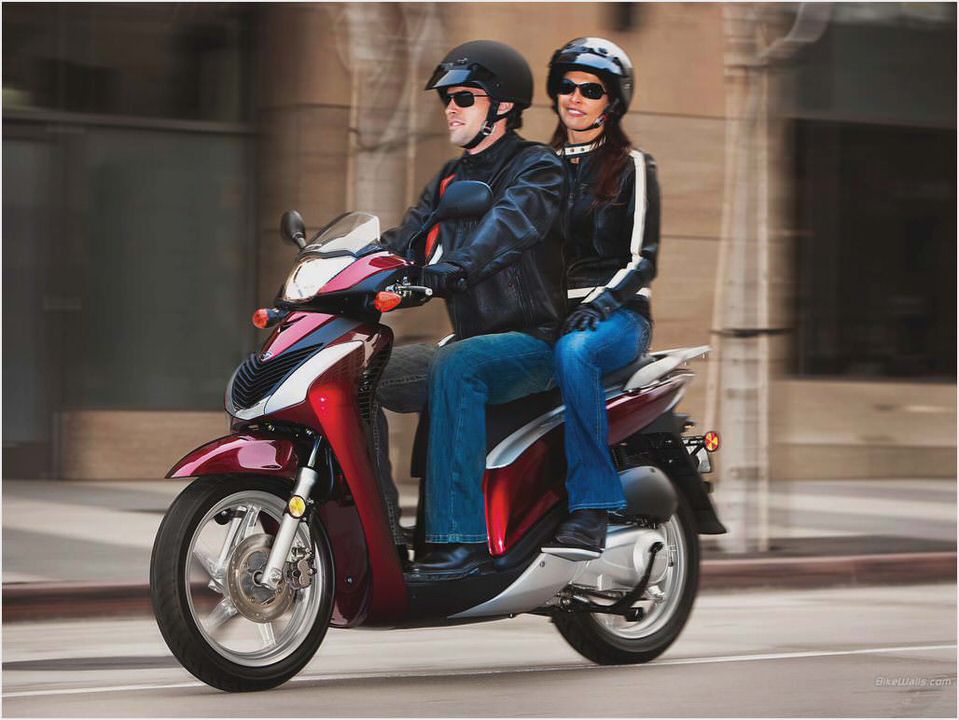 2011 Honda Civic Hybrid – HybridCars.com
2008 Honda DN-01: MD First Ride – Motorcycle…
Honda VTR1000 SP-1 – Cycle Torque Magazine
Hero Honda Splendor Hero Honda Splendor price Splendor reviews Vicky.in
New Honda VTR 250, Honda VTR 250 in India, Honda VTR 250 price in India