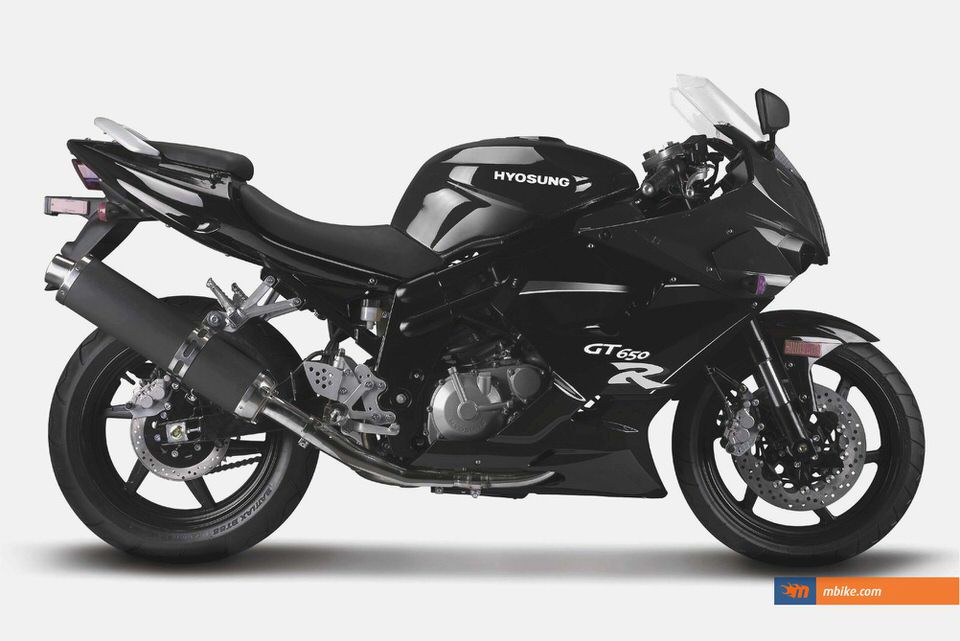 Hyosung GT650R Review
Yee-aah-hooooo-weeeeee . This is serious and proper fun! There's nothing wrong with in-your-helmet shouting every now and then, but this time the whole situation was kinda weird.
The location? The infamous Sodom-Arad road, regarded by local squids as Israel's best bit of winding tarmac, climbing up from earth's lowest point up to the Judea desert's high plains. The context? Trusting girlfriend and I plus a hefty duffel bag strapped to the tank while touring Israel.
The tool? A very unlikely fellow: Hyosung's GT650R.
Got to admit that I wasn't quite expecting this unknown, entry-level type of scoot to be this satisfying on such a demanding road and yet, the GT650R was handling the devilish bends like a proper small sport-tourer would.
As I reach the town of Arad, at the top of the plains overlooking the Dead Sea, I kindly ask my girlfriend to take a really long coffee break while I treat myself to a solo run up and down the dammed road. The place has some reputation: small memorials where squids lost their lives line the road in the risky bits. And yet, the GT650R is not fazed, even when I turn up the heat some more.
So then, are the Koreans really getting it?
Our first steps together have not been so sweet, though. I have seen Hyosungs before in shows and such, but when I finally found myself in front of one at the Israeli importer's office rather than under the spotlights, the overall impression was kind of so-so. The GT650R, the sporty full-dressed brother to the 650 Comet GT street standard tested at MO, has got quite a presence with its red monochrome full gown, but when you get up close the overall detailing and finishing is not that convincing. Fitment of body panels, the quality of the clocks panel, a slightly dumb looking top triple clamp, the switch gear – it all adds up to a feeling of "Nice but not quite there."
A bit of a shame really as under the not-so-solid-looking surface there's plenty of solid metal. The GT650R's V-Twin power unit has its pots positioned at 90 degrees, sports liquid cooling, four valve DOHC heads and generally shows that Suzuki has indeed been mentoring the Korean set-up for a while. The family ties with the SV650 are indeed tight, even if those twin mills are certainly not identical.
This year sees the introduction of fuel injection to the 650 motor, and power-wise, at least on paper, it's nearly on even ground with the trusty SV650 and Kawasaki's 650 parallel-Twins.
The frame, though not as impressive as the SV's alloy job, is a sturdy looking steel twin-spar affair where each spar is actually constructed from twin tubes with plenty of gusseting joints. Suspension is pretty much up to date, with an adjustable inverted fork up front, progressively linked mono on the rear, while the brakes are not last-generation stuff: floating twin-piston calipers, a similar setup to its Kawi and Suzi peers. On paper it's got the right tech cards to play, it's only that plenty of tiny details entail the bike with a mid-'90s rather than late-2000's aura.
Moving on to the riding bit, our first miles together while city riding do not flow so smoothly. I do find the GT650R a nice-fitting, small-to-medium-sized bike. The clip-ons might sit under the triple clamp, but that doesn't mean that the riding position is full repli-racer.
It's actually much more sport tourer than pure sport in nature – pretty comfortable for me at least.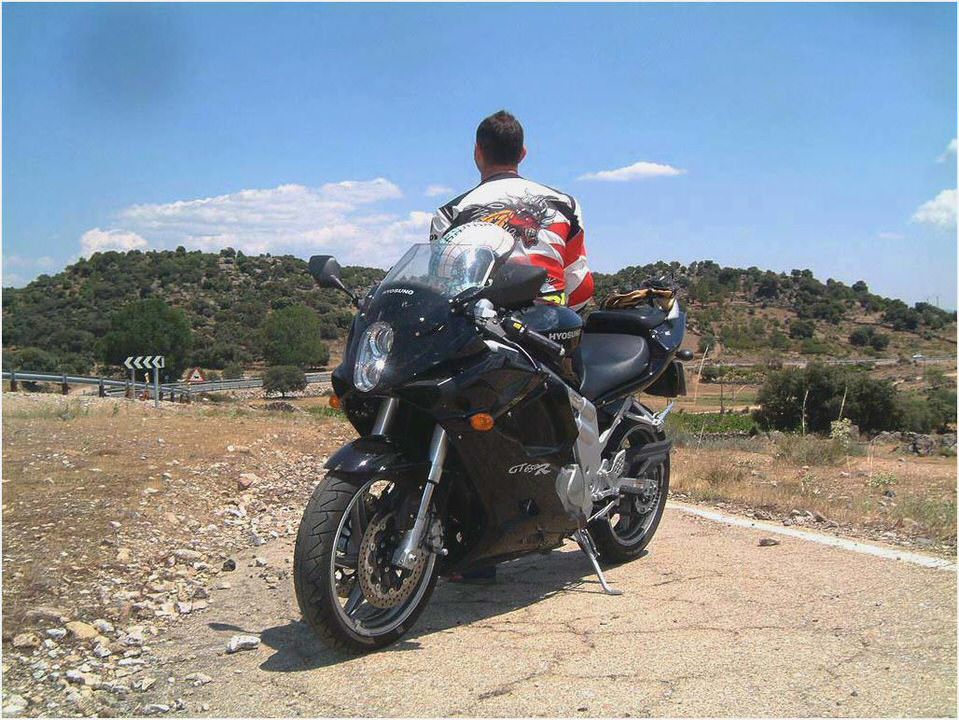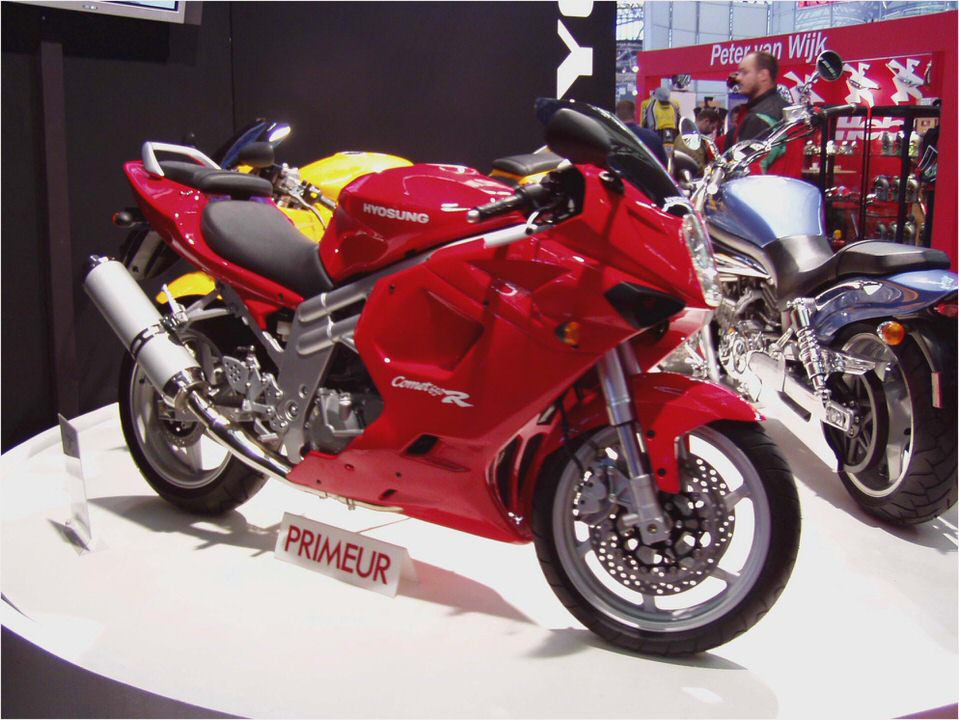 There are quite few flies in the ointment, though. Notchy gear shifting and a slight off-idle hesitation make urban dwelling slightly more painful than it needs to be. Clutch pull could be lighter, and disengagement better, too.
At the end of our first day together I pulled a 10mm spanner in order to rotate the clutch and brake levers down somewhat. With the master cylinder positioned a bit lower to fit my humanoid dimensions, the tip of its banjo bolt started to foul the fairing as I rotated the bars left to right. That said, I must admit that after a week of riding the GT650R, the urban manners of the thing improved.
Looks like the gear shifting loosened up somewhat and made city riding much more enjoyable.
The GT650R felt much better outside city limits. As we head west towards Jerusalem, hitting some less traveled mountain roads, the sport-tour side of the Hyosung starts to show if not downright shine. The engine has a satisfying pull from 3000 to 7500 rpm, and in semi-fast touring mood, say through 50-70-mph bends, it supplies a nice drive.
It might not feel as smooth and buttery as the SV's or as plain revvy as Kawasaki's Ninja 650R, as a certain harshness is felt at times through bars and pegs.
On the straight bits, the not-so-low windscreen bubble deflects the air pretty well and lets me trot at 90 quite undisturbed. Soon enough I find that the real ace up the GT650R's sleeve comes out when things get really twisty. The GT turns out to be really flickable and tracks true when put down low on its side.
Though its suspension might not be the most sophisticated on earth, it does nothing that requires me to shut off or slow down despite being loaded with a rider, passenger and duffel bag.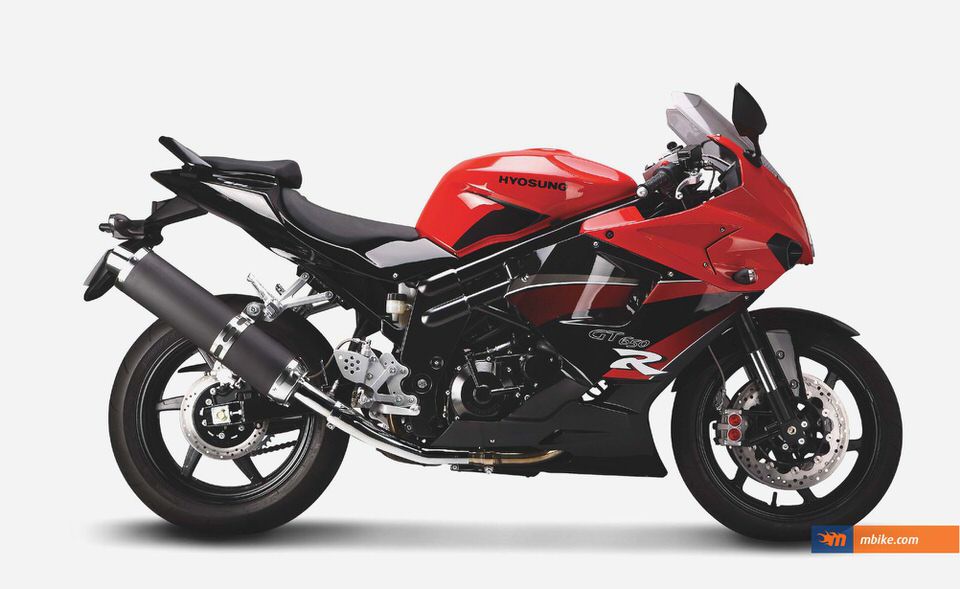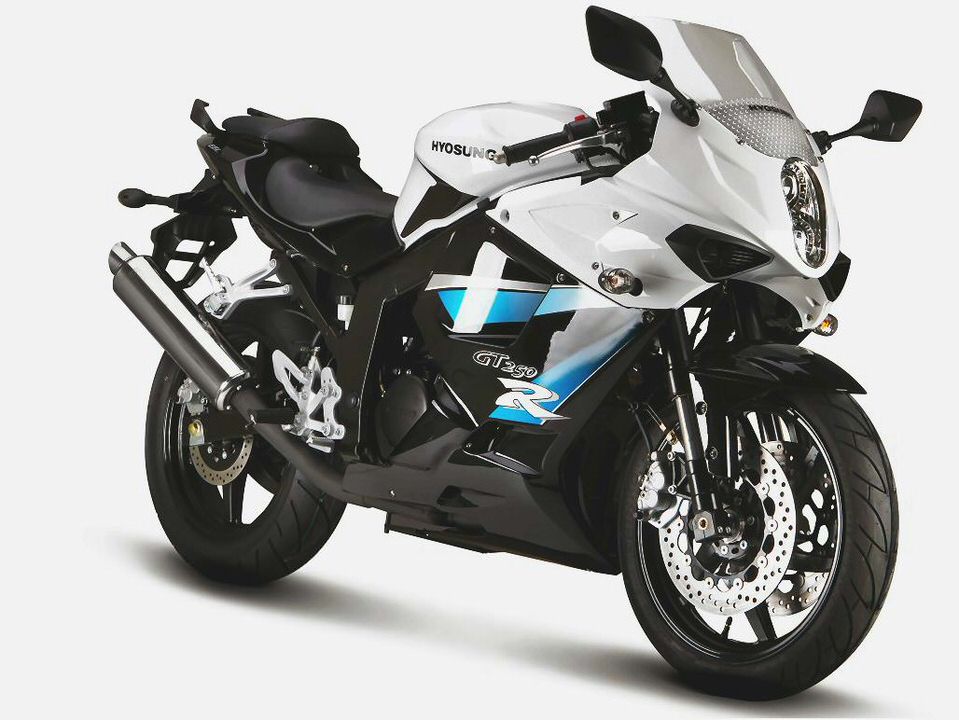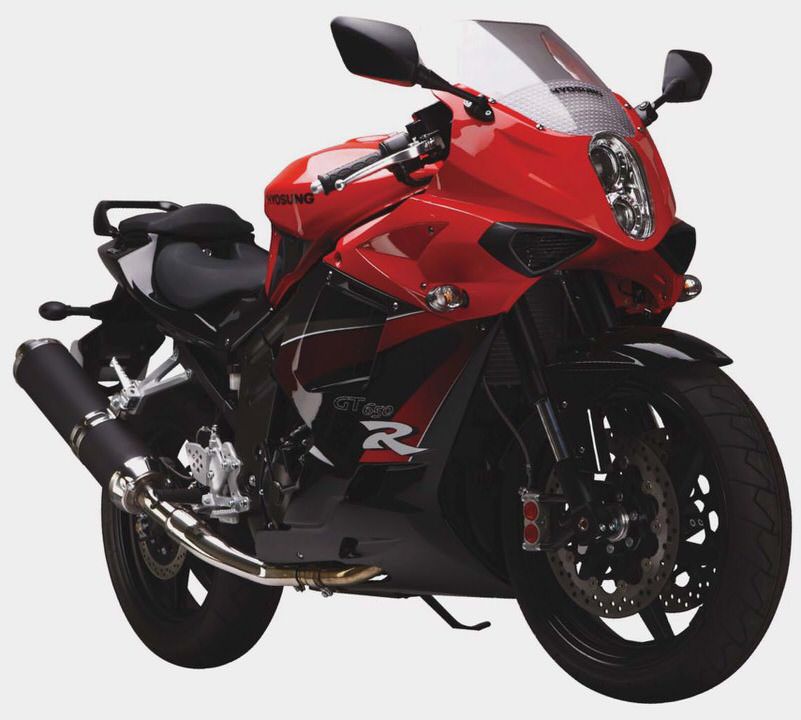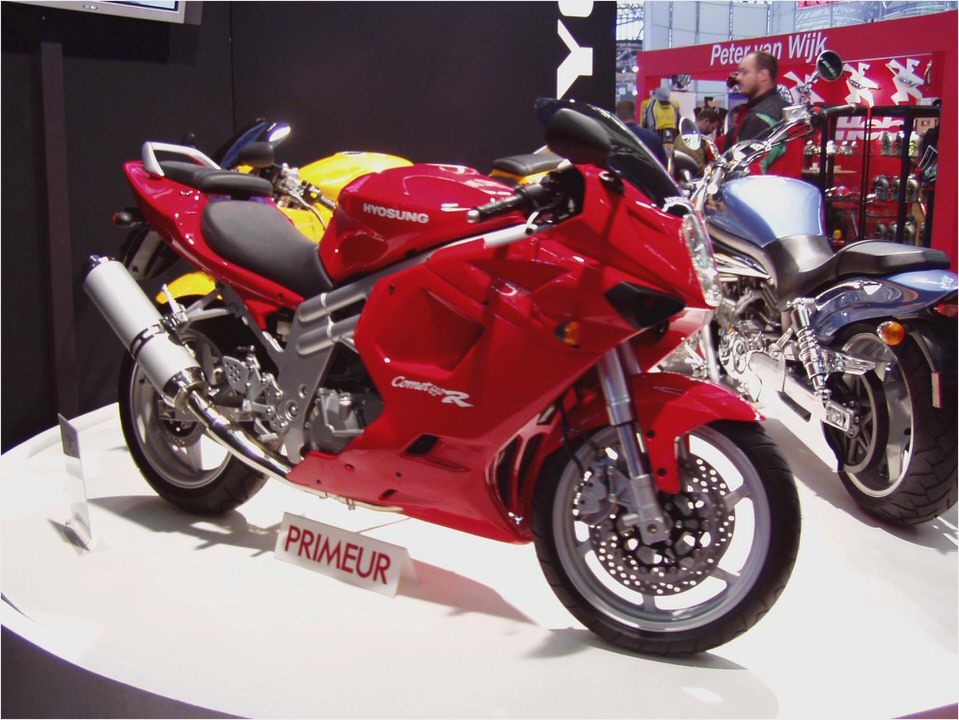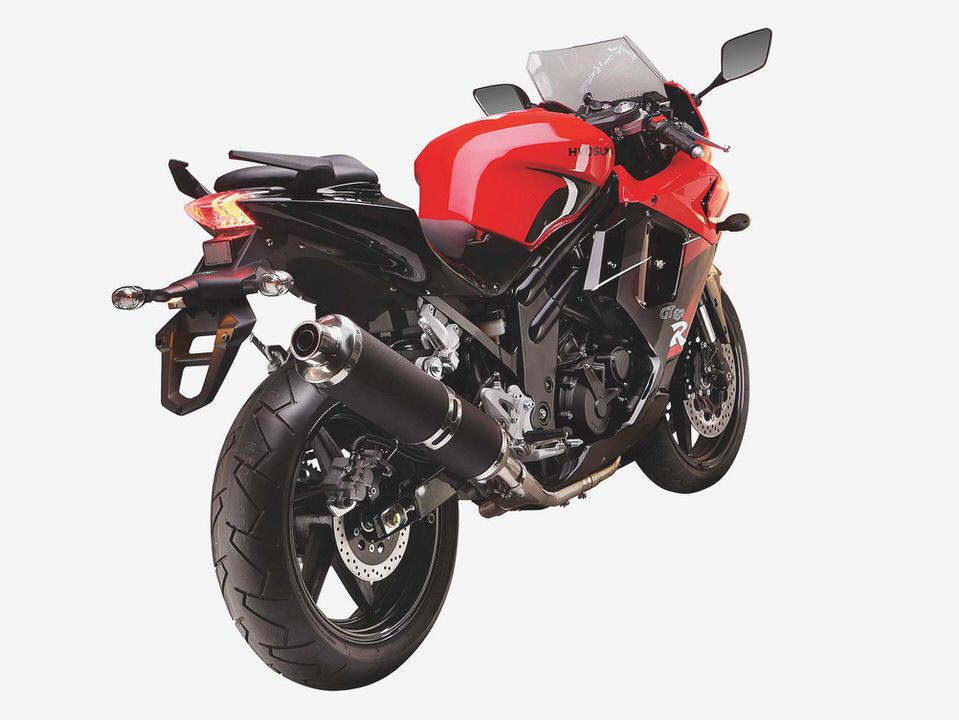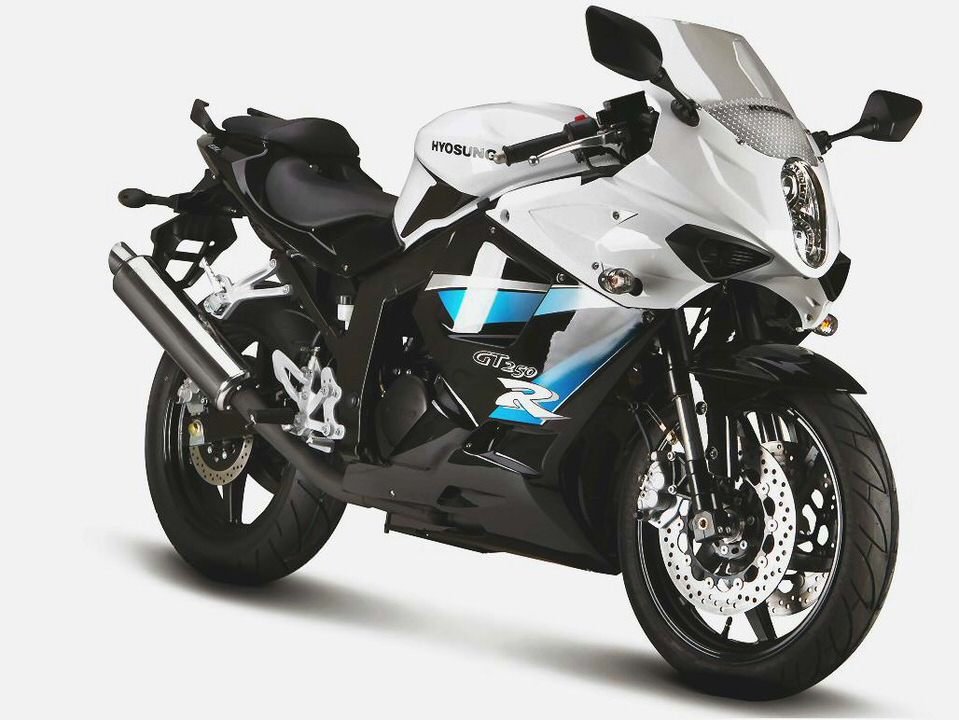 2010 Hyosung ST7 Review –
2006 Hyosung GV 650 Reviews, Prices, and Specs
Hyosung ST7 Cruiser – Motorcyclist Magazine
Hyosung ST7 Pocket cruiser is flagship Stuff.co.nz
Hyosung GT 250 Comet DIY Reviews!