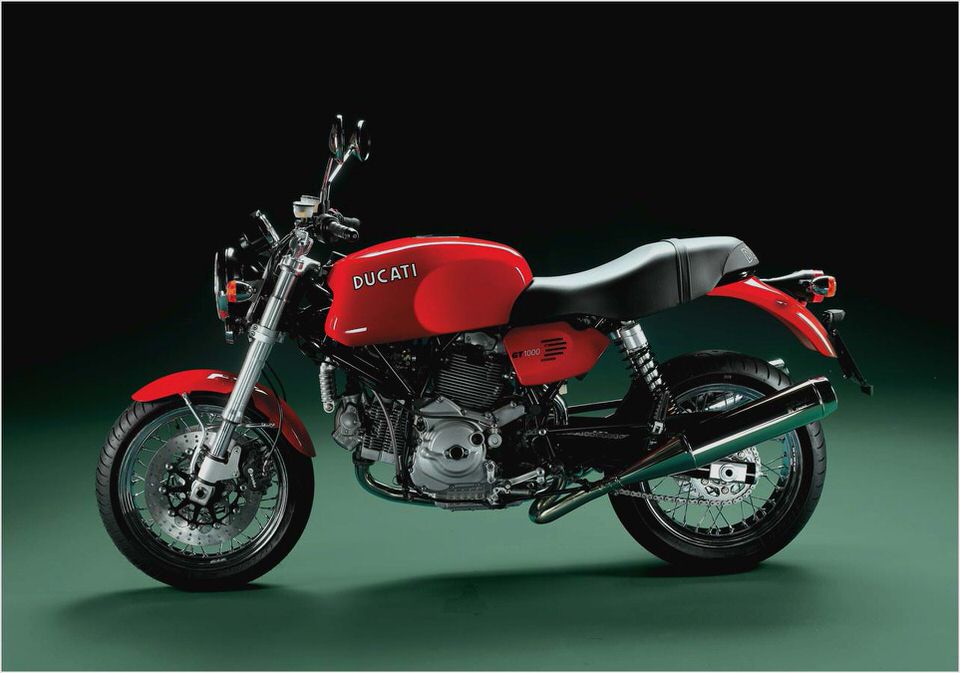 Retro form, modern function are well matched / Ducati GT1000 pays homage to predecessors and integrates updates
Page 1 of 1
Retro, all too often, is a concept that works in the showroom but not on the road. Styling that oozes nostalgia and yanks at the heartstrings too often proves impossibly impractical — ideal in memory but flawed in everyday service.
Then there are the revivals of classic forms that really work — tributes to the soundness of their original concepts — reminding us that newer isn't always better.
Consider the Ducati GT1000. As a styling exercise it works deviously well, attractively adapting traditional shapes and design cues to a modern mechanical structure.
Even better, I learned over the course of a few perfect fall days that Ducati's newest heritage-invoking machine also works dynamically. Leading-edge mechanical bits are smoothly integrated with styling from an era when motorcycles focused more on function and less on image-preening.
To breed 21st-century pace into the GT1000, Ducati had to forgo making the 2006 model a carbon copy of its basis, the GT750 of 1971. Sure, the gas tank, fender and side covers, all glistening in blood red on my test bike, look period-correct, even if they are not clones of the original bike's pieces. And the GT1000 honors the spirit of the original with its wire-spoke wheels, dual rear shock absorbers and simple round taillight.
But the appearance of components upgraded to improve the GT1000's performance does stray from those of three decades ago. Purists will note the new bike's large-diameter brake discs, inverted front fork, and a camshaft drive system that uses belts — blasphemy! — instead of its ancestor's noisy shaft-and-gear arrangement.
In part a result of extensive and successful racing programs, Ducatis are often considered the two-wheel equivalent of Ferraris in both intended purpose and country of origin. In fact, Ducati's market reach has been much more democratic; the company came early to the naked bike trend, stripping off the aerodynamic body panels of its racing-style machines to create the Monster model line, and it has embraced both the touring and all-road genres.
Ducati's decision to reach into history for another design direction — the GT1000 is the third model in a retro series called the SportClassic line — is altogether honest. Unlike many Japanese bikes in the popular cruiser category, Ducati had no need to borrow heritage from others.
The SportClassics, first shown as design studies at the Tokyo Motor Show in 2003, are derived from fondly remembered models of the 1970s. The 2006 models also include a Sport 1000 and Paul Smart 1000.
In the market slice-and-dice created by the practice of niche targeting, the GT is closest to what the industry calls a standard model. That is, it has a fairly high and wide handlebar and conventional riding position, not the crouch associated with Ducati's sport bikes. And like other Ducatis, the SportClassics use frames made of steel — a trelliswork of tubes that whispers old-world craftsmanship — rather than the extruded aluminum beams common to many Japanese sport motorcycles.
True to its roots, the GT1000 uses a V-twin engine, continuing the classic Ducati 90-degree cylinder layout that first became available on the original GT750. Though it looks similar to engines from the bell-bottom era, the 92-horsepower V-twin is modernized with a dual-spark-plug ignition and electronic fuel injection. Still, it has classic features like an air-cooled two-valve-per-cylinder design and it incorporates one of Ducati's signature technologies, desmodromic valves.
In this system, used by Mercedes-Benz racecars in the 1950s, the intake and exhaust valves are not only opened by a camshaft and rocker arm, but closed as well. The design was once a crafty workaround for a lack of valve springs that could cope with the demands of high-speed running; advances in metallurgy since then have effectively made this method of valve control a curiosity of history.
But desmo has become a code word among enthusiasts, in much the same way that Hemi has become a rallying cry for performance-minded Dodge owners, and Ducati is smart not to abandon the mystique that has grown around it.
While the 992cc twin does not produce the knee-weakening punch of the top four-cylinder sport bike engines, the Ducati engine delivers more power than you can regularly unleash and still stay on good terms with the police. Twisting the throttle results in a satisfying thud-thud from below, accompanied by a civil bellow at the exhaust.
All through the GT1000 design, Ducati engineers have struck an intelligent balance of old and new, avoiding any sacrifice of performance in their pursuit of '70s authenticity. While the rear suspension design, a steel swing arm controlled by two spring-wrapped shock absorbers, is long gone from most sport bikes, it works very well here.
At the front, an inverted fork suspension — its smaller-diameter telescoping section is at the bottom, the opposite of usual practice — effortlessly soaks up bumps while delivering confident, precise cornering. The Brembo brakes are powerful but easily modulated and a delight to look at, something that's important on a vehicle whose intimate details are exposed to all eyes.
Though I usually prefer bikes that offer some weather protection behind a wind-deflecting fairing, I easily adjusted to the GT1000. Even the handlebar was agreeable enough; its wide span gave me extra leverage to wrestle the 400-pound bike around the garage.
There are areas that could be improved. A gas tank larger than 3.9 gallons (including one gallon of reserve) would be welcome, and the plastic chrome finish on the horns is jarringly out of place. Ducati surely could have done better in tucking away wires and hoses; in a few places, the bike's details are as unappealing as an unmade bed.
The GT1000 is the least expensive of Ducati's SportClassic models at $9,995 and perhaps the one with the broadest appeal. Though I thought my usual preference for more of a race-ready profile might limit my appreciation of it, the Ducati charm and general good sense of a standard-style motorcycle won out. As it should, the retro styling only added to the appeal, never getting in the way of enjoying the ride.
2013 Lexus GS 350 F Sport – Page 3 – Club Lexus Forums
Ducati 916 – Classic Sportsbikes – Motorcycles – Visordown
Ducati / Condor A350 MIG Welding Forum
Ducati Desmosedici GP11 race bike – Motorbikes Reviews, News & Advice…
Buy Ducati 350 Here!