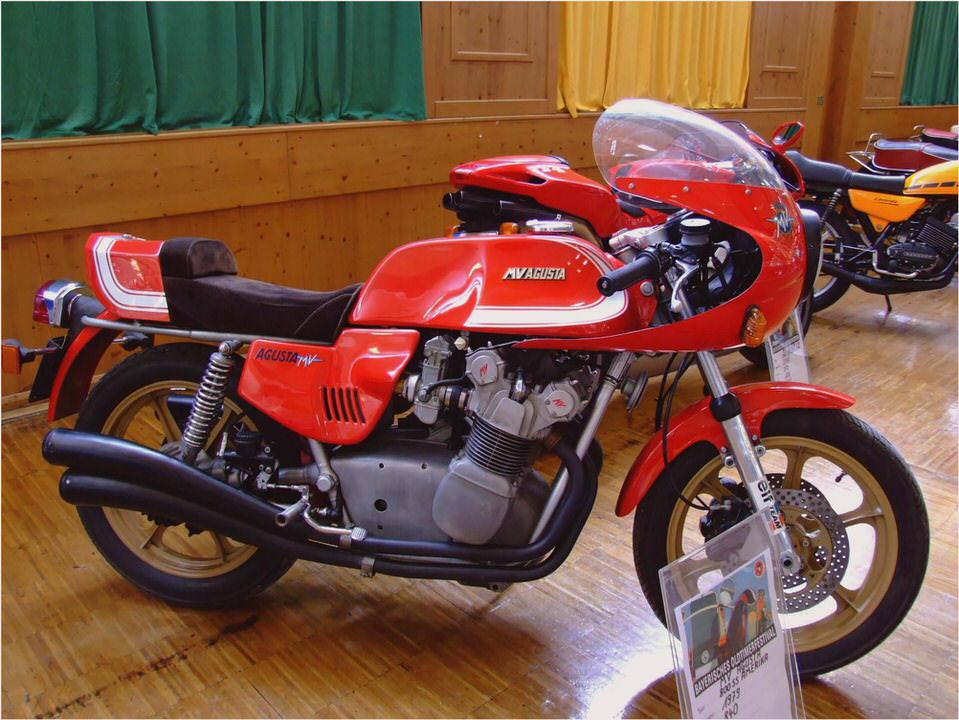 Related Content
Found on eBay: 1977 MV Agusta 750S America Magni
As if a stock MV Agusta 750S America wouldn't be enough to get our attention, this week's eBay searc.
Replace BMW Airhead Twin Pushrod Tube Seals
Motorcycle Classics' editors show you how to replace pushrod tube seals on BMW /5, /6 and /7 airhead.
Project Café: Motorcycle Classics BikeBandit.com Honda CB500
It's been a long year since we finished our last Motorcycle Classics build, transforming a 1971 Triu.
4th Annual The Quail Motorcycle Gathering to feature Marty Dickerson's "Blue Bike"
Two iconic motorcycles, Marty Dickerson's 1948 Vincent Rapide, aka the "Blue Bike," and Dan Gurney's.
2010 MV Agusta 500-3 Evoluzione
Claimed power: 78hp @ 12,000rpm
Top speed: 163mph (262kph)
Engine: 498cc air-cooled DOHC 12-valve inline triple, 62mm x 55mm bore and stroke, 11:1 compression ratio
Weight (dry): 282lb (128kg)
When the Grand Prix Hall of Fame is expanded to include machines as well as the men who rode them, there will be many contenders for the title of Race Bike of the Century. But few will possess such strong credentials for that honor as the MV Agusta tre cilindri . which was responsible for Giacomo Agostini winning 13 of his 15 World titles between 1966 and 1973 in both 350cc and 500cc guise.
The MV-3 is a motorcycle with such charisma that even today, almost 40 years after its last GP race, it's still revered as the benchmark bike of the classic era of 500cc 4-stroke Grand Prix racing — truly the greatest of the great.
The triple was conceived by Count Domenico Agusta himself as a vehicle to achieve his ultimate sporting ambition — to make an Italian rider world champion in the 350cc and 500cc GP classes on one of his machines. Rider Carlo Ubbiali had proven well able to fly the Italian flag for MV Agusta on the smaller 125cc and 250cc bikes, but in order to achieve GP success in the more prestigious larger-capacity classes, Count Domenico had to employ the services of Anglos like John Surtees, Gary Hocking and Mike Hailwood.
By 1964, Hailwood was MV's sole rider in the 500cc category on a powerful but heavy four based on the original MV-4 designed by Pietro Remor back in 1950. The sleeved-down 350 was incapable of matching the performance of Honda's four.
Order the September/October 2012 issue of Motorcycle Classics to read more about the 2010 MV Agusta 500-3 Evoluzione, including riding impressions by Alan Cathcart. Contact Customer Service at (800) 880-7567 or contact us by email .
MV-AGUSTA F4-RR-ABS-2014 – Paradise Moto
2012 MV Agusta Brutale RR
Past or Present? 1973 MV AGUSTA 350 Ipotesi And 2005 F4 Ago Rare SportBikes…
2005 MV Agusta F4-1000 S –
MV Agusta Brutale 910 S By Raptorsandrockets How To Make & Do Everything!