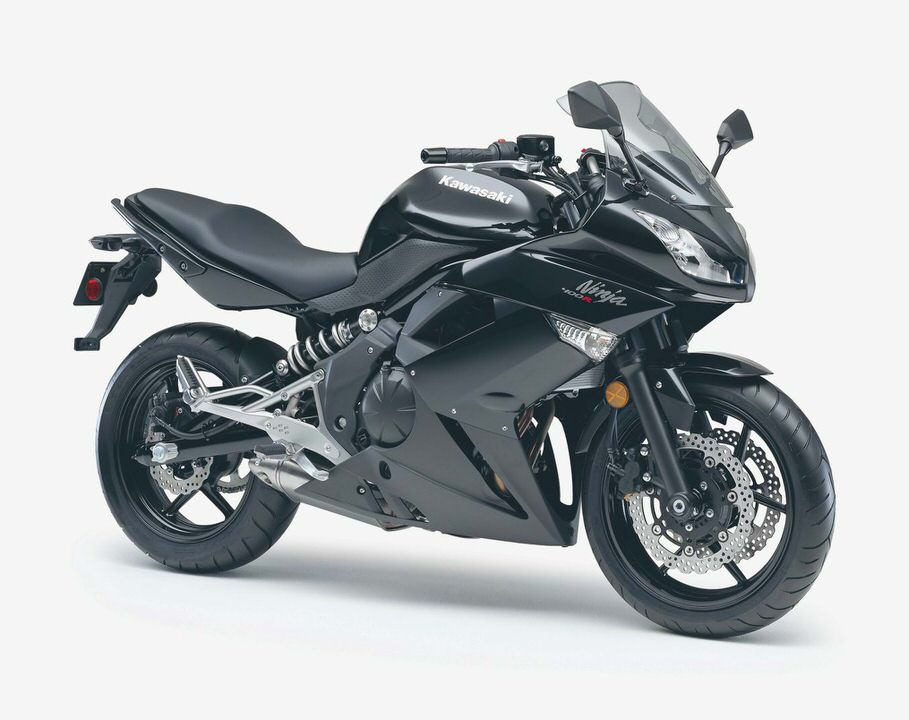 Kawasaki adds Ninja 300R and 400R to its US line up for 2013
by Jay Prashanth on August 28, 2012 No Comments
Japanese motorcycle giant Kawasaki it seems has two brand new motorcycles targeting entry level buyers in the form of the 2013 Ninja 300R and the Ninja 400R. Both motorcycles feature twin cylinder engines, ostensibly four stroke units. The engine capacity on the 300R is upped to 299cc while the 400R comes with an engine capacity of 399cc.
Both these motorcycles are expected to enter the US market later this year, along with many other international markets. Styling and other details remain unknown at this point in time although we do have the power figures of both the motorcycles.
2013 Kawasaki Ninja 250R Sports Motorcycle used as an illustration
Both the motorcycles, which feature fuel injection are significantly more powerful than Kawasaki's entry level sportsbike, the Ninja 250R, which incidentally has been a global best seller for the brand. The 2013 Ninja 300R delivers a peak power of 39 Bhp at a high 11,000 rpm while the Ninja 400R delivers 43 Bhp at a lower 9,500 rpm with 37 Nm of torque pumped out at 7,500 rpm. Interestingly enough, the Ninja 250R does not find mention in the EPA chart for 2013, which could potentially mean that the 300R could replace the model in the US market, and even elsewhere in the coming years, albeit in detuned guise given that many countries require restricted power outputs on beginner motorcycles.
Currently though, Kawasaki does have the 2013 facelifted model of the Ninja 250R with a host of changes.  So, from the looks of it Kawasaki coul be raising the bar in the entry level sportsbike segment with the 2013 300R.
Going by the power figures generated by the 300R and the 400R, it is quite evident that the 300R produces power at a peaky rev range and is therefore expected to do duty as a more radical sportsbike, a-la-Ninja 250R, while the more relaxed power delivery of the Ninja 400R means that this motorcycle will be a smaller version of the Ninja 650R sports tourer. Incidentally, the Ninja 400R has been on sale in New Zealand and Canada from 2011.
All in all, Kawasaki it seems is targeting a new crop of buyers looking for a blend of performance, fuel economy and a low purchase price. The arrival of the Ninja 300R and the 400R could also have to do with the brand readying itself up to face new competition in the form of the KTM Duke 350/390, that is all set to arrive sometime in 2013. Austrian motorcycle maker KTM has made a big splash with the Duke 200 across many international markets.
With Kawasaki making the first move by unleashing the 2013 Ninja 300R and the 400R motorcycles, could Honda also jump onto the bandwagon given that its CBR250R is also an entry level sportsbike. That, only time can tell. Watch this space.
2004 Kawasaki KLR 250 – Used 2004 KLR 250 at Motorcyclist Magazine
2013 Kawasaki KLR™ 650 Review, Specification, and Features
2014 Kawasaki Voyager 1700 ABS Comparison – Motorcycle USA
2011 Kawasaki Vulcan 1700 Vaquero Motorcycle Test — Motorcycle Magazine
2009 Kawasaki ZX-6R Review –