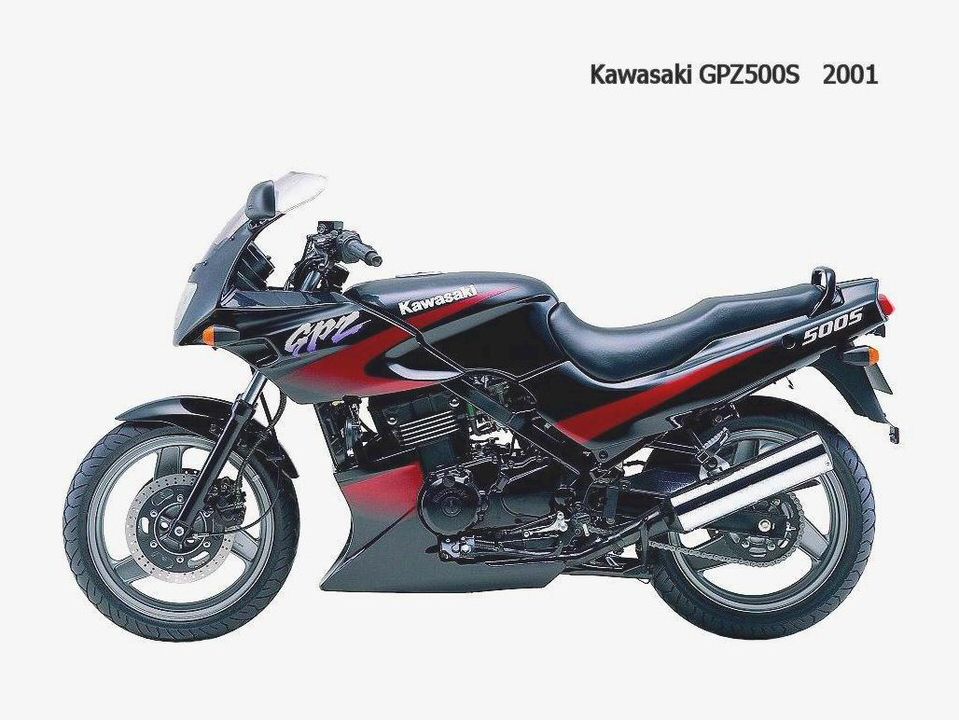 Kawasaki GPZ500S
Advantages: Bulletproof, low and manageable, capable of giving bigger bikes an occasional surprise
Disadvantages: Could do with a little more power and wind protection for longer journeys
I've had my 1998 GPZ for five and a half years, and have found it to be an excellent all-round bike. It is my daily transport, so has to be 100% reliable to get me to and from work, which (touch wood) so far it has been.
The bike is a good commuter, and is comparatively low and manageable – it's often described as an ideal ladies bike, indeed the previous owner was my sister in law. who bought it new, but then emigrated. Being somewhat vertically challenged, I find it ideal. It's also reasonably rapid, having a definite 'power band', taking on a greater sense of urgency once the revs rise above 6500-7000 rpm, although obviously these things are relative- it's never going to threaten one of the latest generation 600cc sportsbikes.
Brakes are OK – mine's the later 17 front wheel model and has disk brakes front and back – the earlier 16 front wheels gained a reputation for their tendency to wash out with little warning, and had a drum brake on the rear. The back brake is good, although can be a little fierce at first, and will lock up the rear wheel fairly readily- familiarity breeds sensitivity!
Perversely though this also highlights the fairly forgiving nature of the bike – rear wheel slides can range from scary to fun, depending on your level of experience and the situation, but are always recoverable ( I don't claim any great skill levels, and can only credit the natural balance of the bike's design ). The front brake is merely adequate- the initial squeeze on the brake lever has an effect, but it could hardly be described as eye-popping, and it definitely needs a good firm squeeze for more rapid retardation. This shows up the inadequacies of the front suspension, which is definitely built down to a budget and does run out of travel.
I may try a braided Goodridge type front brake hose in due course, although I'm slightly wary that this might remove what little feel there is. Rear suspension has been Ok for my 11 stone, and I never carry a pillion, although have carried a fair amount of luggage on occasions.
I've had my bike dealer serviced, and generally it has only required normal consumable items, although there have been a couple of electical gremlins- the two cut-out switches, one on the side stand and one on the clutch are known weak points, and are often disconnected or by-passed. Similarly mine also developed a minor earthing fault which affected the indicators, but was easily tracked down and rectified.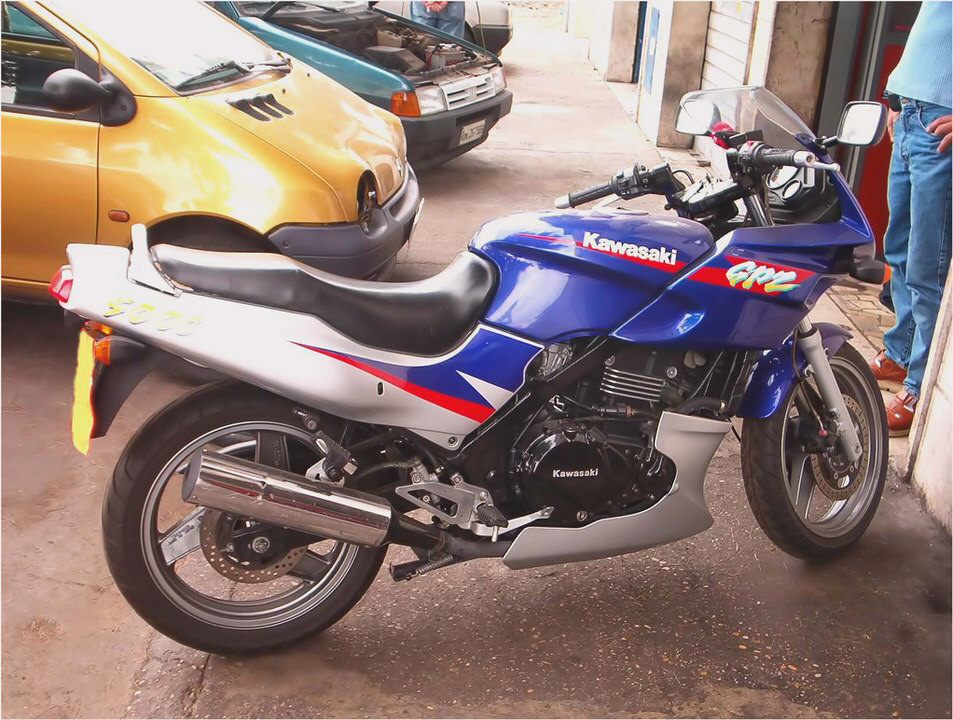 At nearly seven years old and 35,000 miles of all-year round all-weather commuting the last service was a pricey one, needing a new water pump and most of the rear suspension was rebuilt – the difference is massive, and makes me realise how knackered it had got. Doubtless I'll need to do something about the front forks in due course, but they have always been a bit 'crashy'. Dealer servicing prices have been reasonable to more expensive when I've needed chain and sprockets replacing/ new tyres etc, although the old style skinny tyres themselves are cheap compared to the fat rubber used on the latest sports bikes.
The only modification I've made is a Scottoiler, which was fitted from new, and a Motad 2 into 1 exhaust when the original one finally disintegrated – again, the balance pipe between the two exhaust systems ( disguised a bit by the belly pan, but actually exposed) is another weak point. The 2 into 1 conversion is popular, and I've seen a few bikes with these systems.
It exits on the right hand side – the lack of any silencer on the left visually took me a bit of getting used to, but it does make getting to the chain easier. Seat of the pants dyno maybe noticed a slight difference, but certainly not a revelation. Lazer also do replacement exhaust systems – budget around Ј300 for a complete 2 into 1 system.
A front mudguard extender is also currently on order from MP in preparation for winter – the belly pan does give a certain amount of protection, but if you ever remove it ( for example when fitting a replacement exhaust ) you realise how much crap accumulates.
Generally though a great bike. Nippy enough for me, can handle 350 miles a week commuting, with enough dry weather confidence to sling it inside less confident riders on bigger bikes. Of course they pass me on the straights, but any fool can ride fast in a straight line.
Summary: Recommended, and can be good fun.
2013 Kawasaki Ninja ZX10R Quick Review: A Date with the Green Goblin…
2009 Kawasaki Vulcan 1700/LT Review –
2009 Kawasaki Super Sherpa motorcycle review @ Top Speed
Kawasaki Concours 14 Review
Differences Between the Kawasaki Ninja EX650 & the 650R eHow