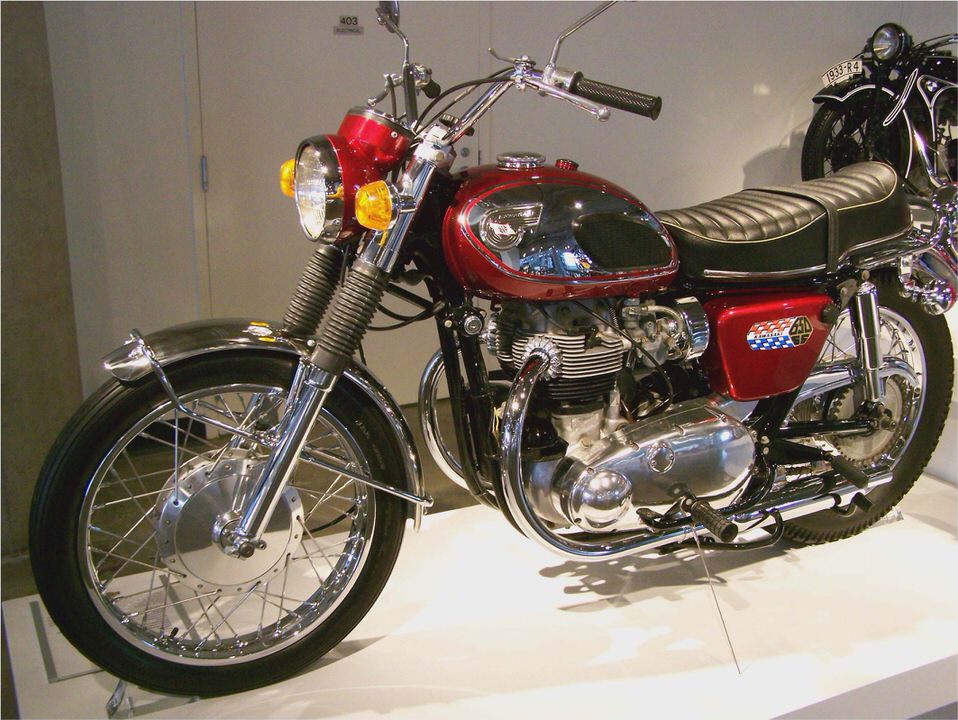 Kawasaki H1 Mach III
Kawasaki S1 Mach I, Kawasaki S2 Mach II, Kawasaki H2 Mach IV
The Kawasaki H1 Mach III was a 500cc production motorcycle manufactured by the Japanese motorcycle manufacturer Kawasaki Motorcycle Corporation. The Mach III was a standard or Universal Japanese motorcycle sold in the U.S. and abroad from 1969 through 1975.
History
During the mid 1960s, the American motorcycle market had become the largest on the planet. American riders were demanding bikes with more horsepower and higher maximum speeds. Kawasaki already had the first 650cc, the Kawasaki W series but it did not fit the niche Kawasaki was aiming for.
Honda introduced its Honda CB450 in 1965 and in 1969, the Suzuki T500 1 Cobra appeared. Also in development was the Yamaha XS 650. Already familiar with the Honda CB450, Kawasaki development began work on the top secret N100 Plan in 1967. The goal was to produce a motorcycle with 500cc displacement that was able to develop 60hp and lay down 13-second quarter-mile times, then considered over the achievable limit for a road bike.
The Mach III appeared in the U.S. in 1969 with a white sculpted egun fuel tank and blue racing stripe along the lower part of the tank, special Dunlop K77 tires, and suggested retail price of $999 (US) according to Dragbike.com.
Though not a direct successor of the Kawasaki W2, the W2 was the only four-stroke motorcycle Kawasaki had for the American market and that market was not like that of Japan where the W2 sold well. In the U.S. the Mach III was an absolute hit while the W2 sat in showrooms. The American market was one where power and speed oriented in motorcycles (and autos) dominated and the W2 was no match for the Mach III in any way.
A unique engine
The engine, developed through Kawasaki's N100 Plan, was a 3-cylinder two stroke with a displacement of 499.00 cubic centimeters (30.45 cubic inches) producing 173.27 kg (380 lb) at 7400 rpm. Fuel and air mixing was provided by 3 Mikuni VM 28mm carburetors. Fuel/air ignition was through a Capacitor discharge ignition which increased the 12 volt system to 40 volts.
A thyristor-based switching system then increased the voltage to between 25,000 and 30,000 volts reducing the unburned fuel mixture within the cylinders.
Specifications
Bore and Stroke: 60 х 58.8 mm
Compression Ratio: 6.8:1
Induction: 3x Mikuni VM28SC carbs.
Ignition: Kick start.
Transmission: 5 Speed (5 up) wet transmission, chain driven.
Frame: Double cradle tube frame with twin top tubes reinforced at three intermediate points.
Front Suspension: Telescopic hydraulic inner spring telescopic front fork.
Rear suspension: Three-position spring preload adjustable shock absorber and swing arm (rear).
Front and Rear Brakes: 180mm drum. Later to a Single 296mm disc for the front
Top speed: 185 km/h (115+ mph). The test version hit 190 km/h (118 mph).
Overall
The Mach III was an extremely successful motorcycle for its time and its speed attracted many owners. It had a standing 1/4 mile (400m) run of under 13 seconds and a top speed of 115+ mph. Its power to weight ratio was 1:6 which translates to 2.72 kg (6.0 lb) to every 1 horsepower (0.75 kW).
In May of that year, editors of Motorcyclist Magazine called the Mach's power-to-weight ratio the best ever produced in a motorcycle meant to sell to anyone who has the money to purchase it.
Handling characteristics were not favorable according to many sources. Viewed logically, the Kawasaki H1 had many flaws. The gearbox was odd, with neutral below first, the brakes very questionable and the handling decidedly marginal in every situation – except when the bike was stopped with the engine switched off.
Not for nothing was the H1 known as, "The triple with the ripple".
Motobase posted an opinion: [. ] the engine was too quick for the handling. Sports riders back then were possibly more forgiving, perhaps, or maybe its outrageous performance simply muffled any criticisms that should have been directed at the chassis and suspension? Whatever riders may have thought, having sampled an H1, or to whichever degree they had frightened themselves, the majority would usually smile, and say something like, That's some rocket-ship, man!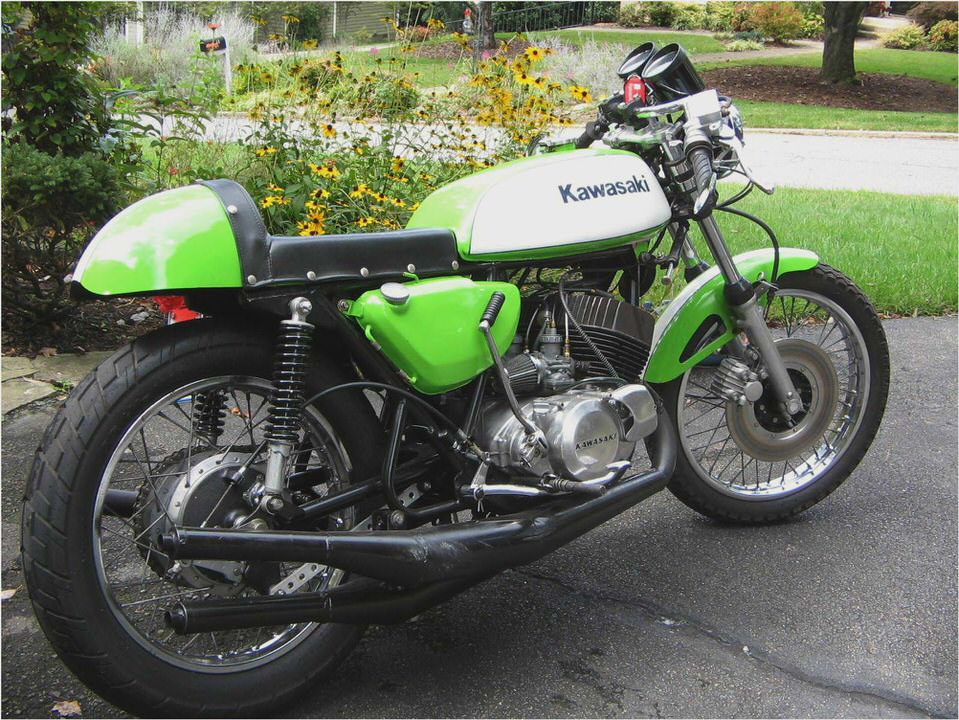 Kawasaki had created their first cult machine! Motorcycle Survey recorded some unusual nicknames for the Mach III such as Flexible Flyer, Widow Maker, Kamikaze 500, Triple with a Ripple, Grenade Launcher.
The H1 by year
1969: Color is white with dark blue lettering and racing stripe.
1970: Changes were made except the color which was Candy apple Red.
1971: Model designation is H1A . Major changes a new fuel tank not recessed at the rider's knees, new matrix decal graphics present on other Kawasakis. Color change to Candy Blue.
1972: Model designation is H1B . The CDI was replaced with a battery ignition system. A very much needed front disc brake was added along with steering oil damper adopted. The color and overall design scheme was entirely new with a with matching fenders and fuel tank. A new elongated S-stripe or wave decal for the fuel tank.
Color was Pearl Candy Orange color aka Rainbow Color.
1973: Model desingnation is H1D . Major changes being the addition of Kawasaki's 2nd generation race tail behind the seat and partially covering the taillight similar to the H2. The advanced CDI unit from the H2 was installed. The steering damper and rear brake air scoop were both dropped for this year. Color was Candy Lime.
Front fender returns to chrome.
1974: Model designation is H1E . A new type of CDI unit and a crank case check valve are used. Colors of Candy Lime or Candy Red. Fuel capacity 3.96 gallons
1975: Model designation is H1F . Colors of Candy Sky Blue or Candy Green.
1976: Model designation is KH500 . It had slightly less horsepower (52), a change in the transmission giving a different gear shift pattern, and water resistant brake pads were available. Colors were Deep Burgundy or Copper.
The 3-cylinder 500 was for all purposes succeeded in 1976 by the Kawasaki Z500/Z550 4-stroke twin cylinder.
Racing
Kawasaki Mach III's successfully raced with Ginger Molloy aboard his Green Meanie finishing 2nd just behind Giacomo Agostini's MV Agusta in the 1970 500cc World Championship.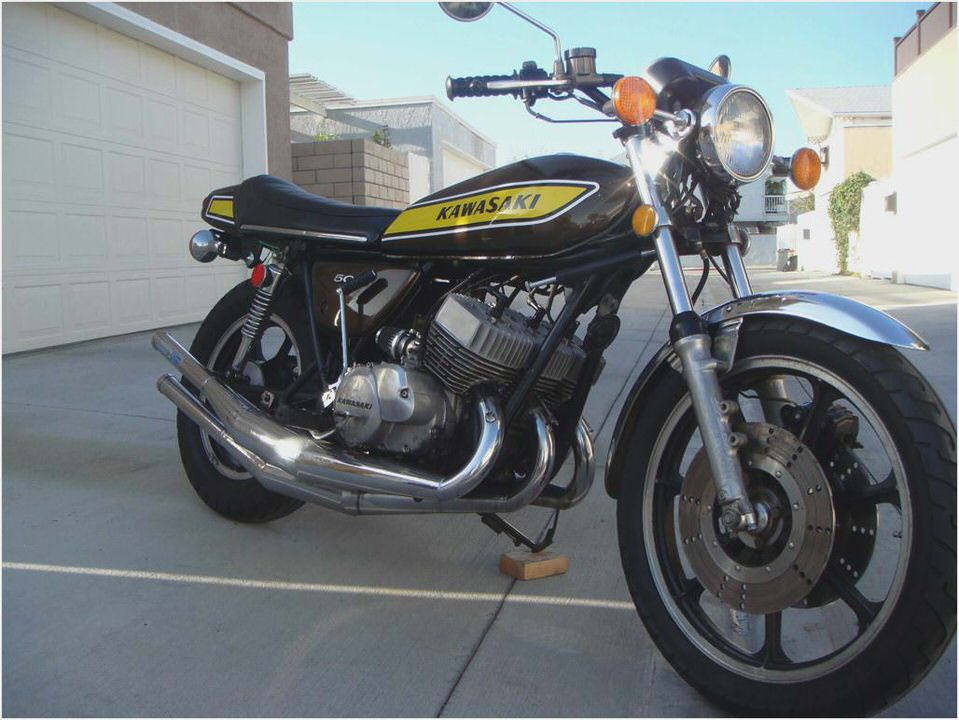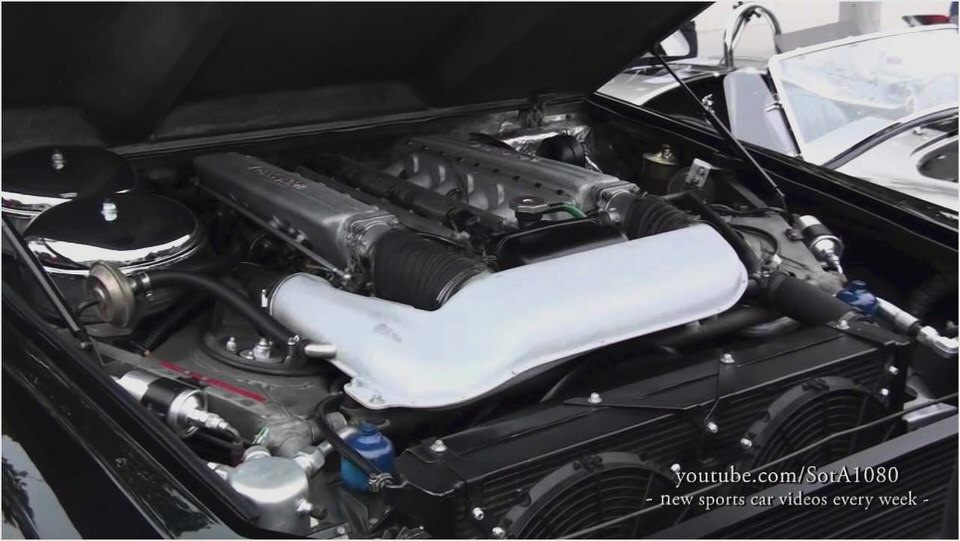 The Bike Shed Ton Up Garage Iawata
Kawasaki W800 Review New Motorcycles New Zealand
Kawasaki Ninja ZX-10R Kawasaki Motorcycles Parts Site
Kawasaki Vulcan 900 Classic LT 2013 Review – Specs And Picture Top Motorcycles…
Throttle: 2011 Kawasaki Ninja ZX 10 R