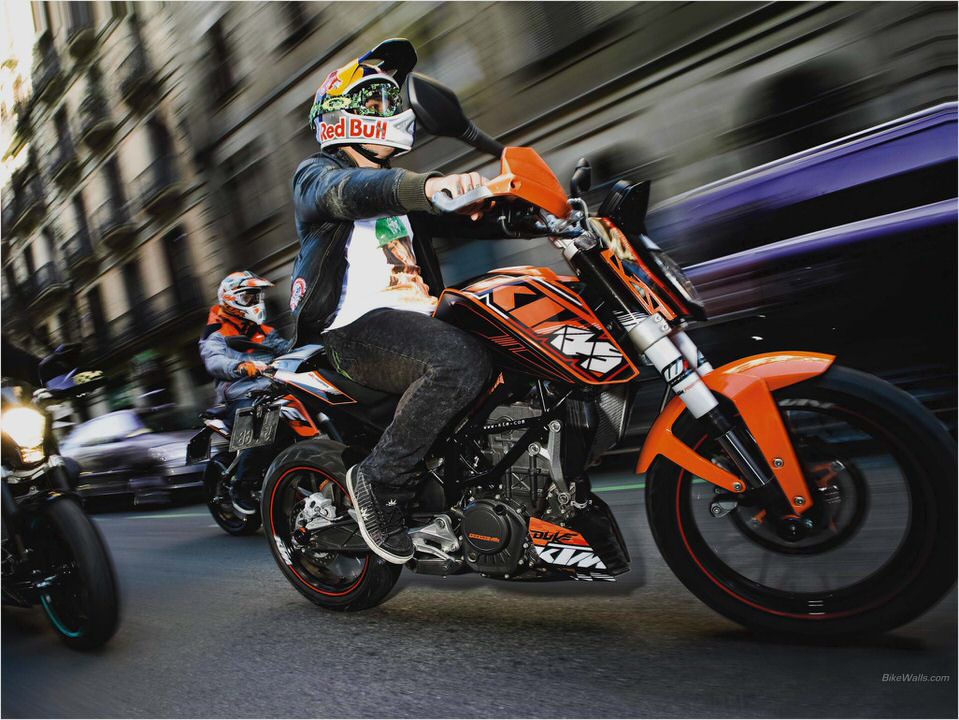 KTM 125 DUKE SPECS AND PHOTO
KTM is a motocross manufacturer that makes big displacement engine bikes like the KTM RC8 1190 . The wisest thing to do is to scale down the big engine bike of KTM to small engine, low emission , fuel-efficient but still desirable and always KTM. The bike that holds all the statement is KTM Duke 125 .
The KTM 125 Duke sets out to best dominant Japanese rivals at their own game — affordable scrambler . appealing motocross design . exciting performance on  small-capacity motorcycles . But, unlike traditional little bike competitors, the Duke is built in India by an Austrian company and was designed for markets outside Asia. The KTM 125 DUKE will enter Malaysia Motorcycle market in 2011.
Compression ratio: 12.6:1
Power output (homologated):15bhp (11,3kW) @ 10,500/min
Frame: Tubular space frame of chromoly steel
Subframe: Steel
Handlebar: Tapered steel, DM 26/22 mm
Front suspension: 43mm WP usd telescopic, 150mm travel
Rear suspension: One WP damper, 150mm wheel travel, adjustment for preload
Front brake: Bybre radial four-piston caliper, 280mm disc
Rear brake: Single-piston caliper, 230mm disc
Front wheel: 3.50 x 17in; cast aluminum
Main silencer: Stainless steel (KAT)
Trail: 100 mm
Wheel base: 1350 +/-15 mm
Ground clearance: 185 mm
Seat height: 810 mm
Fuel tank capacity: approx. 11 litres (ROZ 91)
Weight: (WITHOUT FUEL) approx. 118 kg
I never thought that KTM will ever takes this turn to make small bike as nice as this Duke 125. In my head, KTM is one of the greatest motorcross manufacturer along with Yamaha, Suzuki and Honda, that only cater the market for Europe and other countries other than Asia. Now, we are able to get our soul satisfied with this bike that is going to be marketed in 2011.
KTM Duke 125 have everything that KTM bike should have. It have great design by Kiska, great chassis with chromoly steel, great brakes by Bybre (means By Brembo in India) and it got fuel-injection fuel system by Bosch. If you think hard enough, you might think that all this features are NOT meant for a 125cc bikes.
This features has raised the price of this bike a little bit compared to Honda CBF 125 . which is its competitor.
When ridden normally the Duke seemed pretty comfortable for a small bike, despite its upright riding position and lack of wind protection. I didn't feel cramped despite having long legs. Even with fuel consumption of about 4.7 l/100km) under constant hard use (KTM claim 3.5 l/100km or less, though I'd have though most riders would be as enthusiastic with the throttle as I was), the 11-litre tank should give a 300km-plus range that would test even the average 17-year-old's stamina.
Chassis performance was very good too, at least by 125cc standards. Steering geometry isn't particularly steep (rake 25 degrees, trail 100mm) but the ultra-light Duke could be flicked effortlessly around. And its suspension was pretty taut and fairly well controlled, despite having a generous 150mm of travel at each end.
The Duke managed to make the bumpy English backroads seem almost smooth, and should cope well with the varied surfaces it will encounter elsewhere in the world.
Even when we went to the local kart track for a more serious thrash the little KTM was by no means embarrassed. Its suspension felt slightly soft and vague when asked to cope with my 85kg, and the opportunity to add some damping would have been welcome. But the Duke cornered well enough to be fun — and that's for an ageing bike tester, never mind a typical wide-eyed teenage novice.
Its 17-inch Indian-made MRF tyres are respectably wide (110/70 front, 150/60 rear), and were grippy enough to make use of a decent amount of the slim Duke's abundant ground clearance. And the Brembo -derived front brake blend of radial four-pot caliper and big, 280mm disc was plenty powerful enough for such a light bike.
review by 2wheel.co.za
| All posts by rmr_view 9,450
Product Review') Get INFO @ RMReview.com.my everyday for FREE! Bookmark us Cool Car Magazine') Visit RMR everyday!
2014 KTM 1290 Super Duke R: Price, Top-speed Announced
2011 KTM 350 SX-F Doin' Time – Motorcyclist Magazine
Billmayer-saddles.comBMS – Custom Motorcycle Seats by Rocky Mayer…
The Dirt Bike Guy: 2012 KTM 450 SMR – Built To Win TwoWheelMania
2009 KTM 1190 RC8 R – Review performance picture comparison news