Trevor Hedge
Virtually every manufacturer is getting in on the adventure-touring game these days with motorcyclists now spoiled for choice. There are numerous soft options designed with only a cursory nod in regards to off-road performance.
BMW's R 1200 GS straddles the on-and-off-road balance perhaps most evenly and with the most aplomb, then there is KTM's 990 Adventure R.
Coming from a manufacturer with its roots and core business firmly established off-road, you would expect the KTM offering to be the most hard-core of the big adventure-tourers – and it is.
If you ride tentatively off-road and have little confidence in the dirt, this bike is not for you. If you do not ride like a hooligan then this bike is probably not for you. If you are shorter than 178cm this bike will probably be quite a struggle for you.
If you only plan to ride off-road very rarely, there are better options out there.
However, if you are a competent rider chasing thrills, enjoy throwing roost, jumping erosion banks, pulling wheelstands and demand the least compromises when it comes to off-road performance in a big-bore adventure bike, then KTM's 990 Adventure R is likely to be the bike for you. KTM haven't dominated the Dakar Rally year after year by making soft options.
While the latest generation of this powerplant has been to charm school compared to its predecessors, it still hunts slightly below 4000rpm at a constant throttle, thus 100km/h cruising is better done in fifth gear than in top.
Winding the throttle on from any rpm sees the KTM surge forward on an addictive wave of eager v-twin torque. KTM claim 100Nm of torque at 6750rpm with its 113hp peak arriving 2000rpm later; my seat-of-the-pants dyno reckons it feels all of that and more.
The ripping 75-degree twin spins up alarmingly quickly and the KTM is far from the easiest bike to potter about on. It's always straining to be let off the leash like a Jack Russell on speed, and is just as addictive.
The clutch and gearbox are eerily light in operation. Whilst very slick, I actually think I would prefer gear engagement to be a little more positive, if being fussy.
In order to keep weight as low as possible KTM fitted the Adventure R with a twin-tank design: 10 litres either side of the machine. Each tank is filled individually from attractively finished fillers that flank the useful central glove box, where you would normally expect to find the fuel filler.
It's a bit of a nuisance to have to open two fillers and fill both tanks, but sometimes you also catch yourself smiling at the pukka Dakar nature of the set-up. Prudent use of the throttle returns a range of 300km; it doesn't take much exuberance to reduce that range closer to 250km.
A huge 245mm of suspension travel at both ends helps give the KTM a very handy 300mm of ground clearance. Predictably, that sort of clearance comes with a side effect, a tall 905mm seat height that will have anyone shorter than average struggling at low speeds.
Earlier Adventure R models were even higher and had 265mm of travel at both ends but in the latest model travel has been reduced to 245mm to make the bike a little more manageable for those less than six-foot tall.
KTM also produce a lower spec 990 Adventure without the R designation, 40mm less ground clearance, 35mm less suspension travel and approximately ten less horsepower. However, for 2012, KTM Australia are only selling the R model here, thus why we concentrate on the R model in this review.
The rear shock is adjustable for both compression and rebound damping via the normal screwdriver methods, while preload is easily adjusted via a hydraulically assisted hand wheel. The rear suspension does an admirable job of trying to put the power to the ground and isolates the rider's posterior from any big hits.
Up front WP provide the beefy 48mm inverted forks. Also fully adjustable, the forks work quite well on the street but if in full off-road attack mode, some stiffer fork springs would be welcome. Once past the middle of their 245mm stroke they quickly blow through to the bump stops on any big hits.
Not something I would have expected from high-spec forks with such generous travel, but I imagine easily fixed by a competent suspension tuner. Similarly, on the road I found it hard to weight the front end of the bike into a turn and combined with the off-road oriented large 21 rim that makes the steering a little vague when you want to press on.
At around 220kg fully fuelled and ready to ride, the Adventure R is one of the lightest bikes in the adventure-touring category, yet it still feels big and can be a little intimidating at low speeds for the inexperienced.
Conversely, once on the trail and getting up it the KTM really comes into its element and you quickly find yourself getting carried away, doing things at speeds that are probably a little too high for such a machine if things were to go pear shaped. It deserves respect.

Ergonomically I found the KTM quite natural while seated or standing. Wind protection is good, the handguards beneficial and the mirrors effective. The seat edges can cut into your thighs after a couple of hours on the highway but is infinitely better than the plank that early Adventure models tortured riders with.
On the styling front I think it is safe to say the KTM Adventure R is probably a bit of a love or hate affair. Personally, I love the look of the Adventure R; from the svelte fully-enclosed flanks, to the factory looking orange frame the KTM looks tough and built for a purpose. This fits naturally with the dynamics of the machine.
At $21,995 plus on-road costs, the KTM is certainly not a cheap option and there are so many trick accessories available via the KTM Hard Equipment catalogue that it would hard to be walk out of a KTM dealer without spending 25k.
If it floats your boat though, that is quickly forgotten once you get the machine home as KTM 990s in all their incarnations prove seriously addictive. I should know, I have now got two of them.
Specifications – KTM 990 Adventure R
Displacement – 999cc
Engine Type – Liquid-cooled four-stroke, 75-degree, v-twin, dry sump
Bore x Stroke – 101 x 62.4mm
Transmission – Six-speed
Final Drive – Chain
Wheelbase – 1,570mm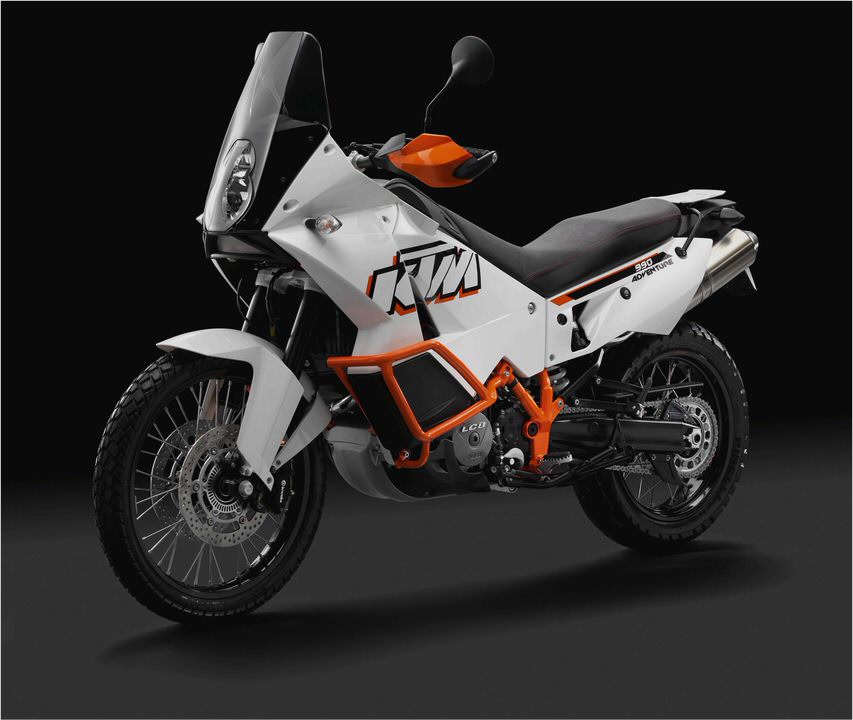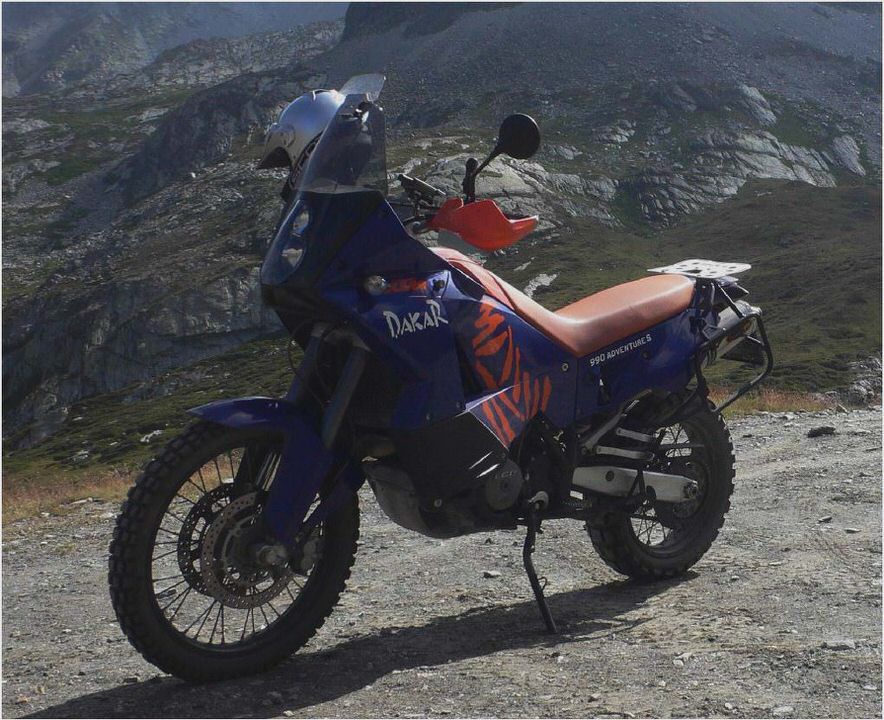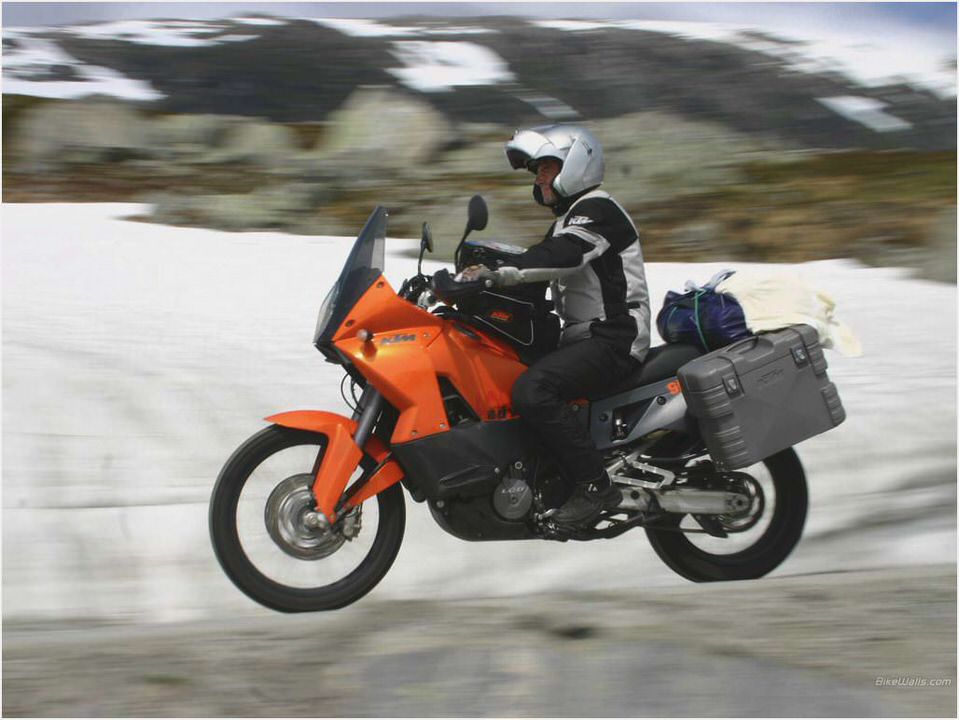 2009 KTM 450 XC-W Web Test – Dirt Rider Magazine
2013 KTM 990 ADVENTURE BAJA LIMITED EDITION NEW BIKE BELOW COST
2009 KTM 990 Supermoto T – Motorcyclist Magazine
2012 KTM 990 SM T ABS Preview – Ultimate MotorCycling
2009 KTM 990 Adventure Road Test Rider Magazine