Moto Guzzi Club Poland: It was a Jubilee
Moto Guzzi Club Poland: rally 2009
Already for the tenth time, Moto Guzzi motorcycle fans and their invited friends riding bikes of other makes got together to spend a few days of June in a friendly atmosphere. This time the rally was organized by the Lublin Chapter of Moto Guzzi Club Poland and for the location of the event, a picturesque region of Eastern Poland was chosen, just by the border with Ukraine. A small charming town of Susiec was our base.
Although officially the rally was to start on Friday, many of us had already arrived on Wednesday and Thursday. The lovely area encouraged short bike trips and the forests full of sparkling streams tempted to go hiking.
On Friday around noon, the distinct sound of steadily working transverse V twins began to reverberate through the area more and more intensely. Everything that had left the gates of the factory in Mandelo del Lario in the past thirty years was entering the campsite. The majestic Californias and V11's, however, prevailed. In the evening, the parking lot sported almost ninety Moto Guzzi machines. There were also guests from abroad – Finland, Germany and Italy.
Our friend Pasquale and a group of riders had been on their way to join us, but they had an accident in Austria and were not able to make it. We are waiting for them at the next rally. Friday was a time of reunion with old friends not seen for a year and for making new ones.
Superb Polish beer was good company for conversations long into the night.
The tradition of our rallies is not only fun and games, but also education. On Saturday morning, after breakfast, a huge cavalcade of motorcycles took off on an over a hundred kilometer long trip. We visited some monuments of sacred architecture and finally  arrived in beautiful old Zamosc.  200 years ago, during the Napoleonic Wars, the town had been occupied by the Austrians and it was just celebrating the 200th anniversary of its liberation by the Emperor's army.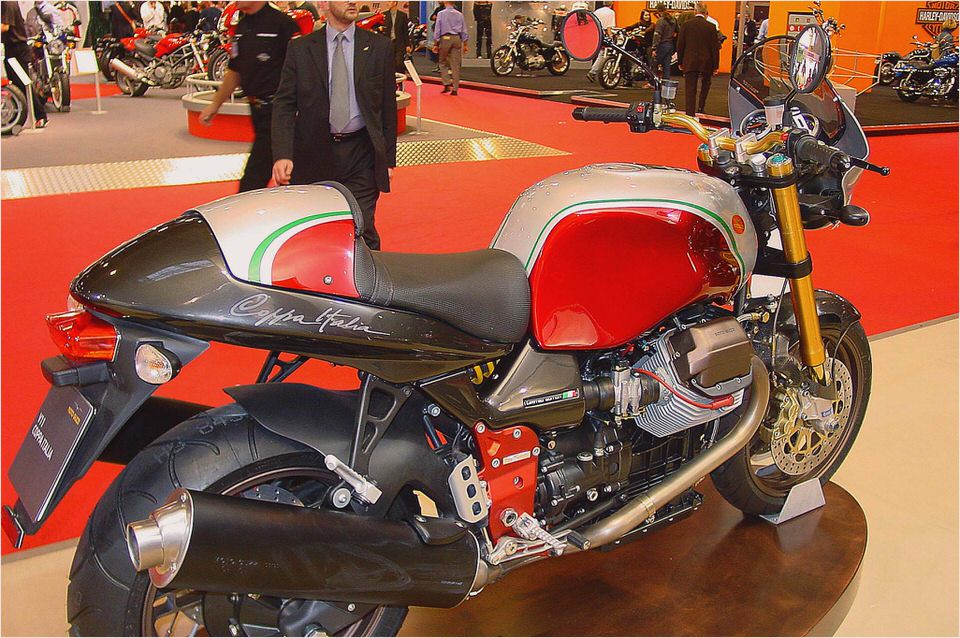 At the Arsenal museum we saw a special bicentennial exhibition and heard the whole story from a very knowledgeable tour guide. Although the weather was far from perfect – it constantly rained, we went into town to do some sightseeing; we saw the exquisite main market square and beautifully renovated tenant houses. After a few hours, escorted by the police, we left Zamosc.
Saturday afternoon was the culminating point of our rally. There were the usual contests testing our fitness, a presentation of first-aid techniques and an extreme riding show featuring young Free Style Champions of Poland. One of our friends even had the guts to let them do stunts on his Stelvio and we all watched with our jaws dropped, what can be done on this heavy and after all, typically tourist bike.
The evening was party time. There was a live rock concert, barbecue and a door-prize lottery. Everyone had a great time. Some stayed up till the morning lights.
And the Sunday morning came. The two days had gone by way too fast. But before departure, one more point on our agenda, a mass held by a priest, naturally a Guzzisti. Slowly, single bikes as well as groups began to leave. In the evening, phone calls and text messages, checking if everyone had gotten home ok – they are home, safe.
So… till next time!
2013 Moto Guzzi California Review: Emissary of the new Guzzi – Video…
K&N Air Filter Kawasaki GPZ 900 R ((ZX900) A7 – A8 90 – 96)
Moto Guzzi Cafe Classic: Retro, But Not Painfully So – Driver's Seat – WSJ
1981 Moto Guzzi Monza for Sale with 99 Original Miles?! Classic…
Moto Guzzi California Vintage – Test Drives – Cycle Canada