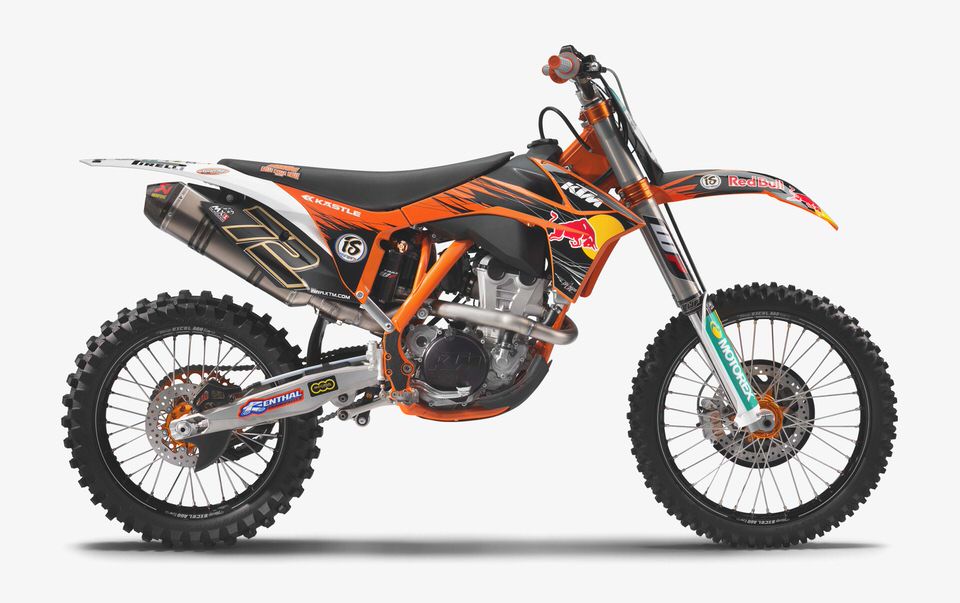 Moto3 vs MX2: Just dirt bike engines in a Grand Prix chassis?
Same size and configuration, but how different is the KTM 250cc Moto3 engine to its MX2 sibling? KTM Blog grabbed some experts and lifted the head to find out.
Developing KTM's M32 Moto3 engine: Kurt Trieb, Engine Developer, KTM Racing On-Road
The arrival of Moto3 brought with it the end of two-stroke Grand Prix racing. Cutting through the smoke came a new quarter-litre class that adopted an engine configuration exactly that of an MX2 Motocross machine. Arguably the King of the 250 off-road single, KTM has also proved itself on asphalt in the two seasons of Moto3.
When the FIM laid out its rules for Moto3, it meant that manufacturers like KTM couldn't use a motocross engine as a foundation. Despite this rule, KTM's successful Moto3 story of two riders titles and a manufacturer's crown began with a dirt bike. What else!
KTM Factory engineers adapted one of the 350cc single cylinder, MX1 championship engines (in case you didn't know, MX1 is a predominantly a 450cc class, but KTM produced a 350 engine to give the benefits of a 250 and 450) and stuffed it into one of their 125GP-winning chassis. The pictures of Austrian IDM rider Michi Ranseder on this hybrid machine at the Spanish circuit of Cartagena soon spread around the world.
Similar, but different
"The Moto3 and MX2 engines produced from KTM are worlds apart" . says Kurt Trieb . the man tasked with Engine Construction for KTM's Moto3 engine – originally dubbed M32 ( M oto 3 201 2 ) – as he shows us the two very different looking 250cc single cylinder engines in the Munderfling-based factory race workshops in Austria.
But first Trieb explains that 350cc test mule, first seen back in 2010: "Sure, the test with the 350cc was for a lot of things – such as fuel consumption, power characteristics, weight – and we learned a lot. But the riders complained so much of vibrations. They said they wouldn't be able to finish a race on a bike with this much vibration!"
Packaging
It was clear pretty quickly that the Moto3 engine would have to be a completely new design and therefore the chassis surrounding it. "The main point is that the engine has to fit into the bike concept – the package, comprising mainly of the chassis of course. That may sound simple, but there's a lot to take into account" . Trieb adds.
As you can see from the pictures, the Moto3 engine is quite a lot taller than that from the KTM 250 SX-F bike. In motocross, maximum ground clearance is needed for jumps – MotoGP doesn't tackle Cadwell Park's 'Mountain section' in England.
Trieb continues: "The main difference between two engines is that there is a deep and steep inlet port. The KTM RC250 GP has its airbox behind the headstock, which helps the engine get more air to increase top end power output. The centre of gravity has been very important in this package, but also important was the position of fuel tank, which is a vertical shape directly behind the inlet port. This combined with the clutch being quite low makes the engine looks very tall, but when you see it in the bike it fits very well, of course."
Different strokes
Moto3 and MX2 riders use their engines very differently. According to KTM, a Moto3 engine is always used between 9000rpm and 14,000rpm – the maximum permitted revs for the class – and a Moto3 rider will also be using maximum power for about 70% of that time. In motocross, there's hardly chance in a lap for a rider to get the wires tight for any length of time.
This difference in style leads obviously to a vey different requirements from the engine, most of all reliability with such long durations of high revs. Kurt Trieb explains how they managed that: "On this engine we had to design a different lubrication system. More oil is needed (Moto3 carries 0.8 litre compared with MX2's 0.3 litre!) and a deep sump with an additional oil water heat exchanger accommodates this. The gearbox and the clutch are arriving outside the engine oil, so that, again, is why the engine looks more tall compared with MX2 when its out of the bike, but fits very good in the race bike."
Due to motocross packaging reasons, the airbox on a motocross bike is under the seat and the fuel tank is in front, which decides the appearance of the inlet ports. So an engine will take its looks not only because of performance, but to fit its intended 'package'.
The reason for such a large and forward airbox is because Moto3 is always on full load and needs a lot of air rushing through, where as motocross is more rolling with the throttle due to constant cornering.
Power
The M32 engine in 2012 made 54hp and the championship-winning 250 SX-F made 46hp. Part of the FIM's technical requirements for the class 'restricts' all bikes to a rev ceiling of 14,000rpm and controlled with a spec ECU (engine control unit or brain), while MX2 has no such limitations and the 250 SX-F will rev to 15,000rpm. As the Moto3 bike is 'restricted' by how fast the single piston can travel, a larger bore over its dirt relation is utilised.
Throughout the first Moto3 season in 2012, the KTM engine became known for having very good top end power. Offering the riders a wider spread of power had been an issue for the engineers from the beginning.
Trieb adds: "To provide this we were thinking about a smaller bore, but now we have managed to create a quite a good powerband even with the big bore of the engine."
It´s what´s inside that counts
The capacities are the same and dimensions not so dramatically different. The RC250 R's bore and stroke is 81mm x 48.5mm compared with the 250 SX-F's 78mm x 52.3mm (basically, take the top off both engines and the Moto3 engine has a slightly wider piston), but both have a similar piston weight.
"Another big difference", Trieb proceeds, "Is that the crank drive has fully plain bearings – no roller bearings for the mains – and has a full countershaft for mass balancing. This has been a request of the riders to reduce vibrations as much as possible; a big effort was made to dramatically reduce this."
So physically and internally there are big differences between these two 250s, but there are also very common engine design philosophies shared, liked the vertical spilt crankcase, separate cylinder, finger followers for the valve train and we're told the piston and conrod design.
"This is an engine design that comes from the history and success of KTM" . Kurt Trieb concludes. With scores of victories in MX1. MX2, MX3, Enduro, Supercross.
Dakar and now Moto3, KTM certainly know how to build an engine that is READY TO RACE!
Inside the KTM Moto3 engine
KTM's Moto3 engine has been designed strictly in accordance with the Moto3 regulations, which include the following:
Engines may rev to a maximum of 14,000 rpm
Bore is limited to 81 mm
All motorcycles in Moto3, regardless of engine, must have the same engine
Electronics (ECU)
Maximum wide range of performance and maximum top end power according to the limitations of the category
Durability: one engine should last at least 2000km before it needs to be rebuilt
The six-speed gearbox was designed to last the entire season
Engine type: liquid cooled 4-stroke DOHC single cylinder
Bore: 81mm
Stroke: 48.5mm
Displacement: 249.5
Intake system: dual injector throttle body
1 x balancer shaft
Anti hopping clutch
Titanium valves in radial configuration
KTM in Moto3: 2012 – 2013
2 seasons
24 wins from 34 races
21 consecutive race wins
2 rider world titles
2 manufacturer world titles
Making a Factory MX2 Motocross engine: Florian Ebner, Technical Manager, KTM Racing Off-Road
"The factory motocross team riders will race an engine that will become the following season's production bike engine. This has always been the way and means that the bike you can buy from the showroom is already on a very good level. Just look at any motocross meeting to see how many orange bikes there are.
But to start off with, our factory race bike is based on a stock 250 engine which is at a high level already. Engine wise, we start working on details to raise the performance or adopt it to the riders needs. These detail changes will alter the riding characteristics.
Like all tuning, we will add components made of more expensive material with higher strength and with closer tolerances then raise this with standard tuning processes. And then of course we test with the factory riders to see which direction we go with the engine character.
The delivery or character can be adapted with EFI (electronic fuel injection) mapping, cam timing with camshafts and valve timings. A lot of small parameters can still let us adopt the engine to make it easier for the riders, such as clutch actuation.
We're very much focused on rideability of the whole bike and as everyone knows that on an off-road bike it depends on suspension. So many things are about suspension and the influence the engine has on this – from power to engine position. It has such an influence.
Rideability is sometimes way more important than peak power.
The 250 SX-F is a very compact engine. What it is definitely obvious is that, compared to Moto3, we need a lot of ground clearance. So it needs to be more compact vertically.
We try to centralise the mass in the bike and that's much easier with compact engine that is close to the swingarm bolts and close to centre of gravity.
So the vertical size is very small and the engine is cut directly under the crankshaft. The case stops very close to the crank, but with a bit of volume for the oil, but not too far down. Partly for ground clearance and because the gearbox and clutch are partly in oil.
The way an MX rider uses the clutch is very differently to road race. They will use it around 50 times a lap in a race; using it for shifting and to modify the engine character. So for this reason we put the clutch in the sump and though we know we lose a bit of power by doing this, it benefits with rideability."
KTM in MX2: 2008 – 2013
6 seasons
130 wins from 184 races
6 consecutive world titles (Tyla Rattray 2008, Marvin Musquin 2009/2010, Ken Roczen 2011, Jeffrey Herlings 2012/2013)
6 consecutive manufacturer world titles
Ktm 125 Naked Street Bike
2014 KTM 1290 Super Duke R FIRST RIDE
2014 KTM 1290 Super Duke R First Look – Motorcycle USA
So… I went for a test ride on a KTM RC8 – PistonHeads
First Ride: 2011 KTM 350 SX-F MotoOnline.com.au