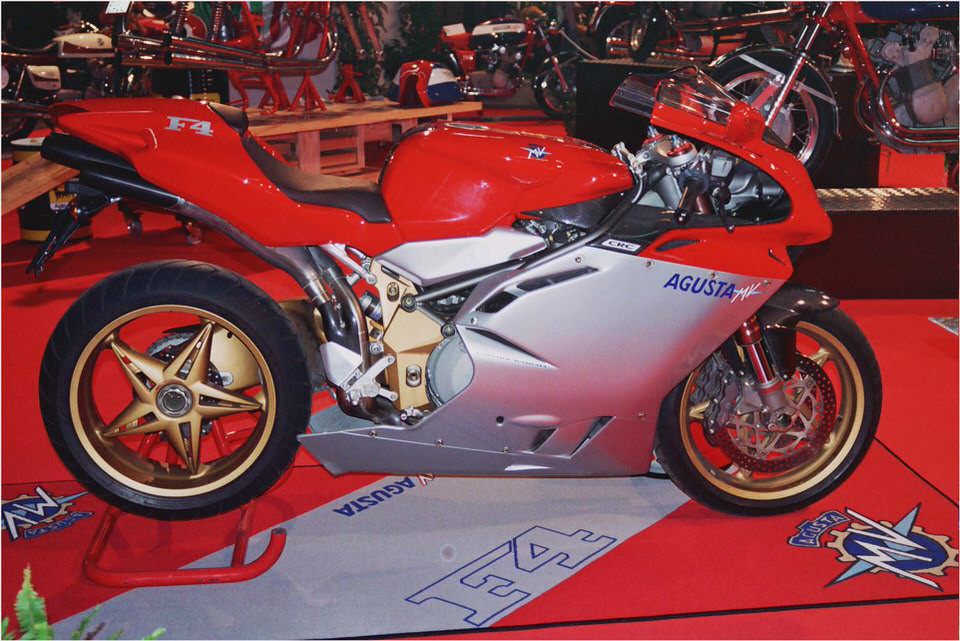 MV Agusta F4 Ago (January 2005)
This is about as close as most mere mortals will get to riding with the legendary Giacomo Agostini. Okay, for those not up to speed on their motorcycle racing history, here's a quick recap
Ago (pictured somewhere on this page, at an historic meeting), is legendary for two reasons: one is the 15 world championships and 12 TT titles to his credit; The other is the Italian is widely recognised as motorcycle racing's first true superstar.
Most of his races were won with MV Agusta, though he switched to Yamaha in 1974, towards the end of his career. Not surprisingly, when MV Agusta was hauled out of the proverbial ashes a few years ago, the company was keen to renew its association with its most famous racer.
Back to basics
Before we get too far ahead of ourselves, we should probably go back to basics and have a quick gander at the MV F4 and exactly what's involved.
Styled by Massimo Tamburini (who also penned the Ducati 916), the machine began life a few years ago as an inline 750 four. It owed nothing to any other machine out there – this was begun with a clean sheet of paper.
While the 750 didn't have the raw performance numbers of the Japanese class leaders, it still had serious horsepower, what was easily the best styling in the world's showrooms, and a very, very, capable handling package. Of course the historic MV name also carried considerable cache.
Move on up a couple of years and word was out the factory was playing with a one-litre version of the bike, which had some very serious power claims. The F4 1000 S and its brethren started trickling into the country in late 2004, starting at $32,900 plus ORC.
For your money you scored an inline four-cylinder bike that was surprisingly small in stature, weighed a claimed 192 kilos dry, and had a healthy power claim of 166 horses.
And the Ago?
What's the Ago namesake and how does it differ from the rest of the range? For a start it's one of limited production run of 300 bikes.
It has a host of niceties you won't find on the cooking version, such as upgraded suspension (like a serious Sachs rear shock and titanium-coated forks), carbon fibre bits in the bodywork package, two sets of exhausts (one of which is a competition item) plus all sorts of other goodies. The extras don't really add up to $20k on their own (did we mention it's priced at $52,000 plus ORC?), so you need to factor in the Ago name and the limited edition status.
Ours had the competition exhaust fitted, but was otherwise as it comes out of the box.
Like all this series, the machine is very compact, and a bit of a struggle for tall folk. Having said that, the seat is relatively high for a current sports bike.
Standard of finish is terrific. A lot of that has to do with the exceptional level of detail given to the design, where even relatively mundane components such as master cylinder reservoirs are specifically crafted for the machine.
The initial balance and location of controls feels good from the first ride – there's no surprises or weird quirks. Okay, there's one: The mirrors look wonderful and are hopeless for seeing anything behind you. If that's the biggest sacrifice for style, I could live with it.
We really only had a quick squirt on this machine, butt nevertheless came away with a number of impressions. One is that it's very, very, quick. We didn't have the space to get it much over 200kmh, but it got there with considerable authority, leaving no reason for doubting the power claim.
The gearbox on this brand new example was a little notchy, but previous experience with F4 750s suggests this soon goes away once the bike is fully run in.
It has the best sports front end set-up we've ever come across on a motorcycle. It's forgiving and hugely confidence-inspiring. In fact, at one stage I started wondering why the brakes were a bit weak, until I looked down at the speedo and realized we were going much, much, quicker than expected.
As a handling package, it's one of those machines that needs an assertive pair of hands at the controls and, once you realise that, is very capable and confidence inspiring. Like a lot of sport bikes, it's not much fund at four-tenths but very rewarding when ridden with some enthusiasm.
It sounds terrific – with the competition pipe giving a hackle-raising shriek once you start exploring the upper reaches of the tacho.
Okay, now for the tough question: Is it worth the money? In terms of straight nuts and bolts per buck, no it's not. The 'plain' F4 is much better value, as is any of the one-litre sub-$20,000 Japanese sport bikes.
Let's phrase the question differently: Would you be happy with it if you could afford it? Hell yes. You'd be grinning like a dog with two tails. After all, it's only money.
Want to know more about Ago?
If you'd like to know a bit more about the gent, you could do worse than starting with , which is where we sourced the photo.
by Guy Allen
Specifications:
Engine: 4 cylinder, 4 stroke, 16 valve, DOHC with radial valve
Displacement: 998cc
Compression ratio: 13:1
Starting system: electric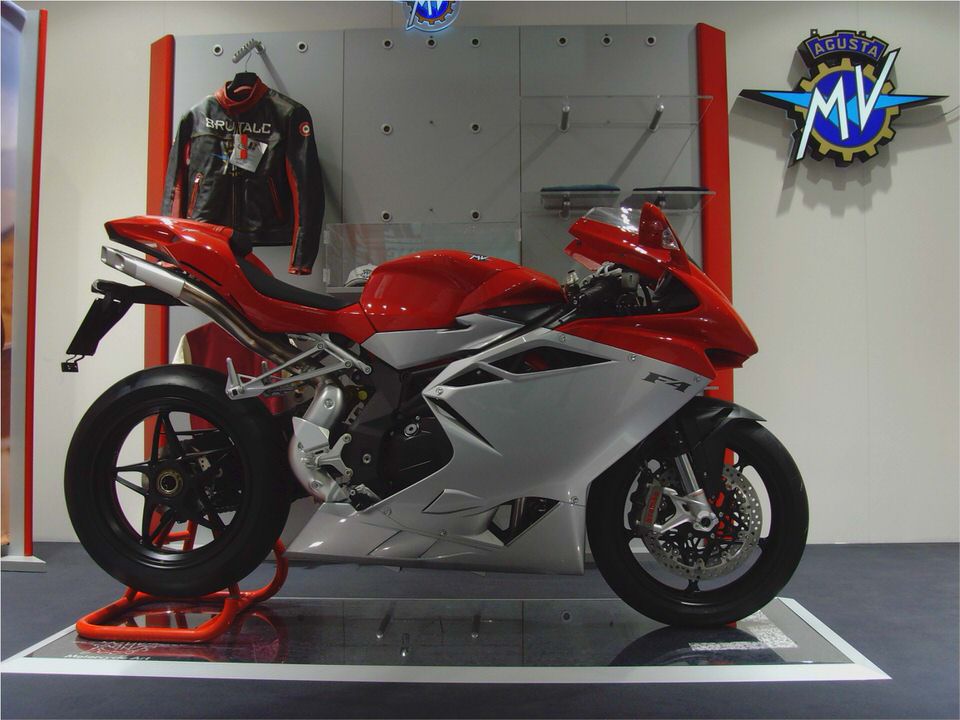 Bore x Stroke: 76 x 55
Max power: 122 kW (166 hp) at 11,750 rpm (at crankshaft)
Max torque: 109 (Nm) at 10,200 rpm
Cooling system: liquid cooled with oil heat exchanger
Engine management: Weber Marelli 1.6M ignition – injection integrated system, induction discharge electronic ignition, Multipoint electronic injection
Clutch: wet, multi-disc
Gearbox: cassette gearbox, 6 speed, constant mesh
Frame: CrMo steel tubular trellis (TIG welded)
Front suspension: upside-down telescopic hydraulic fork with rebound-compression damping and spring preload adjustment 50mm diameter with titanium nitride coating on the legs
Rear suspension: progressive, with single sided swingarm, single Sachs 'Racing' shock absorber with double adjustment rebound-compression damping and spring preload adjustment
Front brake: double aluminium floating disc, 310mm diameter, 6 piston solid block 'Nissin Racing' calipers
Rear brake: single steel disc, 210mm diameter, 4 piston caliper
Front tyre: 120/65 – ZR17 inch
Rear tyre: 190/50 – ZR17 inch, or 180/55 ZR17
Front wheel: Marchesini, forged aluminium, 3.50 x 17
Rear wheel: Marchesini, forged aluminium, 5.75 x 17
Fairing material: thermoplastic and carbon fibre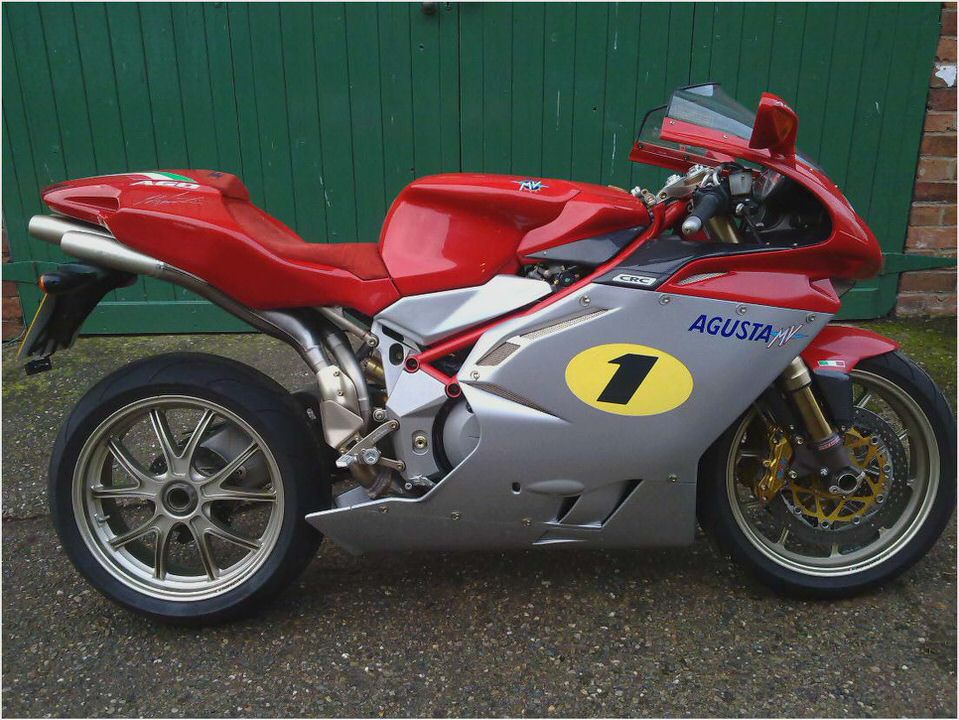 2010 MV Agusta F4 1000 test at Misano
2012 MV Agusta F3 – Brutale 675 Unveiled- EICMA 2011 Milan Motorcycle Show
2008 MV Agusta F4CC Claudio Castiglioni Motortrend
The Flying Saucer: 1954 MV Agusta 175 CSS Disco Volante – Classic Italian…
MV Agusta F4 Corsa Corta leads push carsguide.com.au