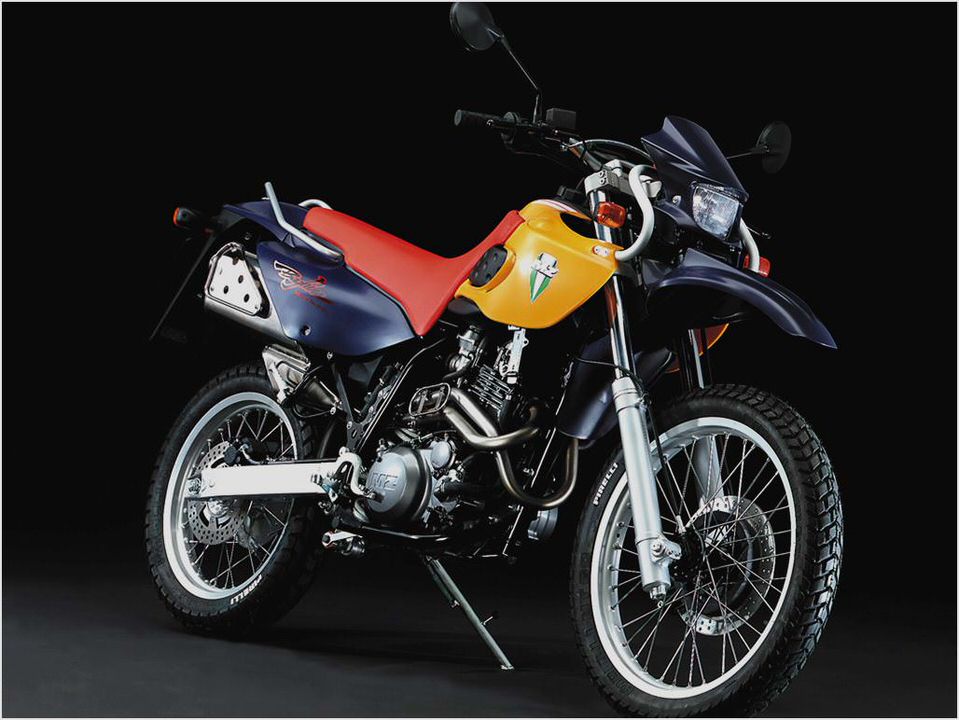 MZ first introduced this enduro-styled off-roader in 1997. The German firm's historical range of two-stroke engines were not suitable for a modern machine, so a Yamaha engine, the single-cylinder liquid-cooled motor from the XTZ660 Tenere, was used. The torquey, rugged design uses a five-valve cylinder head for efficient breathing and combustion, and the clever Yamaha Dual Intake System, which has one CV and one slide carb to give the best power delivery of both carb types.
The Baghira chassis is basic, but effective. Long travel forks soak up off-road bumps, and a high-spec WP rear shock keeps the long box-section swingarm under control. Grimeca disc brakes are not particularly strong, but are designed for off-road use.
So, you've just viewed a Crusty Demons of Dirt stunt video and have an itch for a ride on the wild side. Problem is, pavement is your preferred riding surface, and while a traditional dual-purpose bike is enticing, you're looking for something with a bit more pizzazz. Perhaps what you need is a supermotard-style streetbike?
Supermotard, for those unfamiliar with the term, is the French word for Superbiker, an outgrowth of the made-for-TV events at Carlsbad Raceway that were a staple on ABC's Wide World of Sports through the 1980s. Designed to determine the best all-around motorcycle racer, The Superbikers pitted roadracers, dirt-trackers and motocrossers against one another on a course that was part asphalt, part dirt.
Like all television shows, The Superbikers eventually was canceled, but the French embraced the concept, picking up the ball and running with it to the point that there are now a number of supermotard racing series throughout Europe.
Supermotard racebikes generally begin life as motocross or enduro machines, and are then outfitted with lower suspension, wider wheels, gummier street tires and larger front brakes. And since a supermotard setup works quite well on the road, a natural evolution has been for these hybrids to sprout lights and license plates.
A growing number of motorcycle manufacturers have taken notice of this market niche, with several street-legal production machines currently available in Europe and Japan. KTM was the first to import a supermotard-inspired bike into the U.S. when its 620 Duke arrived on the scene three years ago. And now, MZ is set to duke it out with KTM for a slice of American pie, stepping into the ring with its new Mastiff 660.
If you've followed MZ's modernized model line over the past few years, you've undoubtedly noticed the German company's modular design approach. Most evident is MZ's wide use of the single-cylinder engine from Yamaha's XTZ660 dual-purpose bike. Along with the Mastiff and its dual-purpose counterpart, the Baghira, no fewer than three MZ Skorpion models share the liquid-cooled, sohc, five-valve mill.
A free-breathing, boombox-looking muffler is credited with boosting the Mastiffs and Baghira's power output to match that of the twin-pipe Skorpion Replica, which itself offers a slight performance boost over the rest of the Skorpion family. On the CW dyno, the Mastiff produced 2 fewer peak horsepower than the Skorpion Replica we tested in April, 1996, but the Mastiff possesses a broader spread of torque that's most evident in the lower portion of the rev range. • Looking beyond the engine, MZ's latest duo has greatly expanded the company's parts inventory.
But once again, commonality is a key element, because the Mastiff and Baghira share the same chassis. From the steering head back, these two look like twins separated at birth, making use of the same frame, swingarm, exhaust, seat, tank and tailsection.
Outfitted in supermotard regalia, the Mastiffs shorter rear shock and 46mm Paioli fork combine with wide, 3.5 x 17-inch front and 4.25 x 17-inch rear Akront wheels wearing low-profile Metzeler MEZ1 radials. Parked alongside the Baghira, the Mastiff appears stout, squat and pit-bullish in stature. Indeed, this bug-eyed bike is bad to the bone, with sufficient bark to be deemed worthy of its guard dog-derived name.
With 7.5 inches of suspension travel at each end and measuring 33.5 inches from saddle to tarmac, the Mastiff sits quite a bit taller than your average street mount.
And while this may steer some vertically challenged novices in another direction, that's a real shame, because the Mastiffs nimble handling, linear power delivery and smooth gear changes all make for near-effortless riding that would appeal to any cadet.
More experienced riders, however, will enjoy the Mastiffs stratospheric stance. It puts you in the cat-bird's seat with a clear view over car tops in traffic. Perched aboard the Mastiff with a grip on its wide, Superbike-style handlebar, you feel as though you could hop, skip or jump any pitfall the urban jungle might throw in your path.
Weekend rides become backroad adventures as you explore the nastiest, ill-maintained pavement in the territo-ry-the very same tarmac you would avoid like the plague if you were aboard a conventional sportbike.
Let's assume your good sense of license preservation won't allow for shenanigans such as bunny-hopping curbs or pulling stop-sign stoppies. Does the Mastiff still hold enough appeal? Why, certainly!
Whether it's the exhaust note of a big Single that's music to your ears, or the wheel-standing, low-rpm torque, truth is, you don't need to be a hooligan to be a Mastiff meister. But be forewarned: It will arouse a playful attitude from even the most conservative rider.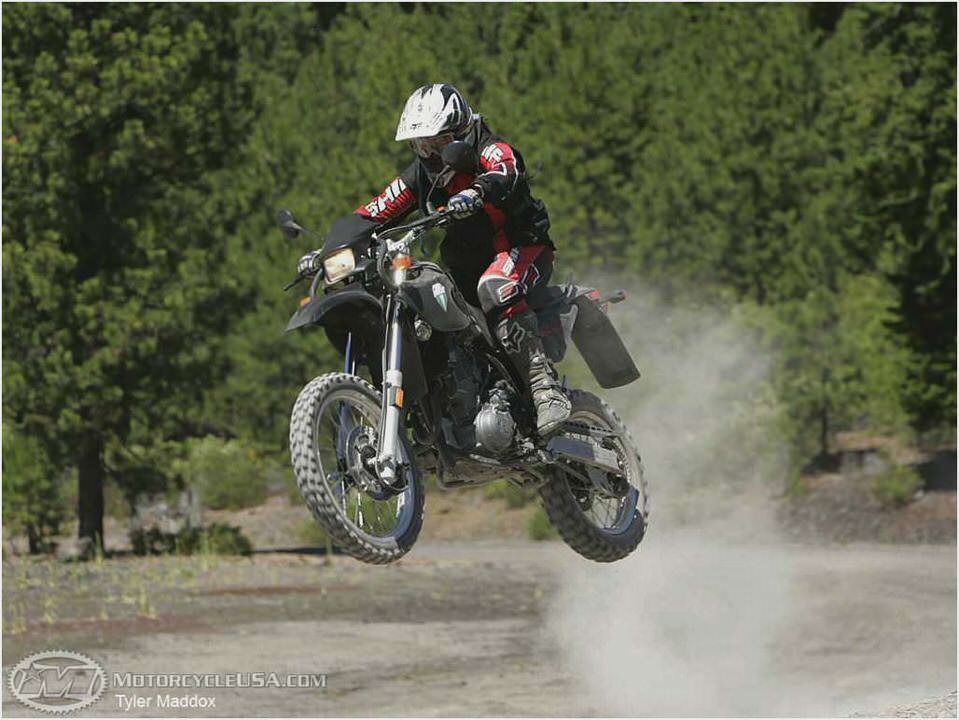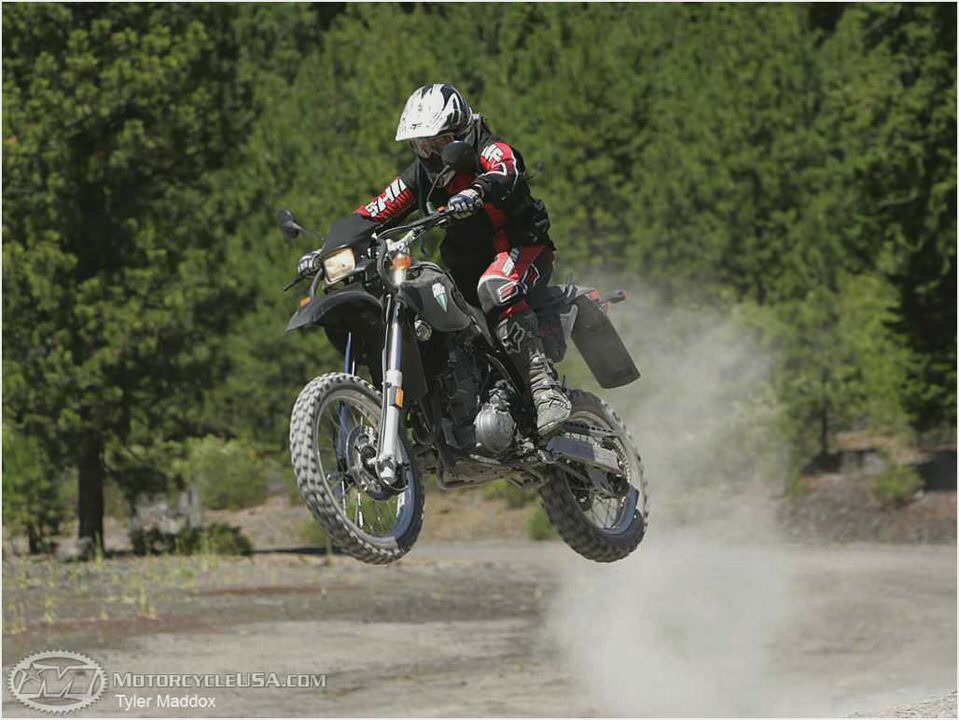 As versatile as a supermotard bike might be, the Mastiff is not without its limitations. While traversing town on an errand has never been this much fun, calling on the Mastiff to pull long-range duty is like asking your wife to mow the lawn-she may do it, but buddy, down the road you're going to pay! The Mastiffs range restriction stems mainly from its firm and narrow dirtbike-inspired saddle and short gearing.
And while comfort is certainly subjective, the choice in gearing was a viable tradeoff: It's made low gear very adept at power wheelies, and has given the bike top-gear roll-on performance that's unmatched by any of MZ's Skorpion models. But it also leaves the motor spinning like a blender on today's 75 mph-plus interstates. While the engine emits a coarse brand of vibration that is characteristic of Singles, its gear-driven counterbalancer smoothes the vibes to the point that they're never intrusive; in fact, the engine is surprisingly smooth through the midrange.
Letting the big dog eat in top gear netted an even 100 mph on the CW radar gun. Although the Mastiff is no match for the longer legs of the fully faired Skorpion Replica, it's still plenty fast for a naked motorcycle that offers little in the
way of wind protection. High-speed stability is good, too, particularly if you ride with your elbows up and out, dirtbike-style, exerting even pressure on the handlebar. But outright speed isn't what this bike is about; nipping at the heals of a macho sportbike through slow-to-medium speed bends is where Mastiff mastery is found.
Run it in too deep and you can count on the single front disc brake to be there with a firm, predictable feel at the lever. Got an urge to pitch it into a corner sideways like some frenzied French
Full instrumentation, wide handlebar and extensive wraparound seat pales in comparison to the Mastiff's curious tank-top roll cage. The MZ is nothing if not different. supermotard specialist? The Mastiff cooperates nicely, with enough engine braking to get the rear stepped out with a downshift and some fancy clutch work.
All this and more simply underscore the Mastiffs primary mission: that of the quintessential playbike.
We could only stand so much fun and frolic with our test-bike before being tempted to play for keeps on a racetrack. With a newly formed SuperTT series getting underway in Southern California (see accompanying story), little more than swapping out the stock Metzeler street skins for a set of Pirelli MT60Rs would have rendered the Mastiff race-ready.
Only one obstacle prevented us from doing so: The MZ importer had just one Mastiff in the country-ours-and it was promised to other magazines following our test. Oh well, live to race another day.
So, whether you are a beginner, an inner-city safarian, crusty canyon carver or future SuperTT star, the Mastiff has you covered. It's the sort of versatile motorcycle that encourages its rider to broaden his horizons and explore new ground. It's a bike you can grow with, but at $7195, it hardly comes at an entry-level price-particularly if you consider you're only getting one piston in the deal. But for Thumper fans the world over, the joy of feeling each and every power pulse as it's transmitted to the road is the only way to scratch an itch. –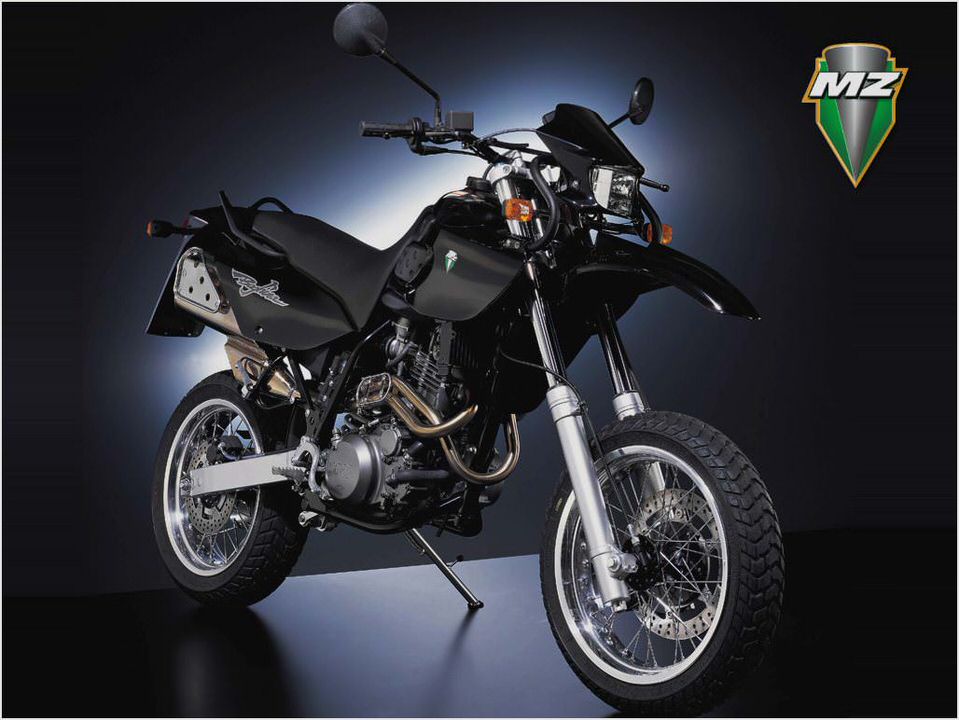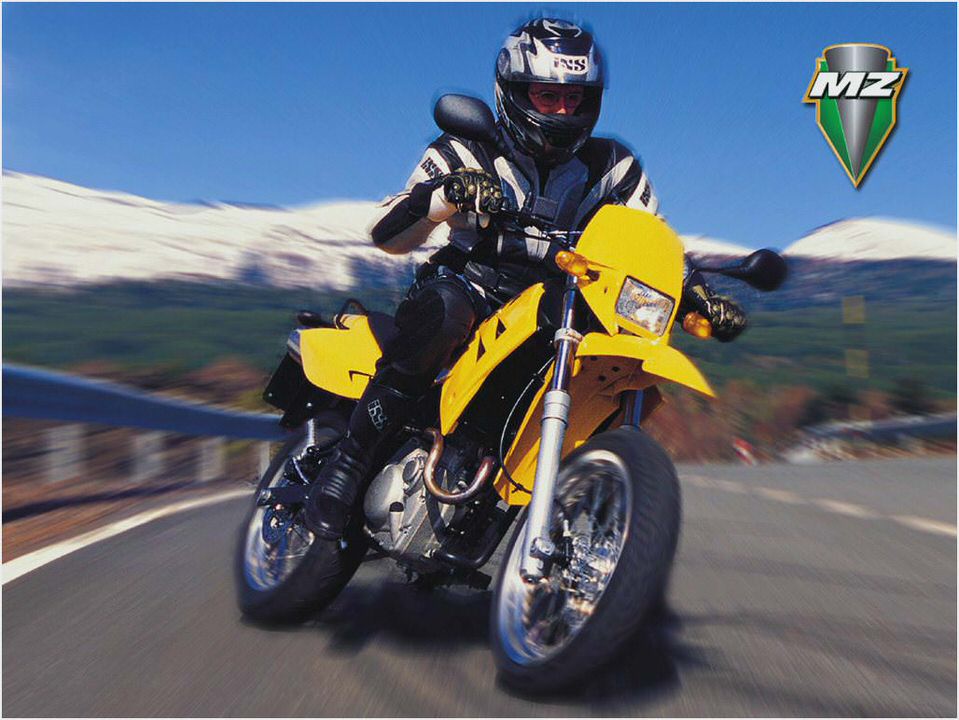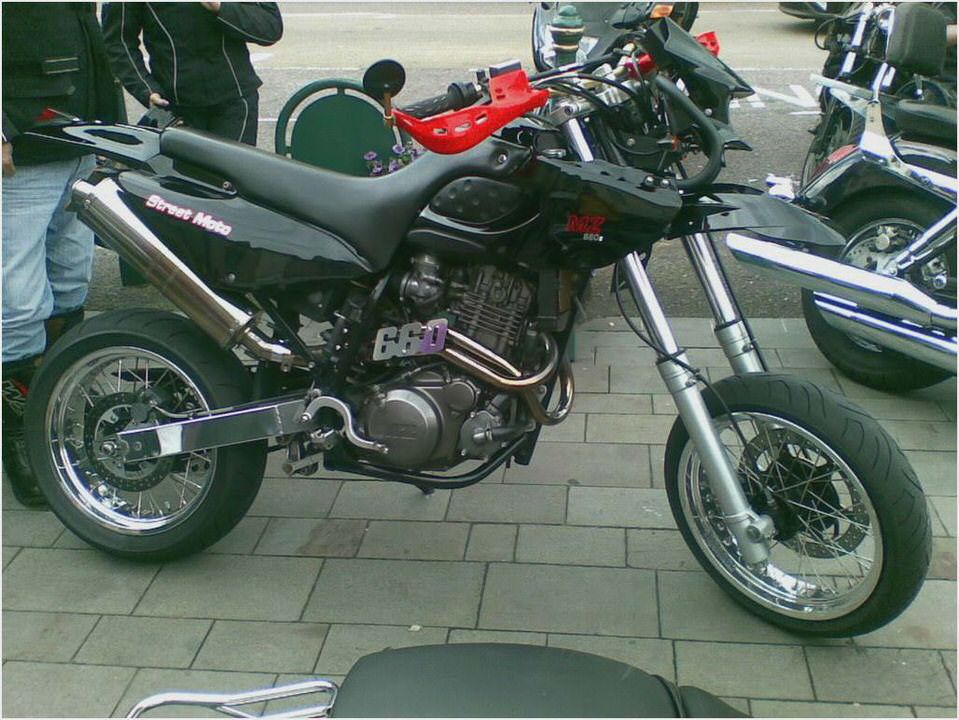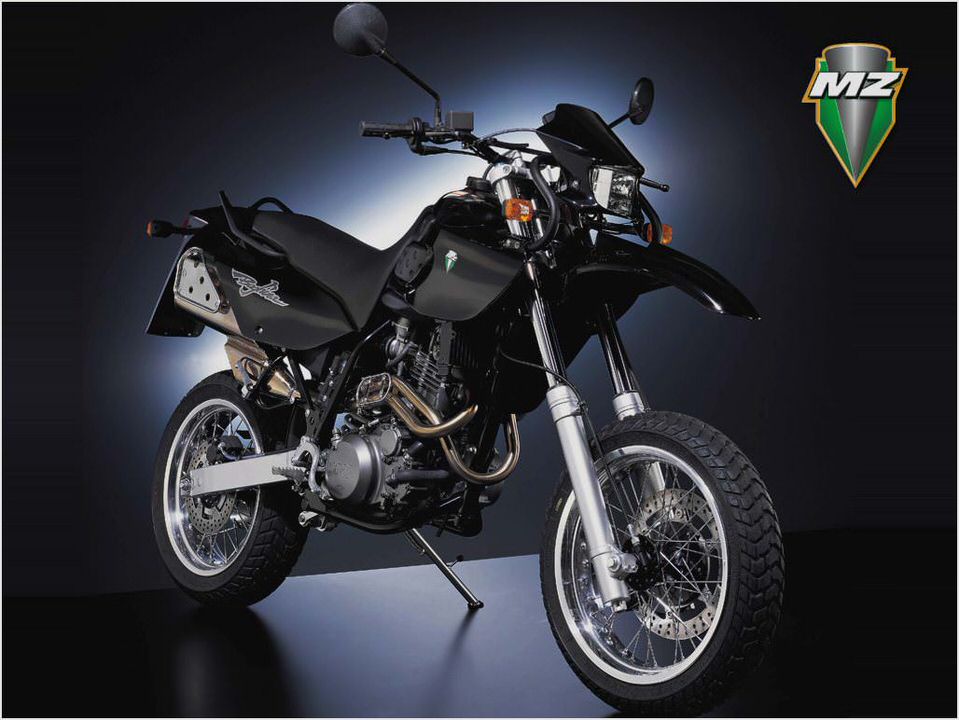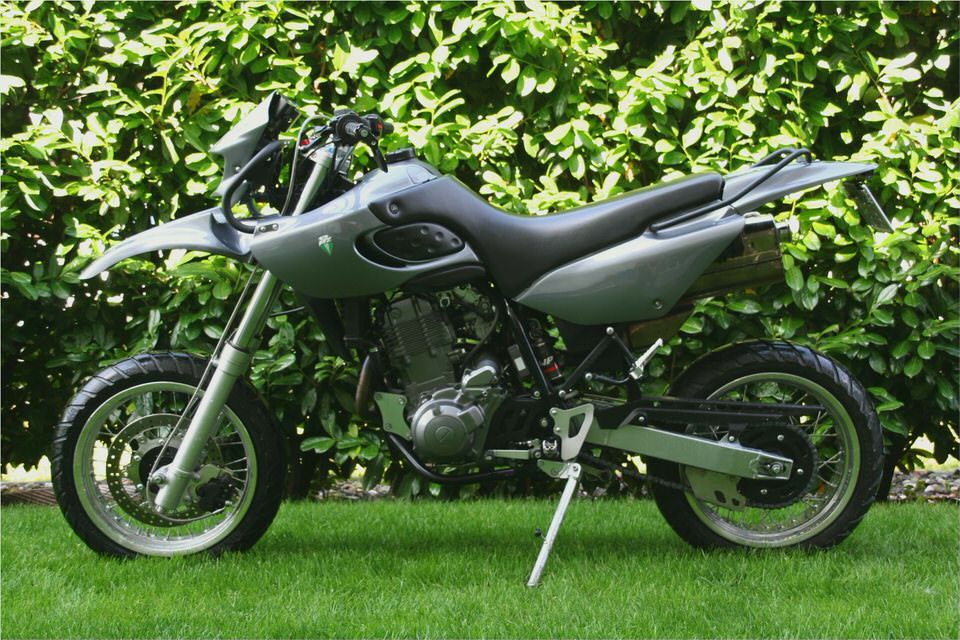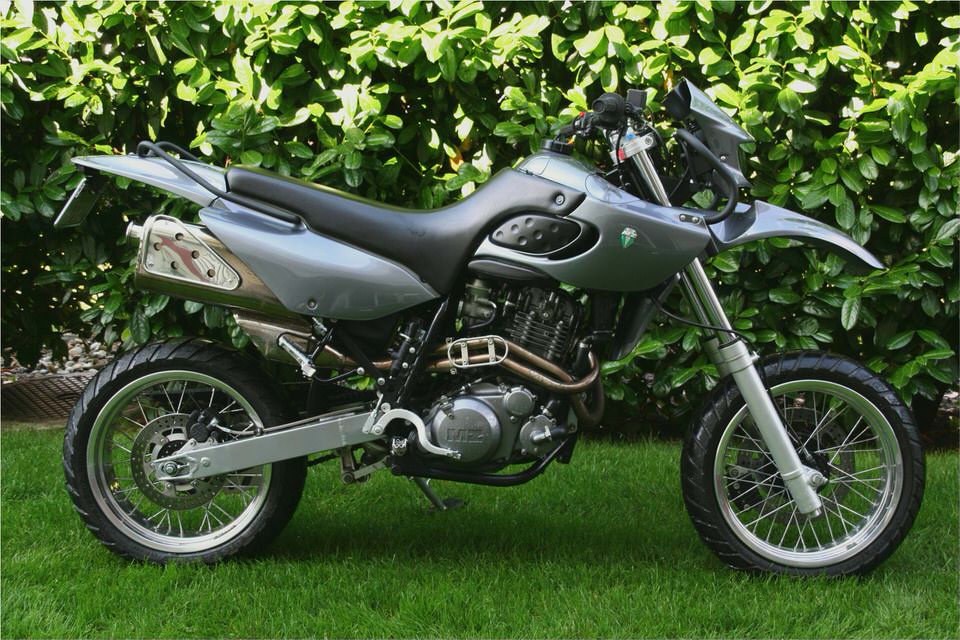 MZ 660 Skorpion Traveller 1994 – 2004
MuZ – Definition WordIQ.com
Miss January 1974 MZ 250 (Photos) – National Classic Motorcycles Examiner.com
Honda Evo6 Concept Super Fast, Super Strong Cool Bikes
MZ ES250/2 Trophy Rebuild – Part 2 – The Real Classic Bike Guide – RealClass…