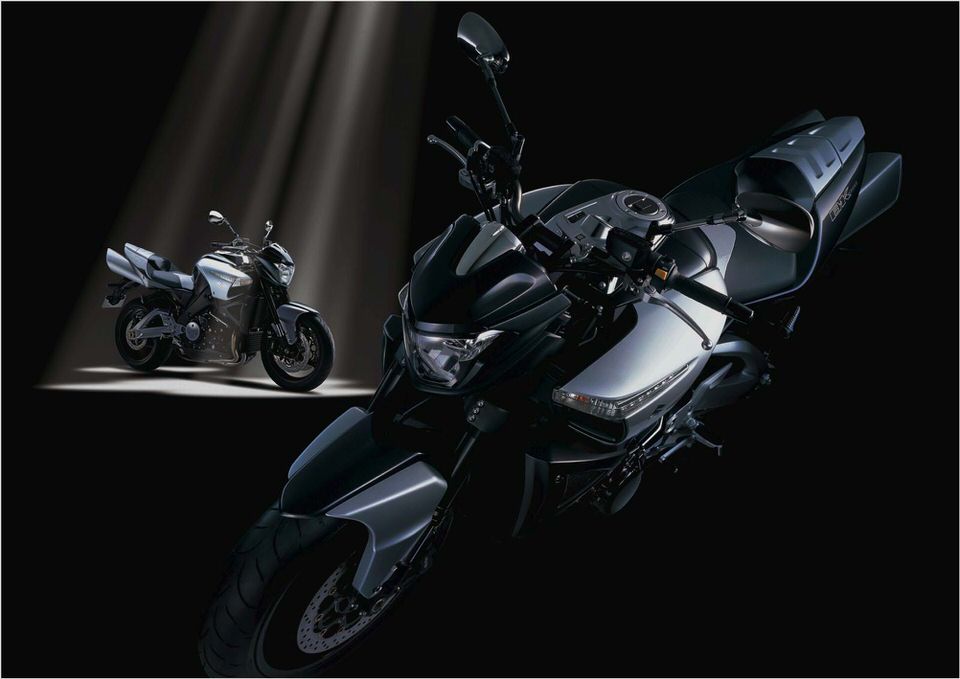 First Ride: 2008 Yamaha V Max
29/08/08
Jon Urry sends us back his impressions of Yamaha's eagerly-awaited 200bhp musclebike
IT'S BEEN twelve years in the making but Yamaha has finally launched their new VMAX. Has it been worth the wait?
Having sold over 100,000 machines over the old model's 16-year reign, Yamaha took their time with the new model to ensure they got it spot on. And finally, now it's here, the beast feels absolutely perfect.
Yamaha claim the new VMAX motor makes 200bhp with 123lb.ft of torque. Impressive stuff. So what's it like? It will hold top gear (fifth) right down to 1,500rpm but will pull cleanly and smoothly right up to the (restricted) top speed of just over 130mph. It's an almighty two-wheeled nuclear powerhouse that makes the old Max look downright lame.
V-Boost? What's that?
But this ain't no top speed gun, no siree. It's a quarter-mile, tarmac-rippling weapon that'll anihalate anything else on the road. Wheelie merchants will be a little disappointed and it's longer than the old bike, with more weight up front, so despite being considerably more powerful it's never going to head perpendicular to the line of flight.
But what you lose in show you get in go. The new VMAX leaves darkies like no other beast on the road. Bang out the clutch in first, pin the throttle and leave huge black lines at will.
It's an absolute hoot – if an expensive one, which even I can master.
Unlike the old model, the new VMAX also handles. It's still a big old bus, but the MAX held its own on the twisty smooth roads of San Diego, giving sportier machines a run for their money. Ground clearance is limited, but as you'd expect, this ain't no racebike.
My only slight issue was that the forks got quite upset when you throw in a few bumps going into a corner, but the VMAX has fully adjustable suspension so I'm sure this can be sorted, and it only really happens if you are pushing hard.
But the smile's soon wiped from your face when you look at the price tag. Ј16,000 is a big chunk of anyone's money even if this is a premium bike with premium components, as Yamaha put it. And if you're thinking of haggling down the price at your local dealers then forget it; Yamaha say the price tag is fixed, and it will never drop. Reflections of their V-twin super-flop the MT-01?
Let's hope not.
Price aside the VMAX is a worthy successor and continues the great VMAX name with style, huge power and tons of street presence. Those who have put their money down won't be disappointed come November.
INDUSTRY NEWS – 2009 V-Max
9june 2008
2009 Star V-Max: The Beast is Reborn
Ladies and gentlemen, it's alive! Yes, the fire-breathing monster that made drag strips cringe some two decades ago has been reborn. That's because for 2009 Star Motorcycles (Yamaha's sister cruiser company) has come out with a revolutionary new V-Max.
The new machine was launched on the bow of the historic USS Midway located in the harbor in San Diego, California. An aircraft carrier is all about horsepower, with some 100,000 ponies needed just to propel the piston that launches the aircraft off the deck. Thus, no more fitting of a place could have hosted the new king of power.
Both fans of old and new will like the machine, as it stays true to the traditional nature of the original, while also incorporating loads of new technology.
Star did well to stick with the defining characteristics of the V-Max – like the power flow created by the huge trademark intakes running along it's massive center section. Pumping out a claimed 197.4 hp and 123 lb.-ft. of torque is a 1679cc liquid-cooled V-Four. Yes, no you read that right – 200 hp in a cruiser!
Combine that with a traditional upright riding position and the sense of straight-line speed from this new beast is sure to be second-to-none.
Sixteen valves, DOHCs, and a 90 x 66mm bore and stroke sit inside the gear and chain driven engine, which features lightweight technology throughout, including aluminum pistons. Like its sporting siblings the YZF-R6 and R1, the 'Max uses the engine as a stressed member of the frame, as well as featuring Yamaha's YCC-T chip-controlled fly-by-wire throttle mated to its YCC-I chip-controlled intake.
A five-speed transmission puts the power to the pavement, and is controlled via a hydraulically activated ramp-style slipper clutch, something the motorcycle world has only seen in sportbikes – until now. Shaft drive keeps things tidy and relatively maintenance free at the back end, while spent gasses are exited out a 4-1-2-4 exhaust system that features titanium mufflers.
In the chassis department, Yamaha took more cues from the sportbike side of things, using a cast aluminum frame with a 52mm conventional cartridge fork that is oxidized with a titanium coating and is fully adjustable for preload, compression and rebound. Out back a fully adjustable single shock keeps everything in line.
Yet more from the sporting world sees two 320mm wave-type front brake rotors, a Brembo radial pump master cylinder, and radial mount Sumitomo 6-piston front brake calipers. Throw into the mix some ABS and I'm sure the average motorcycle rider will have no problems stopping the quite heavy 683-pound machine.
A host of carbon fiber accessories are already available through Star Motorcycles for the new bike, which is only going to be made in limited quantities for 2009 – 2500 to be exact. That's less than two per dealer. A $1000 deposit is required to reserve your spot, and the order period is June 4 through October 31. Despite the hefty $17,990 MRSP, no doubt the V-Max will sell out, so you better get in line now.
We're definitely looking forward to throwing a leg over what looks to be the new acceleration king.
Tuesday, June 24, 2008
Face-off: Suzuki B-King vs Yamaha V-Max!
Suzuki B-King vs Yamaha V-Max is one battle we're all waiting for.
The two big moto-chunkies from Japan – the Suzuki B-King and the Yamaha V-Max will soon be at each other's throats. We will, of course, have to wait for some time for a full-blown shootout between the two bikes, but let's take a quick look at how they compare in the specs sheet department.
The Suzuki B-King, which weighs 262 kilos, is fitted with the Hayabusa's 1340cc, DOHC, 16-valve inline-four that pumps out 160 horsepower. The bike does the quarter-mile in 10.23 seconds, and top speed is about 250km/h. 'Twist the throttle and it feels as you're piloting an F-18 being flung off the end of an aircraft carrier – wide-open acceleration from a dead stop is that intense,' says Motorcycle-USA .
The 2009 Yamaha V-Max. which was unveiled only recently, has not been tested yet, but on paper at least, the bike seems to have all the right stuff with which to take on the B-King. Compared with the B-King, Mr Max packs a bigger, more powerful engine – a 1679cc, DOHC, 16-valve V4 that produces an astonishing 197bhp. But the V-Max also weighs 307 kilos – 47kg more than the B-King – which somewhat negates its almost 40bhp power advantage over the B-King.
The V-Max chassis is also an aluminium twin-spar unit, with a CF die-cast extruded aluminum subframe. There's a 52mm telescopic cartridge fork at the front and monoshock at the rear – both ends being fully adjustable. And like the B-King, the new V-Max is available with anti-lock brakes .
The Suzuki has an edge on pricing – the B-King costs US$13,000 while the Yamaha V-Max, at US$18,000 is much more expensive. In the next few weeks, we'll see which bike wins on the dragstrip and in showroom wars. But without waiting for the results, we'd take the V-Max anyway…
2008 Suzuki B-King – Bike Test
6/23/2008
By Adam Waheed
It's big, it's intimidating and it turns about as many heads as an NBA player at Grandma's Bingo night. Now, we're not talking about an oversized jewelry-clad basketball player; we're talking about Suzuki's B-King. Originally debuted seven years ago at the Tokyo Motor Show, the B-King is one ultra-cool streetfighter prototype that actually made it into production.
The B-King is proof of Suzuki's unequivocal embrace of America's 'bigger is better' mantra. It is the largest, most powerful muscle bike ever manufactured, period. With this one it's hard to find anything that isn't big: big power, big brakes, big proportions and big weight.
I can't help but feel just a little bit intimidated as I gaze at its bulging body pieces and huge twin underseat exhaust canisters protruding like trapezoidal double-barrel artillery guns. Twin ram-air intakes large enough to inhale witless birds sit underneath the fashionably integrated front turn signals.
Stylized pieces like the chrome bezel on the top of the fuel tank, sculpted brake and clutch master cylinders and the refined-looking instrument package give the Suzuki a high-end, premium feel. Equally impressive is the high level of overall fit and finish. Unsightly fasteners are kept to a minimum and the body components fit together as if they were crafted out of one complete piece.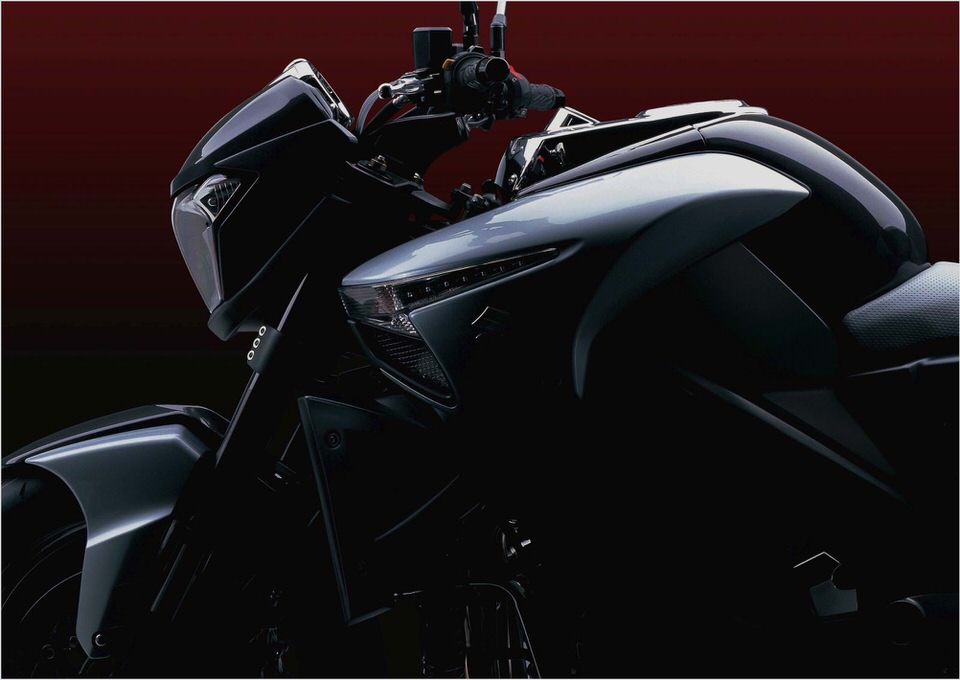 Once in the saddle, there's no hiding its 578-lb mass (fully fueled, ready to ride). Due to the substantial width of the gas tank your legs are spread far apart, so riders with minimal dexterity better bring their A-game when riding the B-King. But things get better as soon as you reach out to the widely-spaced tubular handlebars. The relaxed, upright riding position and tallish bars make it a very comfortable machine.
However, the high mounted foot pegs force the rider's legs into a more aggressive bend than seems necessary.
Thumb the starter and the gigantic 1340cc liquid-cooled Inline-Four comes to life emitting a quiet, sewing machine-like purr. 'Man, how much better would this thing sound with some pipes' I think to myself. The engine is almost a complete carbon copy of the one used in the new '08 Hayabusa, except for a smaller airbox and a different 4-2-1-2 exhaust system that still uses Suzuki's exhaust tuning valve (SET) inside.
Pump the hydraulic-actuated clutch a few times before you drop it into gear and notice its light feel, followed by a progressive engagement. Twist the throttle and it feels as you're piloting an F-18 being flung off the end of an aircraft carrier. Wide-open acceleration from a dead stop is that intense.
Yet the B-King is as obedient or as wild as your right wrist commands. Feel like stunting in front of your friends? Just hammer the throttle in the first two gears and you'll look like your neighborhood's most-wanted villain. Feel like keeping the peace?
Keep the revs low and ride the B-King's smooth wave of 70-plus lb-ft of twist from just 3000 rpm. Power delivery is flawless throughout the 11,000 rpm rev range and is complemented by the precise throttle response afforded by Suzuki's Dual Throttle Valve (SDTV) fuel-injection system. The B-King is also outfitted with Suzuki's proprietary drive mode selector (S-DMS) which allows the rider to modify power output by choosing from one of two modes.
By default the bike is in full-power 'A' mode, but all it takes is a simple push of a button mounted on top of the gas tank, (while the bike is at a stand-still, in neutral) and the rider can select 'B' mode which dramatically mellows its power delivery. The system works well and can allow a rider of less experience to have a more controllable ride. For those of us thrill junkies though, 'A' mode is all you'll ever use.
Power is transmitted to the gold-colored chain final drive via a six-speed transmission that utilizes a back-torque limiting clutch. Shifting action wasn't as smooth as other Suzuki's we've tested recently, but nonetheless engagement was precise. We never encountered any mis-shifts despite repeated full-throttle acceleration antics.
Gearing is versatile for the streets, with a short first cog allowing for easy drag races, er, I mean launches from a stoplight. Yet, thankfully, top gear is tall enough for a low-rpm, buzz-free ride at freeway speeds.
But the lack of a front fairing or windscreen can impede triple-digit fun as above 120-mph it feels like the wind is trying to peel you off the bike. Suzuki realized that this might be a hitch in the equation.
Instrumentation is easy to see at a glance and consists of a swept analog tachometer flanked by a digital speedo, gear position indicator, and a multitude of warning and indicator lights. There's also a bar-style fuel gauge, coolant temperature as well as odometer, dual trip meters and clock inside of the tach. The B-King also has a cool miles until maintenance required countdown meter, so you'll always know when it's time for service.
With just shy of 160 horsepower at your disposal, you'd hope that the engineers would have endowed the B-King with a chassis stout enough to handle all that muscle. And we're pleased to report that they have. A clean looking twin-spar cast aluminum frame and matching three-piece cast aluminum swingarm is paired to a fully adjustable (preload, compression, and rebound) KYB 43mm inverted fork and equally adjustable rear shock.
Suzuki claims that suspension damping characteristics are similar to that of their GSX-R sportbike line and after repeated cloverleaf exploring on the seemingly infinite freeway interchanges Southern California has, we're believers.
While cornering, suspension feels both firm and responsive with plenty of ground clearance, yet cruising down a pothole-laden L.A. street reveals a far plusher ride than that of a GSX-R sportbike. Despite the suspension's full range of adjustability, we didn't feel the need to change the settings as the stock setup is a good compromise between cruising the block and spirited canyon blasts.
Contrary to what your eyeballs tell your brain, the B-King is rather nimble in most situations. Sure it's not as flickable as a 1000cc sportbike, but it still maintains a reasonable degree of maneuverability considering its 5-foot wheelbase. It readily changes direction with just a light tug of the wide bars and once a turn has been initiated, subtle line changes can be made without drama. Simply look where you want the bike to go and it's there.
Also impressive is its stability at any speed. No matter how hard we tried we couldn't get the front end to wiggle around or get out of shape. However, at slower speeds-especially in parking lots, there's no masking the B-King's girth.
That, coupled with its non-adjustable steering damper, can make it rather cumbersome when you're crawling around.
Stopping is achieved via a pair of radial-mount Nissin front brake calipers that grab onto 310mm diameter rotors. A radial-pump brake master cylinder pushes brake fluid through rubber lines and there isn't a hint of fade, even during extra aggressive, repeated use. Considering that the brakes are stopping almost 600 lbs, there is a good amount of power and plenty of feel at the end of the adjustable brake lever.
Out back a 260mm disc and single piston caliper helps keep control while you're riding around on the fat back tire. ABS is also available for $600 to help ensure stability during braking regardless of road or weather conditions.
The B-King rolls on a set of 3.5 x 17 inch front and wide 6 x 17 inch rear three spoke aluminum wheels shod in Dunlop's Sportmax Qualifier rubber (120/70R17 front, 200/50R17 rear). We've always been a fan of the Qualifier's due to their mild steering manners, quick warm-up times and gum-on-shoe levels of adhesion, but the B-King's OE rear tire lacked the same amount of outright grip that we've become accustomed to with the Qualifier.
Maybe it's the extra weight or the immense amount of power that the 200mm wide tire has to deal with, but it's possible to spin up the rear tire on command during hard corner exit. Fortunately the tire has great feel so when it does spin it doesn't catch you off guard.
At the end of the day, the B-King really surprised us. It's a big, burly streetfighter that for the right rider could be the total package. It's got a fresh, futuristic look like nothing else on the street backed up with a powerful yet refined powerplant mated to a chassis that is both composed and agile.
And while it may not ever fit in with Grandma and her crew, the B-King has us shouting BINGO!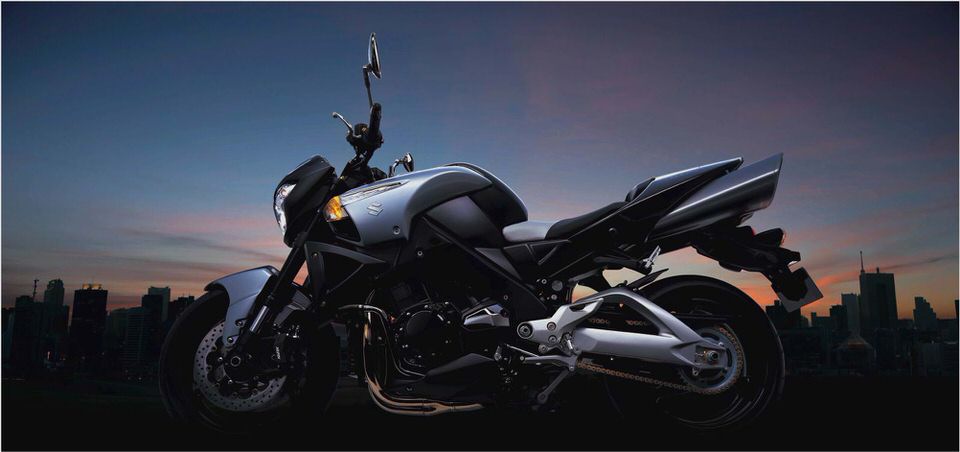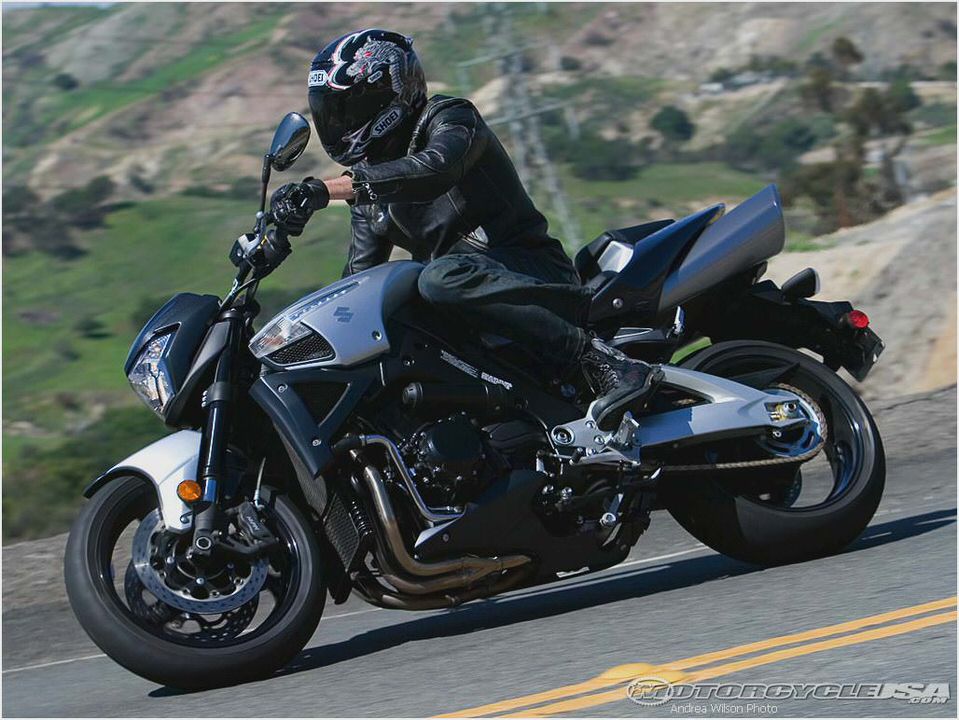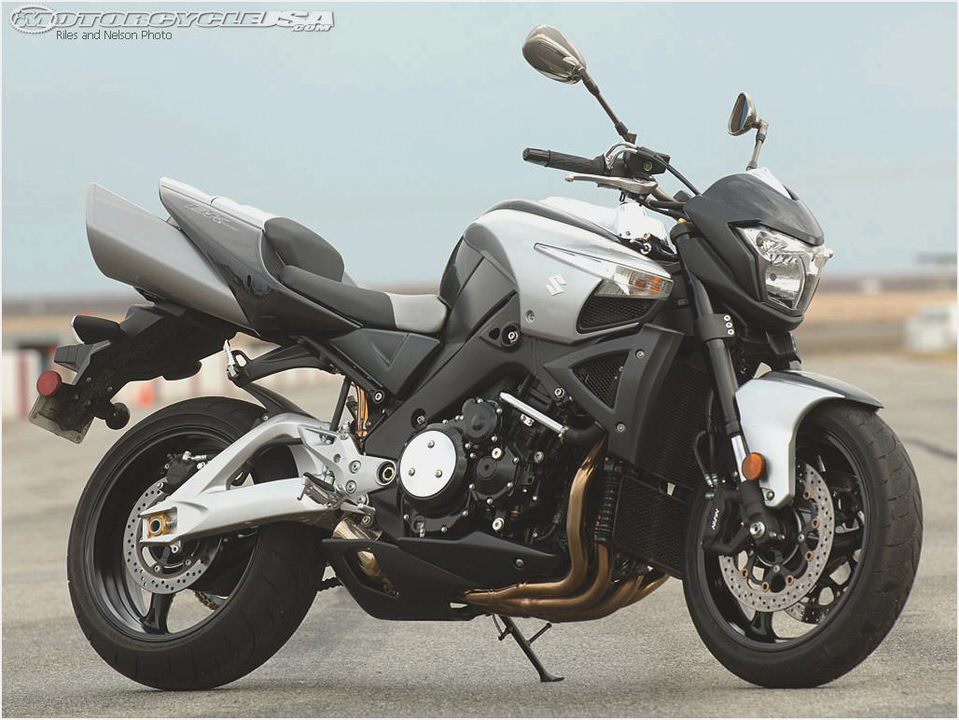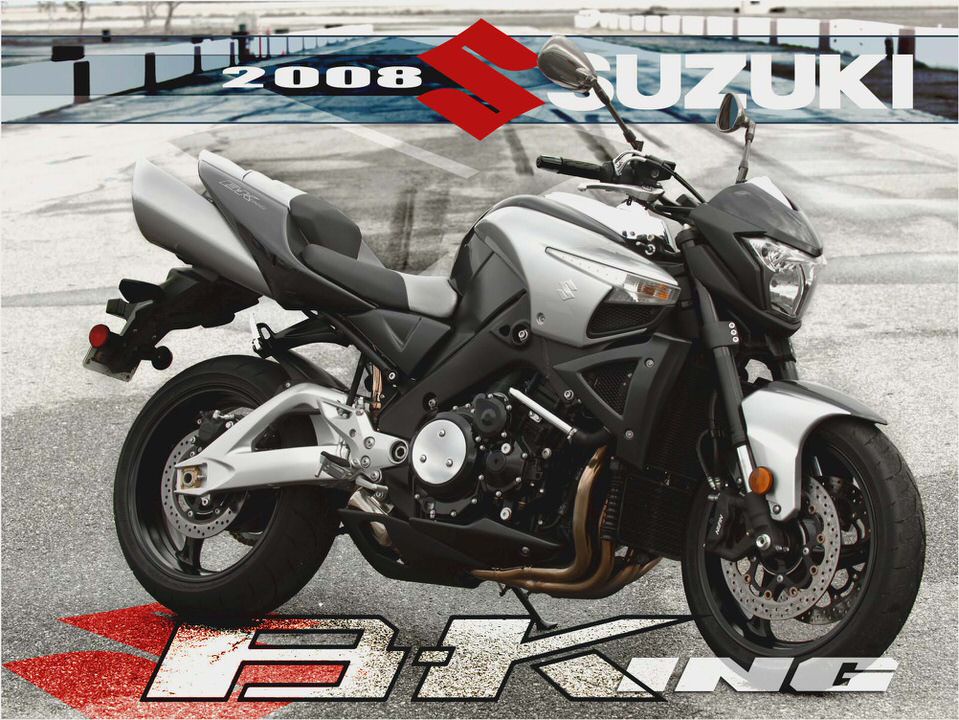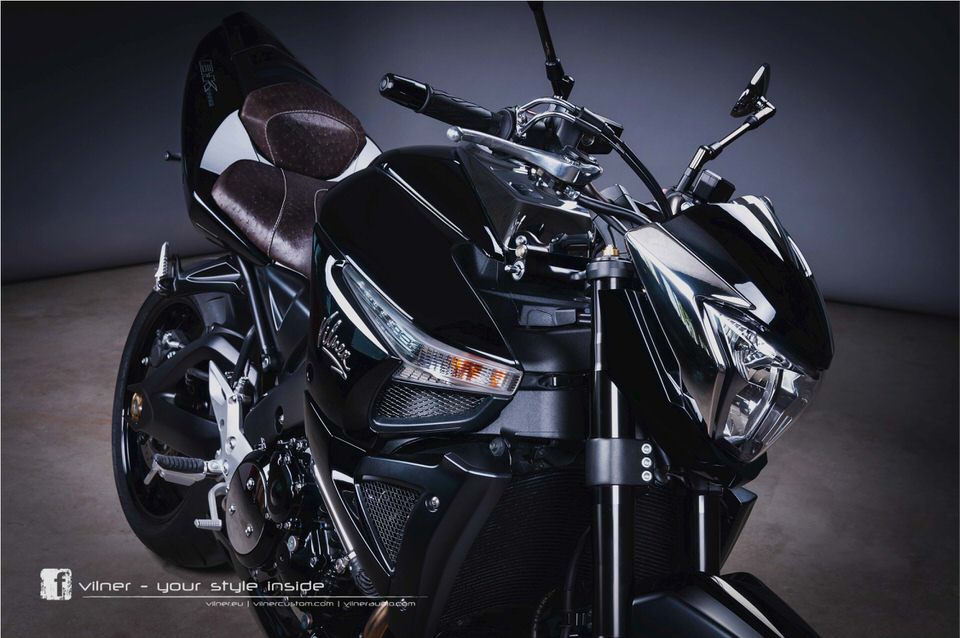 Dirt Bike 1991 Suzuki RMX250 Renthal Chain & Sprocket Kit MotoSport Austria
Yamaha R6 Vs Suzuki Gsxr 600 How To Save Money And Do It Yourself!
Suzuki V-Strom DL1000 and DL650 Accessories
2000 Suzuki BANDIT 600S Consumer Reviews 2001 SUZUKI Bandit 600 REVIEW…
Losing top stars to France can boost Ireland – Ruddock – Independent.ie