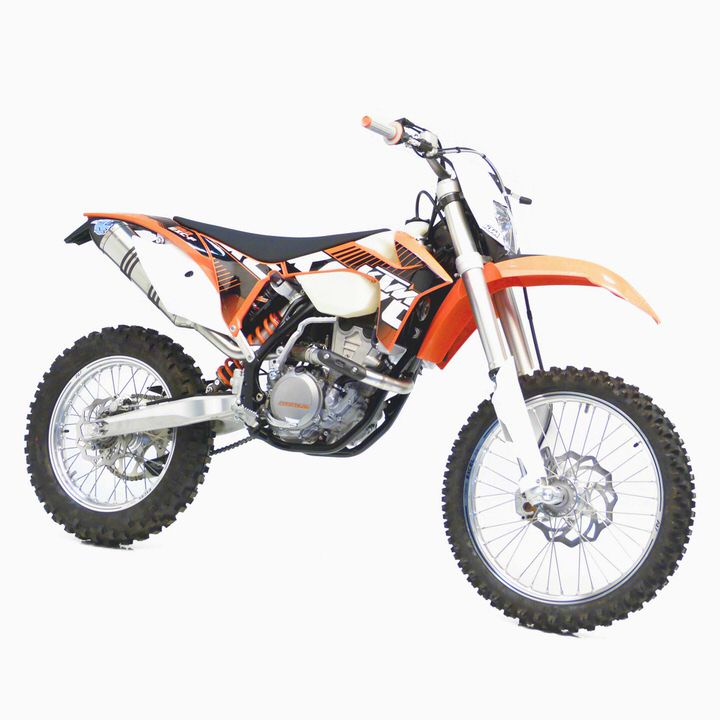 SOUTH AFRICA NATIONAL ENDURO CHAMPIONSHIP – KTM MOTORCYCLES UPDATE
BROTHER KTM ENDURO TEAM DOMINATES CHAMPAGNE ENDURO
Saturday 22 February 2014 marked the start of the National Enduro season, and what a start it was for the Brother KTM Factory team who took top honours in this event.
The first round of the Nationals took place at Champagne Valley in KwaZulu-Natal and the local WFO club had put a lot of effort into this race. The season opener consisted of a 45 km loop that competitors had to complete three times. The loop included a 2 km grass special, a 1 km Extreme test, a 2 km forest special as well as a 8 km Enduro test. The regularity time for all laps was set at 2 hours 30 minutes.
Most competitors made their times, which were generously calculated, and let the riders focus on their specials rather than having to race the regularity stage.
The Brother KTM Factory team took the opportunity to introduce their very impressive 2014 Enduro line up, headed up by reigning National Enduro champion Wade Young who is planning on piloting his KTM 250 XC-F machine to further success in the E1 class. 16 year old team mate Travis Teasdale on his KTM 250 XCF-W will however breathe down Young's neck for the E1 title and 2014 should probably see the most exciting racing yet. Offroad ace and 2014 OR4 Offroad champion Louw Schmidt is also giving it a go this year and will support his team mates in the highly competitive E1 class.
In the E2 class the talent pool is just as impressive with Roof of Africa podium finisher Scott Bouverie as well as multiple SA champion Louwrens Mahoney who are both tackling the Enduro championship onboard their trusty KTM 350 XCF-W machines: both mean business for 2014.
Kirsten Landman who has come back strong from injury in 2014 has chosen the KTM Freeride 250 R as her weapon of choice for technical riding. With no ladies' class or championship available Kirsten is racing in the National Silver class.
Brother KTM's strong lineup of riders did not disappoint when an overcasted but warm and humid day awaited the strong field of riders that had entered this first National. Wade Young quickly set the pace and the talented rider proved again why he's worthy of his 'E1' number plate. Posting the fastest times on most specials Young not just won the E1 class, he also claimed overall victory at Champagne Valley: "I really enjoyed all Specials, especially the Extreme Special.
Also the regularity stage was quite enjoyable as it was a lot more technical than usual. Overall one had to be really fit for this race, which paid off for me. My bike was awesome, I had a great day out!" . said the 17-year old rider from Paddocks (KZN).
Not far off Young's pace was his team mate and Pietermaritzburg youngster Travis Teasdale. Teasdale rounded off the overall podium in third place and secured a second place in the E1 class, just behind Young: "It took me a while to warm up, but I had great fun around the track. The terrain was more like the Roof of Africa terrain, nice and technical, which suited me.
My bike was set up perfectly and my times got faster throughout the day." . said Teasdale.
Louw Schmidt, Brother KTM's offroad rider, enjoyed the technical riding and managed to finish all laps without incurring penalties. Schmidt almost achieved the goal that he set himself which was a 20th place overall. He finished 21st overall and 12th in the E1 class.
The E2 (open) class was just as exciting to follow as E1. Scott Bouverie secured a podium spot in the E2 class, piloting his Brother KTM 350 XCF-W into fourth place overall and second place in the E2 class, just a few points behind first placed De Wet: "This was probably the hardest National for this year. I had a great day and enjoyed my 350, this being my first race in the open class.
My favourite special was the grass special, it was nice to have four short specials for a change and overall the organisers did a great job in putting this event together. The team is great and I am happy with my results for this first race." . said Bouverie.
Bouverie's team mate Louwrens Mahoney who came back from a big injury in 2013 raced his first 2014 National at Champagne Valley and was glad that he could get his fitness up to where it needs to be. Mahoney finished the race in sixth place overall and fourth place in the E2 class: "I struggled to get into a rhythm on the first lap, but then we slightly changed the settings on my shock to make it softer and from then I felt extremely comfortable.
The track also opened up after the first lap and even though it was a tough and technical race I had a lot of fun out there. It's good to be back on such an awesome team, I had missed that during my time off due to injury. We have a great vibe within the team and it's good to have so many youngster racing for our Brother KTM Factory team." . said Mahoney who managed to post the fastest time for one of the specials test.
Kirsten Landman, Brother KTM's lady racer on the team, has opted for the light and nimble KTM Freeride 250 R machine, a 250cc 2-stroke machine weighing in at just over 90 kg's that suits Landman perfectly. After a serious accident in 2013 resulting in severe abdominal injuries Landman has spent the last couple of months getting fit and strong for the 2014 season. With her health being 100% again Landman is now her fittest ever and had a great day out onboard her Freeride 250 R. First lady home she finished 12th in the National Silver class.
One man however stole the show when he made a surprise return into racing. 'The legend' Alfie Cox decided to give it a go again this year in the Masters class and the talented rider quickly showed that experience is paying off when he put down top times onboard his KTM 250 XC-W 2-stroke machine, taking the win the National Masters class.
KTM was also pleased to bring home the Manufacturer's trophy, so smiles all round for 'Team Orange'.
Top 7 overall results South Africa Champagne National Enduro:
Wade Young – Brother KTM
Altus de Wet
Travis Teasdale – Brother KTM
Scott Bouverie – Brother KTM
Kenny Gilbert
Louwrens Mahoney – Brother KTM
Brett Swanepoel – ccGallery KTM Gateway / JOAT
The Brother KTM Enduro team will face their next National on 21 and 22 March at a double header event in the Ashton area in the Western Cape. Again, fitness and preparation will come into play at this event.
Used 2009 KTM 690 Enduro – Reviews, Prices and Specs at Motorcyclist Magazine
KTM Duke 125/200 get RaceDynamics PowerTRONIC aftermarket piggyback ECU…
KTM 990 SMT : SUPERMOTO TOURER – LIGHTER, VERSATILE, SPORTY AND COMFY…
KTM Duke II (the king of motards) – Nissan Frontier Forum
Best Adventure Motorcycle 2013: KTM 990 Adventure Baja – Motorcycle USA