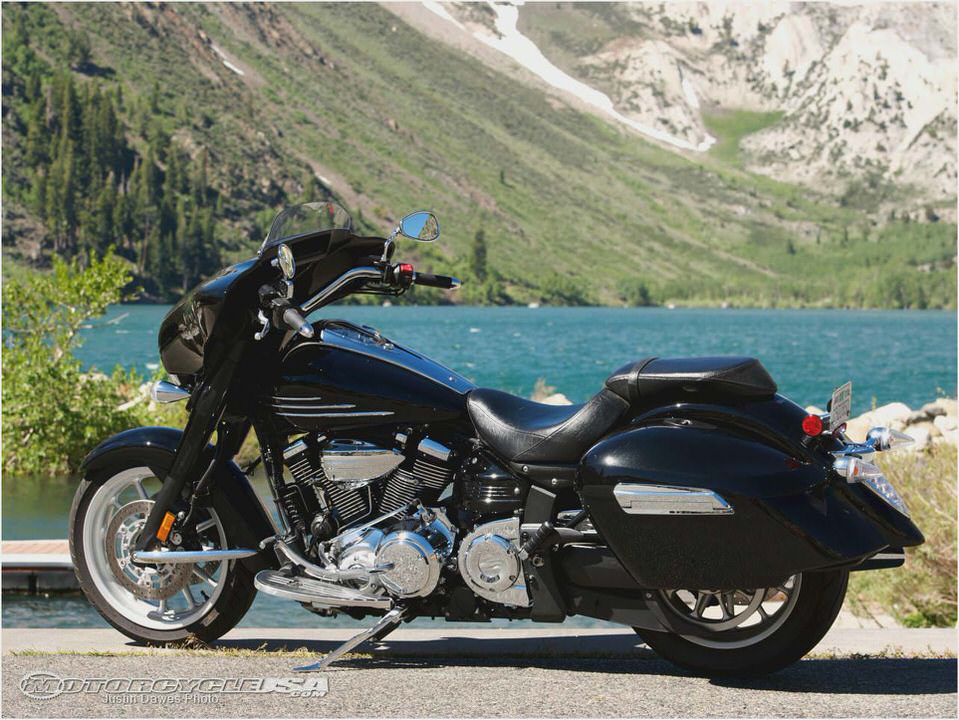 Star Brings Back Stratoliner Deluxe for 2014
2014 Star Stratoliner Deluxe
The Stratoliner Deluxe makes it back on the Star Motorcycles' production line after a year's absence.
One of the 2014 Stratoliner Deluxe's best features is its powerful 1854cc 48-degree V-Twin engine.
After abandoning their big bagger in 2013, Star Motorcycles is bringing back the Stratoliner Deluxe for 2014. We know the bike well after making a run to the Florida Keys on it one year and using it as a project bike. too. We've seen its customization potential after riding one tricked-out by Jeff Palhegyi and are glad to see it back in production.
Because we're big fans of its powerplant. It's a monster mill, 1854cc to be exact, a big pushrod-operated 48-degree V-Twin with 3.94-inch pistons plunging at a 4.64-inch stroke. Crack the throttle and the Stratoliner Deluxe pulls instantly thanks to its twin-bore electronic fuel injection that's dialed in. In 2011, it churned out 111 lb-ft of torque at only 2300 rpm on our dyno.
It's efficient and powerful thanks to tech gleaned from Yamaha's sportbikes, including forged oil-cooled pistons and ceramic-composite plated cylinders. Other features that have impressed us in the past include its smooth-shifting five-speed gearbox and powerful brakes, highlighted by dual 298mm discs on the front paired to monoblock calipers.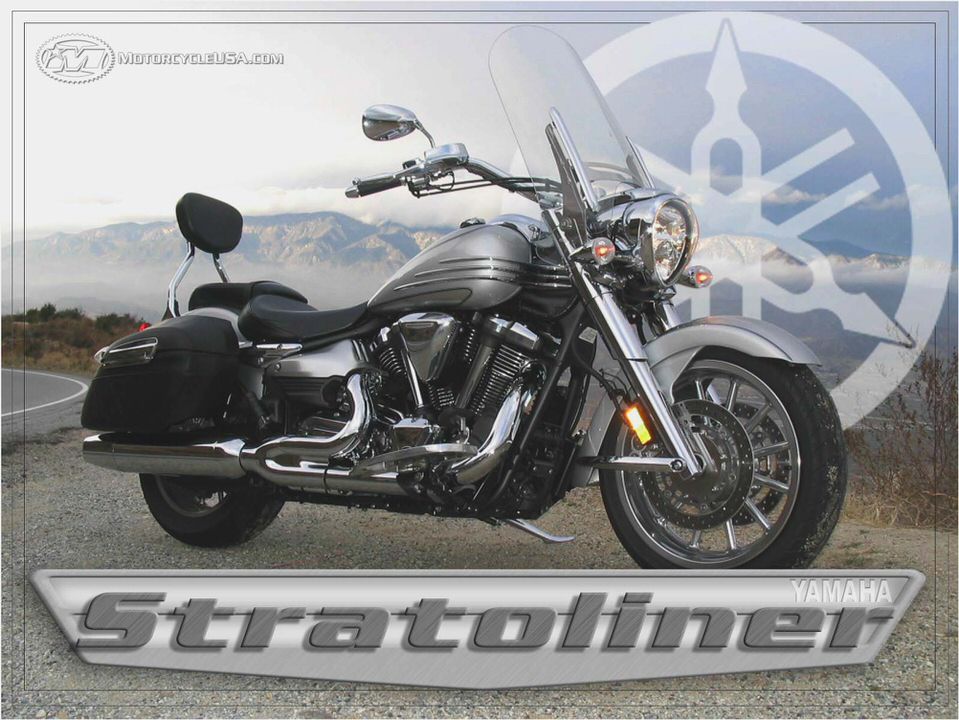 The 2014 Star Stratoliner Deluxe continues to use a polycarbonate fork-mounted front fairing that is wide and provides a solid buffer against wind blast. It's lightweight so despite being fork-mounted, it doesn't weigh down the bars.
While it has a tank-mounted console with an analog speedo, Star has placed a Garmin Zumo 665 GPS in the middle of the fairing so riders get the benefit of an onboard navigation system and features like Bluetooth, the capacity to run Sirius/XM satellite radio, receive weather and traffic prompts and road condition warnings. It also has an iPod plug-in with handlebar-mounted audio controls and twin speakers mounted in the fairing as well.
A peek at the spec sheet reveals that it's status quo for the 2014 version, the latest Stratoliner Deluxe sporting the same 46mm front fork, 4.5 gallon tank, a 130mm front tire and a 190mm rear. The only things that have changed are the color scheme, which is now Crimson Red, and a claimed 20% lighter clutch pull. It still doesn't have ABS as an option or come with standard cruise control, items its competitors generally offer.
On the positive side, its price has dropped, the 2014 Stratoliner Deluxe in Crimson Red listing for $17,240 while the 2012 model sold for $17,990.
Hopefully we'll get a chance to reacquaint ourselves with Star's Stratoliner Deluxe in the near future and see if it still powers down the road with the same authority it did in the past. Stay tuned
Yamaha FJ1200 – Yamaha Wiki
2009 Yamaha Star Roadliner Which Motorcycle For Me
Yamaha GTS1000 A-Yamaha
YAMAHA'S CRAZY CONCEPT BIKES: The Chivicker, Divide, Pocke, BMX, Tesseract…
Yamaha FZR600 – Wikipedia, the free encyclopedia