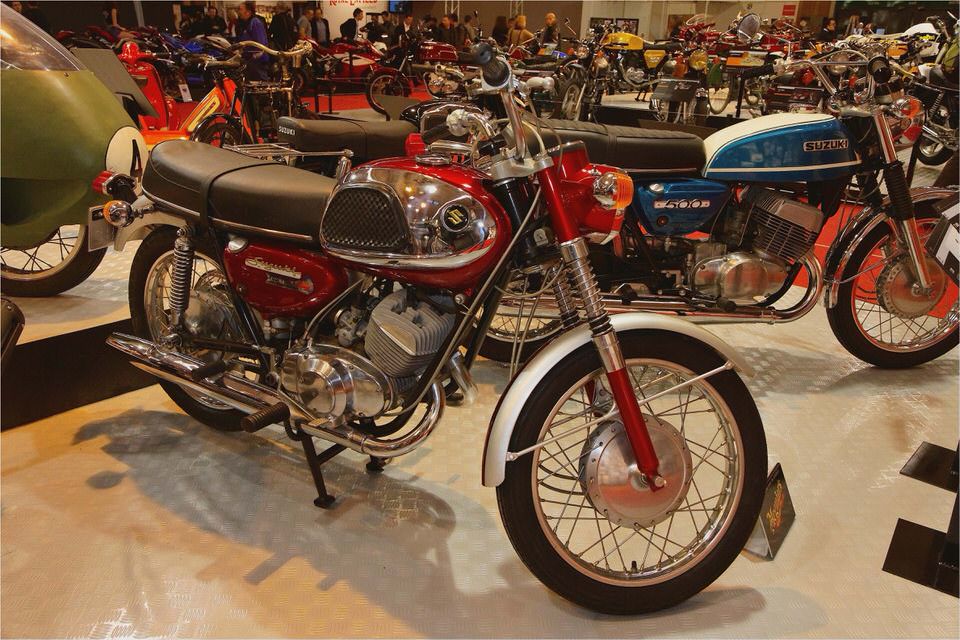 Get details and information about all bikes from Suzuki company
Suzuki Gixxer
Price and Specifications.
Suzuki Motorcycle India Private Limited (SMIPL) is a subsidiary of Suzuki Motor Corporation, Japan. The company produces commuter scooters and fuel efficient motorcyles. Moreover, the consortium imports super premium bikes from Japan for its valued customers.
In 1982, Suzuki Motor Corporation began its trade in India in a tie up with Sundaram Clayton for the company was asked technical assistance by Sundaram Clayton. And in 1984, for a complete motorcycle manufacturing facility, Suzuki collaborated with the same Sundaram Clayton Group and Indo Suzuki Motorcycles Pvt. Ltd. was founded. Then it was a long 19 years partnership, what both shared.
During their erst while partnership, a good range of much essential bikes were born. Samurai, Shogun, Scooty, XL, Fiero and Victor were some of the tabulation. In 2001, Suzuki parted away by selling out 25.97 stake it had in the joint venture.
That was a big blow for Indian two wheeler industry.
The history of Suzuki starts from Suzuki Motor Corporation, Japan, which is the 4th largest automobile giant. The company moulds compact automobiles, all-terrain vehicles (ATV), marine engines, wheelchairs and small internal combustion engines. It is headquartered at Minami-ku, Hamamatsu, in Japan. It has production plants in 23 countries and 133 distributors in 192 nations. Moreover, employers over 45,000 work in the industry.
These all make the consortium to be 9th largest automobile conglomerate in the world by production statistics.
Suzuki Motor Co was founded in the small seacost village of Hamamatsu, Japan by Michio Suzuki, in 1909. The company started its functions by inventing an innovative weaving machine. In 1952, Suzuki joined the motorcycle crew by launching the Power Free motorized bicycle. Inspired from the gas powered bicycle, Suzuki invented this. It featured a 36 cc, two-stroke engine.
It could produce an output only around 1 hp. This bike was a big success and the novel feature in it, the double-sprocket gear system, which enabled the rider to either pedal with the engine assisting or pedal without engine assist or with disconnected pedals and to run on engine power alone. This influenced the new democratic government to grant a financial subsidy to Suzuki to continue research in motorcycle engineering.
Hence, Suzuki Motor Corporation was born in 1954.
In 1954, Suzuki Motor Corporation launched its first motorcycle, the Diamond Free. In 1955, the consortium introduced its first fully shaped motorcycle, the Colleda COX. Its 125cc, 4-stroke OHV single-cylinder engine produced 4ps at 5,000rpm. It was mated with a 3-speed gear box and had a top speed of 75 kmph.
The Colleda COX was also the first bike to be equipped with the state-of-the-art steel frame from Suzuki. In 1971, Suzuki unveiled its first two wheeler in the GT series, the GT750. Later, the company introduced the GS series as well by launching the GT750 in 1976.
The first 1000cc bike of Suzuki was born in 1979. It was the GS1000s. Suzuki scribed some new scripts to its own history in 1983 with the launch of a 4-wheel ATV, the QuadRunner 125.
It became one of the best top sellers at that time. Guiding revolutionary stuffs was nothing innovative for Suzuki. In 1985, the company launched its first premium cruiser, the Intruder 750.
In 1998, a super scooter, the Burgman 400 was revealed. This scooter equipped with the largest engine at that time.
Usually, time never waits for anything, but it waited for the legend, the Hayabusa which changed the superbike imaginations and concepts of this entire motorcycle world. The Hayabusa defined the ultimate meaning of aerodynamic technology on two wheelers. It was displaced with a 1298cc liquid-cooled DOHC in-line 4-cylinder engine.
At present, SMIPL has 10 two wheeler variants in India. This tabulation includes 4 premium motorcycles and 2 commuter scooters. GSX-R1000, Bandit 1250SA, Hayabusa 1300, Intruder M1800R, Intruder M 800, GS150R, Hayate, SlingShot Plus, Access 125 and the Swish 125 are existing Suzuki models in India.
Suzuki Boulevard C50T Specs BigbikeMotorCycles.com
KTM 65SX VS Suzuki DS80 How To Save Money And Do It Yourself!
82 83 Suzuki XN85D GS1100 GS750 Speedometer Cable 34910-09300
Comparative motor bikes Suzuki GSR 750 vs Honda CB600F Hornet, match 2…
2005 Suzuki GSX-R 600 20th Anniversary – Used 2005 GSXR 600 20th Anniversary…