Suzuki Boulevard M109R | Review
Boulevard M109R Review
The 2010 Suzuki Boulevard M109R brings a sort of energetic liberation to the cruiser motorcycle genre.
Certainly, the idea of a power cruiser is not a new one-for maximum style and straight-line acceleration, put a performance motor in a stretched out frame with relaxed ergonomics. Initially, that was done by hot-rodding existing cruiser motors, and dealing with the inherent issues with engines designed for comfort rather than speed.
Harley-Davidson modernized the genre with the short-stroke Revolution motor, distinguished from its brothers by liquid cooling, double overhead cams, and four-valve heads. However, by upping the H-D's displacement by 43-percent, and tapping into the Suzuki GSX-R superbike technology, the M109R's Suzuki powerplant presents an intimidating pair of guns.
Equally intimidating, when looking at the spec sheet, is the M109R's claimed 764-pound curb weight. Fortunately, straddling the bike and bringing it upright reveals Suzuki's dedication to keeping the weight low in the chassis, as it is far easier to handle at rest than its weight would suggest.
The Suzuki Boulevard velvety purr at start-up reveals a motor that has its share of engineering tricks. A huge combustion chamber and piston that is nearly four-and-a-half inches wide, is just asking for brutally rough idle. However, dual plugs keep the 1,783cc, 8-valve DOHC, 54 degree, liquid-cooled, fuel-injected V-twin engine in order.
Twisting the 2010 M109R throttle means instant response-despite a stroke longer than three-and-a-half inches-thanks to lightweight short-skirt aluminum pistons and chromoly connecting rods. Power delivery is evened by Suzuki's Dual Throttle Valve EFI system, while vibration is minimal, as the race-bike-based Suzuki Composite Electrochemical Material bore tightens up piston-to-cylinder clearance.
An appropriately weighted flywheel keeps the Boulevard M109R acceleration in sync with the chassis design. Experienced motorcyclists can confidently gather speed at a startlingly rapid pace, without worrying about wheelies or unintentional burnouts thanks to the meaty 240mm Dunlop Sportmax.
Make sure you are in first, as shifting down from neutral to first gear at a stop too often results in a false neutral. Once underway, the Suzuki M109R exhaust note is not loud enough to attract unwanted attention, and first gear is low enough that it will keep you below ticketing range for the most part, even when you hit the soft rev limiter at a lofty 7500 rpm. Passengers when experiencing full-throttle g-forces welcome the accessory backrest.
Slowing down the 2010 M109R is a matter of selecting the proper lever. Your foot will have to work hard to get adequate performance from the single rear disc, but the twin radial-mounted, four-piston caliper, 310mm front discs are up to the task at hand.
Squeeze hard and you will slow down aggressively, without a hint of flex or excessive dive from the 46mm inverted cartridge forks that handle over five inches of wheel travel. When cruising around town, the front brakes are gently responsive to a lighter touch.
Though it is not the traditional bad boy retro look, the 2010 M109R's post-streamline modern aesthetics elicits unrequested positive reviews from passers-by. A mix of brushed aluminum, silver paint, and thoughtfully distributed chrome, combine elegance with quiet arrogance. Instinctively, even non-motorcyclists sense that this motorcycle is not merely attractive; it radiates an abundance of performance clout.
And, a large application of chrome on the snout headlight is a narcissist's dream come true.
With such a responsive engine and stable chassis, it was inevitable that I would find myself hustling through the canyons. Handling is superb, as it shows distain for the prodigious heft and fat rear tire. A wide front Dunlop guides the bike steadily through corners, and the thrust on exits is enormously satisfying, with any effects of shaft drive effectively counteracted by smart engineering.
Even with foot-forward ergonomics, you definitely have an in-control feeling aboard the M109R, with extra credit given to the flat-bend, drop-down bars.
The only fly in the M109R's sporting ointment is a wallowing that comes with over four-and-a-half inches of plush rear wheel travel. Cornering clearance is surprisingly good, but if the road is anything but pristine, the big Boulevard quickly becomes unsettled when heeled over-a dip in the corner means the footpeg feelers will let themselves be heard. But, if you can find a newly paved road, with some slick shifting on medium-length straights to keep the Suzuki Boulevard revs above 5000, you may be giving your sport-bike mounted friends a run for their money.

On the open road, the M109R's smooth engine eliminates motor-based fatigue by gently massaging the rider, and the chromed stainless steel exhaust refuses to assault the ears. The seating position is low enough that the windblast is abridged, and the footpeg position makes it easy to keep your boots in place.
Suzuki recognizes what a fine platform this is for custom touring, and motorcyclists interested in that application will find its cousin, the C109RT, an appealing variation.
Rather than attempting to satisfy traditionalists, the 2010 Suzuki Boulevard M109R is a crossover machine that confidently guides sport bike enthusiasts into the world of cruisers with its dual emphasis on high technology and blistering performance.
Suzuki Motorcycle Riding Style
Helmet: HJC FS-15 Carbon Copper
Jacket: Cortech DSX Denim Black
Gloves: Cortech Accelerator Silver
Pants: Cortech Mod Denim
Boots: Tour Master Nomad
Action Photography by Kelly Callan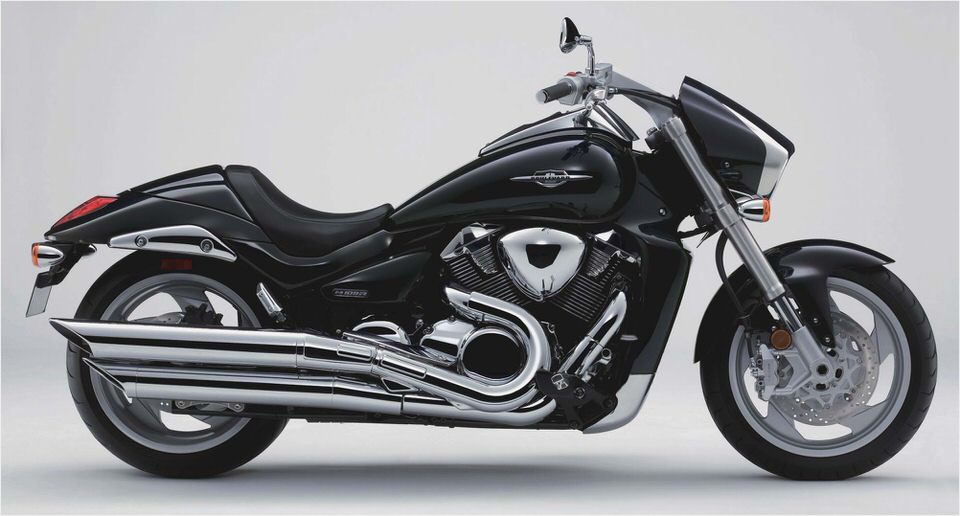 Suzuki B-King
Suzuki Fairings – GSXR 600/750/1000 ABSFairings.com
You Tell Us: Fuel-Cell Motorcycle May Help to Rev Up Hydrogen Economy…
2006 Ninja 650R vs Suzuki SV650 – Motorcycle USA
CAR Mania: Ferrari 333 SP