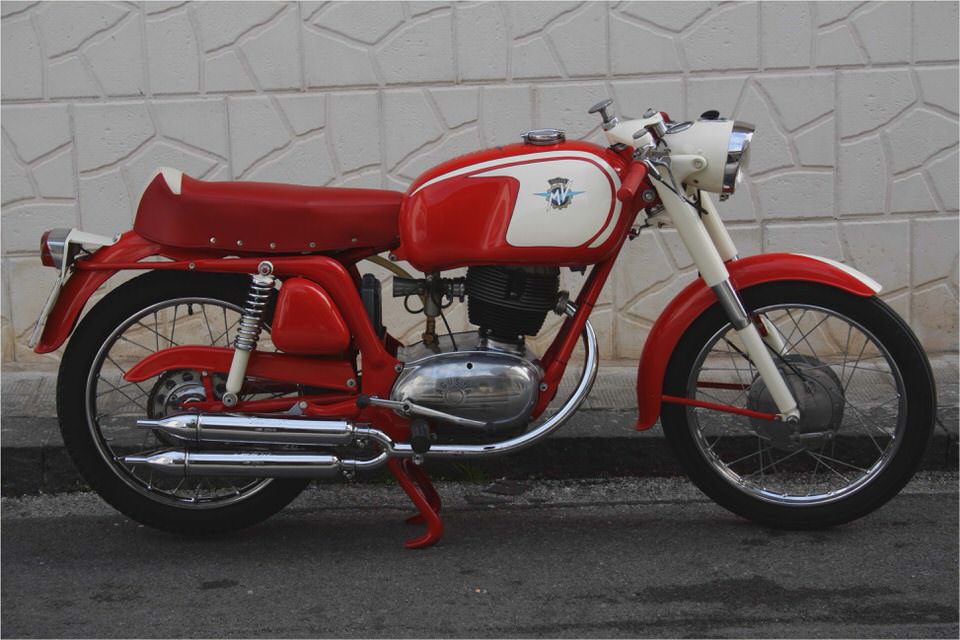 The Making of Magni Motorcycles
8/2/2011 11:35:18 AM
by Richard Backus
Tags:
Arturo Magni in his shop in the 1990s preparing a Magni Moto Guzzi.
Ask your average motorcyclist about Magni motorcycles, and you're likely to get a blank stare in response. In fact, if you've come across a Magni, a marque connected with ultra-fast and ultra-rare MV Agustas, BMWs and Moto Guzzis, you're part of a decidedly small crowd, at least in the U.S. Given that the machines that have rolled out of Arturo Magni's shop, Elaborazioni Preparazioni Magni in Samarate, Italy, are rarely seen on this side of the world, perhaps that's no surprise.
Yet Arturo Magni's association with high-performance motorcycles, and particularly with the fabled MV Agusta name, runs deep, making his relative obscurity something of a puzzler. Operating from a modest two-story building in Samarate, Italy, just a few miles northeast of Milan, Arturo and son Giovanni produce hand built, race-quality bikes for a privileged few — and have been doing so for the past 30 years.
Born in 1925, Arturo Magni's connection to MV goes back to 1950, when he was hired by MV founder Count Domenico Agusta to be chief mechanic for MV's struggling race team. At MV, Arturo eventually assumed total responsibility for the company's race efforts, overseeing technical developments and working with company engineers to make MV a dominant force on the track. It was Arturo who helped turn MV's four-cylinder race bikes into world championship machines, first in the hands of rider John Surtees in 1956 and then again in 1958 — and for the next 17 years, until MV finally lost out to the financial and technical prowess of the Japanese.
MV Agusta pulled out of racing in 1976, its passion for competition killed following the Count's death in 1971, and two years later the company quit motorcycle production all together. Yet while racing had been Count Agusta's primary motorcycling interest, his company produced a surprisingly broad range of motorcycles for the street, most memorably the four-cylinder 750S and 750 America of the early and mid-1970s.
Arturo started his shop after MV shuttered its race program in 1976, at first producing his own custom-framed MV using customer bikes and, later, engines left over from the end of MV production. Hallmarks of a Magni MV include a larger, 861cc capacity engine, MV race-style frame, a Magni dry clutch and a Magni chain-drive conversion. Original 750S and America models all sported shaft drive — fitted, the story goes, to keep private racers from being competitive with MV's chain-driven racers.
As the supply of available MVs dried up, Arturo transitioned to Honda, BMW and then Moto Guzzi engines to power his creations. In 1999, he introduced the Sport 1200 S, which combines the classic looks of a 750S with a modern Suzuki 1,156cc engine. All told, Arturo Magni and crew have crafted well over 2,000 Magni-framed motorcycles.
And if you happen to have an extra MV four-cylinder engine sitting around, he'll still sell you everything you need to make your own Magni 861. Here's a video demonstrating the beautiful sound a Magni MV Agusta can make:
Interview: Massimo Tamburini MV Agusta Designer
MV Agusta F4 RR 312 1078 Motorcycles
Oro Or America? Your Choice. 2004 MV Agusta Brutale Oro and 2006 Brutale…
Road Test: MV Agusta F4 1000 Tamburini – Page 2 of 2 – Page 2 – Road Tests…
2013 MV Agusta Brutale 800 First Look – Motorcycle USA