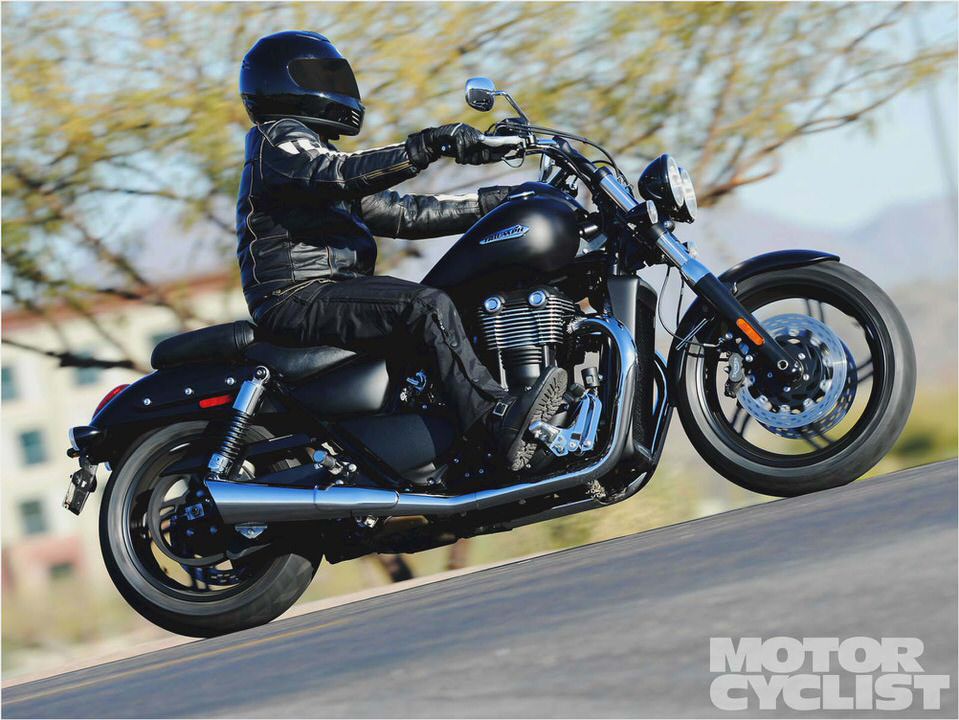 Triumph Thunderbird Storm 1700 – First Ride Dial-a-Gale: Big-bore parallel-Twin cruiser blows up the boxes.
Of all the heavy cruisers that have aspired to the sacred throne occupied by Harley-Davidson lo these many years, the most authentic must be the Triumph Thunderbird—which is precisely why we named the big 1597cc parallel-Twin-powered beast CW 's Best Cruiser for the last two years. Dark is the new black in Cruiserville, though, and Triumph invited us to Phoenix to ride a new version of the T-bird for 2011—Thunderbird Storm 1700—in your choice of blacks, Jet or Matte. Not only is the paint black on the Storm, so are the engine covers, cam cover, handlebar and risers, turn signals, triple-clamps, tank-top instrument nacelle—and we found out where all the old Speed Triple twin headlights went: They blacked them out and stuck them on the Storm.
Apart from the lack of (or is that abundance of?) pigmentation, what really sets the Storm apart is the fact that it gets last year's optional big-bore kit as standard equipment, hence the 1700. Last year, those larger pistons and rings, new cams, cylinder liners, piston pins, gaskets and stiffer clutch springs would've set you back about $900 plus installation, on top of the $12,499 base model T-bird. This year, the whole black factory-installed big-bore enchilada can be yours for $13,899.
1700cc is just about 104 cubic inches for those keeping score at home, which achieves parity with H-D's latest 103-inch Power Pak engine. Sadly, the 103 is only available from the factory in select Harley touring bikes. Comparable H-D cruisers, like the twin-headlight Dyna Fat Bob. must make do with 96 cubic inches of air-cooled V-Twin, from which H-D claims 92 ft.-lb. of torque, at 3000 rpm.
For its new 1700 liquid-cooled Twin, Triumph claims 115 ft.-lb. at 2950 rpm. Which is just about how it felt when we got our first ride during the Phoenix, Arizona, press introduction. The 1600 was pretty dang spunky in the 710-pound 'Bird, but those 100cc more make a difference you can feel. The Storm doesn't just accelerate harder, the bump in compression ratio gives it better throttle response as well.
Whack it open in first and peel right out, high-school style.
The Storm doesn't just accelerate harder, the bump in compression ratio gives it better throttle response as well. Whack it open in first and peel right out, high-school style.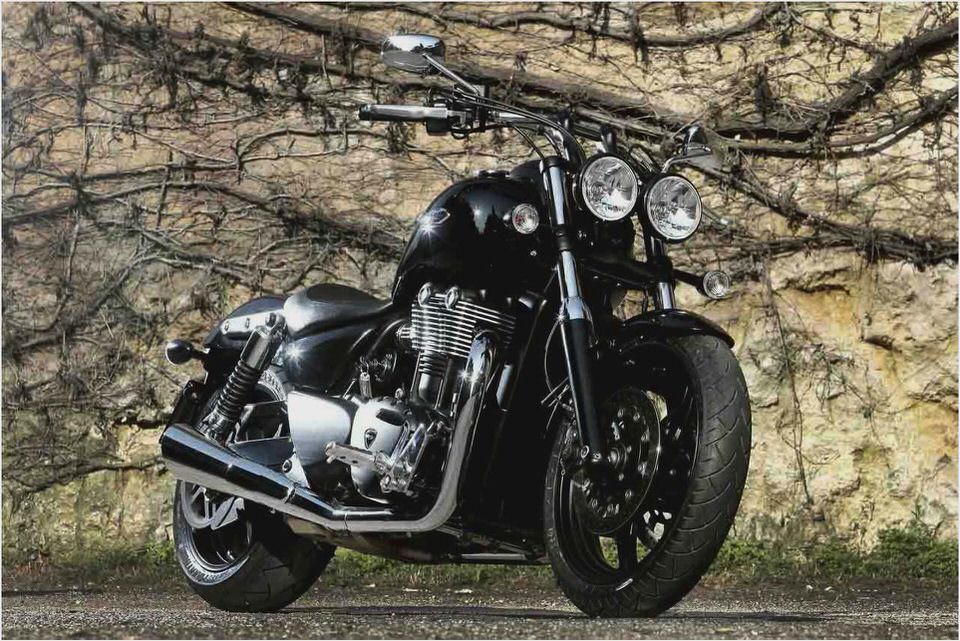 For being as large a machine as it is, the T-bird's really easy and natural to roll around upon, and once out on the road, each thousand revs on its small-but-useful tachometer nets about 25 mph. At 60 or so, then, you're right in the meat of the torque, and rolling on the gas from there results in pretty serious acceleration that'll scoot you right to the seat bolster and well past 100 before you have time to contemplate how you'd fare in Maricopa County's Tent City Jail in pink underwear.
Since the big-parallel Twin uses a 270-degree crank, the sound is the kind your red-blooded American V-Twin riders seem to crave, and when you whack the throttle there's quite a bit more blat than you'd think the law would allow from the Storm's dual exhausts, given that it burbles quietly at idle, and runs creamy-smooth at all rpm.
Keeping bow watch across that shiny black pair of headlights reinforces even more than before that you're commanding a big, wide vessel, but at 5-foot-8-inches tall, me and my 30-inch legs felt comfortable enough reaching out to the forwardish footpegs, and when that grows old you can deploy the passenger pegs and pretend you're on an old GS1000 with rearsets; the pulled-back bars are in a good place, the controls are light enough and the Triumph's suspension does an admirable job fore and aft—and in general there are no reasons not to enjoy riding the thing—though the Krylon jokes would grow old with the Matte Black version.
There you have it. Not content to build such excellent rule-breakers as the new Speed Triple and a pair of new 800 Tigers. the seam-ripping Street Triple, a slew of affordable and functional Bonnevilles and a great sport-tourer in the new Sprint GT —Triumph's now got its teeth even more solidly sunk into the big cruiser market. Why not? Unlike many motorcycle companies, Triumph is privately held.
And while the world is 50-percent off, according to owner John Bloor, he's going shopping.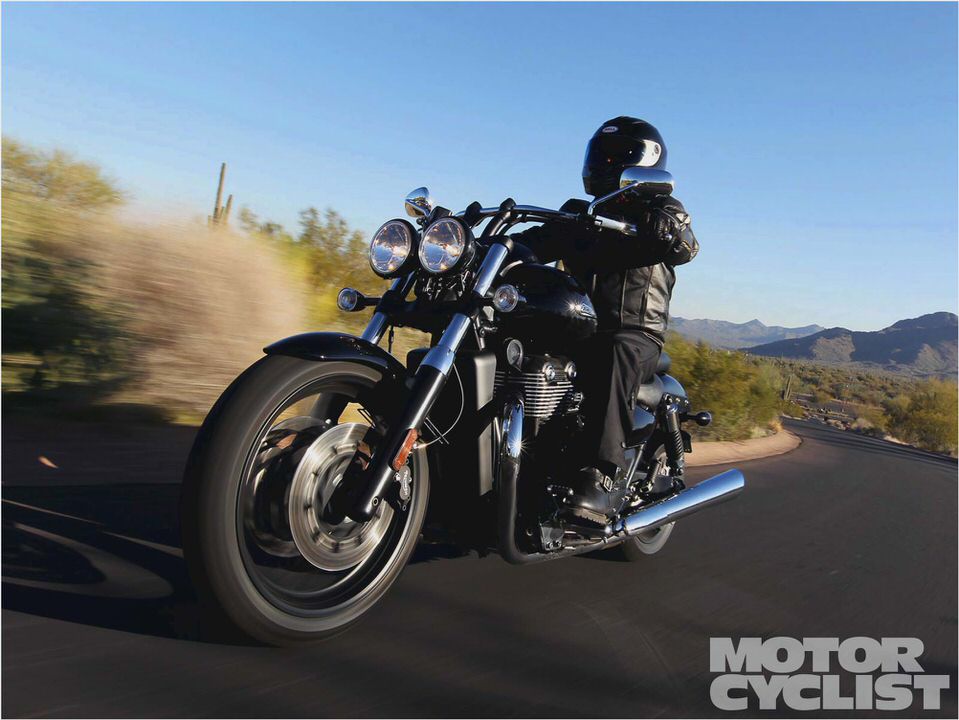 2012 Triumph Tiger 1050 ABS Review
2005 Triumph Daytona 650 – Used 2005 Daytona 650 at Motorcyclist Magazine
2014 Triumph Thunderbird LT & Commander First Ride Review
Road Test: R1200GS v. CBF1000F v. Tiger 1050 review – Road Tests – Visordown
What about Norton? – Vintage Motorcycles Online