West Coast Choppers
Long Beach Based Jesse James's Custom Choppers
West Coast Choppers is based in Long Beach, California, best known for the sale of customized chopper motorcycles West Coast Choppers. Founded in 1993,or at least the idea was, by Jesse James and built up from scratch with no investment, the company as it is known today has developed into both a highly esteemed and popular source for custom motorcycles .
Jesse James West Coast Choppers
Jesse James himself has become iconic both to motorcycle enthusiasts, a television career catalyzing the broadening of his public acclaim, he has featured in various documentaries and reality shows such as Monster Garage on the Discovery Channel. A Skilled welder and metal worker his passion and zeal towards the production of custom motorcycles was integral to West Coast Choppers success and the establishment of a brand.
Jesse James still hand-builds up to fourteen custom choppers per annum. There is great demand particularly from high end buyers and celebrities alike and therefore a long waiting list for his handmade chopper motorcycles. Among his well known customers are Kid Rock, Shaquille O'Neal and Keanu Reaves.
West Coast Choppers Custom Designs
With custom motorcycles West Coast Choppers offer the consumer a great range of high spec vehicles, more importantly built to the design specifics they want. Anything from basic chopper frame to fork length and aesthetics can be specified guaranteeing a uniquely exclusive motorcycle that is conformed solely to the buyer's requisition. The custom chopper bikes can demand a fee of as much as $125,000 to $150,000, the price and the exclusive nature of these motorcycles perhaps adds to their appeal.
Currently West Coast Choppers usually produce around 18 custom bikes a year. All Motorcycles are produced explicitly in shop with all parts tailored to that models specific design, this assures a certain legitimacy and originality to West Coast Choppers bikes . even adopting outdated techniques for the construction of chopper parts if necessary to achieve the correct look or feel.
West Coast Choppers do not import factory parts for that matter, providing an individuality and nonconformity that is without deviation. This individuality boasts the affirmation of a motorcycle truly unique to the company and the person.
Custom Built Chopper Frames
West Coast Choppers also offer custom parts such as specific model chopper frames, the 'Dominator' for example. As well as specialized parts they provide a varied range of accessories unavailable anywhere else. The parts importantly go some way in providing a means by which an enthusiast may build a bike up themselves.
West Coast Choppers Merchandising Success
Perhaps a major selling point of West Coast Choppers is the considerable brand and merchandising success, Jesses James coupled with his celebrity status and the caliber of the West Coast Chopper brand have greatly advanced commercial potential. Regalia such as the company logo, an Iron Cross, have become renowned and widely recognized and received. The popularity of West Coast Choppers as a brand is highly evident in the prevalence of the company's clothing lines throughout the United States.
The clothing line itself accounts for much of West Coast Choppers annual revenue, a now stylized and acclaimed brand offering apparel that ranges from standard casual wear to heavier duty work attire.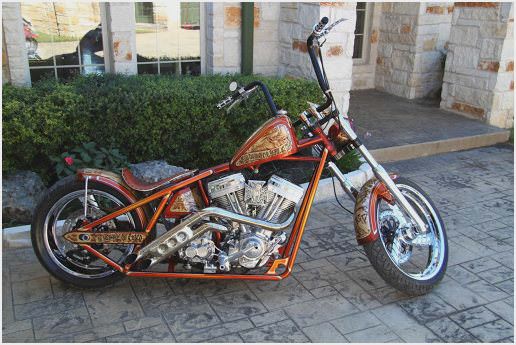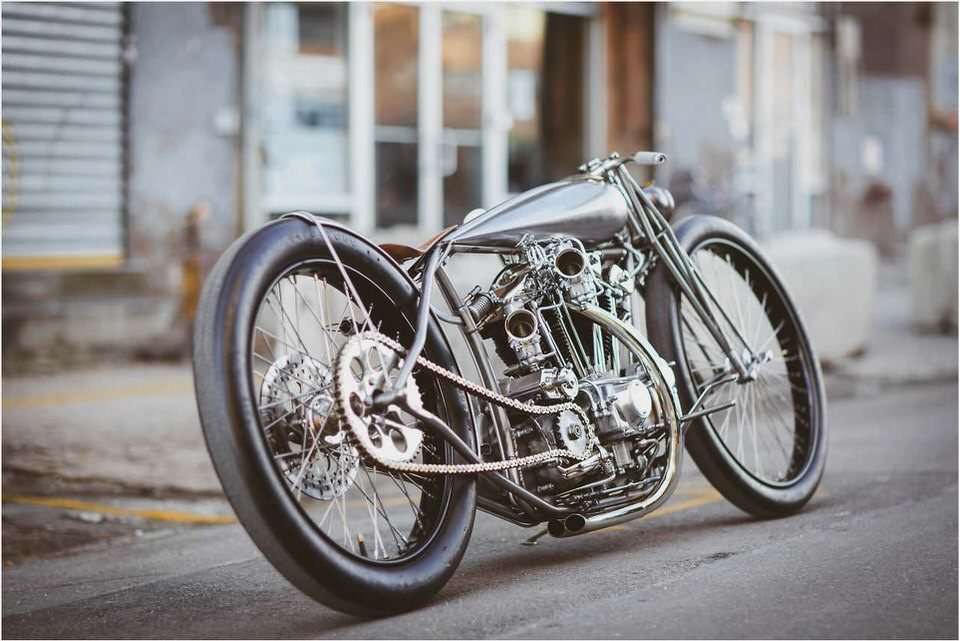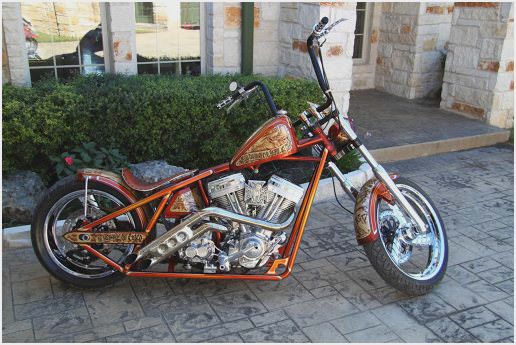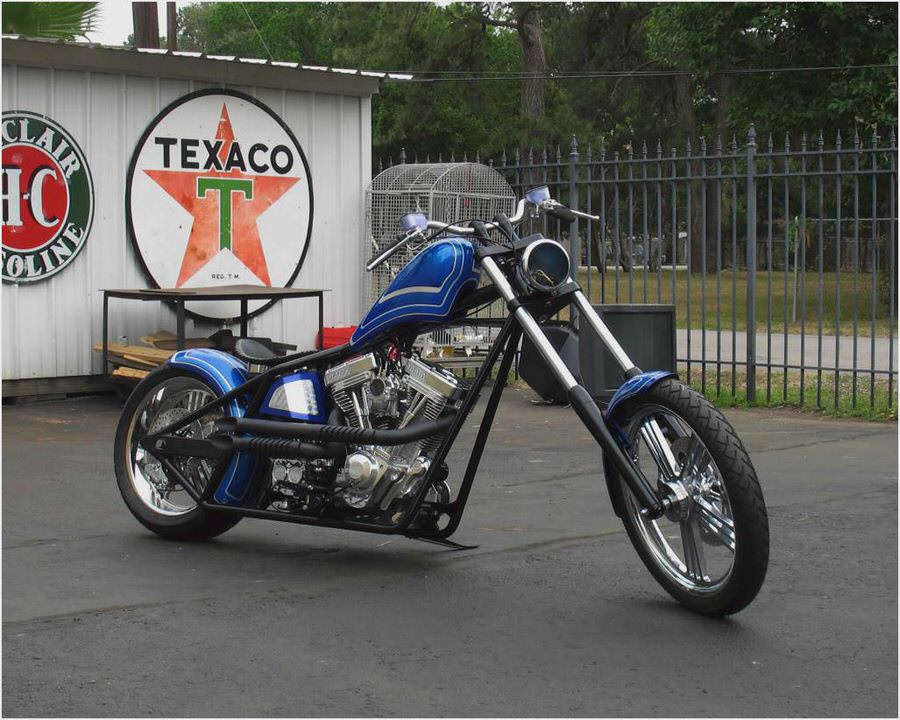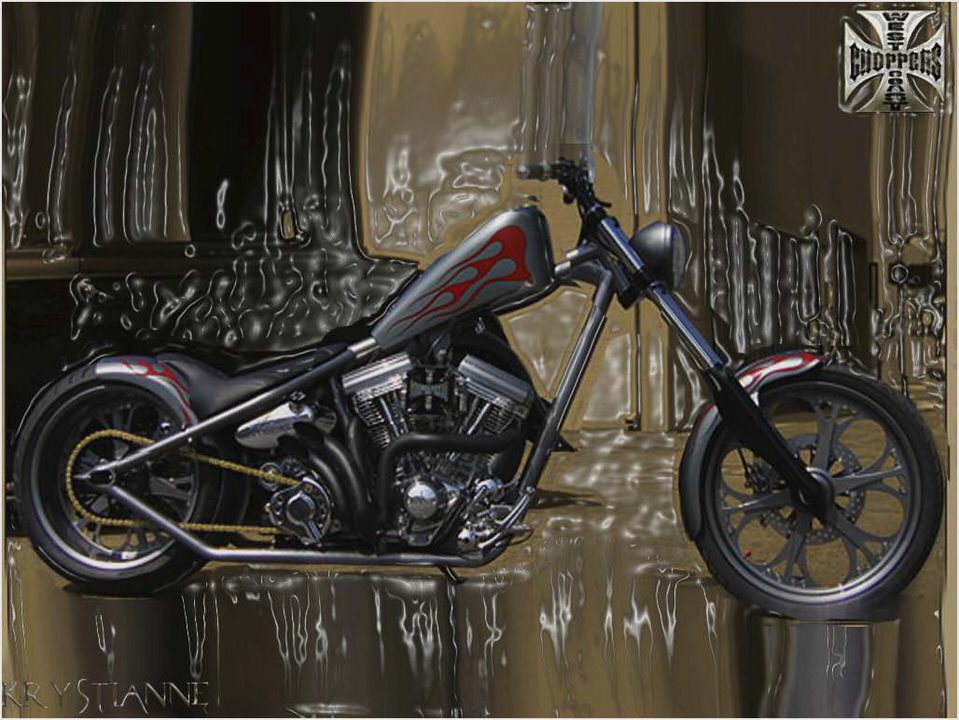 Of Tank Girl, Pete Pepe's CFL, and Craig Fraser………
Painting By Numbers by Steve Kelly Photography stephen berner's 45dgree
2005 CFL Motorcycle Street Chopper
Exclusive: Jesse James Is Relaunching West Coast Choppers. at Cyril Huze…
More Articles On Victory Hot Talk Hot Bike