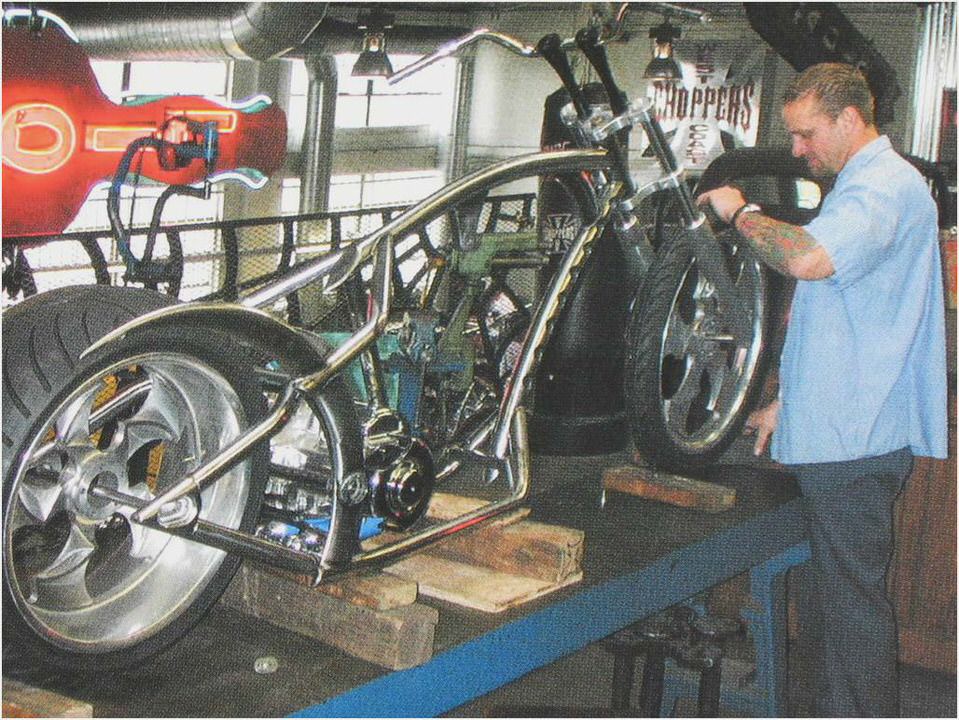 Kustoms and Choppers Magazine
West Coast Chopper Sturgis Special
Ever since I covered the American Chopper Build Off earlier this week, I have been getting emails from readers, asking me to do a featured Chopper on one of Jesse's bikes. I don't actually have permission from Jesse to do a feature so this Article may not always be up (I'm sure Jesse won't mind, hey its free publicity) but by request I am going to do a feature on one of the first bikes that got me into Choppers. West Coast Choppers' Sturgis Special !
I first saw this bike a few years ago on Discovery Channels "Motorcycle Mania II" as soon as I saw the Sturgis Special it became one of the Two Bikes that made me fall in love with Choppers (the other is Daddy O by Indian Larry). Just seeing the clean lines, the custom built frame, fenders and gas tank just made love the bike and choppers in General knowing that it was all 100% Custom to the builders liking. A Chopper was a rideable work of art that a builder could call his own and seeing a the Sturgis Special made me realize this.
What I really like about the Sturgis Special is the frame. The Frame is the body of the bike and its what holds everything together and the frame of the Sturgis Special just has what a classic chopper frame should look like. With its holes in the front tubes, its clean lines, its large and it just looks strong and aggressive like a chopper should!
Of course who can forget the gas tank on the bike. The Gas tank is like the Heart and Center of a Chopper, its the first detail you notice on a Chopper, it helps make the lines and over all flow of the bike. The one this chop has great, its smooth, no visible weld marks or scratch marks, its clean and it stands out!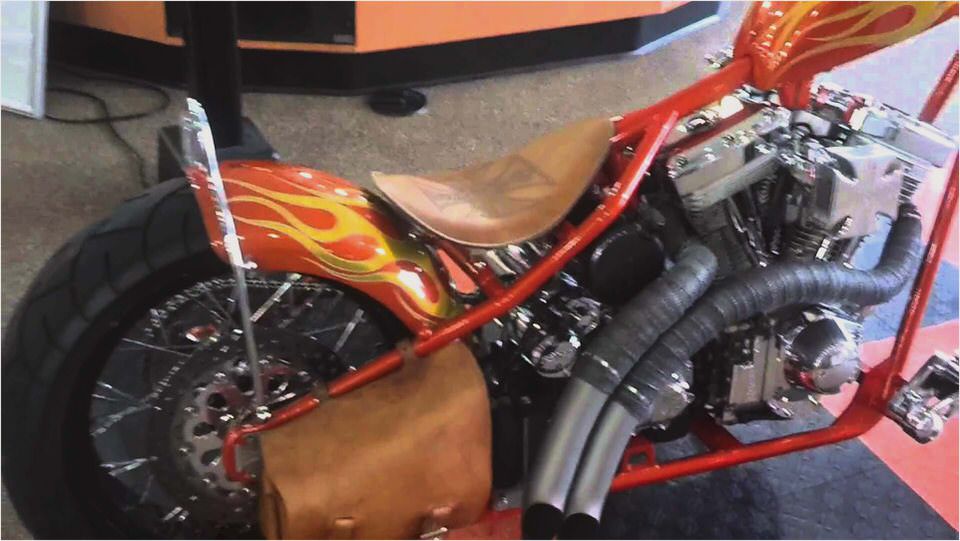 Sturgis Special was built during the filming of Motorcycle Mania II, the bike is one of West Coast Choppers El Diablo II choppers that Jesse wanted to build to be his own personal custom that he would debut at the Sturgis Bike show. He built the bike in a few weeks then rode 1400 Miles in 2 days with Indian Larry and other builders to get to Sturgis.
The Sturgis Special uses main components such as a West Coast Choppers El Diablo Frame, Patrick Racing Billet EVO Motor, Baker 6 speed transmission with Jockey Shifter, WCC custom Exhaust, WCC Custom Wheels, WCC custom Foot Controls, Brembo Brakes and Brembo Hand Controls. Front Fork Angle 38.0? Front Tire Dimensions 80/90, Rear Tire Dimensions 240/50
I can't say their really is anything that I do not like on the Sturgis Special the only is the Front Fender (Its a personal thing, I just hate front Fenders on Choppers) and the chrome on the frame. Its not the most chromed bike I have seen and its actually been ridding a lot so I can't complain about the chrome.
Overall I got to say the Sturgis Special is one of my favorite Choppers, it's an amazing bike and its everything you could ask for in a chopper.
2011 El Diablo Run Hot Bike
'American Chopper Biker Build Off' – Jesse James' test run…
West Coast Choppers – Jesse James West Coast Choppers – Custom Choppers
Of Tank Girl, Pete Pepe's CFL, and Craig Fraser………
Painting By Numbers by Steve Kelly Photography stephen berner's 45dgree