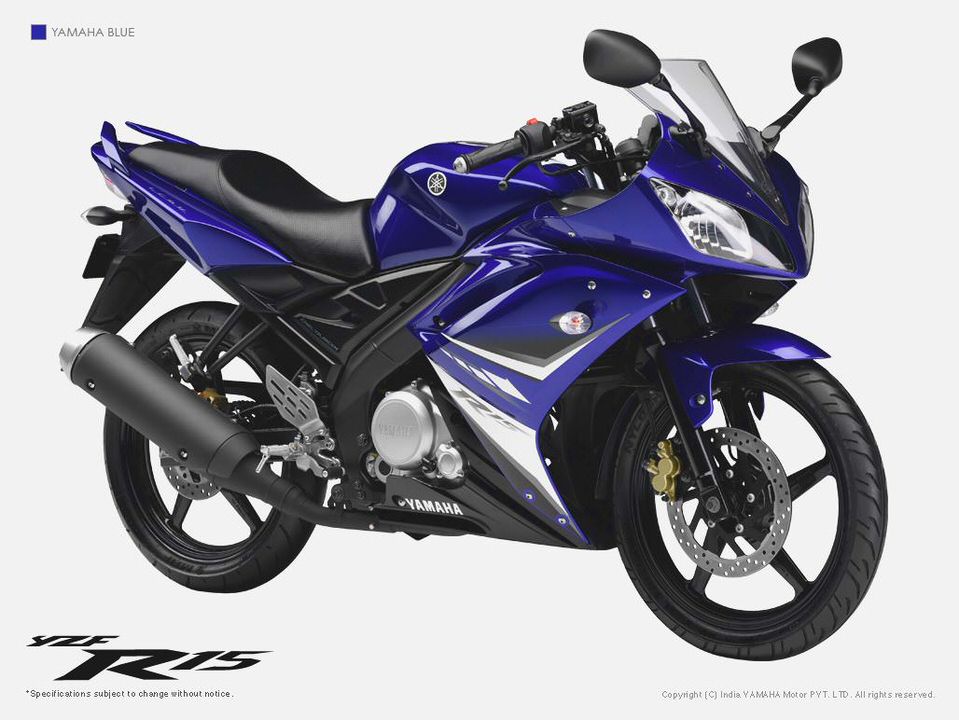 Yamaha Yzf R15
Yamaha Yzf R15 Update
18 December, 2010:  Yamaha R15 is the first bike in India which has complete sports look in the 150cc bike segment. The bike has got popularity in Indian market and now Yamaha India is going to introduce a revamped version of Yamaha R15 . The new Yamaha R15 is expected to be unveiled by month of January 2011. The bike may be having higher price tag than its existing version.
The 2011 version of the bike might be loaded with some new changes in the body design such as split seats, raised rear seat, wider rear tyre, new alloy wheel design, rear wheel hugger, new exhaust, LED tail lamps etc. There is no changes in the engine but it may be refined with new fuel efficient technology thus more fuel economical than older one.
Overall
Yamaha takes Indian two-wheeler market very seriously and launches several bikes in India with different engine specification to provide a good motorcycle range from its international stable. The company brought Yamaha R15 in the year 2008 and received pretty good customer response, after this launch Yamaha brought Yamaha FZ series, Yamaha YZF R1 and VMAX in India.
Yamaha R15 comes fitted with racing DNA and the competitive price tag has given a chance to those who wants sporty bike in lower price range. The Yamaha R15 has been gifted with innovative Yamaha technologies that rules the world racing since a long time. The iconic bike possesses a powerful engine, both side disc brake, return type 6 six speed gearbox, linked type monocross rear suspension, electronic fuel injection system and only self start option.
The bike now has to take on Bajaj Pulsar 220, TVS Apache RTR and Hero Honda Karizma. Yamaha YZF R15 is powered by a solid 150cc engine along with 4 stroke, single cylinder, liquid cool, 4 valve, SOHC. The animal has electric fuel injection technology for better power delivery, acceleration and mileage.
Yamaha R15 houses only self start facility and return type six speed gearbox.
Yamaha R15 has got disc brakes at both tyres for extra quick braking power. It also comes with linked type rear monocross suspension that gives wonderful results. The bike is assembled with 12 litres of fuel tank.
As far as its appearance is concerned, it tops the list of good looking bikes in India. Yamaha R15 features twin headlamp, full front fairing, digital dashboard, two-piece handlebars, naked chain, star shape five spoke alloy wheels, mounted rear view mirrors, body colour rear grab rail and razor sharp tail cowl.
Yamaha Yzf R15 Mileage, Average and Fuel Economy
The iconic Yamaha R15 is equipped with a 149.8cc of engine, 4 stroke, liquid cooled, single cylinder, SOHC and electric fuel injection system. This power packed mill of Yamaha R15 belts out a top power of 17 PS at 8,500 rpm and 15 Nm of maximum torque value at 7,500 rpm. The fuel injection system is meant for greater fuel efficiency and less emissions.
The system ensures maximum use of every drop of fuel thereby increased fuel economy. Yamaha R15 has a 12 litres of fuel tank capacity. You can have a mileage of around 40 kmpl in city with your dream machine.
The Yamaha R15 boasts of a newly developed cylinder with all-aluminum, named as DiASil Cylinder. It uses forged piston which delivers excellent heat dissipation, make mill power loss and increase mileage coupled with DiASil Cylinder.
Yamaha Yzf R15 Colors
At present, Yamaha R15 is available in various hues viz. competition white, racing blue, sunset red, midnight black and impact yellow. It has body colour at front fender, hood, fuel tank, front fairing, rear side panels and rear two-piece rail. Yamaha R15 white colour model has red colour front fender.
The bike has modern racing graphical job.
Acceleration and Pick up of Yamaha Yzf R15
The Yamaha R15 features liquid cooled, 4 stroke, single cylinder, SOHC, 4 valve, electric fuel injection system with a displacement of 149.8cc. The bike produces a top power figure of 17 PS at 8,500 rpm and generates a peak torque of 15 Nm at 7,500 rpm. Yamaha R15 incorporates a return type six speed manul gear box and self start option only.
The company has gifted the powertrain with innovative systems of Yamaha including DiASil Cylinder and electric fuel injection system in view to maximize power, acceleration and mileage. With this worldwide proven engine, no vibration are felt even at higher speeds. The fuel injection system works for ultimate fuel/air combustion which results in greater power and smooth response.
Yamaha R15 takes around 5.10 seconds to touch 0-60 kmpl sprint. You can reach to a maximum speed of 133 kmph.
Appearance of Yamaha Yzf R15
The Yamaha R15 is best looking, very much sporty and appealing bike present in India. It is having super aggressive design of all the parts whether it is mask or it is rear view.
The front view of the Yamaha R15 is adorned by a dual headlamp that shapes like an owl seating on a branch of a tree. In this headlamp cluster, each headlight case has small lights for sharp view. The twin headlamps are divided by a sharp line in between, from here a v shape transparent wind screen is added.
At the both sides of the wind screen, mounted black colour rear view mirrors are fitted. Yamaha R15 comes with front fairing mounted front turn indicators that make easy view for the rider behind your machine.
The Yamaha R15 has been fitted with a digital cum analogue dashboard, it has analogue tachometer and digital fuel gauge, tripmetre and speedometer. At the same time, it has two-piece handlebar for rigidity and style. Yamaha R15 comes with compact size fuel tank that sports Yamaha emblem while fuel lid opener of the bike looks stylish.
 The front fairing starts from mask and goes down below the engine covering fuel tank. It has the model name sticker, Yamaha R15 . and other graphic stripes.
Yamaha R15 gets step-up type seat that ensures sporty seating position. For rider, a toe-gear shifter and footpegs are provided while the pillion has to put his feet on centrally located footpegs. The rear side is left totally naked for the sake of style.This is amazing thing in the bike that it has body coloured bulky horn shaped grab rail that give it classy image. The Chain is naked than no rear mud-guard, no footrest, however, two-piece garb bars are added for the pillion.
Yamaha R15 comes equipped with stylish up swept silencer which do not have heat shield. It makes pleasing sound when in running position.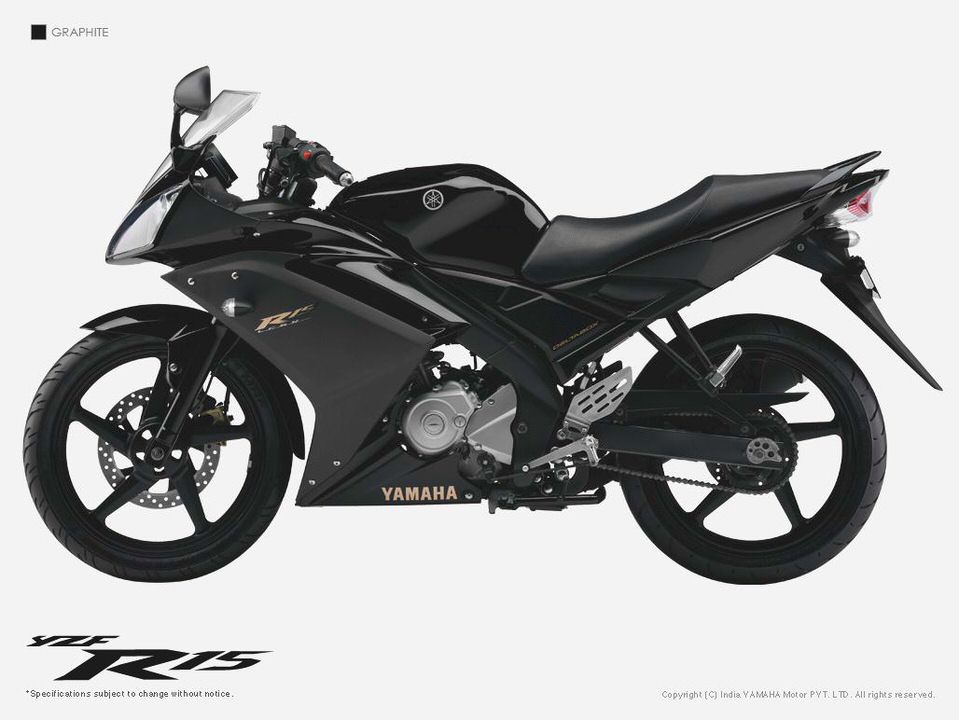 The rear side of the Yamaha R15 is very much similar to its front one. The tail lamp cluster is fitted at the tip of the tail. A sharp rear cowl gives it much needed sporty image.
Yamaha R15 has been blessed with five spoke black alloy wheels for better performance and mileage.
Comfort Feature of Yamaha Yzf R15
The Yamaha R15 has been fitted with a lots of comfort features that allow you to enjoy silky-smooth riding. The seat of the bike is step-up type that ensures ultimate seating on the bike. The Yamaha R15 also comes with split grab rails that help the pillion to enjoy fear free riding. Foot pegs are there for both the rider and pillion as well.
The handle bar position of the Yamaha R15 is set at decent distance so as to allow the rider to have a greater grip that boost confidence.
Dimensions of Yamaha Yzf R15
The most popular Yamaha R15 has got excellent ground clearance of 160mm that gives it sporty stance; the wheelbase of the bike is also good enough which provide it race-inspired strength. The overall dimension of Yamaha R15 includes: length 1,995mm, width 670mm and height 1,070mm. The saddle height of the R15 is 790mm.
The 2011 Yamaha R15 does not have changes in the dimension but its wheels will come with stylish alloy design and and rear wheel might fatter than present.
Suspension of Yamaha Yzf R15
The Yamaha R15 comes blessed with latest suspension system. These most advanced suspension of the bike delivers silky riding long routes. Yamaha R15 has Telescopic suspension at front and Linked type Monocross at rear that give it sporty image with smooth riding for the rider and passenger.
The linked type Monocross suspension of the bike is rigid as well as smooth and helps to provide jerk free ride on any kind of terrain.
The new variant of Yamaha R15 is also equipped with same suspension system and promises to provide excellent riding experience. This bike provides much needed stability, rigidity and balance.
Handling Control Yamaha Yzf R15
Yamaha R15 is most popular bike in India in 150cc bike segment with sporty body design. The bike has been loaded with most advanced features and improve better handling and control on the bike. Yamaha R15 is equipped with large and wider wheels and tyres, long telescopic suspension at front and Monocross suspension at rear. The bike has wide and long seat, oriented designed fuel tank that supports the rider seating posture.
Both the handlebars of the bike have been fitted according to sporty style and foot pegs are also very good. Wheelbase of the Yamaha R15 is 1,290mm that provides good handling and control for the rider.
The new variant of Yamaha R15 has also been loaded with innovative features that provides good handling and control on it. Yamaha R15 is reliable in terms of comfort and handling.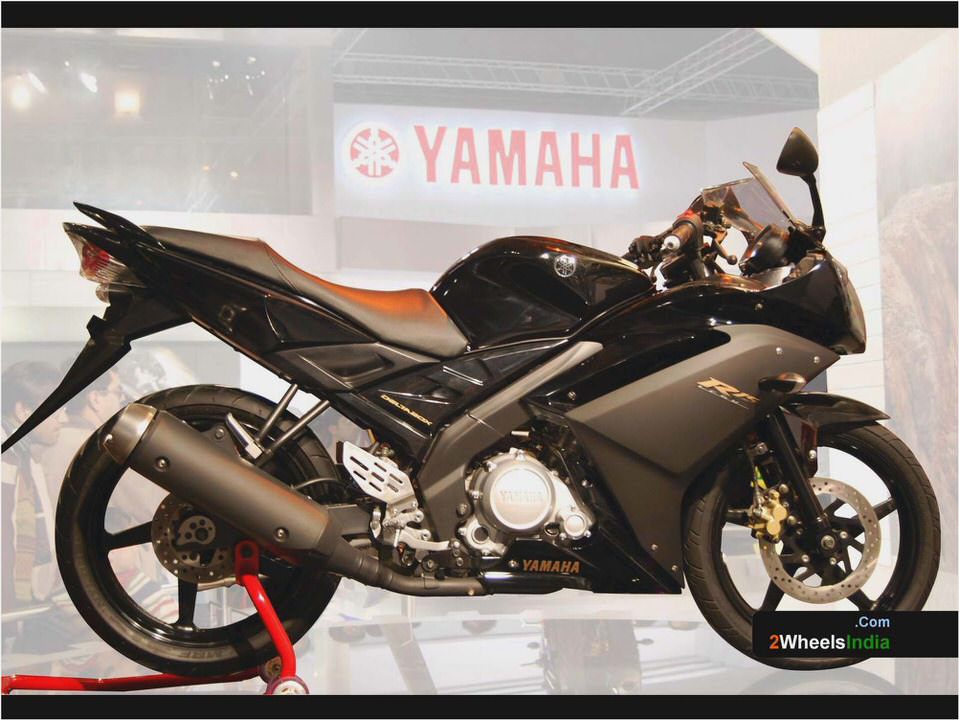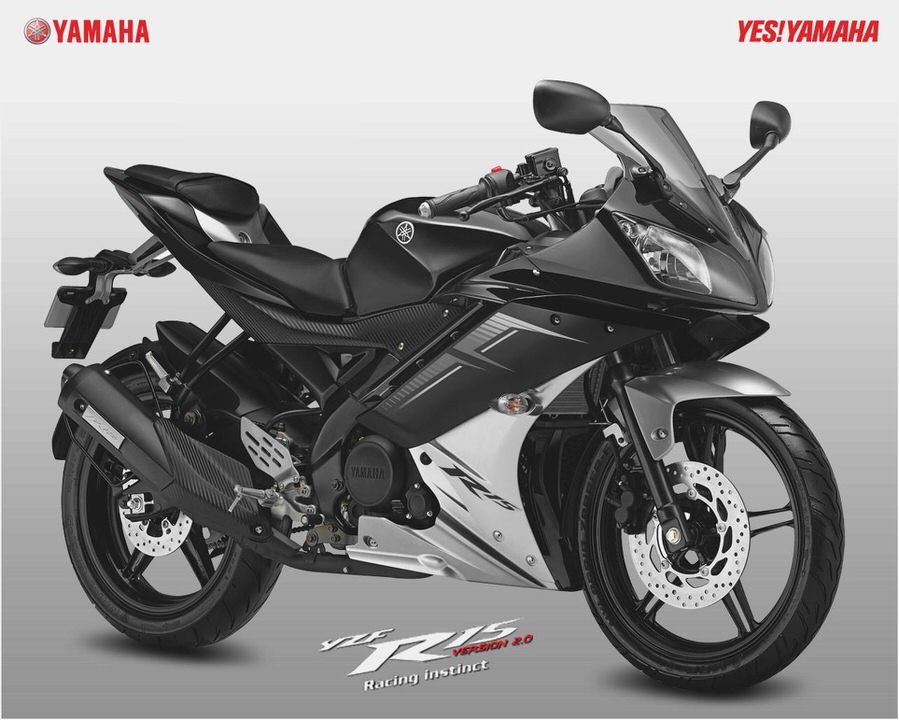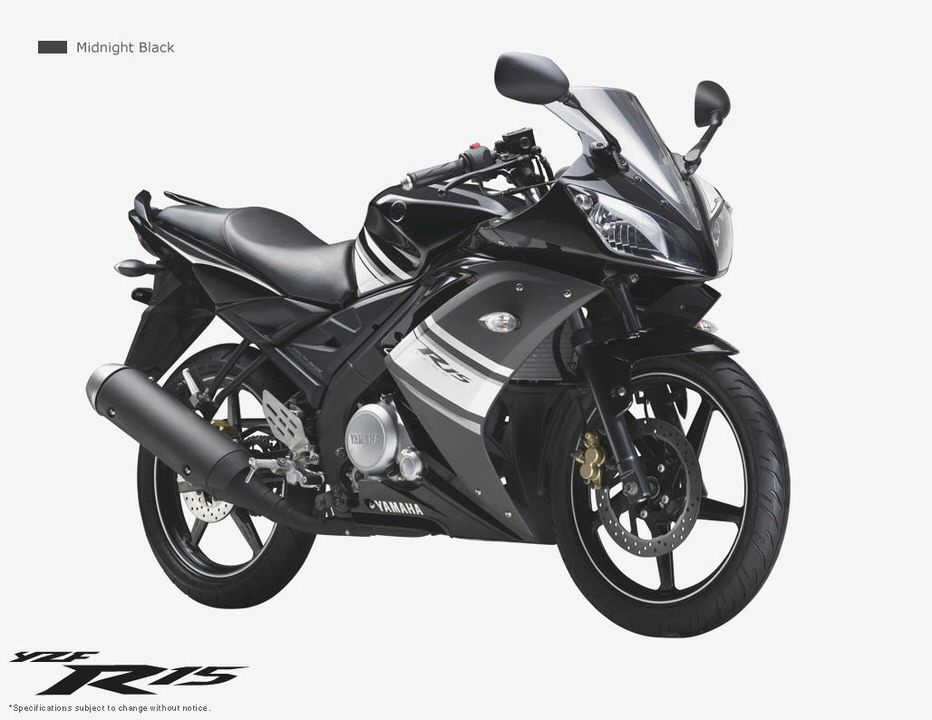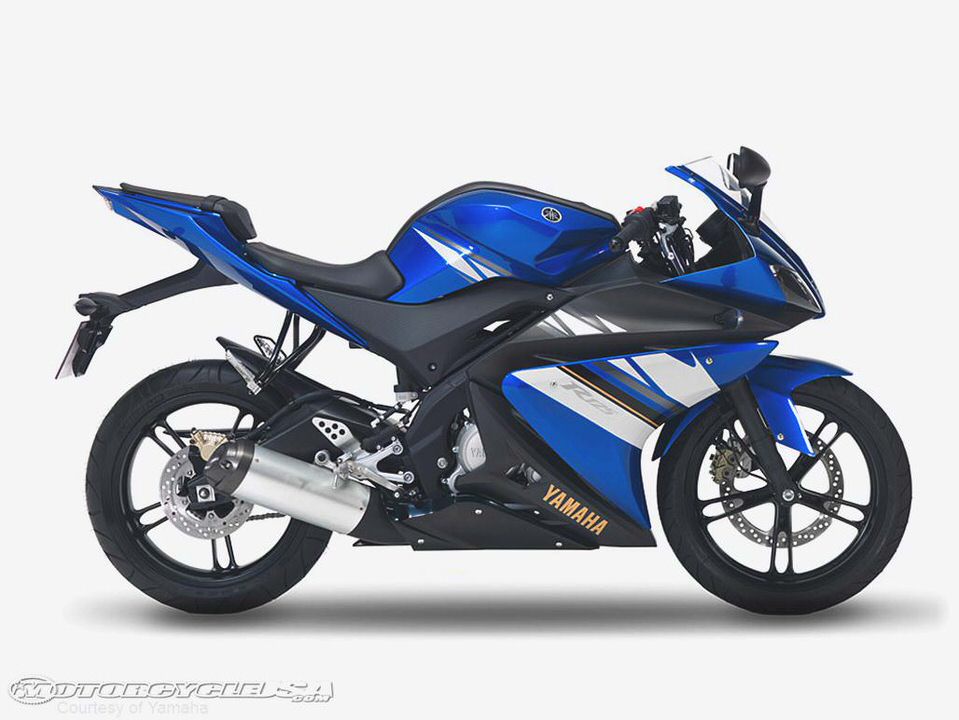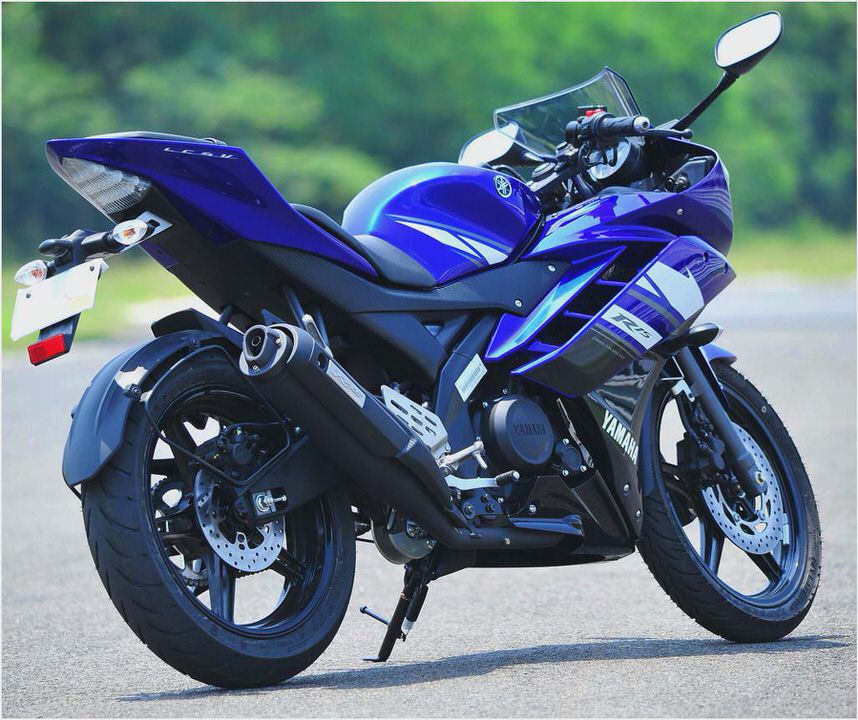 Test Ride: Yamaha MT-01 – Canada Moto Guide
Rider Test: 2013 Yamaha FJR1300 Rider Magazine
Yamaha FJ1100-1200 – Bike Reviews & News – Bikesales Mobi
Yamaha 2014 TriCity for sale
2010 Yamaha YZ85