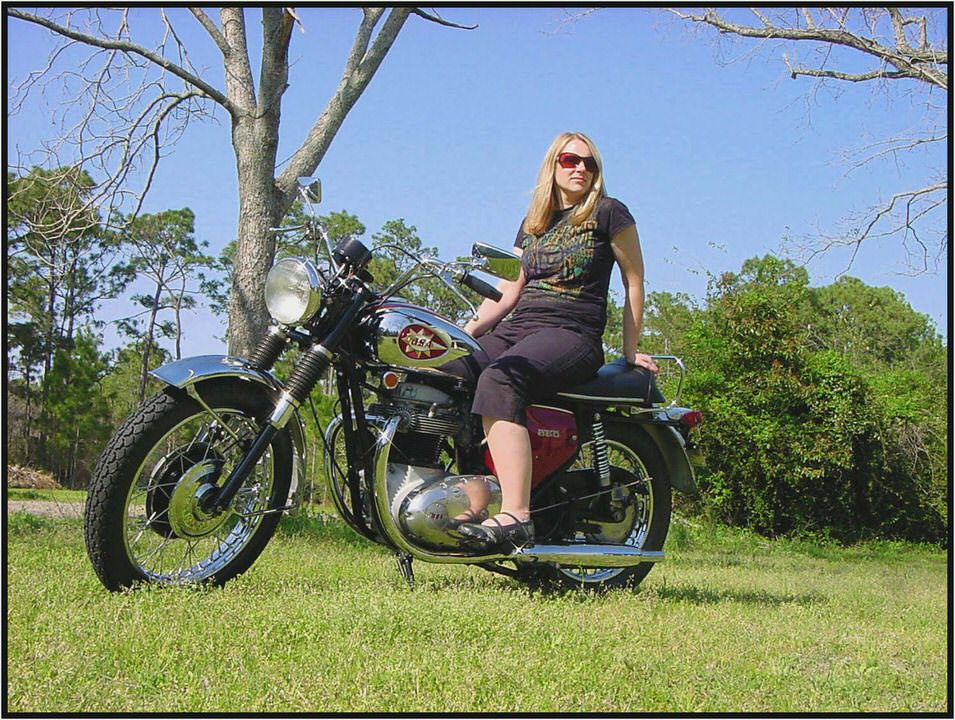 Victory is sweet when you get to ride a classic event, and win it too
Feature Article from Hemmings Motor News
Owner Serge Benoit brought this low-mileage piece of British iron across international borders to show it in the Bennington Car Show's motorcycle class this September. No trailer queen here; Serge rode the bike from Quebec to the event. We cornered him while he was getting gas at the Hemmings Filling Station to take a few photos.
Serge purchased the bike in 2009 from its original owner, with a scant 300 miles on the odometer. An oil change, a set of plugs and some fresh gas, and the bike kicked right over. Serge felt that the bike should be ridden and enjoyed, which is exactly what he is doing with it.
No stranger to Canadian classic car and bike events, this 1978 BSA Thunderbolt won first place at the Le Mirage Concours d'Elegance in Blainville, Quebec, just north of Montreal, on July 18. It received 95 out of a possible 100 points. During the Concours judging, one of the judges asked him if he still had the original tool kit that came standard on all 1978 models. Serge said he wasn't aware it had a tool kit.
Together, they removed the right side cover and found the tool kit, untouched since it was placed there at the Birmingham Small Arms factory in Small Heath, England, in 1978.
After winning its first place award in Montreal, the bike was entered in the Stowe Car Show in August, where it placed sixth, receiving 93 points. When the owner asked the judge after the awards presentation why he only scored 93 out of 100, he was told it was because the first owner had replaced the original Dunlop Gold Star K70 tires with a pair of Avon touring tires. Interestingly, Serge still had the two original Dunlops that the first owner gave him when he purchased the bike.
He had them thoroughly checked for dry rot, found they had none, and remounted them.
A 654cc overhead-valve engine propels the Thunderbolt, and the drivetrain was finished with a four-speed left foot shift transmission and chain-drive to the rear brake drum and sprocket assembly. The four-stroke engine has a 3-inch bore, a 2.9-inch stroke and produces a respectable (at the time) 46hp at 7,000 RPM. Fuel is supplied by a single Amal 928 carburetor, and the 1978 BSA has an external oil tank instead of the more common oil-in-frame design incorporated into earlier BSA bikes.
The aforementioned 3.25 x 19 Dunlop tires are mounted to laced chrome rims, and drum-type front and rear brakes were standard. Lucas electrics power the ignition and lights and charge the battery.
Currently, the bike has only 1,900 miles on it, but its owner is also getting the enjoyment of the open road, in addition to the accolades for showing an original, unadulterated British bike. The BSA took first place in its category while displayed at the Bennington Show as well.
Owning a vintage BSA motorcycle is still relatively easy. Prices, while steadily climbing, are nowhere near most American and even Japanese cruiser bike pricing in today's market. Many parts are still available, and BSAs still garner a good amount of respect among vintage bike collectors.
This article originally appeared in the February, 2011 issue of Hemmings Motor News.
1952 Rex FM34 on NSU-Opel Herrenrad www.Oldbike.eu
BSA Trackmaster Bike EXIF
The BSA 441 Shooting Star – Classic British Motorcycles – Motorcycle Classics
1971 BSA A65 Lightning 650
Bsa A65 Thunderbolt Big Bore Kit, Cheap Bsa A65 Thunderbolt parts.