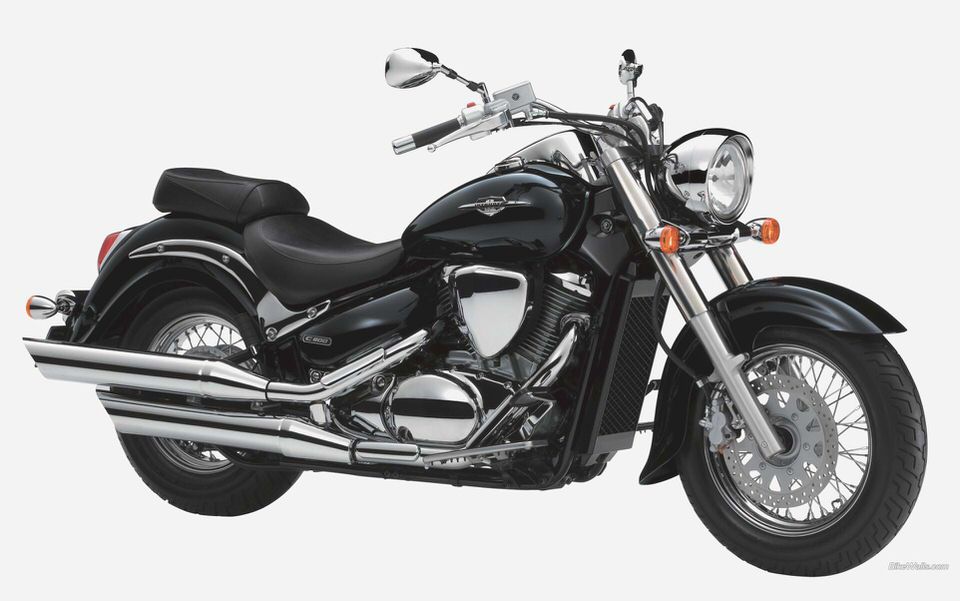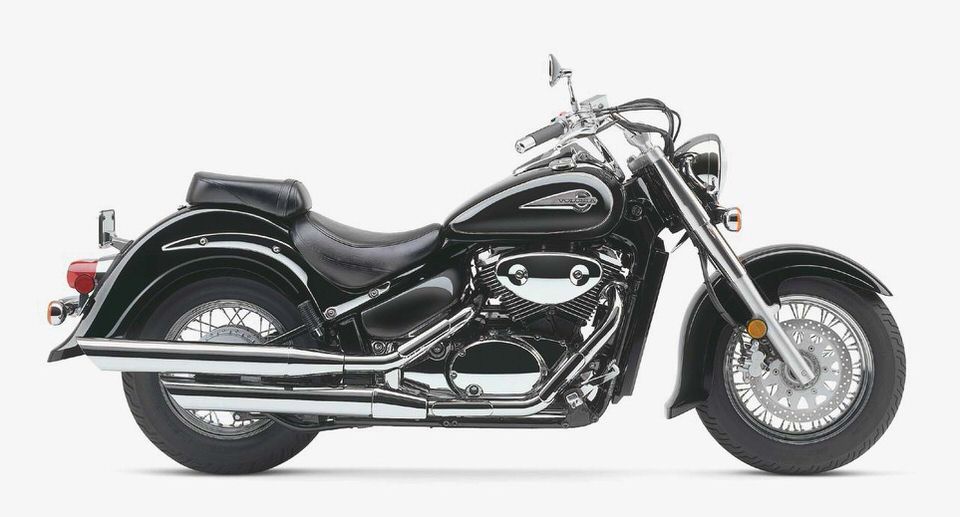 Click photo to enlarge.
It makes a great desktop image.
2002 Suzuki VL 800 Intruder Volusia
– 2002 Suzuki VL 800 Intruder Volusia
2002 SUZUKI CRUISERS
Suzuki's commitment to all kinds of motorcyclists is nowhere more obvious than in its cruiser line-up. Suzuki builds a wide selection of models designed to appeal to people of all ages and experience levels. Classically styled motorcycles with upright handlebars, plush seats and comfortable riding positions. But don't let the traditional looks fool you, every one of these bikes comes standard with the latest in technology and performance.
With seven bikes ranging from 250cc all the way up to 1500cc, there's a Suzuki cruiser for every type of rider.
VL800 INTRUDER VOLUSIA
The 2002 Suzuki Intruder Volusia is a motorcycle that goes far beyond styling and is a full-size motorcycle that delivers traditional style, modern engineering excellence and a tremendous value in two new color combinations for the new year. The latest Intruder in the Suzuki line-up has the right look and the right features including a wide low fuel tank carrying 4.5 gallons of fuel, and a tank mounted speedometer with a LCD fuel gauge. Combine this with a low and comfortable seat, a downtube cradle frame with a progressive single shock rear suspension and a class leading 65.2 inch wheelbase and you've got the makings of great cruising machine.
Powered by the same 805cc, 45-degree liquid-cooled V-twin engine last seen in the VS800 Intruder, the Volusia is tuned for increased torque and low rpm power. Using a single 34 mm carburetor, short duration cam timing, and a carefully sized intake tract, the Volusia develops a broad, flat powerband that achieves peak torque at just 2500 rpm. The staggered dual exhaust system appeals to both the eyes and the ears, but has also been designed with low rpm power in mind.
Power is transferred through a reliable five-speed, shaft-drive transmission with a tall fifth gear for relaxed highway cruising.
A wide, low seat enhances rider comfort and confidence at low speeds, while the combination of the low seat height, handlebar shape and forward mounted foot controls make the Intruder Volusia comfortable to ride in or out of town. The preload-adjustable, single-shock rear suspension combines a rigid tail look and a comfortable ride along with long travel front forks and a 33.3 degree rake angle at the front. Rolling stock consists of a 16 inch front tire and a 15 inch rear mounted on polished spoke wheels along with a 300 mm front disc brake and a 180 mm drum brake at the rear.
Add to this show-quality paint and graphics, numerous painted parts, and generous amounts of chrome from headlight to taillight. All part of the Volusia's uncommon attention to detail and quality.
Intruder Volusia 800 – Inspired by two wheel passion.
VL800 (K2) INTRUDER VOLUSIA AT A GLANCE
Suggested Retail: $6,599.00
Engine Type: 4-stroke,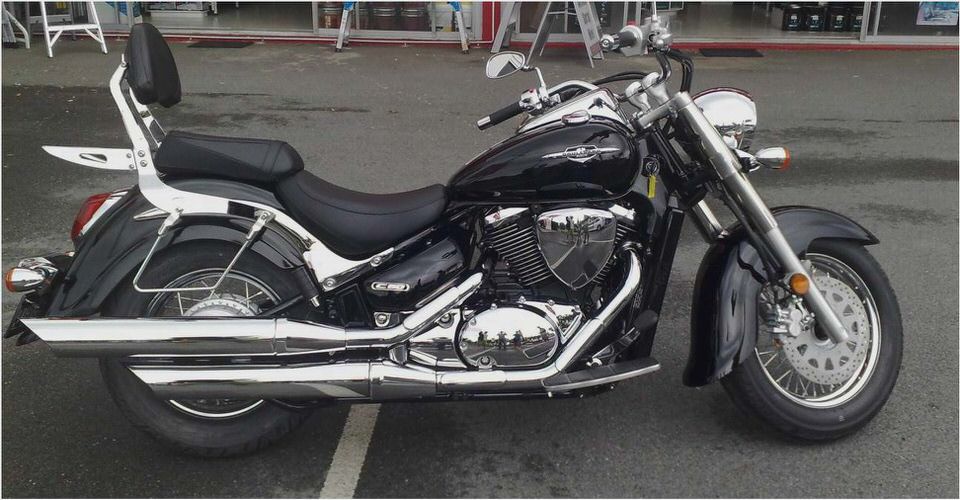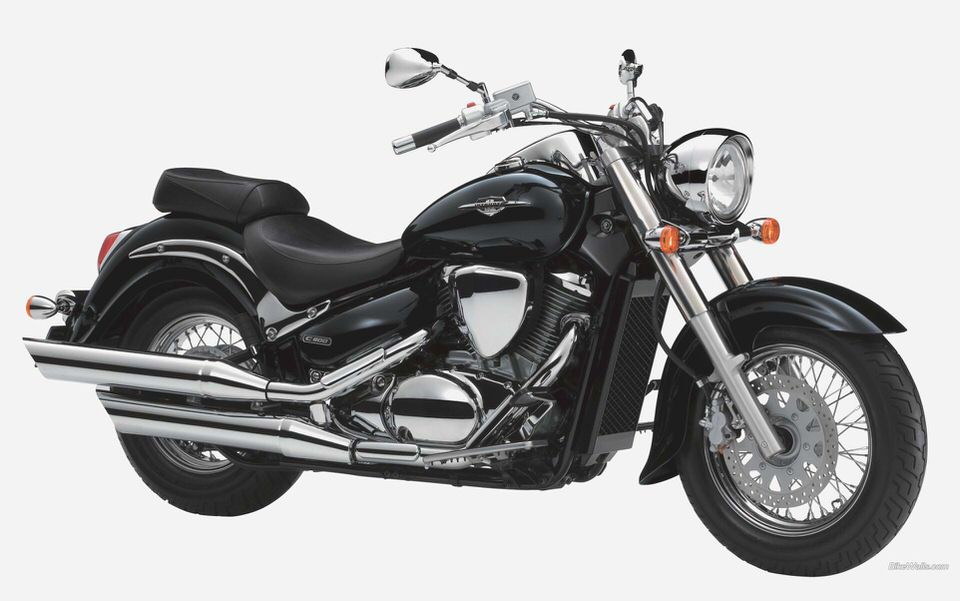 liquid-cooled V-twin
Specifications:
Overall Length: 2,495 mm (98.2 in)
Overall Width: 985 mm (38.8 in)
Overall Height: 1,100 mm (43.3 in)
Seat Height: 700 mm (27.5 in)
Ground Clearance: 140 mm (5.5 in)
Wheelbase: 1,655 mm (65.2 in.)
Dry Weight: 239 kg. (526 lbs)
Specifications are subject to change without notice, in accordance with national regulation and legislations.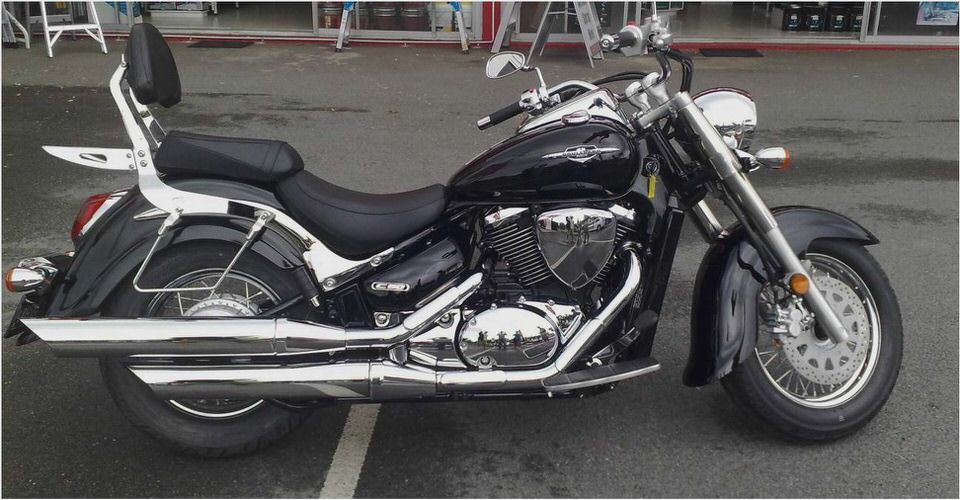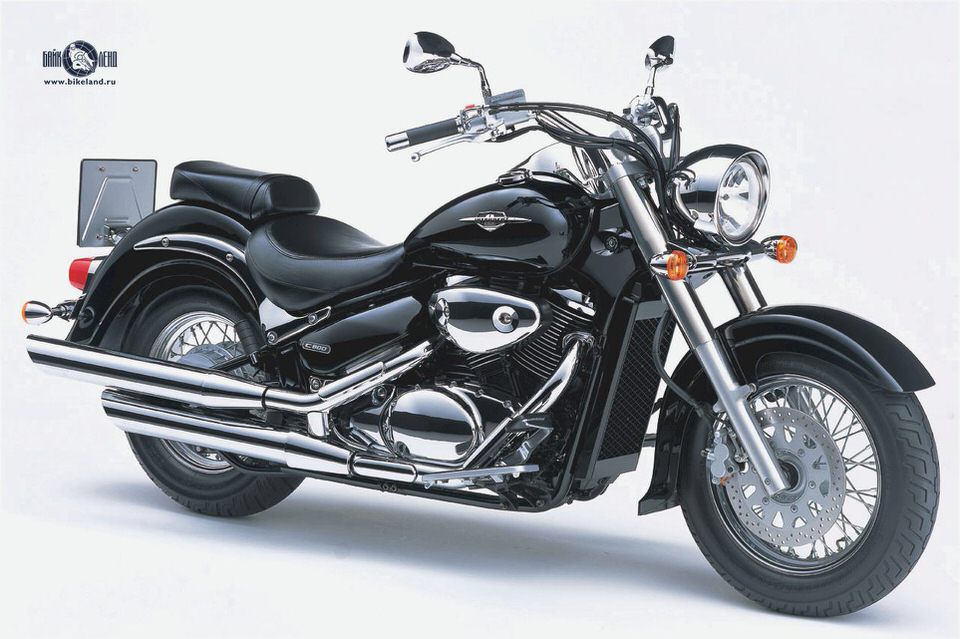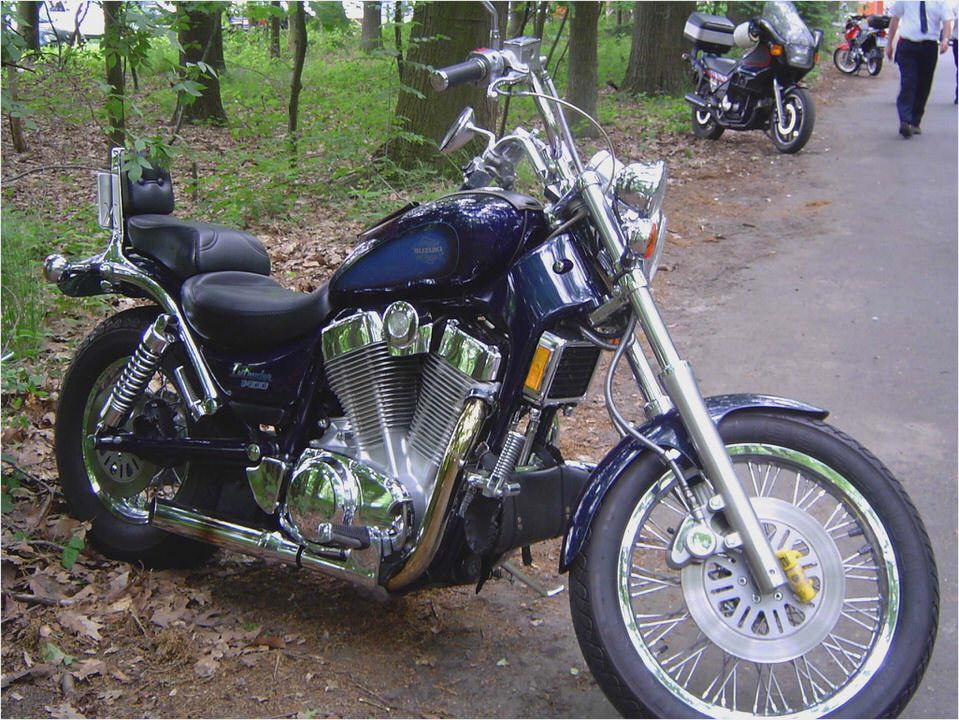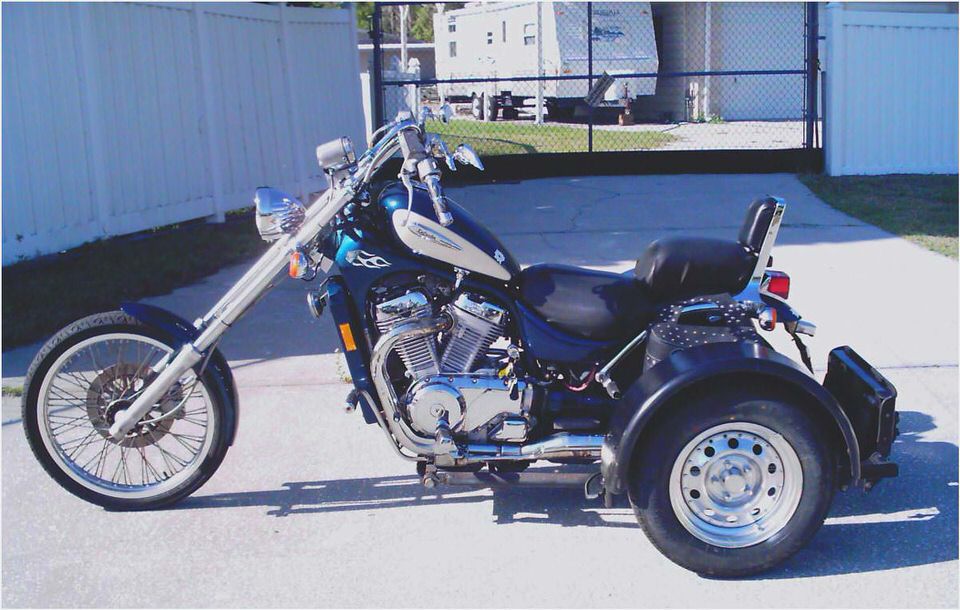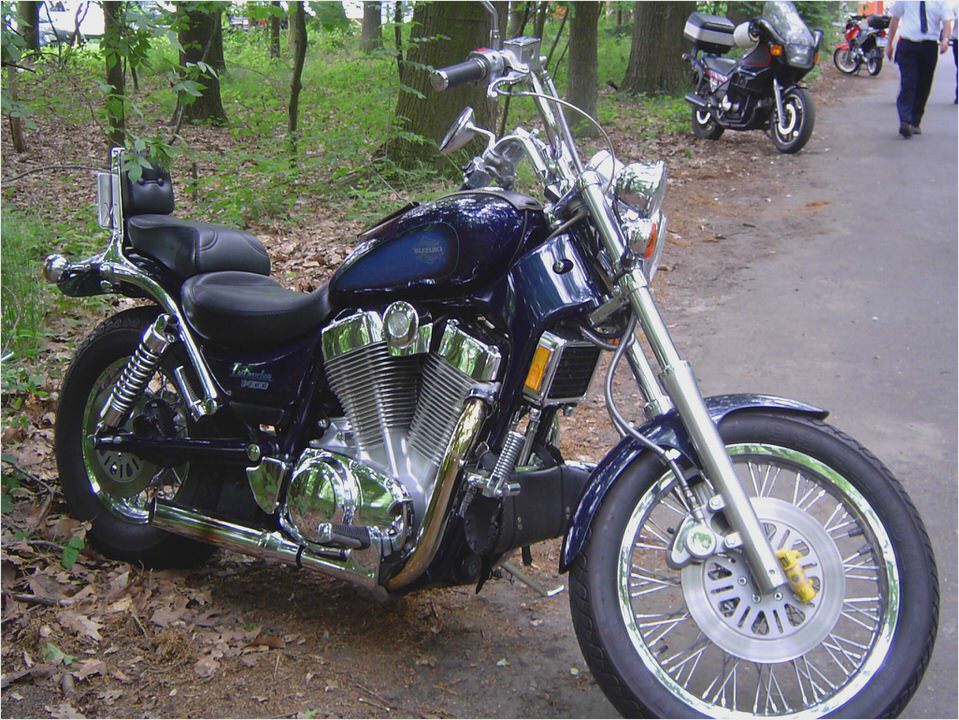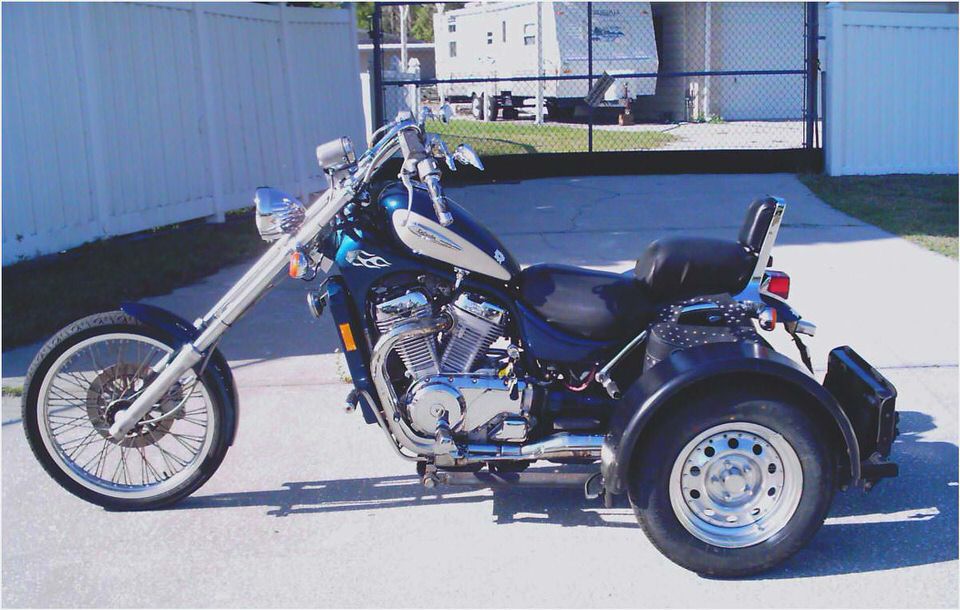 2009 Suzuki Bandit 1250S ABS – Used 2009 Bandit 1250 S ABS at Motorcyclist…
2013 Suzuki RM-Z450 Motocross Review
2002 Suzuki Bandit 1200s Consumer Reviews 2005 Bandit 1200S – An Excellent…
Suzuki at the 2007 Frankfurt Motor Show – Next Car Pty Ltd – 17th August, 2007
Suzuki unveils new 2011 GSV-R – Motorcycle Sport MotoGP News MotoGP…