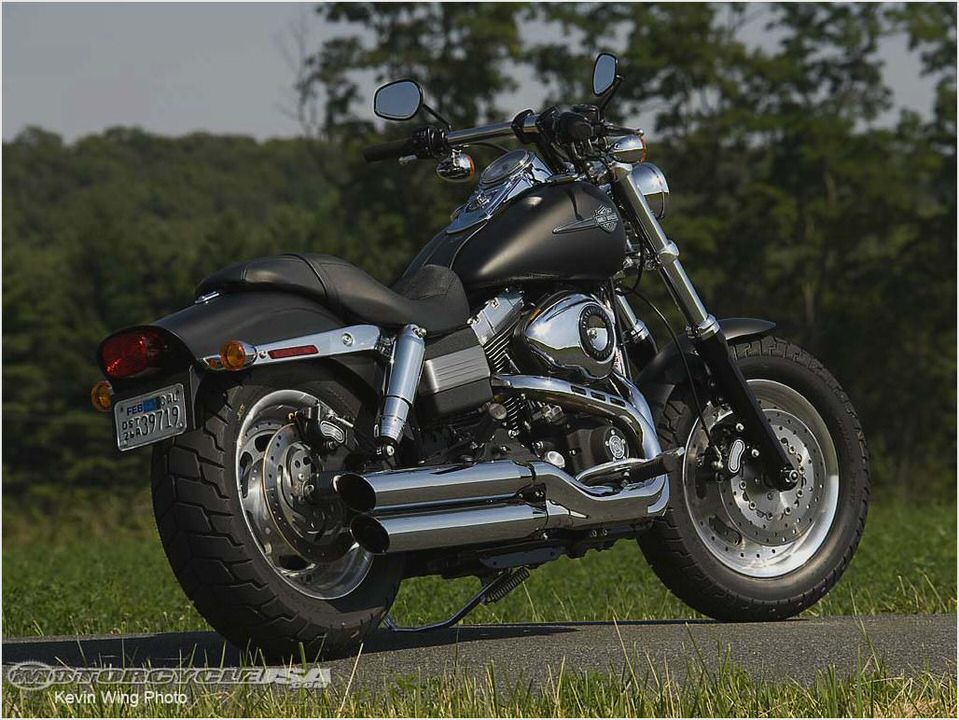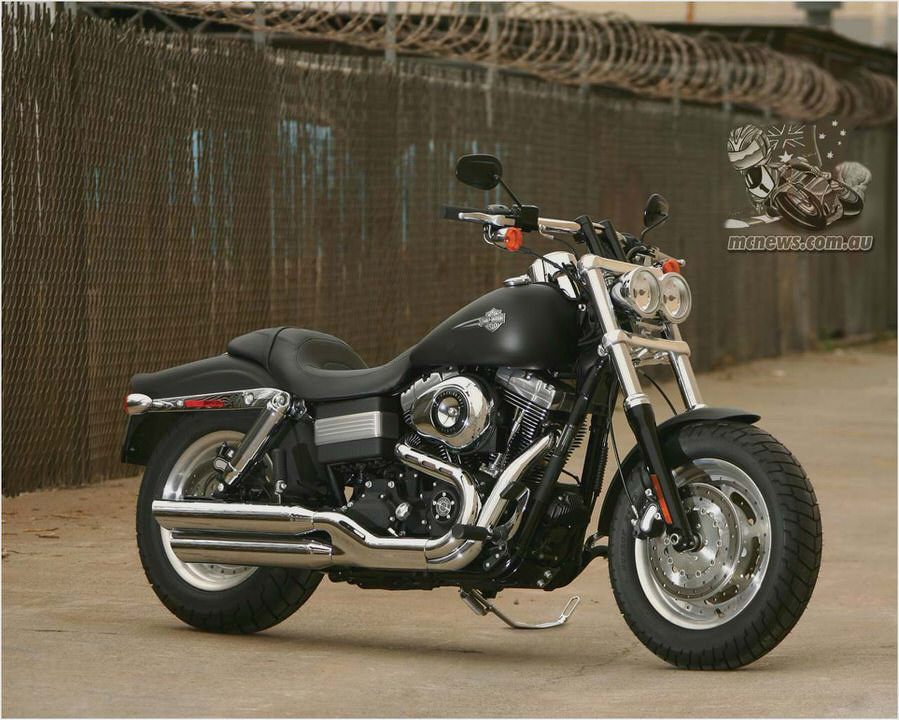 Harley-Davidson Fat Bob Adds a Member to the Dyna Family for 2008
Along with the Harley-Davidson Rocker and Rocker C. the 2008 Fat Bob is a brand new bike that offers a departure from the typical factory cruiser formula. Though less radical than the Rocker, the Harley Fat Bob's dual headlights lend it a distinctive look that offers a twist on traditional Harley style, while fat tires and a low seat accentuate its mean road presence.
Harley Fat Bob: And Then There Were Seven
Joining the FXD Super Glide, FXDB Street Bob, FXDL Low Rider, FXDWG Wide Glide Anniversary Edition, and the FXDC Super Glide Custom, the FXDF Fat Bob easily fits into the Dyna family like a long lost brother. Shared characteristics with other Dynas include an air-cooled, rubber-mounted Twin Cam 96 V-twin, Electronic Fuel Injection, a 6-speed Cruise Drive Transmission, an under-seat battery box, and exposed rear shocks. Like all Dynas, the Fat Bob incorporates a chassis that was redesigned in 2006 for better handling.
The bike's exterior proportions support its distinctive name. Though the rider sits on a low, amply cushioned saddle, a wide 5.1 gallon fuel tank forces legs to wrap around. A bobtail rear fender rests over a 180mm wide 16" rear tire, and slotted disc wheels add visual heft to the bike's profile, as do curvaceous 2-1-2 chrome staggered shorty exhausts with a "Tommy Gun" perforation pattern.
Up front, a 16" 130mm tirethe largest ever on a Dynais paired with a small fender that recalls the bobber-inspired styling derived from customized, post World War II bikes. The Fat Bob's face has a striking demeanor: its v-shaped drag bar and blacked out fork sliders, handlebar risers, and mirrors are capped with slick twin headlights that distinguish it from Harleys past.
The Mechanical Underpinnings Beneath That Factory-Custom Style
A Tommy Boy exhaust wraps around the 96 cubic inch V-twin.
Photo Kevin Wing
Harley-Davidson Dynas boast their own bold style, and the Fat Bob's mechanicals are suited to its too-cool-for-school exterior. The rubber-mounted Twin Cam 96 is a 1,584cc powerplant that, as is typical with Harley engines, is tuned for massive low-end grunt. Torque peak is 92 ft lbs at an impressive 3,000 rpm, which encourages short shifting when maximum acceleration is required.
A 6-speed Cruise Drive transmission provides smooth shift action, and though the clutch isn't hydraulic, pedal effort is manageable.
Front brakes incorporate large, dual floating rotors with 4-piston front and 2-piston rear calipers which slow down the 703 lb bike effectively, while providing decent feedback and moderate lever effort. All 2008 Dynas feature black stainless steel braided brake lines.
The wide-set front fork is a 49mm polished aluminum unit with dual-rate springs, and exposed coil-over shocks sit the rear. Aiding its custom look is a fork rake of 28 degrees.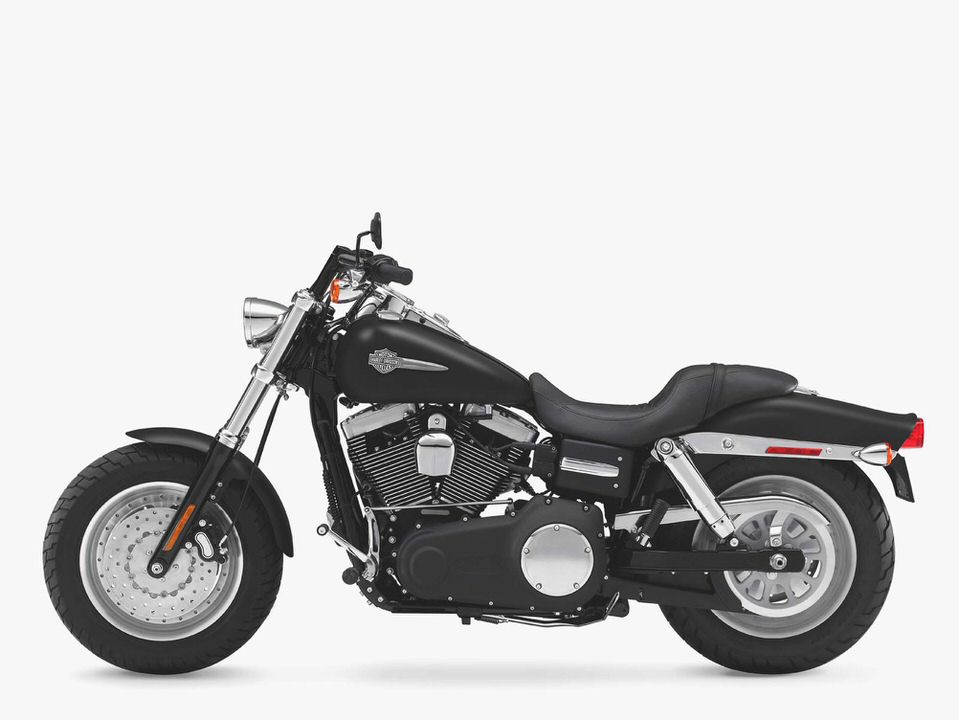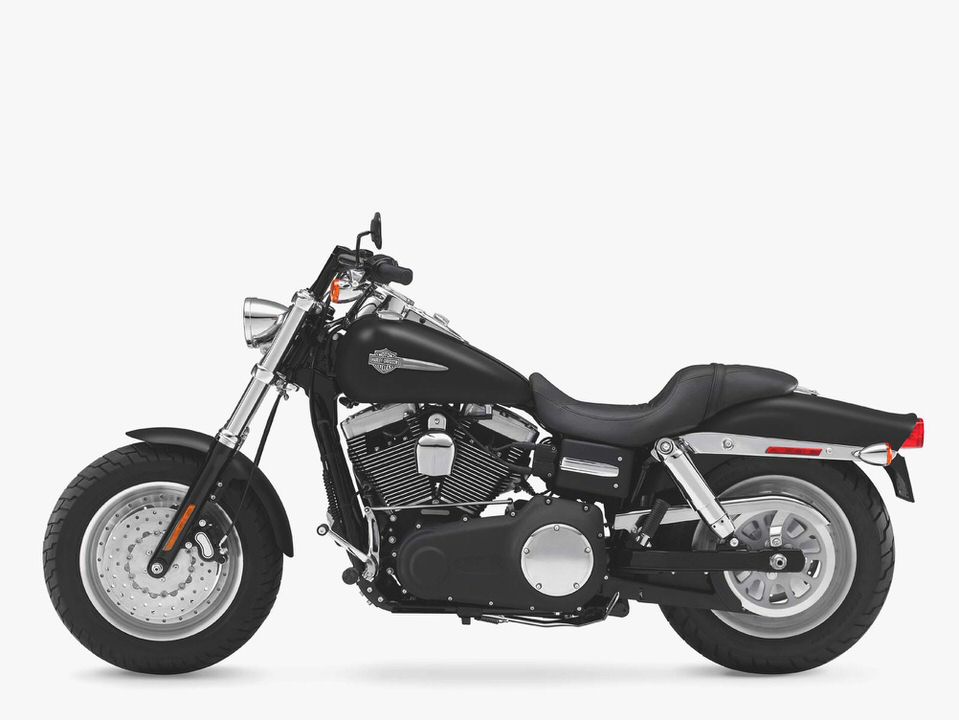 He Looks Mean, But How Does Fat Bob Ride?
The first thing you'll probably notice on a Fat Bob is that you sit in the bike, not on it. A roomy, comfortable seat cradles you behind the large tank, though your less fortunate passenger will be forced to endure a much smaller, more rectangular perch. Some riders might need to stretch a bit to reach the handlebars, and foot pegs can be ordered with either a "mid-mount" or a "forward" position.
We tested both peg setups, and while the mid-mount lacked the laid back attitude of the forward arrangement. the more moderate posture improved maneuverability and made long distance rides comfortable. The view from the saddle is clean and simple, with a large, tank-mounted speedometer providing quick, at-a-glance readouts. Inset at the bottom of the gauge is an LCD odometer, which has a cool mileage countdown to empty feature that automatically kicks in when fuel levels dip below .9 gallons.
Sometimes, a simple speedo is all you need.
Photo Kevin Wing
At low speeds, the Fat Bob feels well, fat. Though the rider sits low to the ground (seat height is only 26.1 inches), walking the bike requires a sturdy heave ho. Once the bike gets moving, turning becomes much more confidence inspiring; momentum aids maneuverability, and the Fat Bob become a lot more fun to ride at speed. Twisting the throttle invokes a classic, growling Harley exhaust note, and the torquey 96 cubic inch V-twin offers up plenty of power, especially at the low end.
Though a tachometer doesn't indicate engine RPMs, there's so much more torque at the low end of the powerband that it becomes easy to tell, by the seat of your pants, when the engine is running out of steam and it's time to shift gears. Some vibrations are transmitted to the rider, but engine isolation and rubber-mounting generally smooths out excessive harshness.
Because you sit in the Fat Bob, not on it, wind turbulence is not as overwhelming as you might expect at highway speeds. The lack of protection does create a good amount noise and breeziness, but the rider's low position within the bike helps avoid the "sail in the wind" sensation created by the Fat Bob's stablemate, the Rocker. Lean angle is measured at 30 degrees on the right side and 31 degrees on the left, and while peg scraping can be a part of hard turns, overall clearance is appropriate for a custom-style cruiser.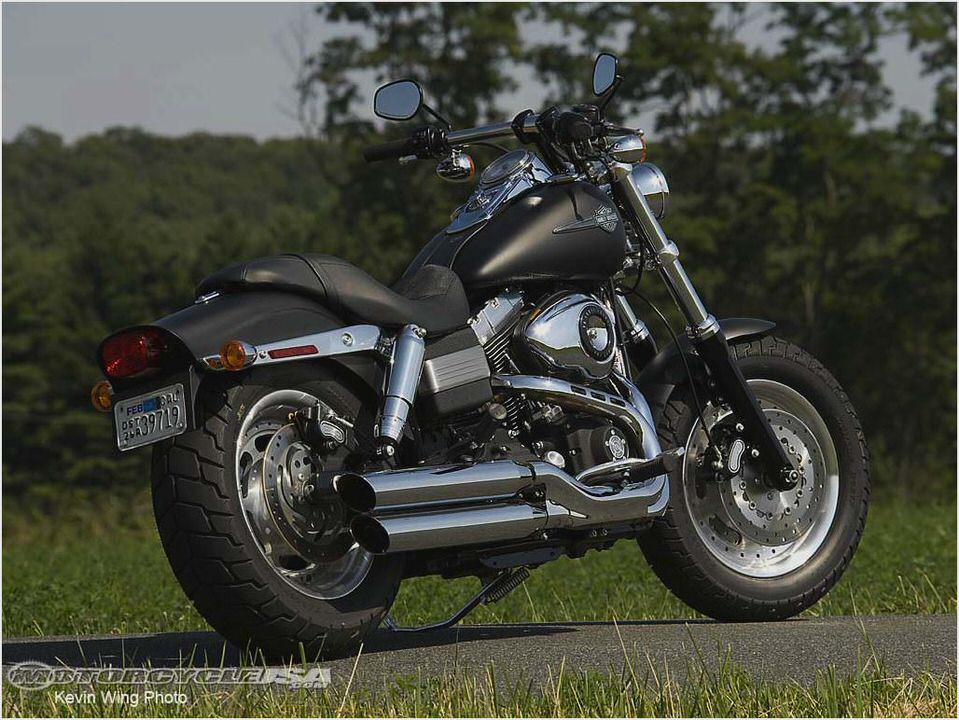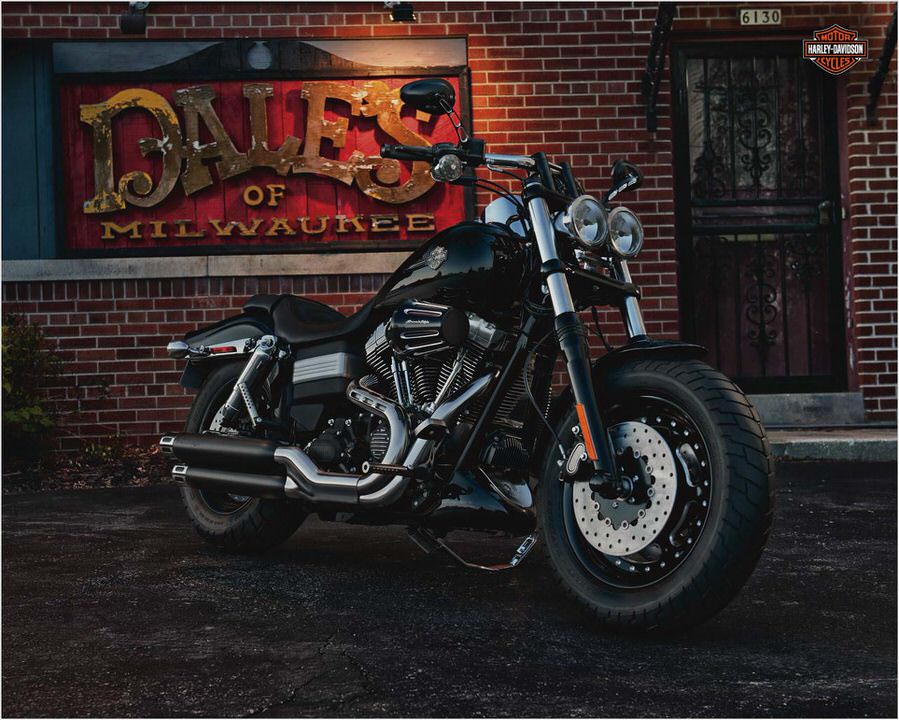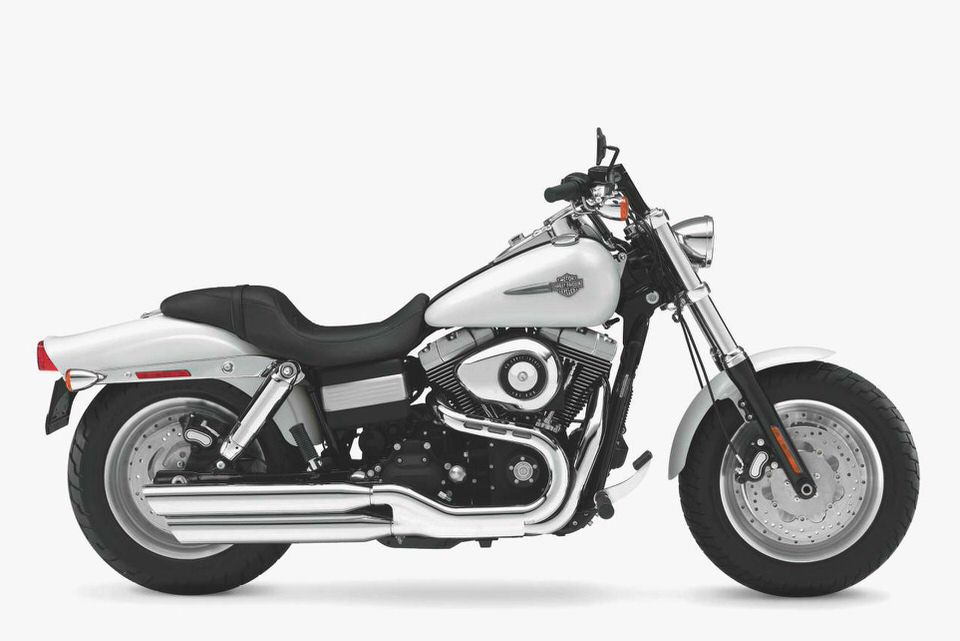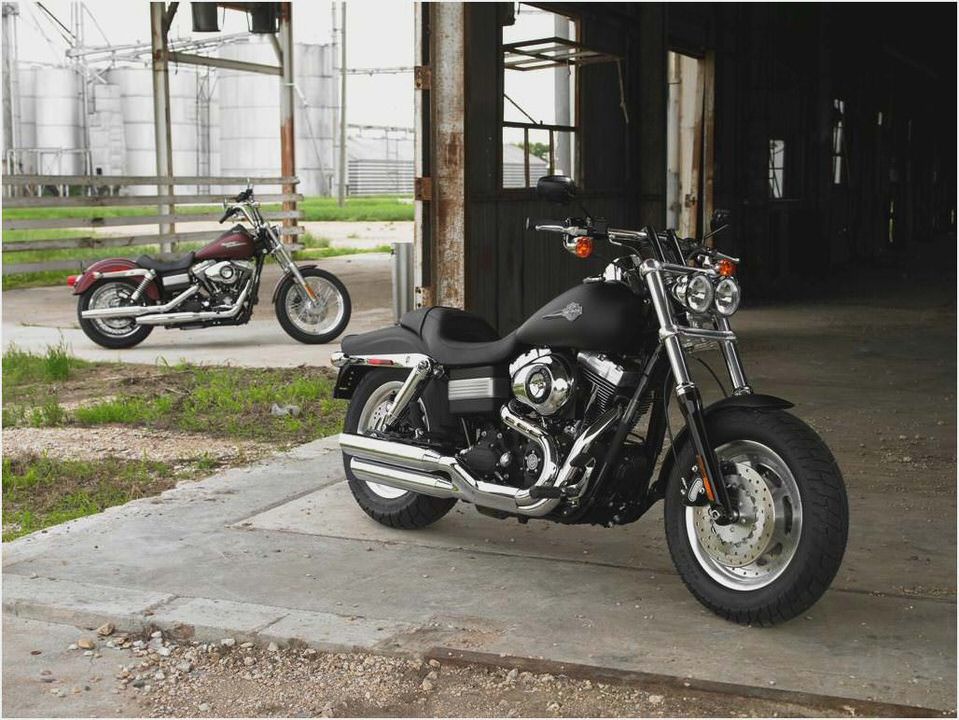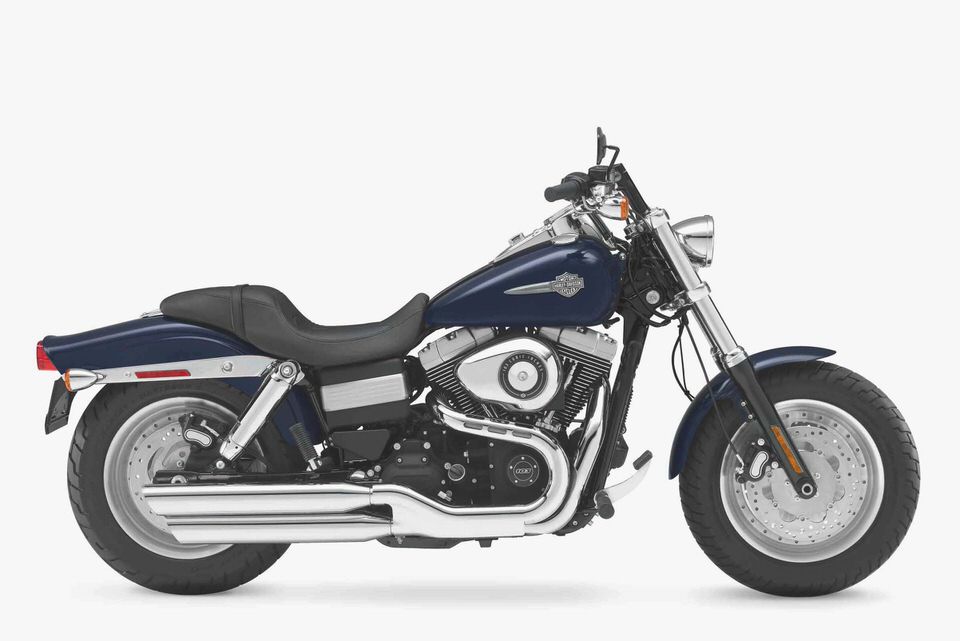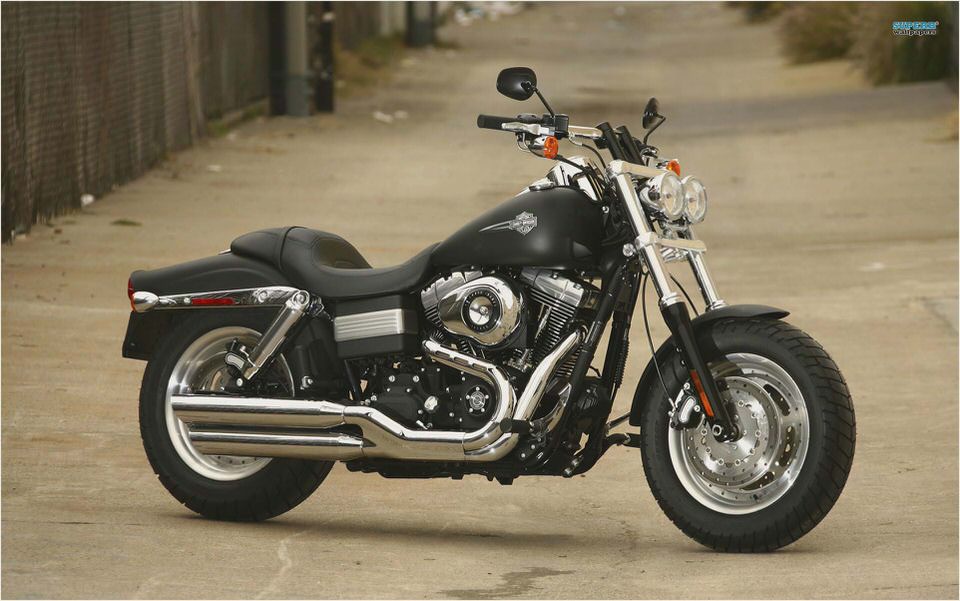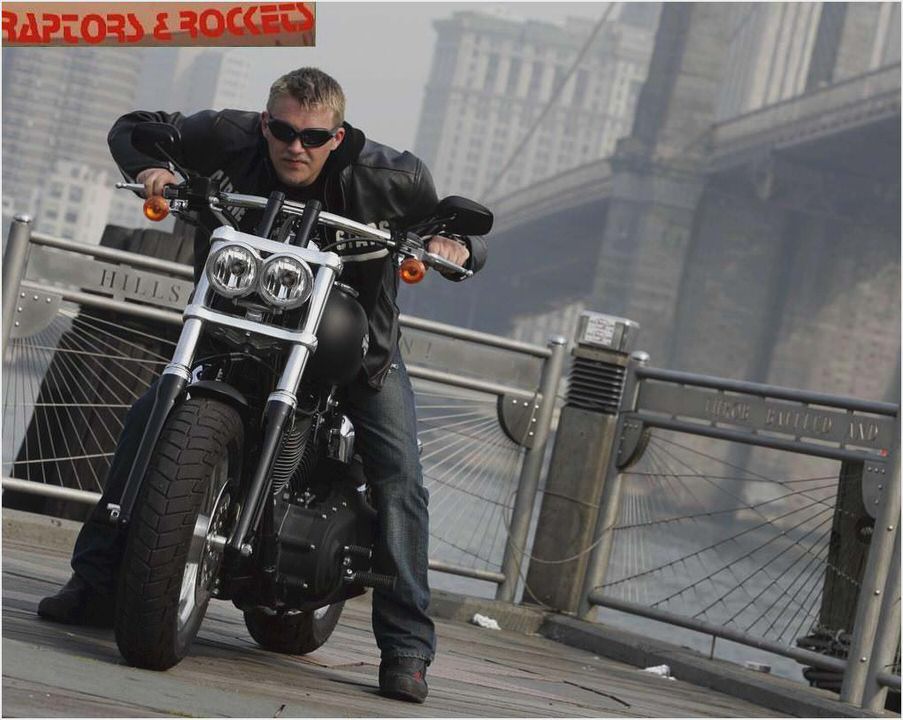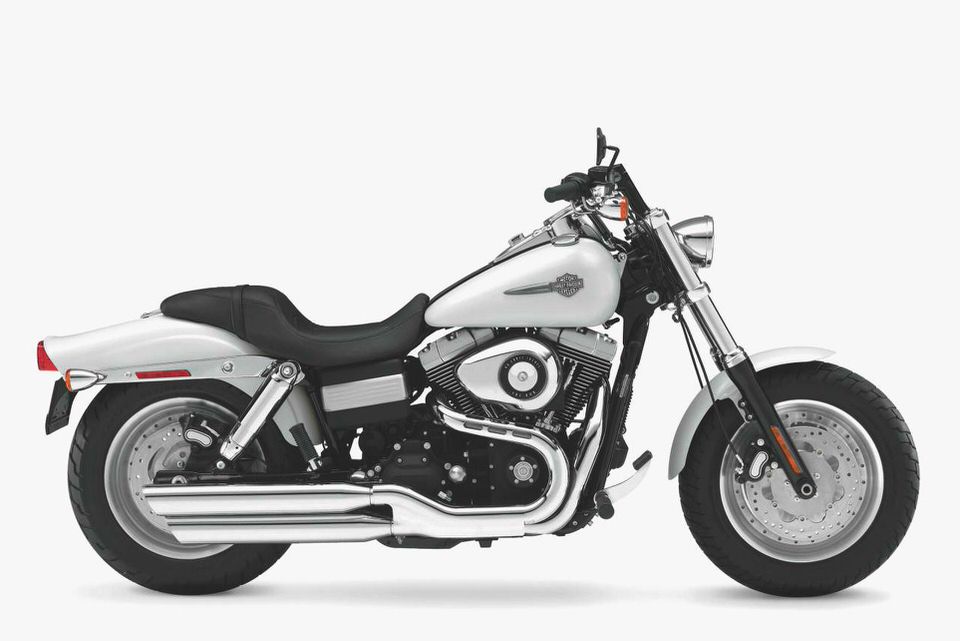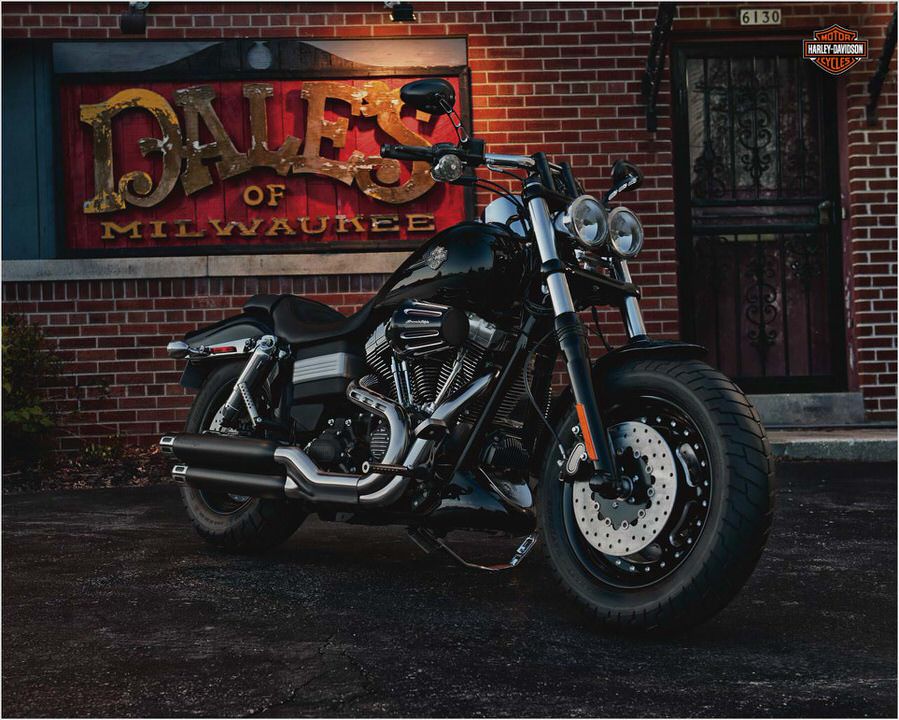 Harley-Davidson FLHTCUI Ultra Classic Electra Glide – Long-term Evaluation…
Frugal Fuelers: Harley-Davidson XL883 Sportster – First Look
News of the world of motorcycling > 2006 Harley-Davidson VRSCR Street Rod
The Road : Issue 13 : Harley-Davidson FXCW Softail Rocker – They are big…
2004 Harley-Davidson Sportster 1200 Roadster – Used 2004 Sportster 1200…