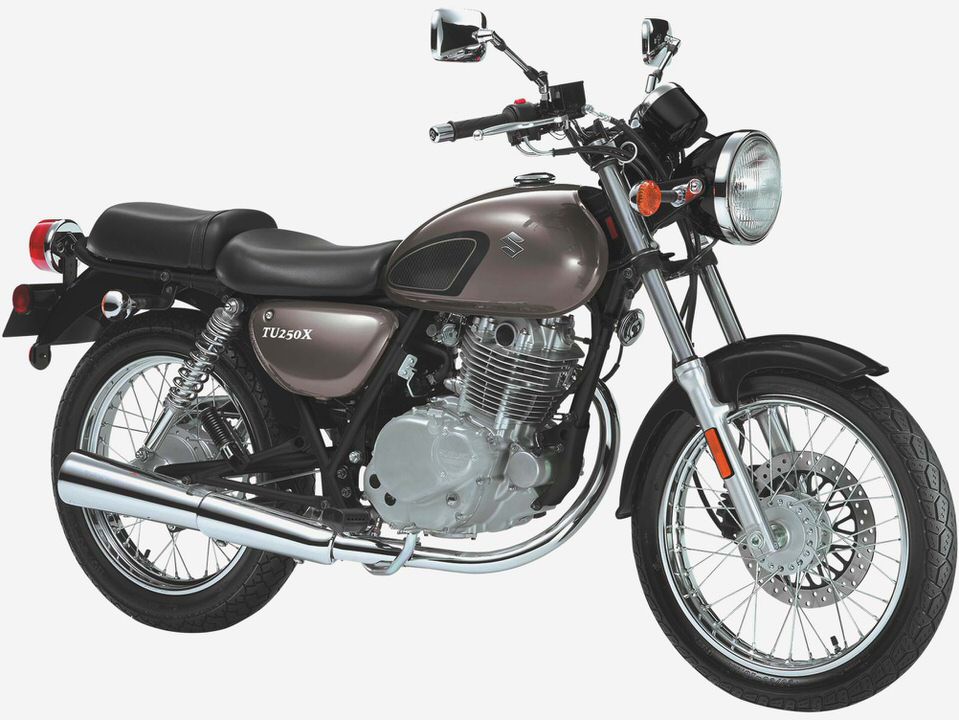 Specifications:
year: 2009 make: Suzuki Model: TU250 price: $3,499 Engine: 4-stroke, single-cylinder, Air-cooled, SOHC Transmission: 5-speed constant mesh Energy: Fuel injection Displacement: 249 L Top Speed: 75 mph
Filed under:
Posted on 10.28.2008 13:16 by Maxx Biker 2
Suzuki has found a very…uncharacteristic way to approach the U.S. market in the entry-level standard segment. After the amazing success of the B-King, the Japanese maker shows the ideal bike to start on and simply satisfy your commuting needs and hour later… after obtaining your license, that is.
continue reading
Introduction
The idea behind this all-new bike is as simple as the machine itself: take the engine from the Suzuki GZ250 and add fuel injection to it then mate it to that very same five-speed constant mesh transmission. Now, the 249cc, four-stroke, single-cylinder, air-cooled, SOHC motor is better valued on the light and nimble chassis that is completely new.
Perfect for commuting and having enough power not to make a foul of you on the interstate, the 2009 TU250 is what I like to call the Bonneville of Suzuki. But that is purely due to the traditional style. In what concerns fuel efficiency, the new bike is top notch as the engine is tuned for low revs, but still retains that nice GZ250 purr despite getting fuel injection.
Also, the exhaust system features a catalytic converter for less polluting emissions.
The fuel reservoir is a 3.17-gallon unit and sits on a diamond-shaped steel tube frame. No wonder why standard bikes are the best to start on as they feature the most natural riding position and the lowest seats you can possibly get (in this case, 770mm).
While the 149kg curb weight will prove very useful when needed to find your way through crowded streets, you'd better hold on when a truck passes along you on the interstate as the bike is expected to become a little unstable at high speeds due to its light weight. At least you'll be able to stop efficiently due to the hydraulic disk front brake and leading-trailing rear one.
History
As it is all-new for 2009, we can't give you another reference than the cruiser-like GZ250 which donated the engine and a bunch of other things such as the brakes for example. That model is a decade old now, but didn't feature that much upgrades and it is still carbureted so the TU is simply another solution (a better one, we could say) for that same riding demands.
Competition
Together with the 2009 Suzuki TU250, Honda gets a greater competitor for the Nighthawk. Almost a definition for all-around budget motorcycles, the Honda Nighthawk is powered by a carbureted 234cc air-cooled vertical twin-cylinder, SOHC, two valves per cylinder engine.
Also referred to as the CB250, the small Honda is clearly backed up by a more potent powerplant and on top of that it is very light (315 lbs) and nimble. The spoke wheels and comfy suspensions allow for quick passes over speed bumps for example, but you won't be finding any disc brakes on it.
In what concerns the design, this is as simple as you can get, pretty much like the entire bike. MSRP for the 2008 model year is $3,699. That is indeed competitive considering you get a whole other kind of excitement due to that extra cylinder.
Exterior
What makes the difference in the case of the Suzuki TU250 is the traditional styling. Designers simply created the bike considering that there's no need to add a modern look to it as the retro one still sells. As you take a closer look at the TU250, you notice that it is simply an upright positioned GZ250 and, frankly, start trying not to like the bike if you're more of a demanding kind of person.
But your attempt won't be successful as the bike is very charming and even reminds us of that nice British design of the 1960s.
Features such as the classic fenders, round headlight and separated, also round taillight, flat seats positioned almost inline with the gas tank (which could easily find its place on an early Norton or Triumph motorcycle) and the multitude of chromed pieces (mirrors supports, instruments, exhaust, as well as many ornaments) set the Suzuki TU250 apart from the Nighthawk. The entirely new bike is stylish and refined, so it puts the accent on visual attraction, while the Honda is as "standard" as you get.
The most appropriate color to have it painted on for 2009 was considered the simple Red.
Price
Also, Suzuki claims no bigger suggested retail price than for the 2009 GZ250 – $3,499 – which is fairly smaller than the one that the competition has.
Conclusion
Suzuki's latest standard motorcycle makes a perfect choice for those who search for an easy to maneuver decently powered motorcycle. Fuel consumption and comfort also go in the benefits category while the looks will have your wife consider getting a motorcycle driving license as soon as possible. So now you not only know who's going to ride along you in those enjoyable weekend rides, but you also know on which she'll do so.
SPECIFICATIONS
Engine and Transmission
Chassis and Dimensions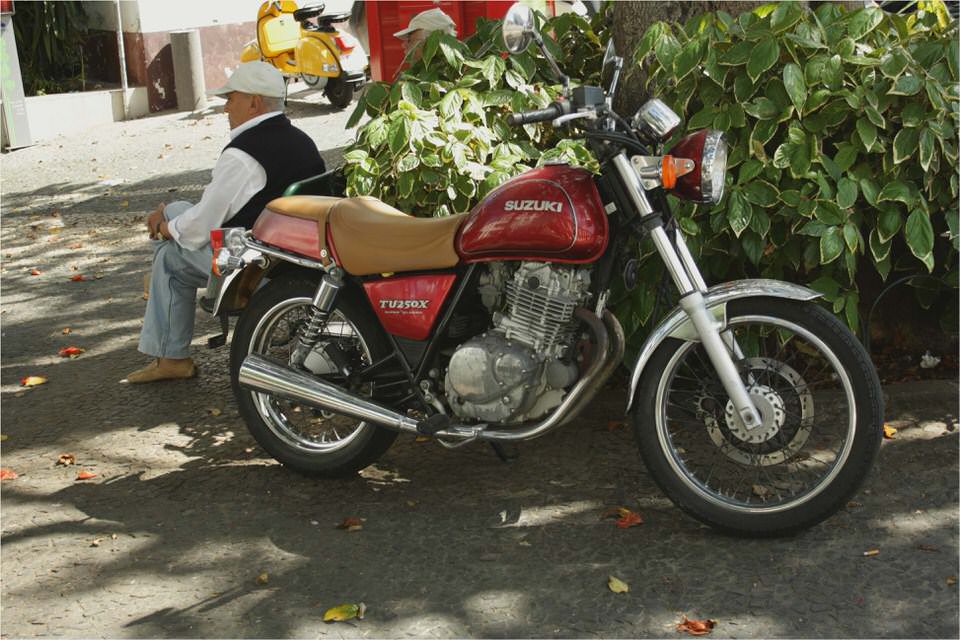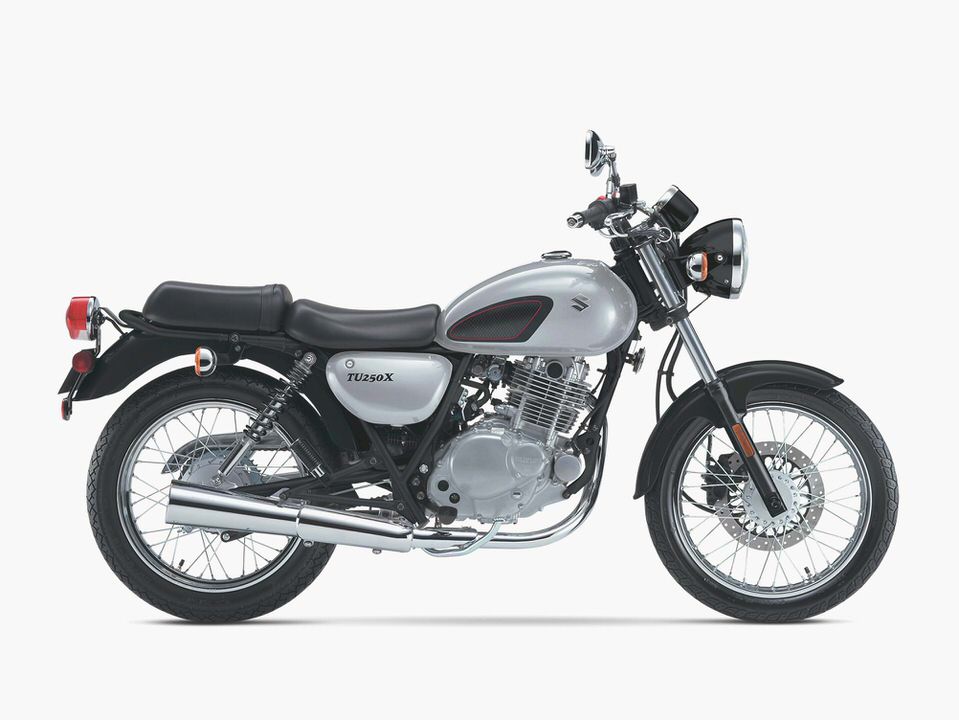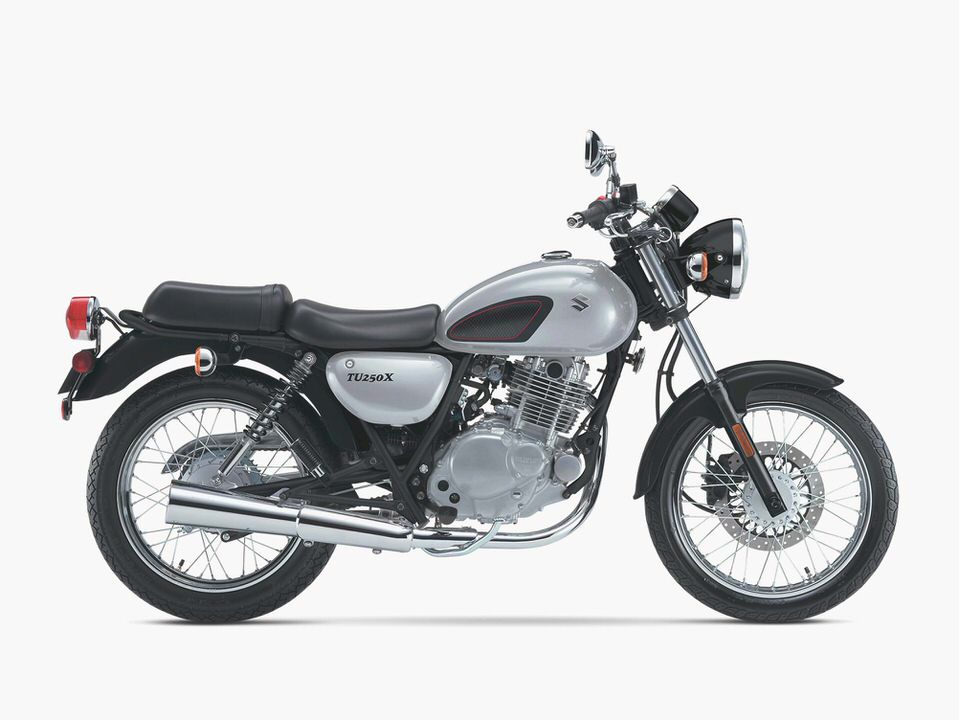 Suzuki Burgman 650 2013: The maxi scooter GT bestseller is modernized…
2001-2003 Suzuki GSX-R600 Road Test & Review Sport Rider
S40 Suzuki Boulevard Exhaust Upgrade heckmechanic
Mostcar123321: Suzuki Kizashi: Frankfurt Concept Previews Mid-Size Sedan
Suzuki C-50 Trike