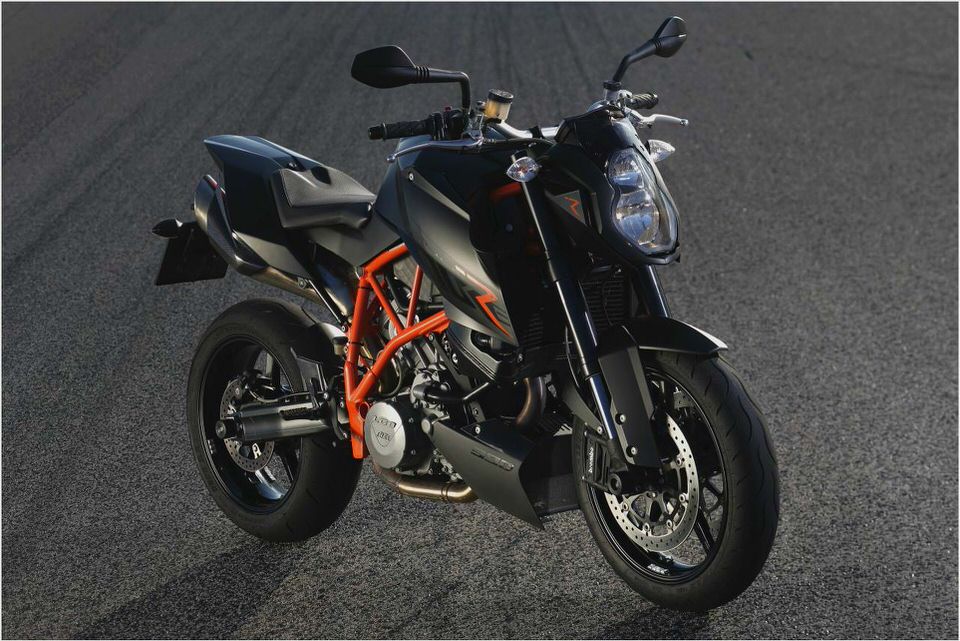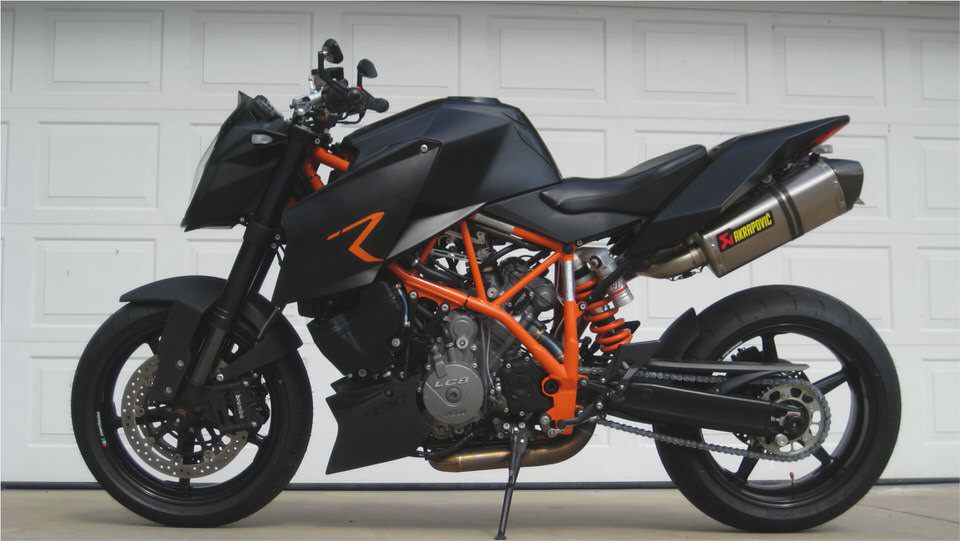 2010 KTM 990 SM T and 990 SM R: MD First Ride
This is Part One of a two-part report on our recent test of new KTM bikes for the U.S.
Is a supermoto-a dirtbike with roadrace tires and brakes-the ultimate motorcycle? If you worked all day in a giant orange shed, you'd think so. "It's our heritage," said KTM P.R. Manager Thomas Kuttruff, referring to KTM's 20 years in the supermoto business.
Of course, riding around on a frantic, short-geared thumper can be limiting, so adding a second cylinder to a supermoto makes a versatile, fun and reliable bike you can ride every day, even for long highway stints.
KTM first treated the world to big supermotos with the 950 SM. which it upgraded to a 990 a few years ago, adding fuel-injection and some more ponies. You may think the Supermoto is just a Superduke 990 with less bodywork and more suspension travel, but you'd be wrong.
The Supermoto, Superduke and RC8 Superbikes all have different motors: the 990 Supermoto and 990 Adventure share the most dirt-oriented motors, with a single-shaft counterbalancer as opposed to the Superbike's dual gear-driven balancers. The frame and suspension is different too.
Americans get two versions of the big supermoto, the sporty R and a more practical tourer. Both bikes share a liquid-cooled, fuel-injected, four-valve 75-degree 115-hp motor and basic chrome-moly trellis chassis. From that common ancestor, KTM's engineers started adding go-fast bits to make the R. Wheels are forged Marchesinis, saving 4.4 pounds of rotating mass, and it gets those delicious four-piston Brembo monobloc racing calipers.
A supermoto needs a powerful, sensitive rear stopper as well: the R (and T) is equipped with a two-piston caliper back there. The minimal plastic bodywork is deceptive: the low-profile tank holds almost four gallons.
The T is a little more staid, but not much. It gets cast, two-piece calipers, softer suspension (but still fully adjustable), a larger 5-gallon tank, a windscreen and easily detachable semi-hard luggage. There's also a larger, more passenger-friendly saddle and a luggage rack.
Wheels are a little heavier than the R's, and the fork doesn't get the fancy black TiAn coating. That all means the T is 432 pounds without fuel, compared to the R's 417-pound claimed weight, but both bikes are priced the same at $13,998.
Since the KTM 2010 model intro I attended was mostly a racetrack event, there was only a brief street ride to evaluate the T, but there were a few Rs available for track evaluation. No matter: riding the R on the track may have been the most fun I had all day.
Sure, it's heavier and (a lot) slower than the RC8 R, but its wide, flat, high handlebar and torquey motor made it big fun to snap in and out of turns, and the bike's balanced nature and slim form made it feel a lot lighter than it was. No need to move my rapidly disintegrating body around so much: just roar up to the apex, snap it in, power out, repeat.
Out on a brief street ride, the R inhaled the twisty Laureles Grade, with more-than-ample power and that same grippy, tenacious feel it exhibited on the track. Riding a supermoto with this kind of power, brakes and excellent suspension doesn't really feel like a fair fight. If I had one, I'd probably have to make new friends.
Power is snappy, with the same excellent fuel-injection and part-throttle response the RC8 R showed (featured in Part Two later this week), and the gearing felt about right for fast roadwork. The motor is more raw and buzzy than the silky, quick-revving RC8 mill, but if you're used to a thumper dual-sport, it's not objectionable. But a touring rig it's not: the narrow, hard seat became noticeable after about 30 minutes of riding, and wind protection is zero.
Think of the SM R as your basic inner city commuting/Sunday backroads thrasher.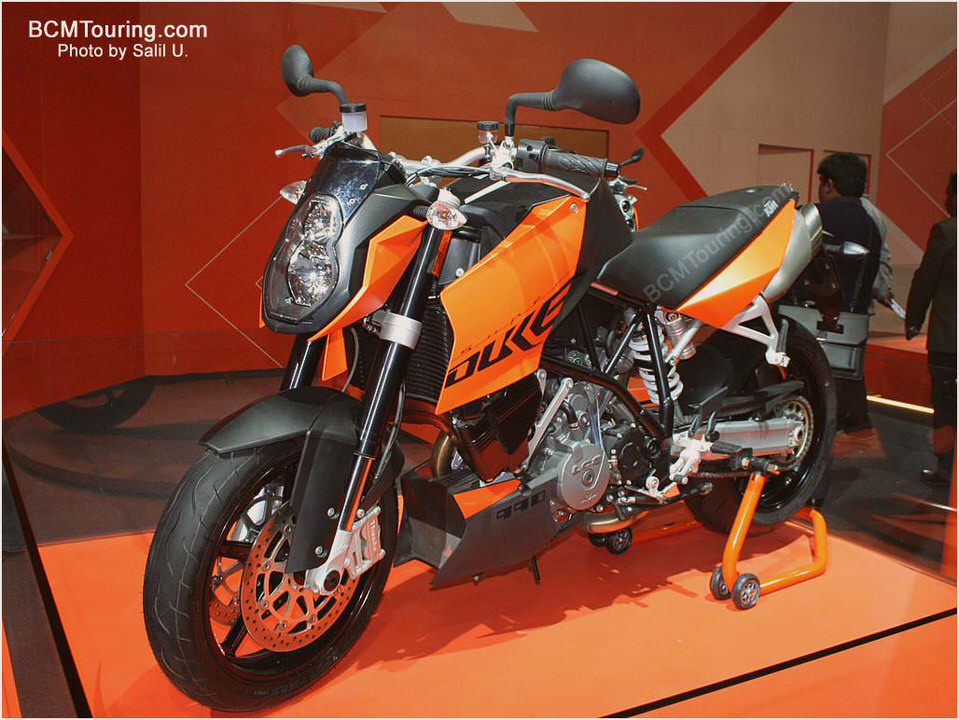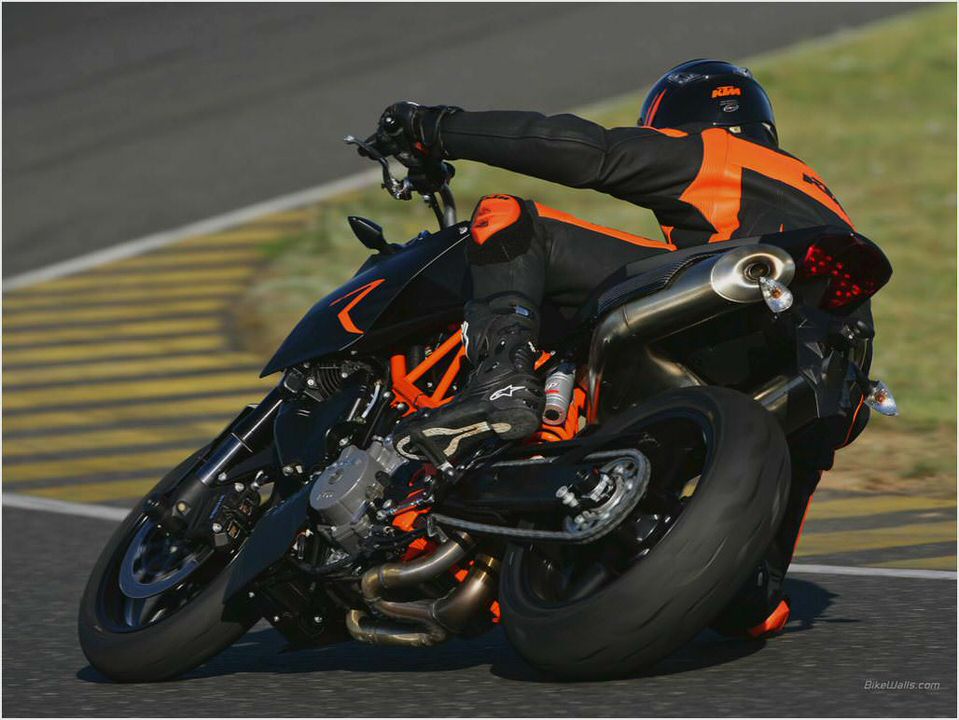 For something almost as fun and much more practical, the SM T should work much better. The seat is more seat-like and the windscreen and handguards offer some useful wind protection. The seating position keeps the 'ol knees from bending too much, and the bars are high.
The bags, while small, are unobtrusive (making for easy lane-splitting) and easy to remove or attach. The larger bags for the 990 Adventure can be fitted, although that would require new brackets.
The main difference between the T and the R-as long as you're not working the brakes too hard-is the softer suspension. The T exhibits the same neutral, easy steering, except with a plusher ride. And "plush" doesn't just mean soft.
There's actual controlled damping, and the three-way (compression, rebound and spring preload) adjustable WP components (with adjustments that actually do something) should let the rider fine-tune the ride to perfection. It tracks through corners, keeping the wheels on the ground, and bumps and potholes don't jar your spine the way some European bikes would.
I loved scraping up my brand-new Dainese kneepucks in Laguna's fabled turns on the RC8s, but street riding is satisfying because you can do it all day long and the variety of roads is endless. What heightens that experience is having a bike that handles like a well-set-up racebike in the twisties but is comfortable to ride on the boring stretches in between. The 990 SM T is one of those bikes, a real do-it-all machine with tremendous character, performance and reliability.
One bike I didn't get to ride, which makes its debut in both the USA and Europe, is the 2010 690 Duke R. It's based on the excellent 690 Duke. a single-cylinder supermoto that's designed to be a fun and reliable streetbike. The R version takes the 65-hp, 654cc liquid-cooled Single from the standard 690 and (heh, heh) pumps it up to 70 hp with more compression and another 45cc: it's an actual 690.
The motor goes into an orange-painted trellis frame, suspended by upgraded front and rear components. A pound is shaved off the 690′s 327-pound tank-dry weight with some carbon pieces. I've ridden the 690 Duke, and found that bike to be as light, good-handling and torquey as you'd guess: a 65-hp Single used to be the realm of cooped-up Scandinavian winter tinkerers, but now anybody can buy one of these for $10,998, just $500 more than the standard 690 Duke.
Adding the T and R to the lineup gives KTM USA a full range of large-displacement streetbikes, unimaginable a decade ago. They're priced out of the market the Japanese bikes swim in, but are affordable compared to competition from BMW, Ducati and Aprilia. 2010 will be a great year for superbike and supermoto comparison tests.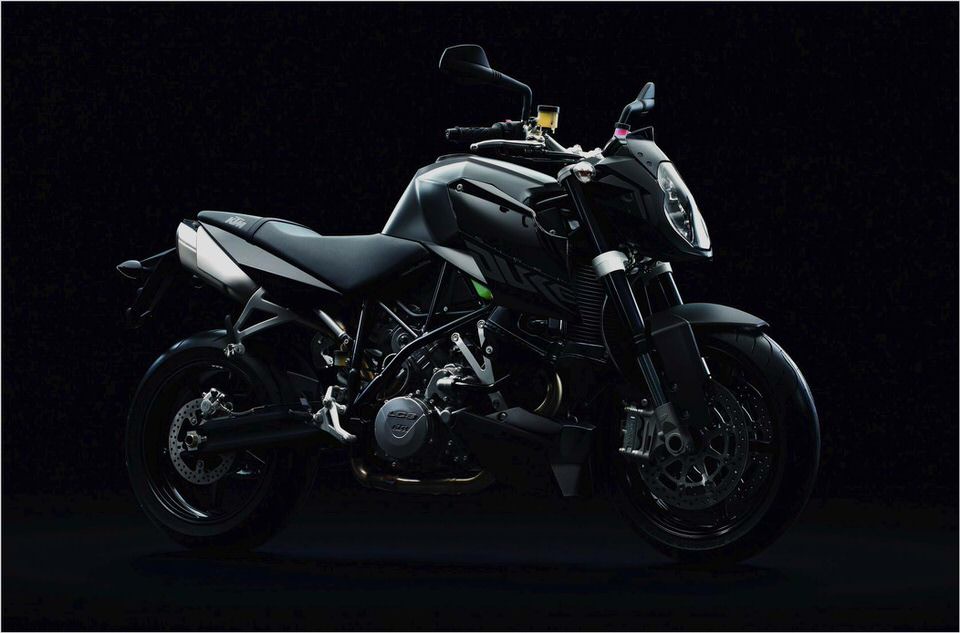 2013 KTM 350 xc-f Review Enduro360.com
2012 KTM RC8 R New Bikes Info
2006 KTM 950 Supermoto Quick Ride –
2012 KTM 1190 RC8 R First Ride – Ultimate MotorCycling
NEW 2013 KTM 125SX $7,689.99