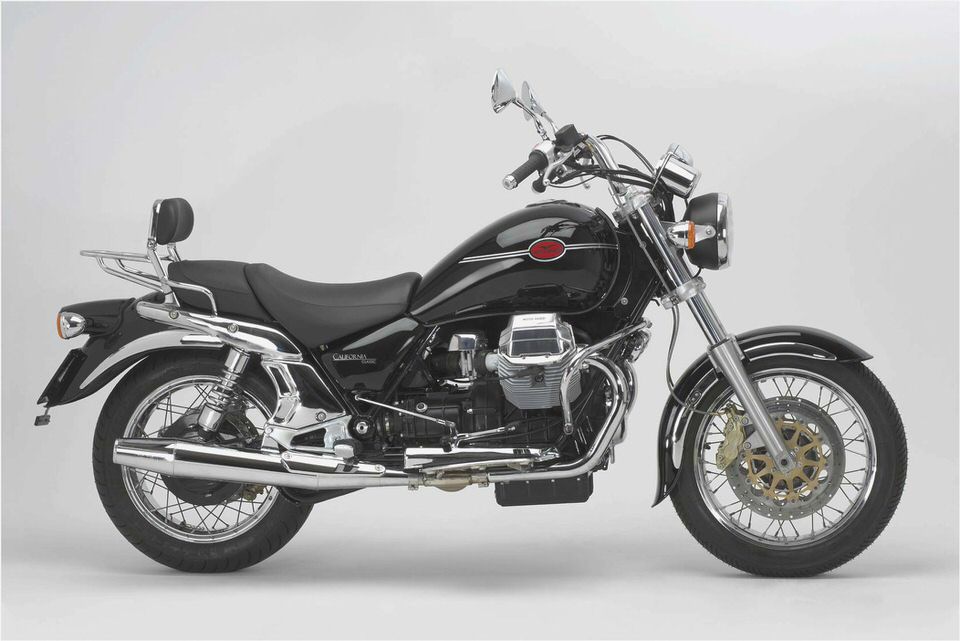 The Bottom Line
Pros
Head-turning styling, especially in matte Legnano green, sets it apart from the crowd
No shortage of character from the transverse-mounted, twin-cylinder engine
Riding posture isn't as tortuous as you might expect for a caf- style bike
Cons
Mild performance, especially in contrast to its slick looks
Heavy clutch lever makes riding in traffic a drag
Shouldn't a caf- style bike have proper bar-end mirrors?
Description
Price: $8,990 (only available in Legnano Green)
V7 Caf- Classic differs from the $8,790 V7 model by upswept bars, clip-on handlebars, instrument trim, and solo seat.
Fuel-injected, air-cooled transverse 90 degree, 744cc V-twin powerplant
Five-speed transmission with shaft final drive
40mm Marzocchi forks with 5.1 inches of travel, light alloy swingarm with two preload-adjustable shocks
Rear coilover shocks, preload dual-adjustable
Seat height: 31.7 inches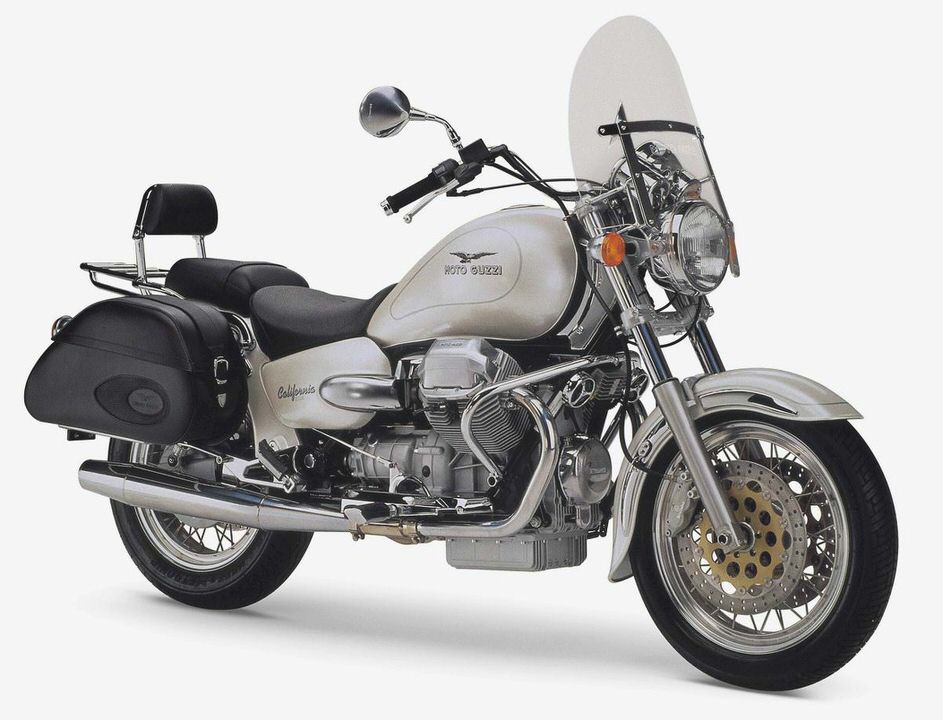 Fuel capacity: 4.49 gallons
Four-piston, 320mm 4-piston front and 260mm 2-piston rear Brembo disc brakes
Running weight: 437 lbs
Guide Review – 2010 Moto Guzzi V7 Caf- Classic Review
It was an unfair comparison all along: blasting down LA's notorious Mulholland Drive, my riding buddy and I aggressively maneuvered two similarly themed bikes through twisties that would challenge any modern sportbike.
Commanding a comfortable lead was About.com's Triumph Bonneville long term tester. boasting an 865cc engine with loads of approachable mid-range torque; invariably trailing behind was the 2010 Moto Guzzi V7 Caf- Classic, a 744cc tranverse twin-powered standard which looked racy in Legnano Green, but clearly lacked the overall oomph of the Bonnie.
How important is outright performance, anyway? If the 1970s-inspired Guzzi V7 Caf- Classic draws your attention, you're probably more likely to tuck in and handle turns like an old-school caf- racer would, not drag a knee and hang off like a monkey, to loosely paraphrase the late, great racing legend Mike Hailwood .
From the moment you bring the Guzzi's transversely-mounted twin to life, its torque reaction literally pushes the bike to the right when the throttle is twisted, reminding you the mill is light years away in philosophy from inline-4 UJMs, and even Triumph's parallel twin engine layout. The cockpit view features pleasant details like chrome bars over the steering head and chrome-rimmed, 1970s-era instrumentation. but it doesn't take a psychic to figure out the 140 mph speedometer is an optimistic reflection of how fast this bike looks . rather than how fast it can actually go. Nitpickers (like me) will also wish it had proper bar-end mirrors in keeping with its so-called caf- style. but no bother: pull in the slightly heavy clutch, shift into first, and give 'er a little gas, and you're suddenly moving along in wonderfully Italian retro style.
The caf- style single-seat saddle assists the whole playful/nostalgic/runabout theme, as does the nicely indented tank and chrome finishes on the shifter and brake pedal. There's a vaguely rubberized feeling to the engine's vibrational characteristics that offers just enough character without becoming grating, and once at speed the Caf- Classic's twin offers enough acceleration to get you going reasonably quick; it may get outclassed by the Bonneville's spritely engine and sharp handling, but the Guzzi becomes far more attractive when ridden on its own terms. Across town, the V7 reminds you of everything this bike does right– even if its bias-ply tires and mild-mannered powerplant don't manage to inspire visions of Monza, Mallory Park, or Mazda Raceway Laguna Seca.
The 2010 Moto Guzzi V7 Caf- Classic is a thoughtfully designed, nicely finished ode to motorcycling's past, and- like the Triumph Bonneville and Ducati SportClassic GT1000 — combines its reverence for the past with modern componentry and reliability. It may not be a barnstormer, but the V7 Caf- Classic stands on its own when it comes to style, personality, and attention to detail.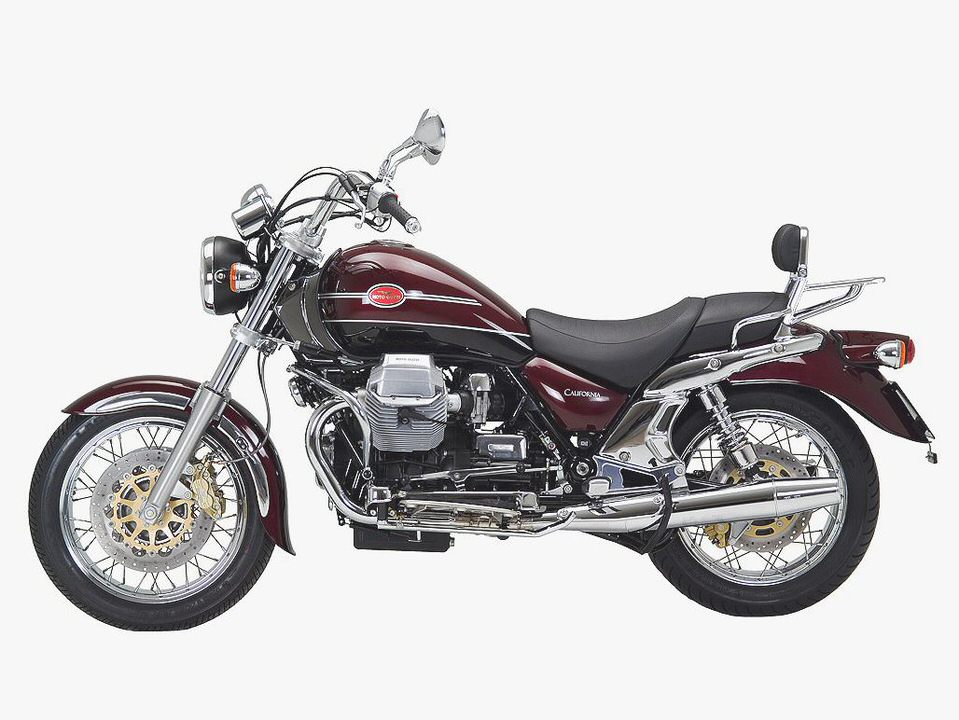 Total Motorcycle Website – 2005 Moto Guzzi Nevada Classic 750 IE
Moto Guzzi National Owners Club – MG Cycle Moto Guzzi wins 2 National…
Cog – Moto Guzzi Centauro Owners Group – Articles – My "GUZZI" story
2009 Moto Guzzi Stelvio 1200 4V Road Test Rider Magazine Reviews
1999-2000 Moto Guzzi Quota 1100 ES Smart Money – Motorcyclist Magazine