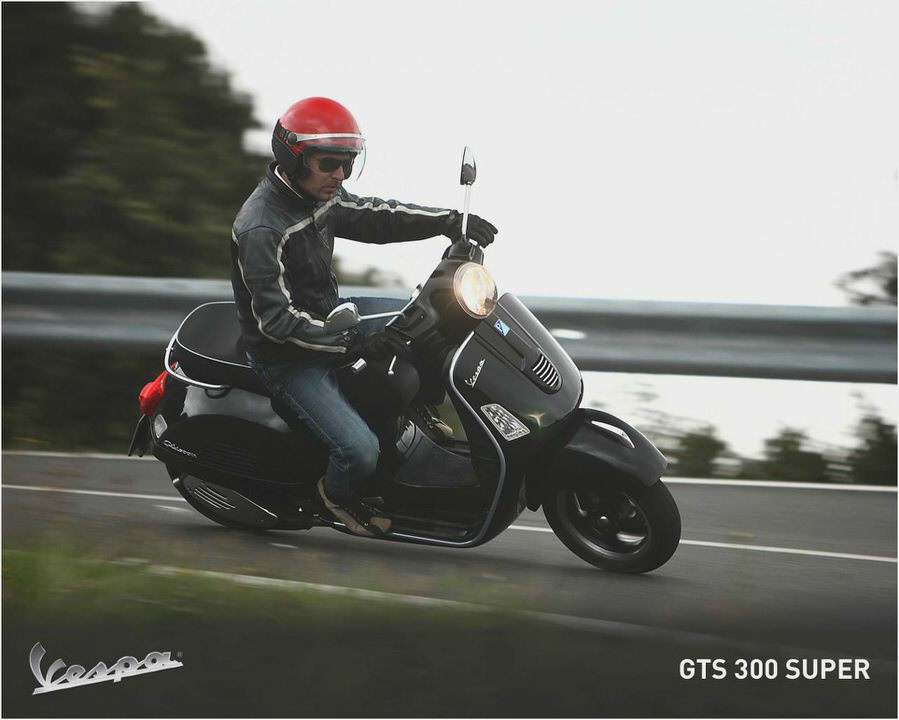 2010 Vespa GTS 300 Super Review
The 2010 Vespa GTS300 is an evolution of the GTS250 model and is the largest capacity Vespa ever made.
Florence, Italy, April 23, 1946: Noon
A Piaggio Cie. representative walks into the patent office and files an application for a "motorcycle with a rational arrangement of organs and elements, with a frame with a mudguards and covers concealing all mechanical parts." Rational? Isn't Florence in Italy? What gives? Italian engineering produces beauty, performance, a fat pricetag and all the reliability of Robert Downey Jr.
I didn't even know there was a word in Italian for "rational" until I looked it up for this article (razionale, which I previously, and not unreasonably, assumed was some kind of pasta, as in "I'll have the squid-ink razionale with fennel").
Of course, the birth stories of most Italian motorcycle companies usually begin with a pair of colorful brothers ("born in Bologna in 1911, the Tarontina boys were well-known in the bicycle racing scene and by 1934, were racing a hand-built 125cc prototype in the Mille Miglia") starting out from a shed behind the prosciutto-curing room. But that wasn't the story with Vespa.
Piaggio, a large munitions and heavy manufacturing concern, needed a cheap transportation product to sell to Italy's post-war masses. The company had mechanical engineers, designers, skilled workers, a factory – okay, a large, rubble-filled field where there used to be a factory – and capital. All that was needed was a decent design, something a little more practical and substantial than early scooters, which were seen more as toys for wealthy nitwits than practical transportation.
Yes practical: post-war Italy was marked by chronic unemployment, horrible roads and a youthful, restless population. Nobody could afford a car, but they needed to get around, and for that they needed cheap, tough, dependable and (since it was Italy) stylish wheels.
Fuel gauge, temperature gauge and clock round out the instrumentation. Anti-theft ignition is very effective, and standard.
Piaggio's aeronautical past revealed itself in designer Corradino D'Ascanio's (who developed several early helicopter prototypes) new scooter with its swoopy cowlings and landing-gear-like front end. But that's what he knew: "With no knowledge of motorbikes, I thought about making a vehicle that I could use without having to be a motorcyclist," said D'Ascanio in a 1949 radio interview. That must have been the winning formula, because it wasn't long before "Vespa" (it was dubbed Vespa, or "wasp," because of its buzzing engine note or slim waist and bulbous tailsection, depending on which scooter nerd you talk to) and "scooter" were interchangeable terms, like "Kleenex" and "Facial Tissue" or "Microsoft" and "Pain in the Ass."
Orange County, California, 2010: Noon(ish)
The GTS300 is held together by a monoque chassis that makes for good handling and maneuverability.
Sixty-four years later, and the brilliance of a non-rider's idea – to build a motorcycle for non-riders – is still readily apparent in Piaggio Co.'s Vespa 300 GTSie. Introduced last year, it's an evolution of the GTS250, and is the largest-capacity Vespa ever made. And the irony is that the quick-and-dirty post-war engineering, intended to get Italy back on its wheels as quickly and cheaply as possible, is now the hallmark of the luxury scooter.
At $6199, the 300 GTSie is pricey for its category.
Sixty-four years along, Vespas are still built with that steel monocoque chassis: simple steel stampings welded together to form a rigid structure, unlike the tube-steel and plastic construction of your typical 21st-century scooter. All that metal makes the scoot rigid, good handling, expensive-looking and pricey to repair dents or dings. The swingarm is also the engine/drive unit, and it's suspended by dual preload-adjustable shocks.
In front is that distinctive single-sided front. suspension. thing. with a double-acting hydraulic damper. A solo 220mm disc, two-piston caliper and braided-steel line handles the braking action up front, and another 220mm disk is in back. To live up the the "Super" badging – a moniker that harkens back to Vespa's sport-touring Super Sprint models of 1965 – there's sporty-looking trim on the front shield, engine cowl and suspension, as well as two-tone alloy wheels.
The Super's modern, liquid-cooled, four-valve, fuel-injected Single means hills, no matter how steep, just aren't a problem.
That stuff may look familiar to the ghost of D'Ascanio, but the motor probably wouldn't. It's as modern and clean-burning as an internal-combustion mill can be, a far cry from the smoky, buzzy two-strokes of the Vespas of yore. It uses a chain to drive a single overhead camshaft, operating four valves. It's also fuel-injected and water-cooled, catalyzed, sanitized and it probably has the Pope's blessing as well (calls and prayers to the Vatican were unanswered as of press time).
It's the biggest motor Vespa has put in a vehicle of late: 278cc, 34cc bigger than the GTS250 or GTV300 (no, I don't know why the 250 is 244cc and the GTV300 is also 244cc). That's good for a claimed 22 horsepower pumping through the no-shifting-required CVT, better than some dual-sport motorcycles of similar displacement I could name but won't because I like getting invited to press events.
This luxury scooter gets luxury appointments: wide, cushy seat with lots of room for two, underseat storage for two half-helmets,* a digital clock, a locking glovebox, fuel gauge and fire-engine-red paint that's as deep and glossy as a wet Jolly Rancher candy. Electric starting and built-in anti-theft electronics are also standard. But the real luxury feature on this Vespa – all Vespas, really – is the exceptional build quality, fit, finish and feel of all the components.
It's a luxury vehicle, something that can't be faked with fancy names or chrome-plated plastic trim.
Luxury vehicles have to perform and handle better than budget ones, and the Super delivers. The motor's new displacement and tuning are readily apparent. Twisting the throttle makes all 22 horsies leap right out and gets the 326 lbs (claimed dry weight!) of Italian metal moving down the road pretty briskly. Keeping up with any kind of city traffic is no problem at all, uphills, downhills, passenger, cargo, whatever. This is one scoot that will never hold up traffic.
On divided freeways, the GTS gets up to its 65-70 mph cruising speed very easily, but past that it struggles a little—and maybe needs a long downhill slope—to get to its 80 mph (claimed) top speed. And for all that performance, fuel economy is still quite acceptable: I saw around 60 mpg in my very unscientific mpg testing, which means you can expect 120-150 miles from its 2.4 gallon tank.
The Super corners as well as anything with a purse hook has a right to do. Chrome grab rails replace the luggage rack found on the standard GTS300.
This is no continent-clobbering maxi-scooter: it's designed to stylishly, efficiently do what 95 percent of scooters need to do; get around town and maybe cruise confidently on winding two-lane roads. The Super's handling is. super. The long wheelbase and radial 12-inch Pirelli tires keep things stable and confident, and the suspension is well-calibrated, soaking up bumps and keeping the rubber stuck to the pavement despite the challenges the unsprung mass of the powertrain unit presents.
The brakes work well, too, with good feedback and no fade, even after an hour of photo passes up and down a very twisty canyon road. Steering is very fast and easy, but mid-corner stability is remarkable; you can carry lots of corner speed, like on a much bigger motorcycle, without the bike feeling flighty or indistinct as you roll on throttle. The only limit is cornering clearance – the centerstand tang can drag if you lean too far over – but something has to remind you you're on a scooter.
Around town, the big Vespa doesn't give up much to its smaller cousins. It's very maneuverable, with a tight turning circle, and the step-through design means that even if your stumpy little legs can't touch the ground, you can still pop forward and paddle the bike in and out of a parking space. The centerstand is well-balanced, making parking the bike a snap (the sidestand works well too), and the underseat stowage is voluminous.
No luggage rack, but you can buy that and a locking trunk as an accessory.
Dual disc brakes with braided-steel lines deliver sure, safe stops, two-tone wheels deliver the latest in Euro automotive fashion.
Vespa has come full circle. It's gone from building basic transportation to get Italy's post-war masses on the road to selling second luxury vehicles to well-off urban sophisticates who want to have fun while looking good and using less fuel. Sure, a motorcycle will have better performance-to-dollar ratio, but it's not a scooter, is it?
Scooters are different, and riding a Vespa is like riding no other scooter: the distinctive frame and suspension give it the unmistakable character you'd expect from a limited-production, Italian-made vehicle. Now $6199 for the fastest, best-handling, biggest Vespa made. seems like a deal for the right person, although you can certainly find quality bikes for far less. Those products might even be better performing and offer more value.
But like a guy who's been only driving a Mercedes for 40 years, if you want a Vespa, you want a Vespa. I didn't ask for facial tissue: I want some Kleenex for my delicate schnoz!
Were Vespa a person, it'd be busy purchasing golf shoes in anticipation of retirement. No such luck for Signore Vespa. Sixty-four years on, D'Ascanio's invention is still doing exactly what it promised: getting non-motorcyclists (and enlightened motorcyclists) out into the fresh air, enjoying the benefits of life on two wheels.
And something tells me that even if the future brings electricity, fuel cells or even atom-powered hoverbikes, there will still be fashionable sorts riding their Vespas in 2046.
Thanks to "60 years of the Vespa" by Girogio Sarti and Piaggio Company's "Vespa: Italian Style for the World" for the historical information.
FOOTNOTE: *But no cats! There's a warning sticker under the seat with the "NO" symbol superimposed over a cute little cartoon cat and "NO PETS" written under it. Since I used to sell Vespas, I often wonder about that sticker: after all, when you see something like that, maybe with the warning about using your hairdrier in the bathtub (which I'll bet, if done carefully, can be a tremendous time-saver), it's on there because somebody, somewhere, tried to do that thing.
So I asked Erik Larson, Piaggio USA's Director of Technical Service about the sticker, not expecting a serious answer, but he told me a story about a dinner with Piaggio's international compliance people—who make sure Piaggio's products meet all the legal and political requirements of the markets they are being sold in – during which Erik told them the apocryphal tale of a manufacturer of home appliances that was sued because a little old lady dried her poodle off in her microwave with predictably bad results for the animal. The next week, a shipment of the NO PETS stickers arrived from Italy with no explanation, and they've been placed in every Vespa's underseat compartment since. I don't know why the sticker doesn't show a poodle, though: maybe Italians don't like dogs.
Vespa 250 GTS vs. Yamaha Morphous Review- Scooter Comparison Tests
An Italian Classic (Vespa LX 125 3 Valve) Motor Trader Car News
Vespa ET Series Motor Scooter Guide
Vespa gts 300 Super Scooters Mopeds
2009 Vespa S 150