2012 Suzuki RM-Z250
2012 Suzuki RM-Z250
2012 Suzuki RM-Z250
– 2012 Suzuki RM-Z250
2012 Suzuki RM-Z250 Review
AMA-dominating Suzuki racing technology is everywhere you look on the 2012 RM-Z250: the 249cc engine springs to life with advanced Suzuki fuel injection. Combine that power with the twin-spar aluminum frame and class-leading Showa suspension components and you-ve got the perfect weapon for motocross racers worldwide. Just look at that slim, aggressive styling that makes the RM-Z250 the machine to watch wherever you race.
Mount up. Because 1st place doesn-t come without a fight. Razor-sharp handling. Beastly torque. Quick-response braking. They-re not features, they-re the difference between podium and parking lot.
Our legendary RM-Zs put the track-and the competition-at your mercy.
Your Competitive Edge Just Got That Much Better
The RM-Z250 can make a winner out of anyone, from the recreational racer to the seasoned pro. The latest version of this awesome motocrosser features a wide range of exciting updates.
The RM-Z250 packs a punch with a powerful 249cc, four-stroke engine, lightweight aluminium chassis, Showa suspension and Suzuki-s latest off-road competition technology.
Following in the footsteps of its big brother – the championship-winning RM-Z450 – the Suzuki RM-Z250 was the first, quarter-litre production motocross machine to feature Suzuki-s innovative fuel-injection technology.
The Electronic Fuel Injection (EFI) system incorporates a 43mm throttle body with progressive throttle linkage and a battery-less fuel pump, giving the RM-Z250 outstanding performance.
The 249cc, four-stroke, single-cylinder, liquid cooled DOHC engine is engineered to perform, delivering impressive high-end performance throughout a wide powerband, without compromising low-to-mid range power and torque.
The latest RM-Z250 has updated ECU settings for increased linear acceleration, improved over-rev and revised intake and exhaust timings for lower noise output and meets stricter Motorcycling Australia noise limits of 94db, while maintaining smooth engine output.
An updated transmission improves durability, with the clutch featuring improved lubrication on the centre and counter shaft for enhanced feel and response.
The RM-Z250-s radiator hose routing has been changed for more efficient cooling and the kick starting arm has been revised for improved starts.
Developed in competition, a high-strength, twin-spar aluminium alloy frame gives riders agile handling, with the chassis and suspension system offering superior cornering and tighter line selection.
The RM-Z250 features updated wiring harness routing and a convenient fuel line cap, making regular maintenance a breeze.
More impressive than ever imagined, the RM-Z250 continues to take the four-stroke world by storm!
2012 Suzuki RM-Z250 Key Features
NEW FEATURES:
Meets AMA noise limit (94db) and improve performance:
— Meets 94db AMA race regulation while keeping smooth engine output.
— Intake Exhaust cam timing has been changed for better engine feeling with lower noise.
— Exhaust pipe length has been changed for better engine feeling with lower noise.
— ECU settings have been updated for more linear acceleration and improved over-rev.
— Radiator hose routing has been changed for more efficient cooling.
Improved operation feeling (shifting starting):
— Improved lubrication on the center of clutch counter shaft for better durability and operation feeling of clutch.
— Improved durability of transmission gears by reviewing width of 3rd and 4th drive gears.
— Oil seal retainer has been added on the drive shaft for better durability.
— Kick starting arm has been newly designed for easier starting.
Easier maintenance:
— Wiring harness routing has been updated for easier maintenance.
— Convenient fuel line cap for regular maintenance.
KEY FEATURES:
New graphics complete the 2012 package. In addition, the number plates have a black background to conform to rules for competition numbers.
249cm34-stroke fuel-injected DOHC engine, designed compact and lightweight, powers the RM-Z250's Championship-winning performance.
Advanced, battery-less fuel-injection (FI) system, featuring a 44mm throttle body with progressive throttle linkage and a 16-bit computer.
The FI system uses a unique capacitor-assisted starting system, and is powered by a durable, lightweight magneto-generator after starting.
Aluminum cylinder with Suzuki Composite Electrochemical Material (SCEM) coating, built for durability, light weight and efficient heat transfer.
A sturdy connecting rod and mirror finishing permits a stunning 13,500 rpm maximum engine speed.
Inverted twin chamber Showa forks and Showa piggyback shock designed with emphasis on smooth shock absorption and ample bottoming resistance.
Tuned to offer superb handling for a wide range of riders, the suspension delivers excellent traction without sacrificing quick-turning ability.
Twin-spar aluminum frame and swingarm developed and refined for a highly optimized rigidity balance and superb high-speed traction.
Smart chassis design details include footpeg brackets shaped to help prevent mud clogging.
Radiator louvers (for the twin side-mounted aluminum-alloy radiators) are joined to the outer bodywork to add strength without adding weight.
Race-inspired disc rotors offer enhanced cooling performance and efficient mud slinging.
High-quality Renthal handlebars featuring a tapered design and fixed to the triple clamp on a rubber mount.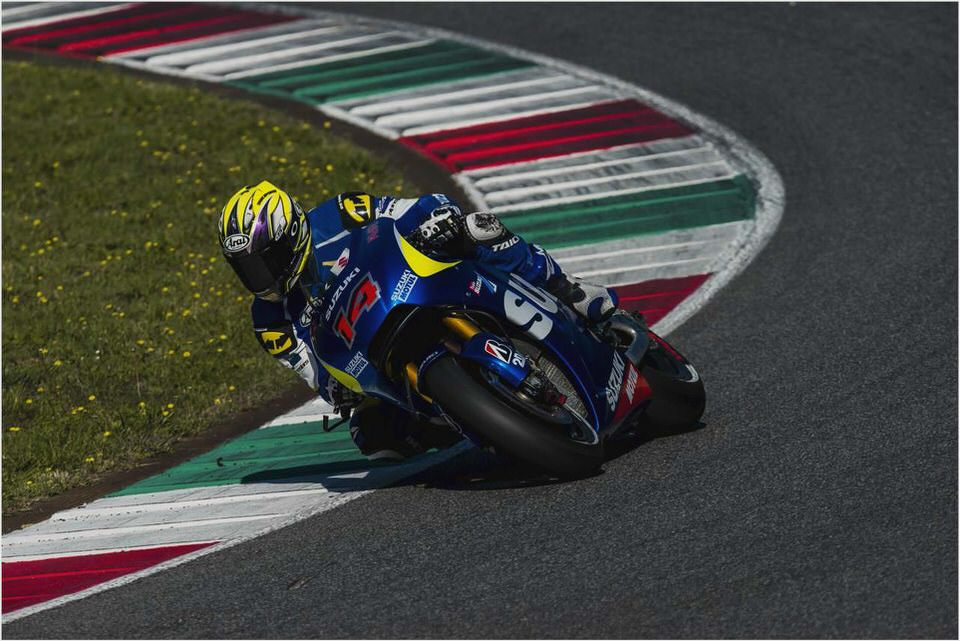 Suzuki Intruder VL 125 DIY Reviews!
How to Replace Brakes on an RM 85 eHow
2006 Suzuki GSR 600 –
GLOBAL COMMUNICATION MAGAZINE Global Suzuki
Suzuki Custom Boulevard M109R Cruiser