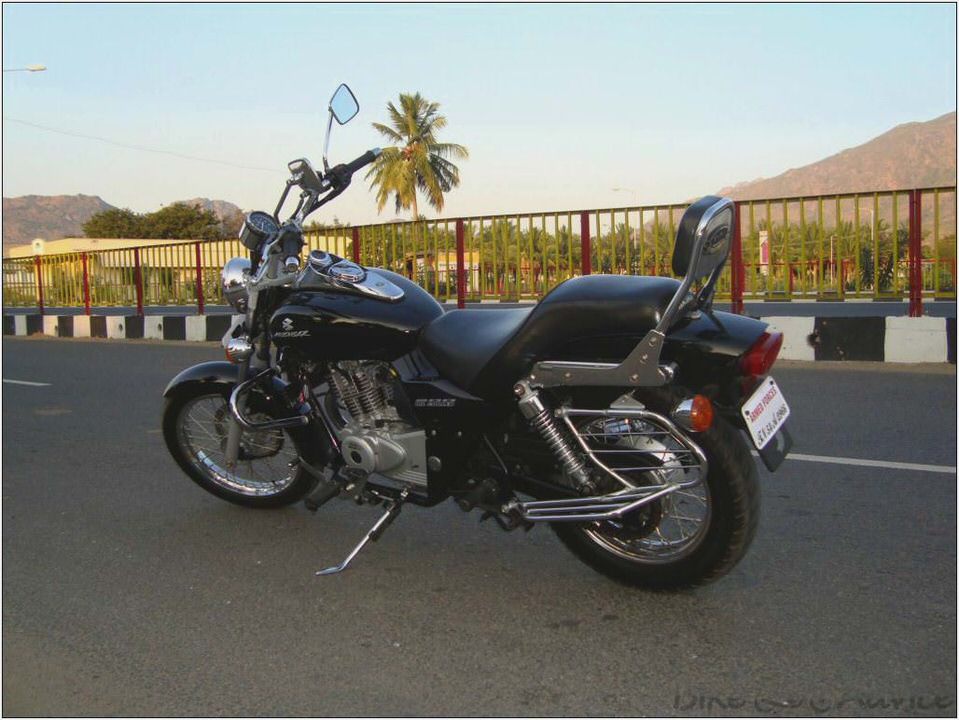 Bike and Car Mileage Reviews
Bajaj Avenger 220
Bajaj Avenger is one of the few cruiser kind motorcycles available in India. It was inspired by the Kawasaki eliminator and was initially launched with a 180cc engine. This has now been gradually increased to now come with a 220cc engine. The Avenger comes with a 5 speed transmission, a 14 liter fuel tank, a 4 stroke single cylinder engine, 19.03 PS max power, 17.5 max torque and a wheelbase of 58.1 inches. You can buy an Avenger from Delhi at an ex-showroom price of Rs.
76,835.
Bajaj Avenger Mileage
Considering that the Bajaj Avenger is not your regular take-to-office kind of a bike, mileage is not the first priority when it comes to features. In any case, at 220CC, the engine enhances the power of the bike at the cost of fuel consumption which means you may not see the regular 60+ kmpl mileage claims like manufacturers do with the bikes with smaller engines. Bajaj claims the mileage of Bajaj Avenger to be 49.8 kmpl under standard testing conditions.
Bajaj Avenger Fuel Consumption Reviews
Cruiser motorcycles has its legions of fans and so you will not have too many buyers complain about mileage. That's because mileage was not the priority even when they purchased the bike. According to the official review on PriceDekho, the Bajaj Avenger should draw 32-35 kmpl under regular city conditions.
BikeDekho, one of their sister sites though claims the average mileage to be as much as 40 kmpl. That's a pretty high variance here and so we are going to assume the latter fuel efficiency is what you will see on the highways.
ZigWheels.com rates the Bajaj Avenger the second most fuel efficient bike in the 200-250cc segment – behind Bajaj Pulsar 220F. In their tests, they were able to extract 40 kmpl in the city and 49 kmpl on the highways. Assuming that the next best in the segment only offered an average mileage of 39 kmpl, you must say that the Avenger is a pretty solid bike in the category.
Classifieds sites are always an excellent place to review the actual mileages. In a post on Olx, a customer claims that he sees 38 kilometers per liter on his Nov 2011 model of the Bajaj Avenger 220. That's not bad and is pretty close to what others report.
I looked into a few consumer complaints forum and even here mileage is not one of the reported issues. On ComplaintBoard, a customer reports seeing a mileage of 35 kmpl. So as you can see, you are guaranteed a mileage of over 30 kmpl which is pretty much expected on a motorcycle of this size.
Should you buy a Bajaj Avenger?
There are a host of reasons including the need for a cruiser kind motorcycle that should go into your decision making process. But be assured that mileage is not one of them. At an average of around 35 kmpl, the Bajaj Avenger seems to do a good job in fuel efficiency while managing the rest of the features better.
Here is a summary of what the various reviewers say.
Bajaj Discover versions – Bikes4Sale
Bajaj Auto Limited
Bajaj Pulsar 220 DTS-Fi
Bajaj Pulsar 135 LS Review by BikeBD – BikeBD
Bajaj Discover 125 Price Discover 125 price in Delhi Pune Mumbai