CAGIVA RAPTOR 650
Nothing succeeds like success. Cagiva lines up to attack the other end of the naked roadster market with the launch of a pair of 650 Raptor models at Intermot while orders back up for the one-litre versions of the Cagiva Raptor and V-Raptor twins launched a year ago. The Italian marque's new Cassinetta factory moves to a second shift to keep up with demand as the increased flow of Suzuki fuel-injected TL1000S engines come on line from Japan.
Now Cagiva has produced another key component in its mission to reinvent the Ducati Monster eight years on. It has replaced the injected dohc TL1000S 90-degree V-twin motor with the carburetted 81 x 62.6mm otto valvole of similar architecture from Suzuki's acclaimed SV650 small-scale sister to wrest sales from Ducati's best-selling M600 desmodue.
The M600 sold more in the 1999 sales year than any other motorcycle model of any capacity or type in the crucial Italian home market, as well as racking up volume sales in key export countries.
Anything up to 150kph is no problem on the Raptor, though at higher speeds you have to start to hold on tight with your arms up to the claimed top speed of 205kph. The relatively rearset footrest, a low 775mm seat height and quite wide handlebars combine to create a sporty stance with practical leverage that makes this such an ideal bike for twisty town work or winding mountain roads. There was some dispute whether the bars should be short and flat, or wider and pulled back.
Castiglioni got busy with his tape measure, hopped on and off the bike a few times, issued some opinions – some might call them instructions – and returned to his office to resume negotiations with Suzuki for an extra supply of engines. I reckon he got it just right.
It soon becomes apparent that this is one of those bikes which should come with a written warning: Attention – Riding this motorcycle may become addictive. Owners can expect to start looking for excuses to go for a ride – as in I'm just popping over to the next town to see so-and-so – because Cagiva's engineers have succeeded in concocting a bike which is seriously fun to ride. It gives satisfying performance without being ntimidating and even an entry-level rider is going to feel in control while getting a serious buzz out of riding.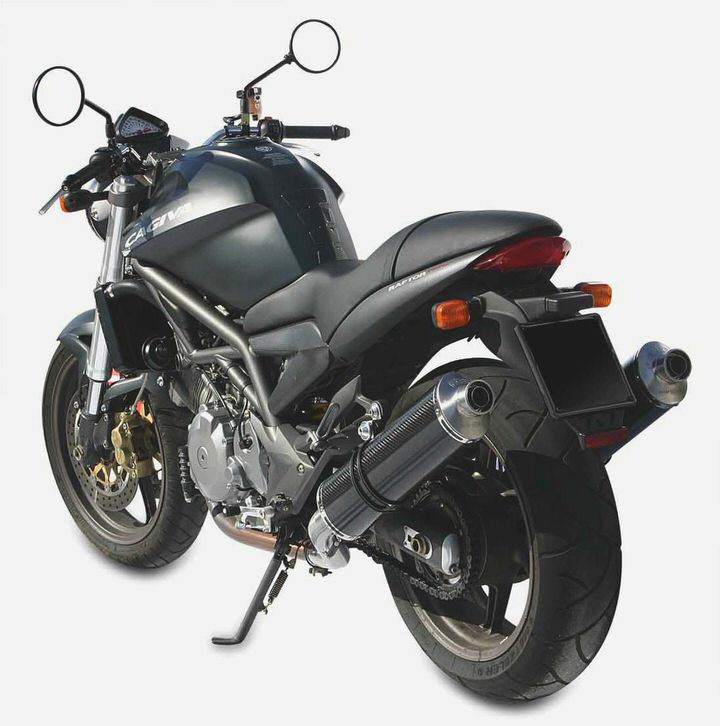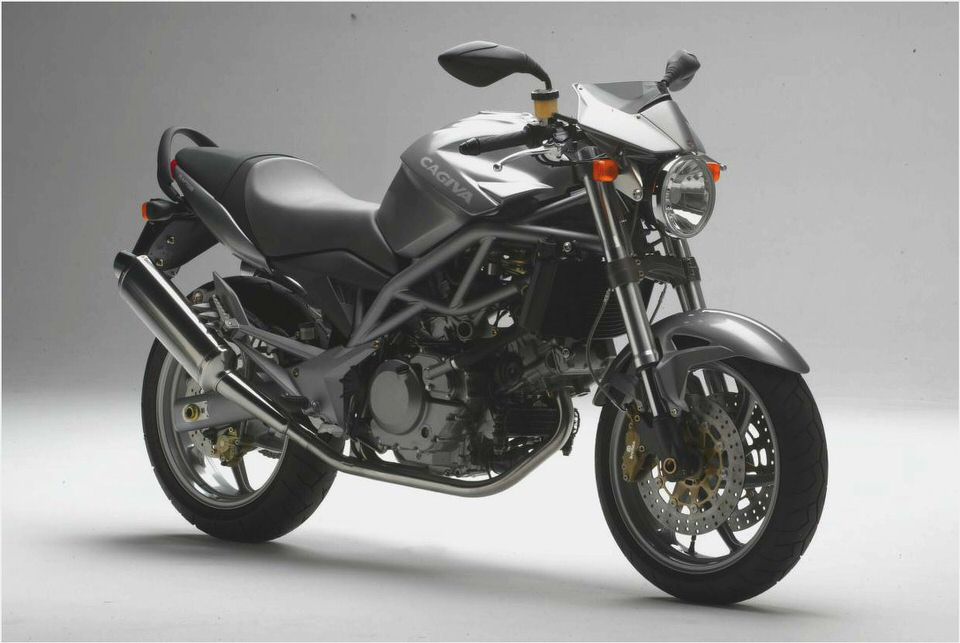 I hate to say it, but Ducati should be kicking itself for not having developed it. Just as the best-selling Suzuki SV650 (whose marvelous engine is such a key ingredient in this user-friendly, fun package) is in every way the Ducati Pantah of the Y2K era, so the Raptor 650's sparkling allure underlines the neo-vintage nature of the current desmodue lineup. It emphasises how much Ducati's more budget-priced model range has become yesterday's papers, despite that glorious name on the fuel tank.
That's because the Raptor's SV650 engine is a flexible but also forceful friend, pulling cleanly away in top gear from as low as 2500rpm without a glitch or any sign of transmission snatch. It makes this a practical commuter bike as well as a back roads blaster – once you figure out where you're going to strap any luggage since there's no provision for clipping any on.
A slightly larger 19-litre fuel tank (one litre bigger than the Mille) made of plastic, also rules out using a magnetic tank bag. With the 2-1-2 exhaust layout used on the Raptor, compared to the SV650's 2-1 system, there's no room either for any throw-over bags, so Cagiva needs to give this serious thought and come up with a Raptor equivalent of the Monster City. The pillion seat feels more designed for the look than use and, moreover, has no grips.
With Cagiva's revised exhaust system and altered airbox, the Suzuki engine has even better midrange than in SV650 guise, just as the TL1000S motor used in the Raptor Mille has had its EFI remapped at Varese for the same purpose. The rugrat Raptor's motor takes off above 3500rpm, with a linear shove all the way to the 11,700rpm revlimiter accompanied by the trademark lilting beat and muted thunder of the V-twin exhaust note. The stock Suzuki gearbox is just fantastic, with perfectly matched ratios that even in the upper gears have no more than 2000rpm between them.

Euro Spares – The 650 Alazzurra article
Meet the fuglys: alternative used adventurers – Cagiva Gran Canyon – Page…
MV Agusta Brutale, Cagiva's Xtra-Raptor And More! – Euro File – Motorcyclist…
Cagiva 1000 Raptor-Cagiva
Cagiva Mito – Wikipedia, the free encyclopedia