JUST SOME HISTORY ABOUT HARLEY-DAVIDSON
1901 – In Milwaukee, William Harley, 21, and Arthur Davidson, 20, began experiments on taking the work out of bicycling. They were soon joined by Arthur's brothers, Walter and William.
1902 – The 1902 prototype was a 10.2ci, (167cc), single with 2.125 X 2.875 bore and stroke with a 5 flywheel. [It would blow your hat off in a good breeze plus the almost 25mph it could attain.]
1903 – The company Harley-Davidson was founded. Many changes were made to the engine design before its builders were satisfied. After the new looped frame was finalized, they were ready to begin production.
1903 – The first Harley-Davidson motorcycle is manufactured: a 25 cubic inch (410cc) atmospheric-inlet-valve single-cylinder. Only 3 Harley-Davidson motorcycles were made in 1903.
1904/1905 – Production began in a shed behind the Davidson family home. The machine was a 30 cubic inch (494cc) single which was later nicknamed: The Silent Grey Fellow nickname coincides with the new standard grey color.
1906 – Harley-Davidson erected its first building at the current Juneau Avenue site in 1906. Catalogs are produced to advertise the new Silent Gray Fellow.
1907 – Harley-Davidson incorporated in 1907. A prototype V-twin motorcycle was built. Although only 150 motorcycles were made this year, 1907 saw the first Harley-Davidson® sold for police duty.
1909 – The trademark 45 degree V-Twin engine, introduced in 1909,
displaced 49.5 cu in and produced seven horsepower. Top speed: 60 mph. 1909 production was truly massive compared to previous years (almost 8 times the 1907 production rate) at 1,149 motorcycles.
1912 – First clutch mechanism.
1913 – The original 28′ x 80′ factory had grown to 297,110 square feet. Harley-Davidson began to dominate racing events. 1913 production: 12,904 motorcycles.
1914 – Stepstarter and internal expanding rear brake.
1915 – Three speed transmission.
1916 – The first issue of The Enthusiast publication.
1916 – 1917 – 1918 – After Harley-Davidson motorcycles had proven their military value in border skirmishes with Pancho Villa, they were quickly called to duty when the U.S. entered WWI. Some 20,000 cycles would see duty before the war's end.
1920 – Harley-Davidson became the largest motorcycle manufacturer in the world, boasting dealers in 67 countries. Harley-Davidson motorcycle development was evolutionary rather than revolutionary with side-valve machines replacing inlet-over-exhaust designs in the late 1920s.
1920 production: 28,189 motorcycles.
1921 – In February 1921, on a Fresno, CA. board track, a Harley-Davidson became the first motorcycle ever to win a race with an average speed over 100 mph.
1922 – 74 Twin engine debuts.
1925 – The debut of the teardrop gas tank.
1928 – Front wheel brakes were introduced dramatically improving the
safety and handling of Harley-Davidson's cycles.
1929 – After the stock market crash of October 1929, Harley-Davidson sales suffered with everyone else's in the industry. This year saw the introduction of the first 45 ci (750cc) side-valve V-twins, the D series. These used the same frame as the singles, which was made possible by mounting the generator perpendicular to the engine. Early Forty-fives
lacked the power of their competition, the Indian Scout.
1932 – The 45ci Servicar model was introduced. Cost $450
1933 – The depression hit Harley-Davidson very hard. By 1933,
production in Milwaukee had dropped to 3,700 vehicles.
1936 – Harley-Davidson wasted no time building momentum out of the depression, introducing its EL model, featuring the 61 ci (1000cc) overhead valve engine, also known as the Knucklehead. This engine, termed the 61 OHV in factory literature and called the Sixty-one in every day circles was a mid-season 1936 model. This, in the opinion of many, is the motorcycle that saved Harley-Davidson.
At that time, for the first time, a major American motorcycle company was building a big motorcycle with overhead valves (this coming shortly after the major engineering difficulties of the 1929 Forty-five and the 1930 Seventy-four. Also introduced this year was the 80ci side valve twin engine. Despite the specter of the depression Harley-Davidson produced almost 10000 motorcycles in 1936.
1937 – William A. Davidson dies.
1941 – Almost immediately after the Japanese attacked Pearl Harbor,
Harley-Davidson's entire motorcycle output was produced for Allied use.
By the end of World War II, 90,000 WLA army-version motorcycles had been built and shipped.
1942 – Walter Davidson dies at age 65.
1943 – Bill Harley dies at age 66.
1947 – 74 OHV Big Twin engine.
1948 – Harley-Davidson introduced a new 74 cu in. engine with hydraulic valve lifters and aluminum heads. The Panhead was born. 1948 production: 31,163 motorcycles.
1949 – The Hydra-Glide debuts.
1950 – Arthur Davidson dies at age 69.
1953 – Harley-Davidson celebrates its 50th anniversary while its oldest and closest competitor, Indian, went out of business, leaving Harley-Davidson as the sole survivor in a once overcrowded American motorcycle marketplace. Harley-Davidson expanded its line to include two-stroke engines and even a scooter. 1953 production: 14,050 motorcycles.
1957 – XLH Sportster debuts.
1958 – The Duo Glide (based on the earlier Hydra-Glide model) was introduced, featuring a hydraulic rear shock suspension to go with the hydraulically dampened front fork. Also in 1958, Carroll Resweber won the first of four consecutive AMA Grand National Championships.
1959 – XLCH Sportster.
1960 – The Topper, a fiberglass motor scooter, was introduced. Harley-Davidson teams up with Italian manufacturer Aeronautica Macchi S.P.A. to produce a line of smaller bikes including the Shortster and Sprint models. Italian-built lightweights were sold in America under the
Harley-Davidson name. The Topper featured a pull-cord starting mechanism much like that of a lawn-mower.
1963 – Willie G. Davidson joins Harley-Davidson as design director.
1965 – George Roeder set a world land speed record of 177.225 mph for 250CC motorcycles on a modified Harley-Davidson Sprint. Bart Markel, aboard a Harley, won the second of his three AMA Grand National Championships. With the addition of an electric starter, the Duo Glide became the Electra Glide in 1965, which was also the last year of the Panhead engine.
Harley-Davidson became a publicly-held company when it issued stock in 1965.
1966 – The introduction of the shovel head engine. Production: 36,310 motorcycles.
1967 – Electric start Sportster.
1969 – Merger with American Machine and Foundry Company (AMF).
1971 – FX 1200 Super Glide, considered the first true factory custom. Joe Smith, riding a drag bike powered by a single Harley-Davidson motor, was the first to break the nine-second barrier in motorcycle drag racing.
1972 – 1000 cc XLH/XLCH Sportster. First disc brakes on a Harley.
1974/75 – Chassis manufacturing and final assembly operations moves to a plant in York, Pa. Engine and transmission operations remained in Milwaukee, along with the corporate headquarters. 1975 production: 75,403 motorcycles.
1976/78 – Continuing the Harley-Davidson tradition of racing dominance, Jay Springer Springsteen won the AMA Grand National Championship in 1976, 1977 and 1978.
1977 – FXS 1200 Low Rider and FLHS.
1978 – In 1978 Harley-Davidson sold the Italian operation (the old Aermacchi company) and the sales of Italian motorcycles with the Harley-Davidson name was halted.
1978 – 75th Anniversary models debuts.
1978 – FLH 80 Electra-Glide debuts.
1978 – First electronic ignition on a Harley.
1979 – FXS 80 Low Rider debuts.
1980 – The 80 cu in FLT Tour Glide, with five-speed transmission,
oil bath enclosed rear chain and a rubber-mounted engine (the predecessor to today's Harley-Davidson touring motorcycles) was introduced.
1981 – Senior executives at Harley-Davidson purchase the company from AMF. Harley-Davidson once again becomes a privately owned company. With improved manufacturing and quality process, many of the old flaws of the HD design were resolved.
A new image was forming.
1983 – President Reagan imposes additional tariffs on all Japanese motorcycles 700 cc or larger.
1983 – The Harley Owners Group (H.O.G.) is established.
1984 – The Introduction of the Evolution engine debuts. The first Softail models and Air Assisted Anti-Drive.
1986 – By offering common stock and subordinated notes, Harley-Davidson once again becomes a publicly owned corporation.
1987 – In an unprecedented move, Harley-Davidson petitions the ITC for early termination of the five year tariff imposed in 1983.
1988 – Patented Springer front-end returns.
1989 – Spartanburg, SC Chapter # 4813 is Chartered!
1990 – Dyna model is introduced.
1991 – All Harleys change to five speed transmission.
1992 – All Harleys adopt a belt drive.
1993 – 90th Anniversary homecoming.
1995 – First fuel injection models.
1998 – Harley-Davidson's 95th anniversary homecoming.
1999 – New Twin Cam 88 cu. in. motor introduced.
2000 – New Twin Cam 88B with internal counterbalancers introduced. The Softail Duece makes its debut. New stiffer softail frame introduced.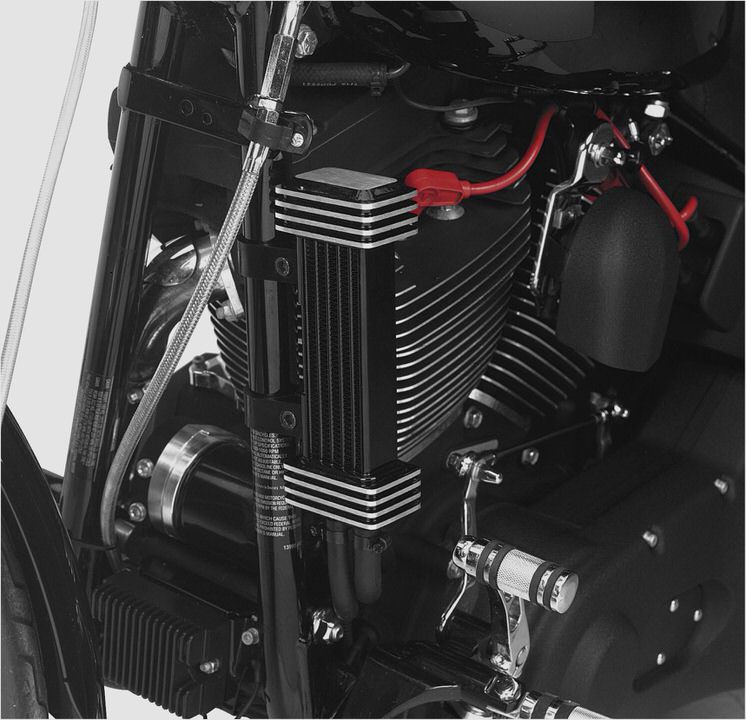 2010 Harley-Davidson XL1200X Sportster Forty-Eight Road Test Rider Magazine
2010 Harley Davidson Tri Glide Ultra Classic Harley Reviews
Harley Davidson XLCR 1000 Caf Racer-Harley Davidson
2002 Harley Davidson V-ROD VRSCA Pick of the Pen Hot Bike
Features of Harley Davidson FLHR ROAD KING Bikes Wallpaper,Bikes Gallery,Bikes…