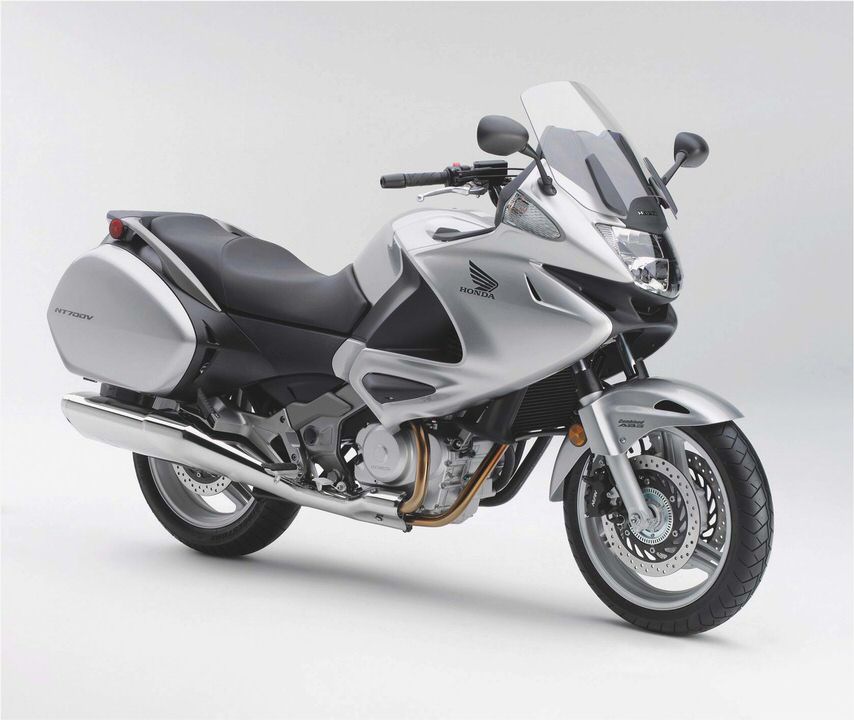 2010 Honda NT700V Review
By Kit Palmer | 12/18/2009 2:12 PM
Last month, Honda announced it would be offering a new model for 2010, the NT700V, a sporty, light-duty touring/heavy-duty commuting streetbike. This week, Honda gave us a chance to ride the bike on the back roads of southern California.
The original variant of the NT700V was designed for the tighter and more curvy roads of Europe and with touring in mind, but has never seen the light of day here in the United States – until now. Touring in America, however, generally favors the higher-capacity machines, such as Honda's 1800cc Gold Wings and 1300cc ST's, but considering today's economic climate, Honda thought the timing might be just right to introduce the NT700V to the United States, for those perhaps looking for a comfortable and economical weekday commuter that doubles as a fun and sporty weekend touring bike.
I'll let Honda describe the NT700V to you:
With the introduction of the 2010 NT700V, Honda shuffles the deck in the world of touring motorcycles. Here is a machine that handles with delightful nimbleness around town or on twisty roads, yet stands fully prepared to take you across two or three state lines with ease. Whether the day calls for the usual commute to work, a morning spent running errands, a spirited day ride or the onset of a two-week-long motorcycling adventure, the NT700V can do it all.
In the USA, most riding enthusiasts think that motorcycles should serve for recreational purposes during leisure times rather than transportation on an ongoing basis. However, around the world, that balance tips decidedly in favor of day-in, day-out transportation in order to capitalize on the utility, economy and efficiency inherent in two-wheel travel. In Europe especially, the NT700V and its precursors have gained great favor-and for good reason.
The mid-sized NT700V comes ready to roll with an effective fairing with a five-position quick-adjustable windscreen plus two storage pockets, and spacious saddlebags-amenities that equip this machine equally well for a broad range of tasks. Also, the saddlebags feature a unique pass-through port that spans from one bag to the other to add additional stowage capacity or accommodate longer items-a very handy innovation.
Yet at the same time this machine weighs only 562 pounds, rolls on a wheelbase that spans a moderate 58.1 inches and has middle-ground steering geometry measurements of 28 degrees of rake and 115mm (4.5 inches) of trail. Practiced eyes will recognize that these specs indicate a machine with true middleweight characteristics, and because it's powered by a narrow V-twin engine displacing 680cc, the NT700V feels delightfully slim between the legs and also decidedly nimble for a touring bike. Indeed, the NT700V delivers excellent handling that makes it fun and easy to ride, which makes it a travel-worthy roadbike that does it all with less bulk and weight.
At the heart of the NT700V lies a compact liquid-cooled SOHC 52-degree V-twin with four valves per cylinder. The modern bore and stroke dimensions of 81mm by 66mm result in a decidedly oversquare engine that displaces an actual 680cc. The single overhead cams are chain-driven, and each head employs a pair of forked rockers that actuate the intake and the exhaust valves; valve lash is adjusted via screw-type adjusters.
Fuel metering chores are ably handled by Honda's Programmed Fuel Injection (PGM-FI) system with twin 40mm throttle bodies and high-performance 12-hole injectors. This system provides automatic adjustment for cold starts, excellent throttle response, compensation for changes in elevation and other environmental factors, and superior fuel efficiency while contributing to low emissions.
This powerplant pumps out substantial torque and power, especially in the midrange, which works out perfectly well for every application it will face. Whether the day calls for arcing down lonely backroads or piling up miles on the freeway, the liquid-cooled 680cc V-twin engine serves as a great riding companion.
A delightfully broad torque spread makes for easy riding regardless of what the road offers up, with the option of employing the strong roll-on pull or running up the revs to let those four-valve heads really breathe. In addition, the NT700V's wide-ratio five-speed gearbox complements the bike's powerband in a natural marriage, and shaft final drive makes for virtually maintenance-free convenience. Heading down the road, the NT700V rolls along with that V-twin cadence that adds character to the ride.
The NT700V cradles the Vee engine in a light yet strong twin-spar steel frame. Suspension chores are handled up front by a 41mm fork and in back there's a single heavy-duty rear shock. Together, they strike a fine balance between all-day comfort and sporty performance.
As a bonus, the rear suspension features a remote shock spring preload adjuster that offers 40 click steps of adjustment and proves to be very convenient and effective for making changes in settings. Adding a passenger or lots of cargo? No problem; just dial up the preload. Seeking softer settings for freeway comfort?
Just dial it back down-easily, quickly, no fuss. In addition, indicator lines facilitate back-and-forth adjustments in shock preload for those who change riding conditions often, as with a primary operator who rides solo during the work week and then rides two-up come the weekend.
In the braking department, the NT700V employs Honda's Combined Braking System (CBS) in a triple-disc setup plus the option of an Antilock Braking System (ABS) for confident braking in varying conditions. The CBS setup features two lightweight 296mm front rotors gripped by three-piston calipers and a single 276mm rear rotor with a dual-piston brake caliper.
When the front brake is applied, all three pistons in the right-front caliper are actuated along with two of the three pistons in the front-left caliper. The rear brake, when actuated, engages a combination of the rear brake caliper plus one piston of the front-left brake caliper, thereby helping to maintain balanced, strong braking action. As would be expected, the addition of the ABS option to the NT700V adds even greater confidence-inspiring stopping control when called upon.
The NT700V is an extremely well-executed concept, a machine that will fill many roles, all with remarkable efficiency. This is one do-it-all mount that serves equally well whether you call on it for around-town errands, daily commutes or cross-country adventures. With the Honda NT700V, making do with less does indeed prove to gain far more than might be expected.
I found the NT700V to live up to most of Honda's claims, but I would call the NT700V more of a lightweight touring machine than middleweight. Not only does it feel extremely light and agile, the motor is just large enough to make long rides quite tolerable. I couldn't imagine any true touring machines being any less than 680cc's – I guess that would indeed be a lightweight touring bike.
But, yes, the NT700V does feel light and nimble and is very easy to ride. It takes little muscle and effort to make it do what you want it to on the twisty roads, yet is still rather stable and comfortable when rolling down the less-exciting open highways.
The NT doesn't really feel like your traditional, big-bore touring bike. Instead, the NT feels more like you're riding a big single, but with V-twin torque and pulling power, not to mention, there's that destinctive V-twin vibe and sound.
This kind of makes sense, since this motor is an off-shoot of the one that powers Honda's Transalp, a rather large rally-style dual-sport machine that Honda used to offer here in the U.S. (The Transalp is still very popular in Europe.) So that probably explains the NT's single – even though it's a V-twin – feel. The motor is also related to the automatic D1-01.
As far as power, the NT is rather feisty and certainly perks up when you reach about the 5000 rpm range. No worries, however, the NT doesn't mind being revved one bit when you want to pep things up a bit, and it is just as efficient off the bottom when a more relaxing pace is desired. Shifting is light and easy, clutch-pull is light, and I could detect very little drive lash or torque-effect from the NT's shaft-drive system.
You will notice, however, quite a bit of gear-whine from the NT's motor, especially on rapid deceleration.
Unlike the big 1800cc touring bikes, the NT is about as thirsty as a camel. Throw in a large five-plus gallon fuel tank and the NT will last a lot longer between gas stops than you will.
Comfort is another one of the NT's strong points. Seat has good, firm padding and has nice contour, and at 31 inches, seat height is rather low. Tubular handlebars have a neutral bend and should be easily replaceable if they don't fit you.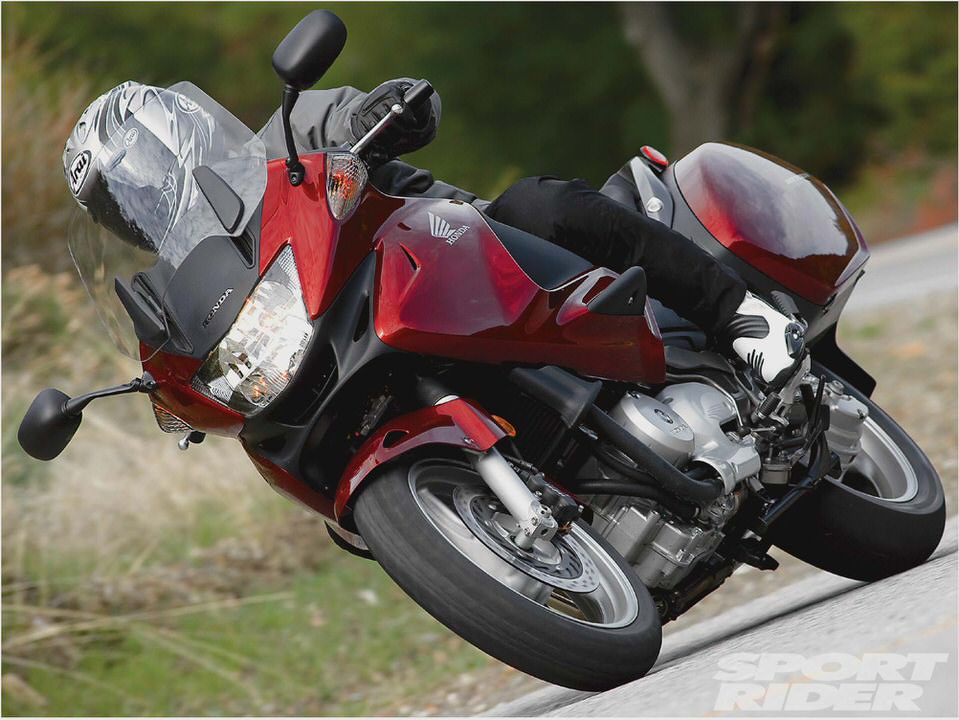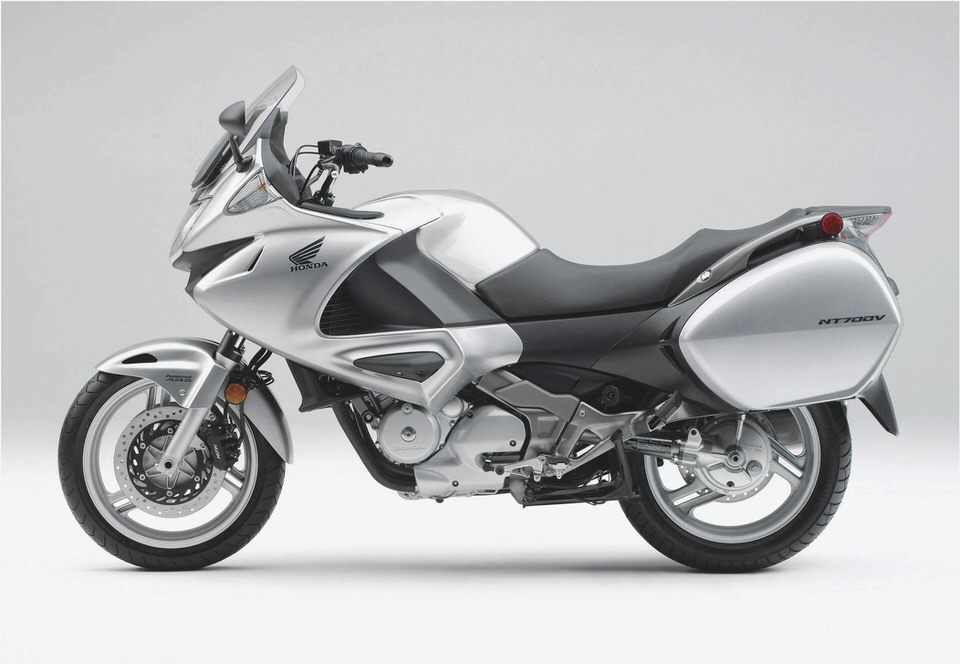 It has traditional triple-clamp mounting.
Adding to the NT's riding comfort is the manually adjustable windscreen. It has a rather wide top-to-bottom range and is surprisingly quiet when it comes to wind noise. You can reach over and raise or lower the windscreen while in motion (though it's difficult), but I wouldn't recommend that – it's kind of risky. It's better to wait for a stop sign when you can safely reach over with both hands and make adjustments. It's a nice set-up, but not if you're used to push-buttons.
Still, it's much better than having to bust out tools to make adjustment.
Saddlebags are extremely narrow and don't hold a ton, but lane-splitters in California will love 'em. There is, however, a cool pass-over channel that runs from one bag to the other, which is a perfect place to store longer objects, such as posters or a broken-down pool cue. You could call 'em linked bags.
There're also two small glove boxes in the fairing for more storage.
I also enjoyed the NT's strong brakes and the performance from the ABS and how the front brake is not linked to the back brake. Overall, it seems to be a good system for what this bike is intended.
Suspension feels a little on the stiff side but seems to be well balanced overall. Rear-shock preload adjusting is made simple thanks to an easy-to-reach dial on the side of the bike. Unfortunately, there are no other suspension adjustability.
Honda will provide some accessories for the bike, such as a rear trunk large enough to store a full-face helmet. A bag liner will be available to go with it. Heated grips will also be offered for $189.
Even though the ride was just 70 or so miles, I came away quite impressed with the little NT. It does make for a nice, light-duty weekend touring bike just like Honda said it would, but I feel its greatest attribute is commuting. With its narrow bags, outstanding range, excellent comfort, light weight and good overall performance, the NT700 makes for a classy everyday commuter, and longer the commute the better.
The NT is available in two colors – red and silver. The standard model sells for $9999 and the ABS-equipped NT sells for a grand more at $10,999. ABS is only available on the silver model.
Compared to full-size touring bikes, such as a fully equipped Gold Wing which sells for around $24,000, 10 grand doesn't sound too bad. Still, for that price, I'd like to see suspension that is fully adjustable (as well as the clutch lever) or at least heated grips as standard equipment. That's about my only real gripe with the NT700V, otherwise I could see this bike being a commuter's best friend.
Specifications
Model: NT700V / NT700VA ABS
Engine Type: 680cc liquid-cooled 52° V-twin
Honda EVO6, CB1100R, and CB1100F Concepts
Honda CBR250R Bike India: 2011 Honda CBR 250R Motorcycle
VFR800F Coming to US as 2014 Honda Interceptor News
Honda NSF 100 Junior Trophy Results – News Honda South Africa
JSW Steel cuts output by a third on account of iron ore shortage – Economic…